These low carb chocolate cheesecake brownies taste as good as they look!
I have just launched a new book: Low Carb Chocolate Recipes!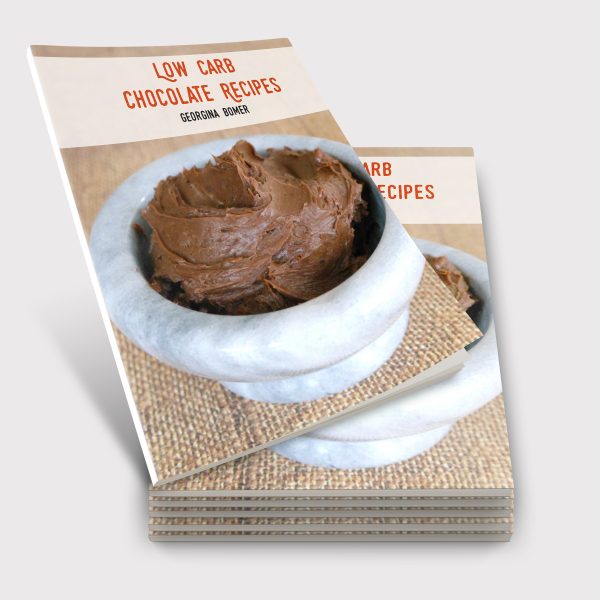 The book is available in paperback, Ebook and Kindle formats, and features over 60 low carb, sugar free and gluten free recipes! Desserts, sweet treats, drinks, baked goods, frozen treats – and more! Get your copy of Low Carb Chocolate Recipes today!
To celebrate, I'm showcasing one of my favorite recipes from the book: Chocolate Cheesecake Brownies. I'll be honest – this recipe is definitely the most complicated one in the book! You know me, I like to keep things simple. But I am just addicted to the way these look. And taste. 🙂
Cream together the butter and xylitol in a stand mixer. I use xylitol here because I want to keep things sugar free, and Splenda just doesn't do what I need it to at this stage! Add almond meal, an egg, cocoa powder and water, and mix until smooth. Pour into an 8×8″ square tin lined with parchment paper.
Either clean out the stand mixer bowl, or use a hand mixer for the cheesecake layer. Actually I know people who have TWO bowls for their stand mixer – I think I'll be adding another one to my wishlist! Whisk together some cream cheese, Splenda (it's OK in this bit!), another egg and some vanilla extract.
Pour the mixture on top of the chocolate brownie layer. Use a skewer, knife or toothpick to gently swirl the layers together.
Bake in a preheated oven for around 25 minutes or until the cheesecake topping is firm. Transfer the brownies to a cooling rack and let cool, then cut into 16 squares.
Enjoy this delicious low carb sweet snack!
Amazing #lowcarb Chocolate Cheesecake Brownies!
Click To Tweet
Low Carb Chocolate Cheesecake Brownies
Print recipe
| | |
| --- | --- |
| Serves | 16 |
| Prep time | 15 minutes |
| Cook time | 25 minutes |
| Total time | 40 minutes |
| Allergy | Egg |
| Meal type | Snack |
Ingredients
Brownie layer
1/4 cup xylitol
3 tablespoons unsalted butter
1/2 cup almond meal
1 egg
2 tablespoons unsweetened cocoa powder
2 tablespoons cold water
Cheesecake layer
8oz cream cheese
3 tablespoons Splenda (granulated)
1 egg
1 teaspoon vanilla extract
Directions
Step 1
Preheat the oven to 350F. Line an 8x8" square baking tin with parchment paper.
Step 2
In a stand mixer, cream together the xylitol and butter. Add the remaining brownie ingredients and beat until thoroughly combined. Pour the mixture into the prepared tin.
Step 3
In a separate bowl, whisk together the cheesecake ingredients until smooth. Pour the mixture on top of the brownie mixture, and gently swirl them together with a skewer.
Step 4
Bake for 25 minutes or until the cheesecake topping is firm. Let the brownies cool then turn out onto a cooling rack and cut into 16 squares.
Note
2.5g net carbs per serving (1 16th of total recipe)
Don't forget to get your copy of Low Carb Chocolate Recipes!
Save
Save

Save