This zero carb potted crab appetizer can be made with canned crabmeat!
Disclosure: I was provided with a copy of this book from Parragon free of charge in exchange for my fair and honest review. Please see my disclosure policy. The following post contains affiliate links.
This recipe was inspired by a new book called The Irish Kitchen.
It isn't a cookbook specifically for low carbers – far too many recipes with potatoes in for a start. BUT there are many recipes that are suitable: Irish Chicken Soup, Crab in Creamy Whiskey Sauce, Cream of Tomato Soup, Baked Eggs with Spinach, Roasted Turkey, Poached Salmon, Shrimp Cocktail, Prime Rib of Beef Au Jus, Chicken Liver Pate, Creamed Chicken with Jerusalem Artichokes – and many more! You get the general idea from that list at least. I decided to try the Potted Crab dish!
It's definitely low carb and if you want to refine it further, it's definitely low carb high fat! But I was intrigued to see that it could be made with canned crab – would that really work? This had to be tried!
I added two cans of crabmeat (the most basic, cheapest kind) to a bowl and added cayenne, salt, and black pepper. A *lot* of black pepper. I melted 1¼ sticks of butter in the microwave. Yep, that's a lot of butter!
Then added six tablespoons of the butter to the crab mixture, stirred well, and spooned it into four ramekins.
I poured the remaining butter into a saucepan, remelted it, then left it to cool slightly. I skimmed off the white frothy parts. Then I spooned the clarified butter over the crab mixture, leaving the butter sediment in the saucepan. This stage actually took longer than I thought!
Once the butter had cooled, I placed the ramekins in the fridge. I served this appetizer with slices of cucumber and radish.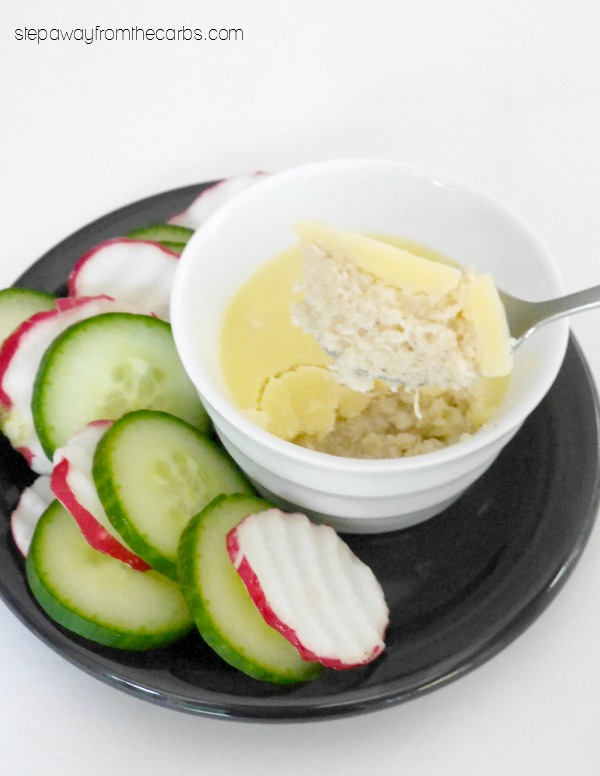 Would I serve this for company? Probably not with canned crab. But with better quality crab definitely – I love how it is all made in advance. But the canned crab works fine if it's just for me! Is it particularly Irish? To be honest I have no idea. But as the recipe contains zero carbohydrates – it has become a new favorite!
Irish Potted Crab is a #zerocarb appetizer that can be made from canned crab! #lowcarb
Click To Tweet
Find the full recipe in the book The Irish Kitchen. For more information about Parragon Books, follow them on Facebook, Pinterest, or Twitter!
Save
Save