Here is my review and comparison of that low carb favorite snack: Parmesan Crisps!
The following post contains affiliate links, which means that at no extra cost to you I can make a tiny bit of money to help support this blog. Thank you!
Whenever I see low carb convenience food, I grab it! I somehow ended up with four different kinds of cheese crisps one day, and decided to open them all up and compare them! Now I should mention that I *have* made my own – Parmesan Crisps Five Ways no less! But there's a part of me that wants to support any company that makes products for low carbers – and of course, I like the laziness of having someone make them for me. 🙂
Cello Whisps Parmesan Cheese Crisps
My grocery delivery company (Peapod!) just started selling these.
15 crisps is a pretty decent serving size for a snack. They are cheesy and crispy – everything you would expect!
Fresh Gourmet Parmesan Cheese Crisps
I found these in the crouton section at Walmart.
What I don't understand here is why there is a measurement in tablespoons- it makes no sense for the product. And 5g isn't very much. However, if, as pictured, they are intended as a salad topping, perhaps you wouldn't need so many. They certainly have a milder taste than the other three products that I tried, but still very tasty.
Artisanal Parmesan Mini Crisps
I often order almond meal, cocoa powder and more from Nuts.com – and I just had to try out their crisps, too!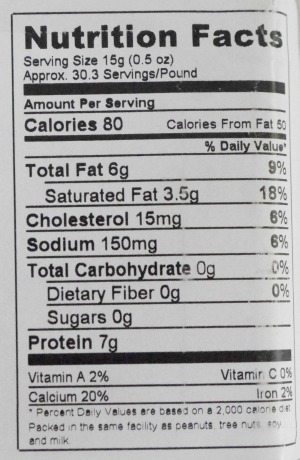 These definitely taste more gourmet than the other crisps, with a very strong, fuller flavor.
Groksi Crispy Cheese Bites
Made in Italy, but I found them in my local grocery store.
You can't see from the photo but these were a lot thicker than the others – and therefore a lot crunchier! Good strong flavor – in fact they were my husband's favorite. Unfortunately, no handy seal on the bag for easy closing between snacks.
So in conclusion? Any of these make great zero carb snacks. When comparing and contrasting I was really getting quite picky in highlighting the differences. As I mentioned before, you can make your own, but if you're after convenience, then actually any of these are perfect.
If you want some more low carb store-bought snacks that don't require refrigeration – check out my handy guide!
Parmesan Crisps Comparison and Review #zerocarb #lowcarb
Click To Tweet
Save
Save
Save
Save
Save
Save
Save
Check out my Everything Zero Carb Ebook!
Here's everything you need to know about eating carb free!