Have you heard of Fairlife Milk? And how does it compare to other low carb alternatives?
Disclosure: I was provided with a sample of LC-Milk from LC Foods free of charge in exchange for my fair and honest review. Please see my disclosure policy. The following post contains affiliate links.
Fairlife Milk is the new dairy product from Coca-Cola that is advertised as a lactose-free "super milk" that contains 50% more protein, 30% more calcium, and 50% less sugar than regular milk. There has been quite a bit of controversy over the pin-up style advertising but it has also been dubbed "Frankenmilk" – Primal Pastures has a great report on the processes and claims made by Fairlife about their new product.
However, although I'm never one to get involved in politics, I was interested to see how it compared to the low carb milk powder from LC Foods. Let's take a look at some basic facts.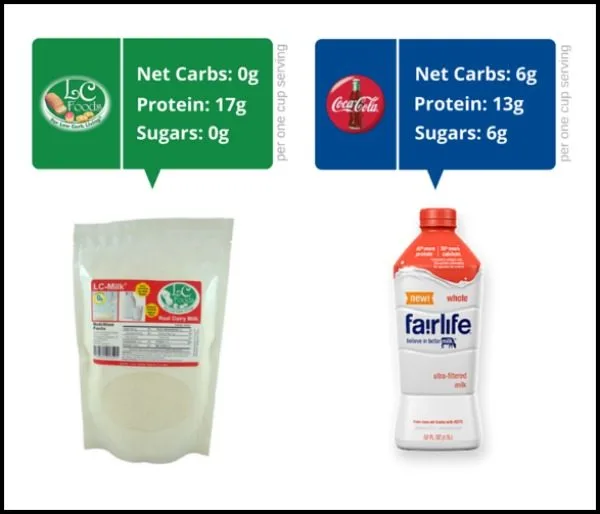 For reference, a cup of regular milk contains 12g carbs, regardless of whether it is 1%, 2% or whole milk.
From a low carber's point of view, there's no contest. Zero carbs? Yes please. When it comes to convenience, however, unsurprisingly the Fairlife milk wins hands down. The LC Foods milk needs measuring and mixing, Fairlife is ready to drink.
But there's a price to pay for all this branding, advertising and convenience. I bought a 11.5 fl oz bottle of Fairlife (equivalent to just under 1.5 cups) for around $1.80. A 7.2oz bag of LC Milk costs $8.98 and you can make 10 one-cup servings from it – although you do have to add a little heavy cream to that. So that's $1.20 per cup from Fairlife, 89c per cup from LC Foods.
So what about the TASTE?
Both milks did fairly well in the taste test, although the Fairlife tasted a *bit* more like regular milk, and the LC Milk was slightly sweeter than the Fairlife. It probably depends on what you're doing with the milk – if you're just drinking it from the glass and don't mind the carbs, then Fairlife may well be what you need. But if you're mixing the milk with anything else, cooking with it, or just want a good ZERO CARB milk, then choose the LC Foods option.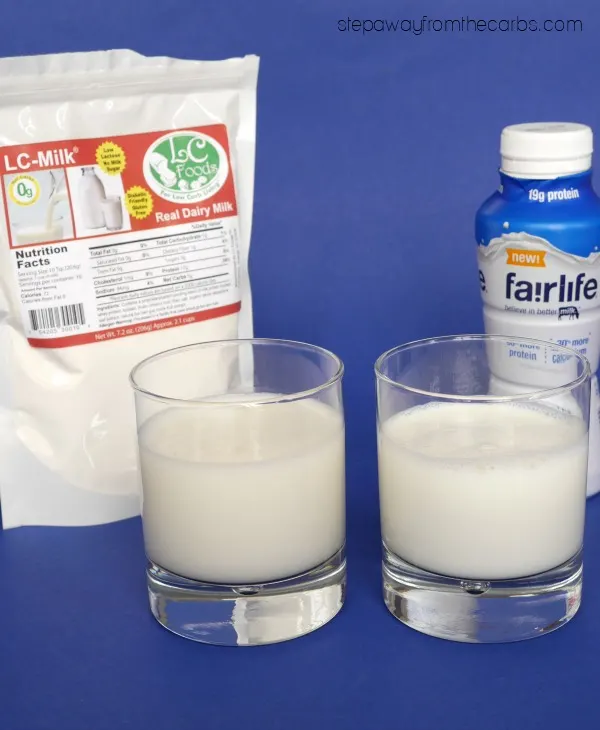 Save
Save
Save
Save