This low carb recipe binder printable is perfect for organizing your recipes – and ideal for getting you inspired!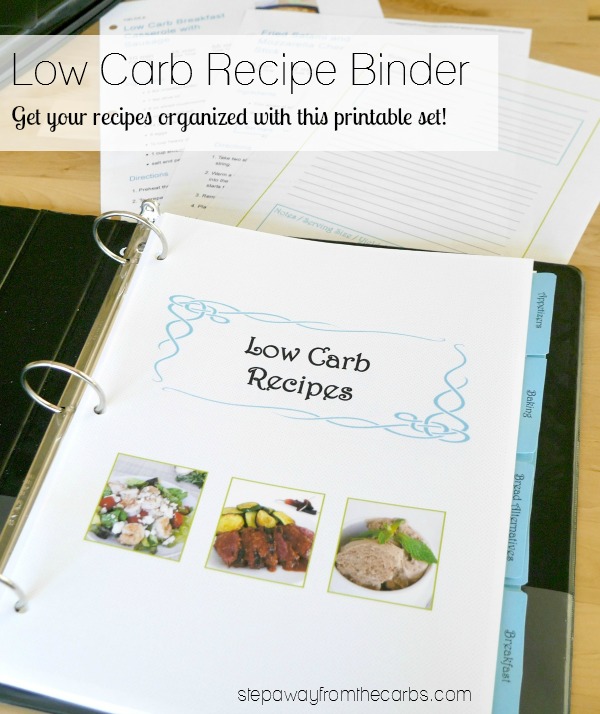 This post may contain affiliate links.
How do you organize your low carb recipes? Print-outs from the internet? Scribbled notes? And WHERE do you keep them? If they're not all in one place it can be SO annoying if there is a recipe that you're particularly looking for. I'm actually quite an organized person, so I usually keep everything in the same place – but it isn't well ordered. So this low carb recipe binder that I've made is very pleasing and I wanted to share it with you!
Play my introductory video to see what's included!

Within this printable pack you'll get:
Front cover
17 category divider pages
1 blank category divider page
2 pages of divider page tabs, including blanks
1 blank recipe card page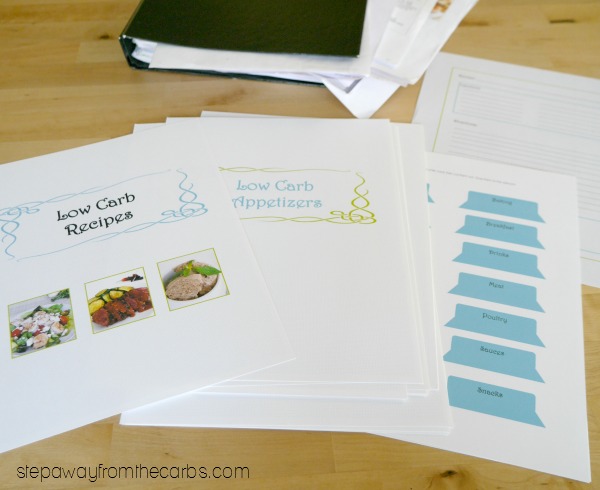 The dividers are sorted into sections that make sense for anyone following a low carb diet:
Low Carb Appetizers
Low Carb Baking (cookies, cakes)
Low Carb Bread alternatives (incl. tortillas and crackers)
Low Carb Breakfast
Low Carb Desserts
Low Carb Drinks
Low Carb Fish
Low Carb Meat (beef, pork, lamb)
Low Carb Party Food
Low Carb Poultry (chicken and turkey)
Low Carb Salads
Low Carb Sauces and Condiments
Low Carb Sides
Low Carb Snacks
Low Carb Soups
Low Carb Sweet Treats
Low Carb Vegetarian
There's also a blank divider for you to customize if you have extra categories that you want to add.
Here's how to make your binder:
Print out all the category divider pages that you require onto white card, adding text for any new sections that you wish to add to the blank dividers. *
Print out the divider page tabs onto white card, then cut them out. Glue them to the relevant divider page, all at different heights.
Punch holes in the divider pages along the left edge as necessary, then add them to a binder.
Start adding your recipes! If you have computer print-outs, they can just go straight into the relevant section. If you have hand written notes, you may prefer to write them out onto the recipe card template (print several of these out onto regular white paper).
*Alternatively you could print them onto paper and place them into
plastic sleeves
for extra durability.
Never lose a recipe again!
To get the pack of printables for your low carb recipe binder, go to the StepAwayFromTheCarbs store!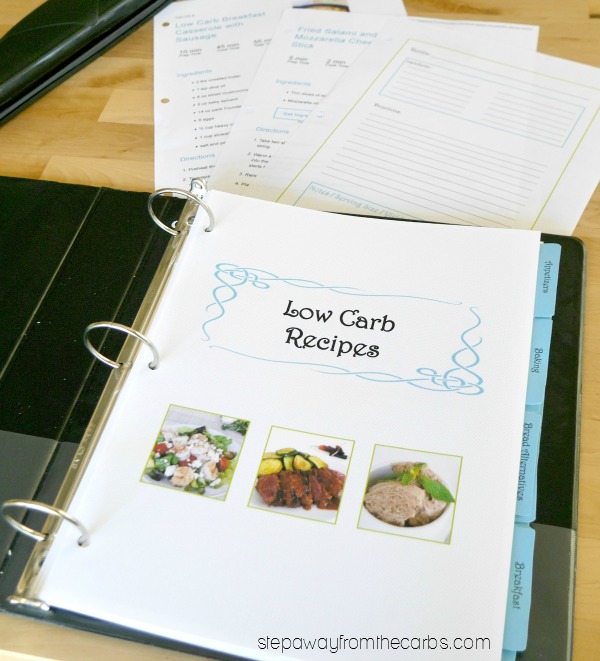 Save
Save
Save
Save
Save
Save
Save
Save
Save
Save
Save
Save
Save