These spaghetti squash fritters are a super delicious side dish! Low carb, keto, dairy free, and gluten free recipe.
This post may contain affiliate links.
I'm a huge fan of spaghetti squash but I've never microwaved one before. My concern was that this method of cooking wouldn't impart great flavor the way that roasting would. I decided I needed to do something with the cooked squash that elevated the vegetable. Hence, spaghetti squash fritters. 🙂
By the way, if you're wondering if how many carbs in spaghetti squash – then 100g (or approximately one cup) of spaghetti squash contains 5.5g net carbs (compare that to 40.5g net carbs per cup of regular spaghetti!!!).
How to Make Spaghetti Squash Fritters
To cook the squash in the microwave, I poked it with a fork about 10-15 times, then cooked the whole thing on full power for 5 minutes. I carefully removed it from the microwave, cut it in half and scooped out the seeds.
I then cooked them again for 6 minutes – cut side down on a plate with a little water. After the cooking time the squash were super hot, so I let them cool down a little, then scooped out the squash.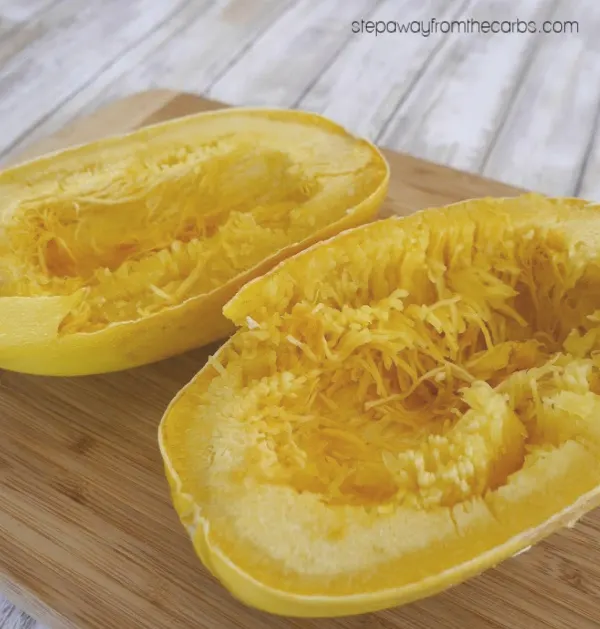 If you're interested in such things, the uncooked weight of the squash I used was 1lb 5oz. The cooked squash strands weighed 9.5oz.
You can also cook spaghetti squash in the oven or Instant Pot – check out all the different methods in my guide on How to Cook a Spaghetti Squash!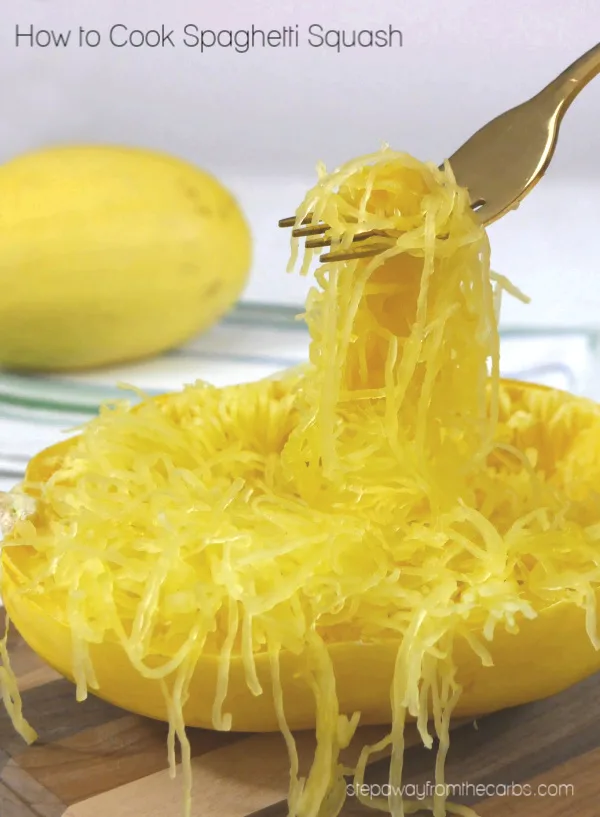 I let the spaghetti squash cool down further while I prepared the other ingredients: eggs, onion powder, chopped sun-dried tomatoes, chopped fresh parsley (you could also use oregano, if you like), and lots of salt and black pepper.
I mixed everything together then dropped spoonfuls of it onto a hot non-stick skillet that I had sprayed with oil. This recipe makes 8 fritters.
After cooking for 3-4 minutes over a medium heat I turned them over and let them cook for another 2-3 minutes. I needed to cook them in two batches.
They work perfectly as a side dish to grilled meat or fish! And I particularly love the pop of flavor from the sun dried tomatoes!
Spaghetti Squash Fritters - a delicious low carb side dish or snack! #lowcarb
Click To Tweet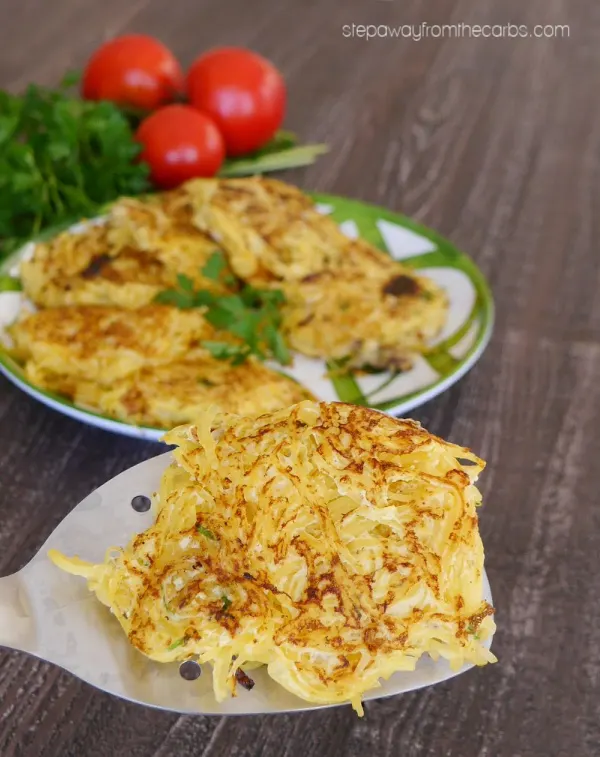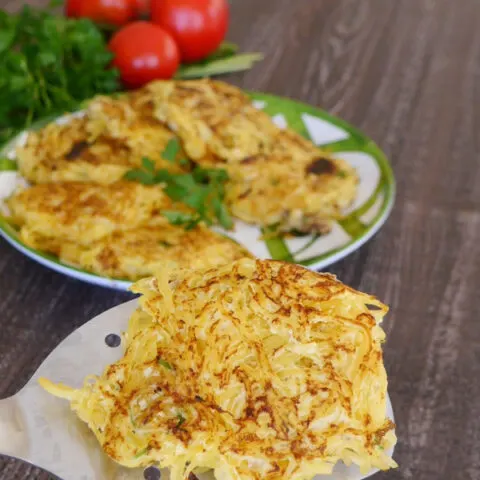 Spaghetti Squash Fritters
These spaghetti squash fritters are a super delicious side dish! Low carb, keto, dairy free, and gluten free recipe.
Ingredients
1 small spaghetti squash (approx 1lb 5 oz uncooked)
2 eggs, beaten
1 tsp onion powder
2-3 tbs sun dried tomatoes, chopped
2 tbs fresh parsley, chopped
salt and black pepper
Instructions
Pierce the squash with a fork 10-15 times then place it in the microwave and cook on full power for 5 minutes.
Carefully cut the squash in half and scoop out the seeds.
Place the squash halves on a plate, cut side down, and add a little water. Return to the microwave and cook until the squash is very tender, about 5-6 mins.
Let it cool, then scoop out the cooked squash.
In a bowl, add the remaining ingredients. Add the cooled squash and stir well to combine.
Heat a large sauté pan or skillet and lightly spray with non-stick oil.
Place spoonfuls of the squash mixture into the skillet and flatten slightly. Cook for 3 minutes then turn and cook on the other side for a further 2-3 minutes.
Notes
4g net carbs per serving of two fritters (recipe makes 8 fritters)
Nutrition Information
Yield

4
Serving Size

2 fritters
Amount Per Serving
Calories

55
Total Fat

2g
Cholesterol

81mg
Sodium

47mg
Carbohydrates

5g
Net Carbohydrates

4g
Fiber

1g
Sugar

2g
Protein

3g
Save
Save
Save
Save