If you want to know how to cook spaghetti squash, here are three different methods to try. It's a great low carb alternative to pasta!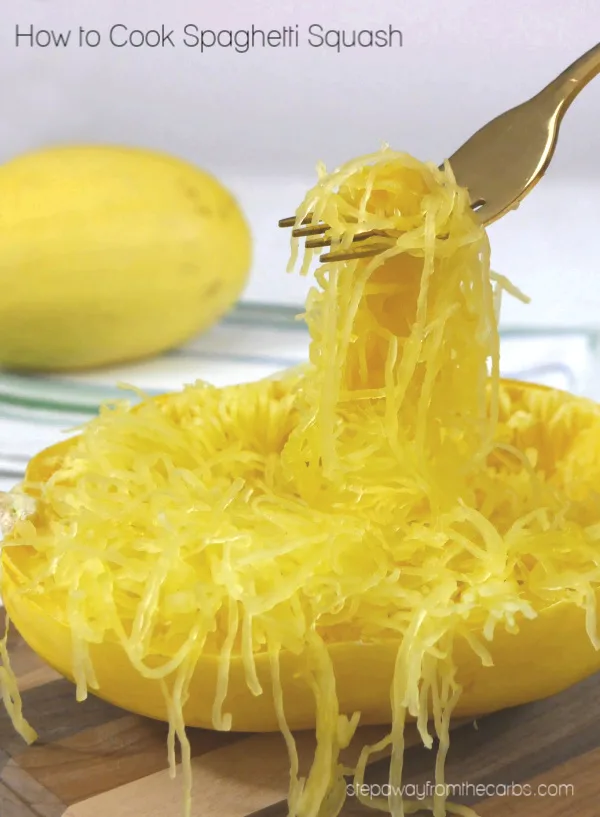 This post may contain affiliate links.
Spaghetti squash doesn't replace every kind of pasta – but it does a really great job at replacing spaghetti. When cooked, the flesh separates into long, thin, spaghetti-like strands (hence the name!).
How Many Carbs in Spaghetti Squash?
100g (or approximately one cup) of spaghetti squash contains 5.5g net carbs (compare that to 40.5g net carbs per cup of regular spaghetti!!!), plus it also is a great source of vitamin A, potassium, folic acid, and beta carotene. So if you're reading my blog and considering spaghetti squash carbs are probably on your mind! Just keep portion sizes in mind, – if you're on keto spaghetti squash can add up fast!
(If you're in a spaghetti mood – check out my list of low carb spaghetti alternatives!)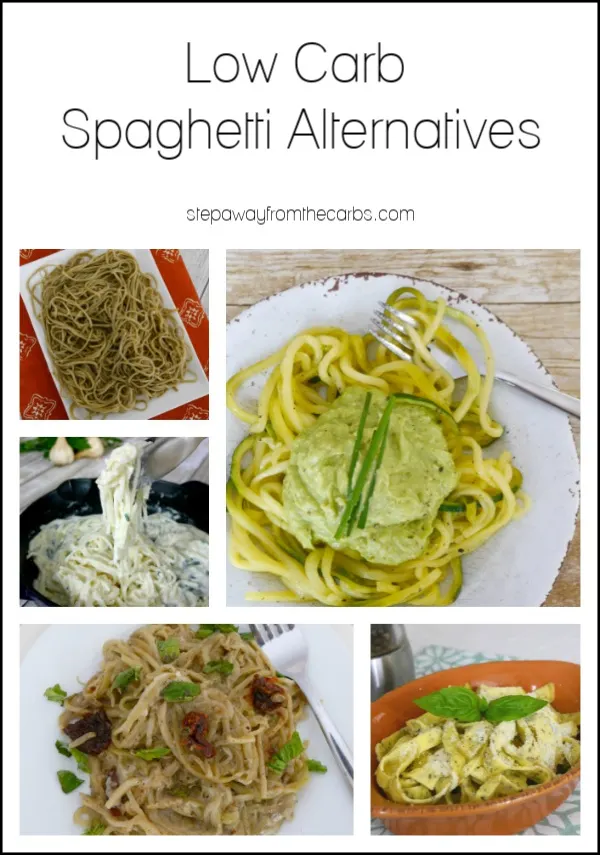 There are several ways to cook spaghetti squash, but the main three that I have tried are roasted in the oven, microwaved, and in the Instant Pot. As you can imagine there are time and flavor advantages and disadvantages to these different methods – so let's take a look!
Note: Spaghetti squash comes in all sizes – and can range from an extra small one that weighs under 2lb, to an extra large one that weighs 8lb! Depending on the size of the spaghetti squash you are trying to cool, please adapt cooking times accordingly.
How to Cook Spaghetti Squash in the Oven
Find your sharpest knife, and cut the spaghetti squash across the middle, starting at one end.
Discard the two ends, so you just have the slices. Use a spoon to scoop out the seeds from the center of each ring.
Place the rings on a baking sheet (or two, if necessary), drizzle some olive oil over them, and season with salt and pepper. Roast in a preheated oven (375F) for 20-25 minutes, or until the squash is tender.
Leave until the squash is cool enough to handle, then use a combination of tongs and a fork to separate the spaghetti-like strands away from the skin.
And here you have it, a plate of deliciously soft spaghetti squash! This method imparts the most flavor, but takes the longest time.
How to Cook Spaghetti Squash in the Microwave
Poke the spaghetti squash with a fork about 10-15 times, then cook the whole thing on full power for 5 minutes.
Carefully remove it from the microwave, cut it in half and scoop out the seeds.
Cook it again for about 10 minutes – cut side down on a plate with a little water.
After the cooking time the squash will be super hot, so let it cool down a little before scooping out the squash.
This is the quickest method and has the advantage of not having to deal with trying to cut it up when raw.
How to Cook Spaghetti Squash in the Instant Pot
Pierce the spaghetti squash with a fork to allow the steam to release.
Place the steam rack inside the Instant Pot and add a cup of water.
Place the squash on the rack, close and seal the lid, and cook on high pressure for 15 minutes.
Quick release the Instant Pot, and carefully remove the cooked spaghetti squash.
Slice it half lengthways, then remove the seeds. Use a fork or a spoon to scrape the squash into spaghetti strands.
It's quick, convenient, and has the added benefit that cutting the squash and removing the seeds is done after it has been cooked, which makes it a lot easier!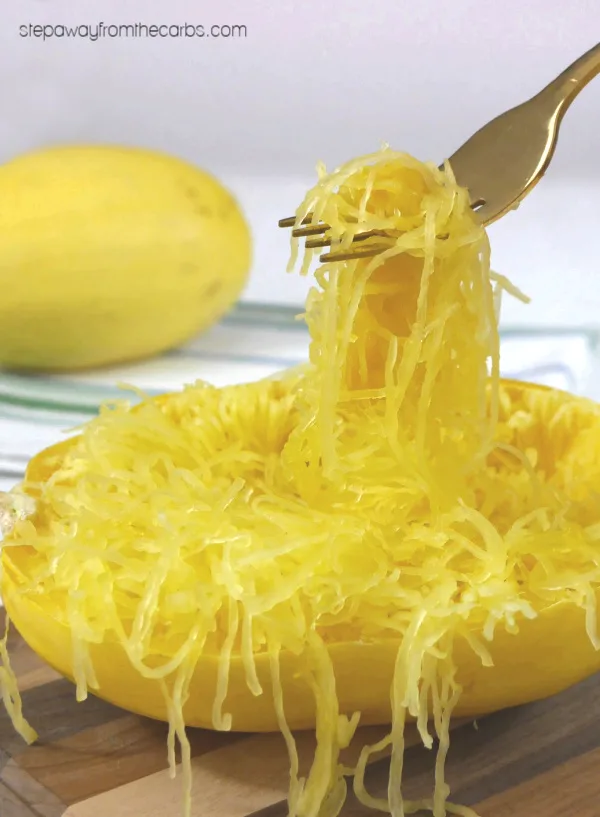 What to Make with Cooked Spaghetti Squash
Here's a quick visual guide to the low carb spaghetti squash recipes that I have on this site!
Save