Here are some top tips to stay hydrated when exercising outside in hot weather.
This shop has been compensated by Collective Bias, Inc. and The Coca-Cola Company. All opinions are mine alone. #SummerHydration #CollectiveBias
So I'm going to start with a confession. I don't actually like exercise very much. To compensate, I have to work really hard to monitor what I eat so that my weight is controlled.
However, for my son's last birthday he received his first proper bike. We have an amazing forest preserve adjoining our property, and he LOVES going out for "bike hikes". I go with him but I soon discovered that I really love it too! Now I go out on my own which is much better exercise for me as I don't have to stop every two minutes to look at a butterfly. Or a stone. Or a stick. 🙂
When my son and I go together, I always pack water and snacks for him. When I go on my own, for some reason I never take anything! Which makes no sense, because when it's 85 degrees out I'm going to get dehydrated, and fast!
When I was at CVS recently I noticed a display of vitaminwater and smartwater. The smartwater comes in a range of sizes – I particularly liked the handy cap on the 23.7 fl oz bottle. The vitaminwater is available in loads of great flavors – although we low-carbers should stick to vitaminwater zero. I chose lemonade and orange flavors – they sound so refreshing!
These drinks are ideal for staying hydrated., and I now always make sure that I take water with me when go cycling.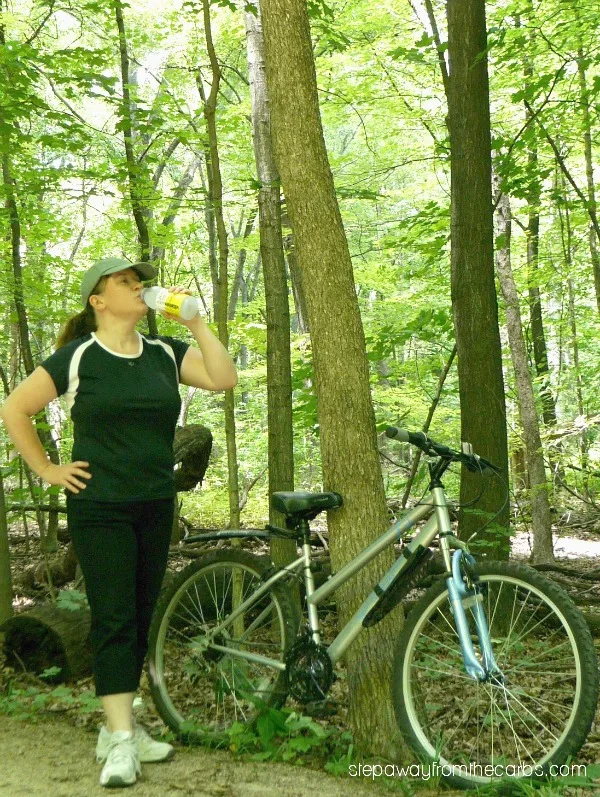 The vitaminwater zero is 4g net carbs for the whole 20oz bottle – and it is JUST what I need on a hot day! And when I have to keep my carbs as low as possible, smartwater is just perfect. The water is vapor distilled with added electrolytes – it tastes so pure. Phew – it's hot out there!
Find out more by checking out CVS on Facebook, Twitter or Instagram. Let me know how you plan to stay hydrated this summer!!
Save
Save
Save
Save
Save
Save
Save
Save
Save
Save