This is a sponsored conversation written by me on behalf of Jack Link's®. The thoughts and opinions are my own.
Now, I don't know about you, but I *love* snacking. And by that, of course, I mean low-carb snacking! So I was super excited to see the multipacks of new Jack Link's Bars at Walmart the other day – I found them in the jerky aisle.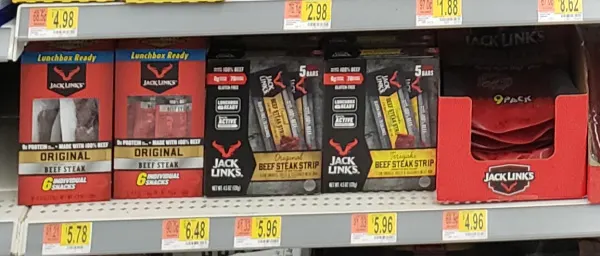 They're gluten free and are made with 100% Beef. Each bar contains 8 grams of protein, 70 calories, and is perfect for on-the-go snacking. They're even gluten free! They're available at Walmart in three different flavors: Original, Teriyaki, and Peppered. It's so awesome that Jack Link's now comes in a bar!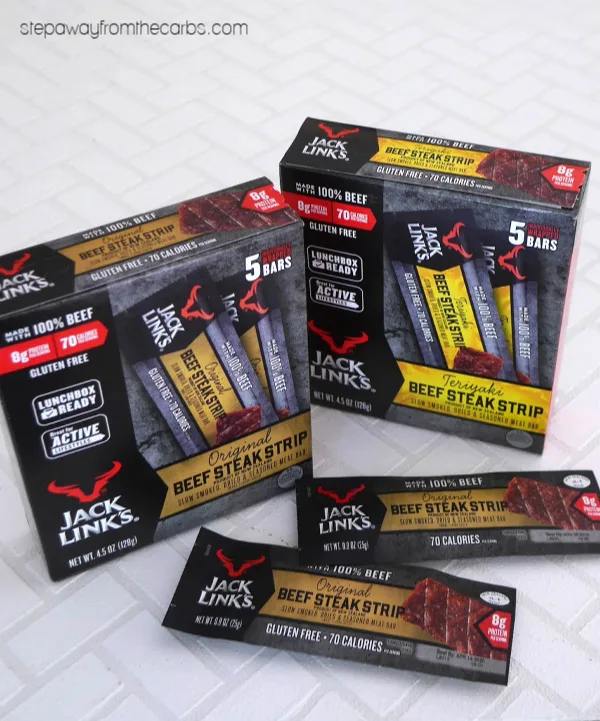 So what about carbohydrates? Jack Link's are low in carbs and are super filling. They are especially suitable for anyone with an active lifestyle! Here's the nutritional data: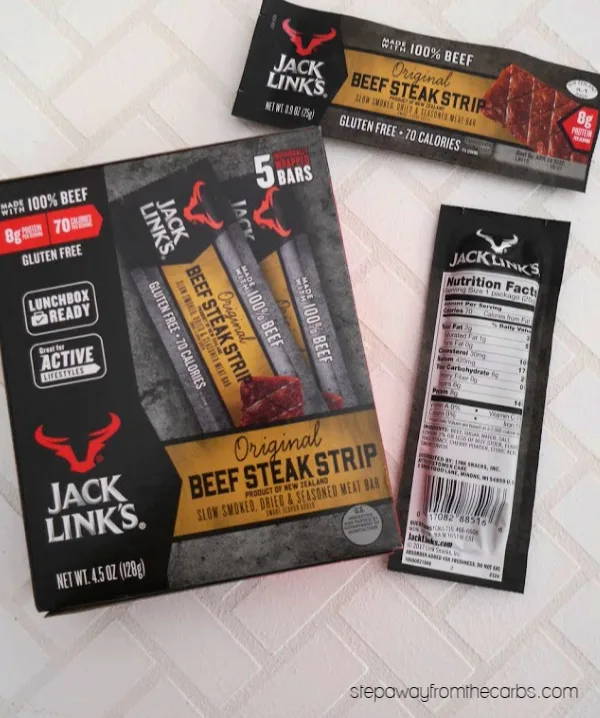 These bars are shelf-stable, which makes them super convenient. So what are they like? Well, the Original flavor is perfectly seasoned – and really quite filling! It's very easy to eat as the bar is quite soft compared to some jerky products – but it's still pleasingly chewy. And actually, I like the slight sweetness to it; the flavors are really well balanced.
The Teriyaki variety has a stronger flavor as you might expect – but still the same great texture. The combination of the beef and soy sauce is wonderful! Plus I like that it isn't garlicky like some other meat snacks that I have tried. I can't wait to try the Peppered flavor next!
And there are SO many ways that you can enjoy them – I've listed 50 different ideas below. You can see just how convenient these bars are for low carb-ers!
50 ways in which to enjoy low carb snacking with Jack Link's Bars!
On a long walk or hike
At the office
As a bar snack
Waiting in the school pick up line
At the pool
As a poker night snack
On a picnic with your family
On a train journey
At a concert
On your commute home from work
After a work-out
As a midnight snack
In the bath!
While watching the US Open
At a conference
On a camping trip
At a tailgate party
In a waiting room
When you're stuck in a traffic jam
By the hot tub
While watching TV
On a bike ride
After working in the garden
Around the bonfire
While waiting at the airport
After going for a run
At the park
On a fishing trip
When there's nothing low carb in a vending machine
As a quick breakfast!
On a bus ride
After school
At the beach
At a ball game
As a movie night snack
At an office party
As a Labor Day snack
On a road trip
After going canoeing or kayaking
While watching the World Series
In your hotel room
When hanging out with friends
While watching soccer practice
On a shopping trip
After lifting weights
As a bowling snack
On a boat trip
After completing a corn maze
After going horseback riding
On June 12 – it's National Jerky Day!!!!
Happy low carb snacking!