These 28 keto and low carb breakfast ideas can all be prepared within 10 minutes! Easy ways to start the day!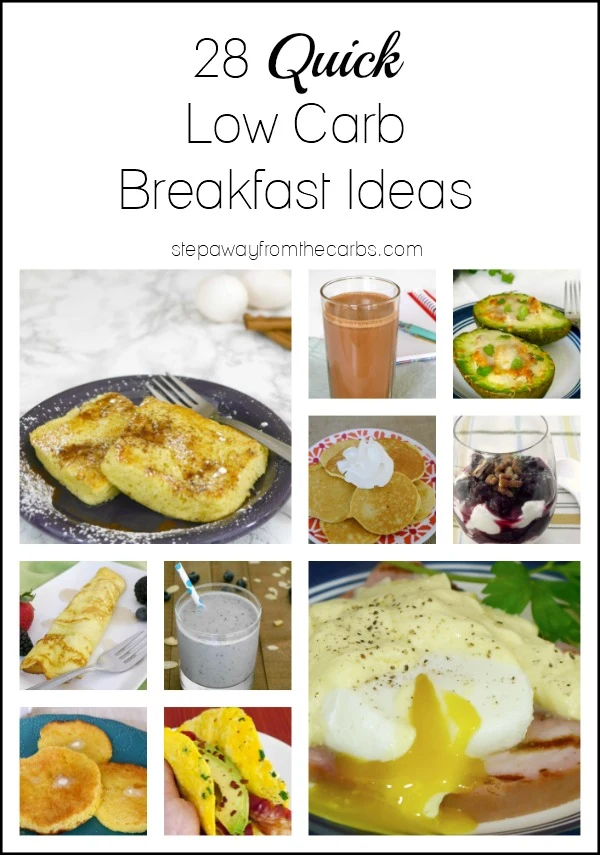 This post may contain affiliate links.
I've been low carbing for over ten years. And I can tell you, there are TWO hard things about this way of eating. Breakfast, and fast food. Really, that's it! And it's not to say that fast food isn't negotiable – it's just that you always need to change up how you order the original dish, which this British girl shies away from!
Breakfast or brunch at home, at the weekend, with all the time in the world, is no problem – and it's not all about eating eggs, either! But that's not reality for most people – especially during the week with busy mornings! Meal plans can help, but I figured I wouldn't be the only one to benefit from this list of keto breakfasts and products that are seriously quick to make.
I'm not particularly good at preparing things in advance for breakfast, but there ARE three exceptions:
Bacon – I always try and keep cooked bacon available at all times! Not only for breakfast, but also for salads and snacking!
Hard Boiled Eggs – I cook around 6 at a time, and then that keeps me going for several days. Perfect for breakfasts where I don't want to cook. Check out how to cook Hard Boiled Eggs in the Instant Pot!
Chia Seeds – Chia need soaking time so that they can absorb liquid. Whether it's for a drink, dessert, or breakfast – I can sometimes be organized enough to prepare this the night before.
Oh – here's a quick video I made of five of the easiest low carb breakfasts!
So here's my top list of easy recipes to try. I use low carb tortillas fairly often but otherwise everything is gluten free and grain free.
Low Carb Breakfast Recipes
Egg Wraps – fill them with whatever you want – but avocado and cooked bacon is my favorite!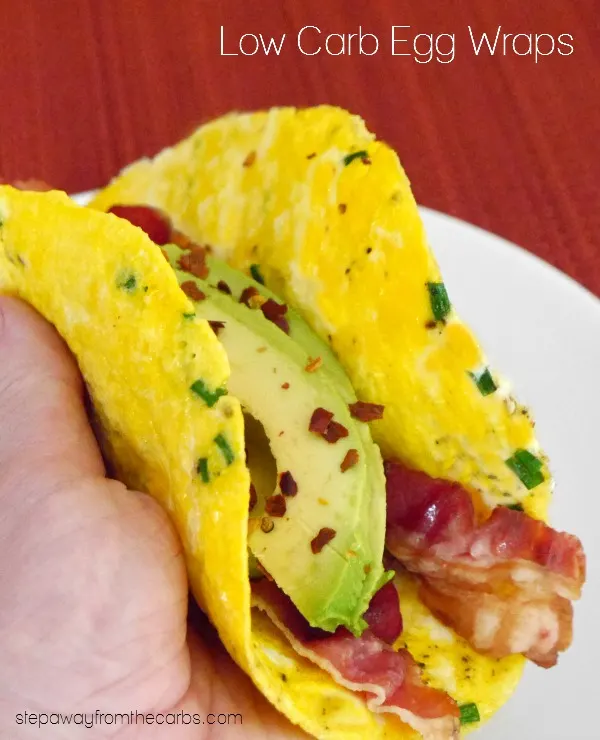 Fluffy Pancakes – whizz up the batter in a mini blender and you'll be enjoying breakfast within minutes!
Low Carb Eggs Benedict – grilled ham steak, poached egg, and jarred Hollandaise sauce. This is a cheat's Benedict but it CAN be made within 10 minutes! You can even use an Egg Cooker to make it even easier. Scroll down for a printable recipe card.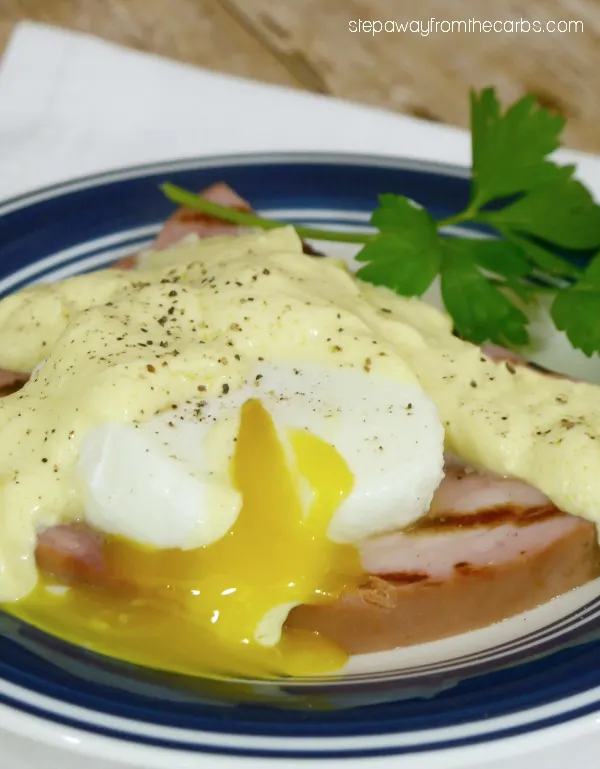 Ham and cream cheese roll-ups – spread the cream cheese over the ham, roll, and go!
Faux Danish Pastry – this takes a few minutes to prepare, but it's cooked super quickly in the microwave!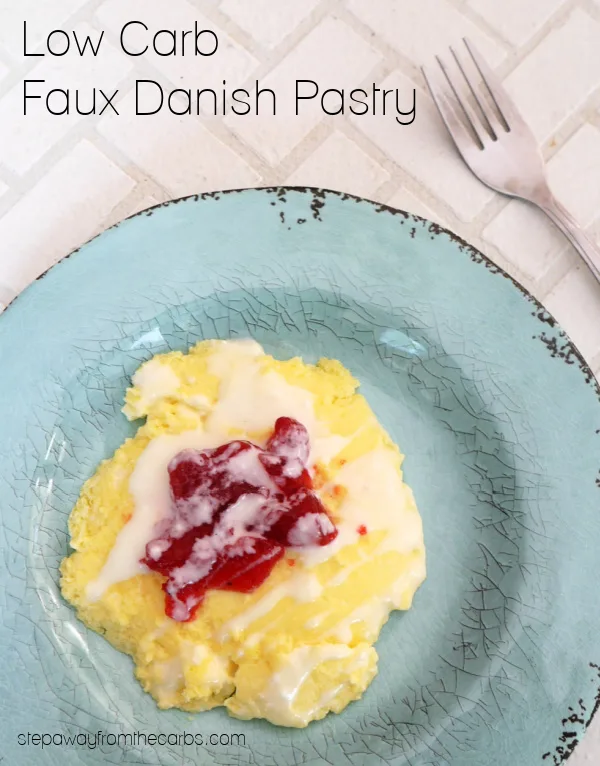 Hard Boiled Eggs and Avocado Mayo – mash everything together and enjoy on its own or in a low carb tortilla.
Quick Bread – 90 seconds is all it takes to cook this bread, and it tastes great toasted!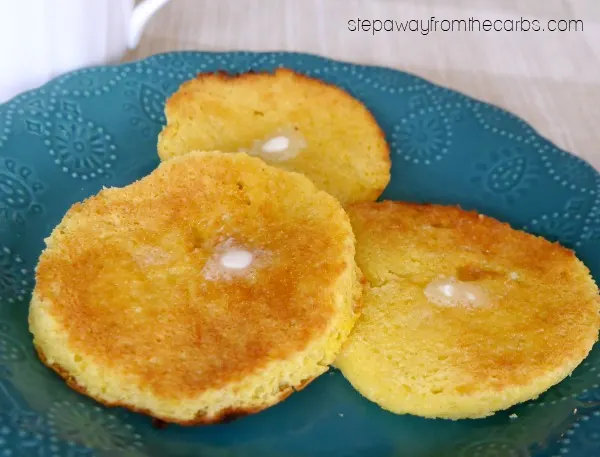 Almond and Blueberry Shake – super speedy prep for this breakfast shake!
Berry Parfait – use leftover homemade berry sauce to make this tasty breakfast parfait! Or use this fantastic low carb GRANOLA to make a wonderful parfait!
Omelets – a classic breakfast dish! Try adding fantastic low carb ingredients like cheese, ham, bacon, broccoli florets, bell peppers, sausage, and more!
Avocado, Bacon and Cheese Melt – remember I mentioned having cooked bacon handy? It's perfect for this recipe!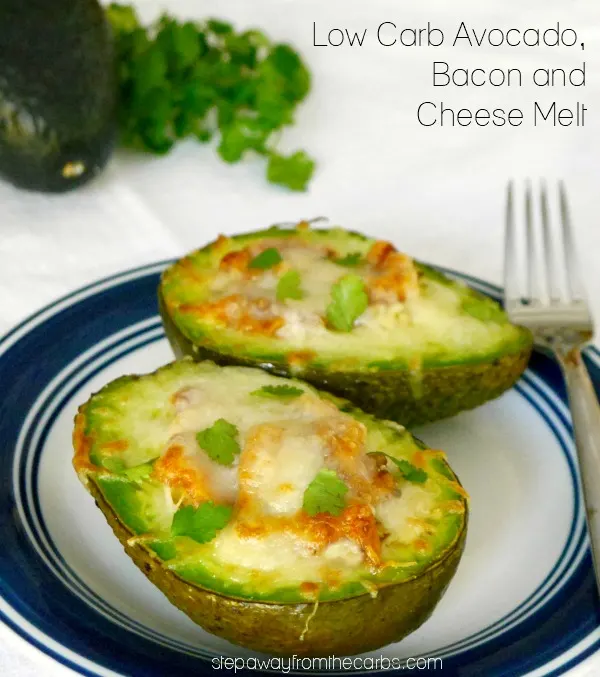 Chocolate Breakfast Shake – of course you can have chocolate for breakfast!!! OR – try this chocolate shake mix from Konscious Keto – with added MCTs! Plus there's a 10% discount! Use "GEO10" when you check out on the Konscious Keto website!
Whipped Cottage Cheese with Berries and Nuts – whiz up the cottage cheese in a food processor and add your toppings!
Almond Pancakes – try these pancakes with low carb maple syrup!
Butter Coffee – I'm not a coffee fan but I know that many of you are! Try this delicious recipe from All Natural Ideas.
Cinnamon Cereal – once you've made this yummy cereal, it's all ready to go in a matter of minutes!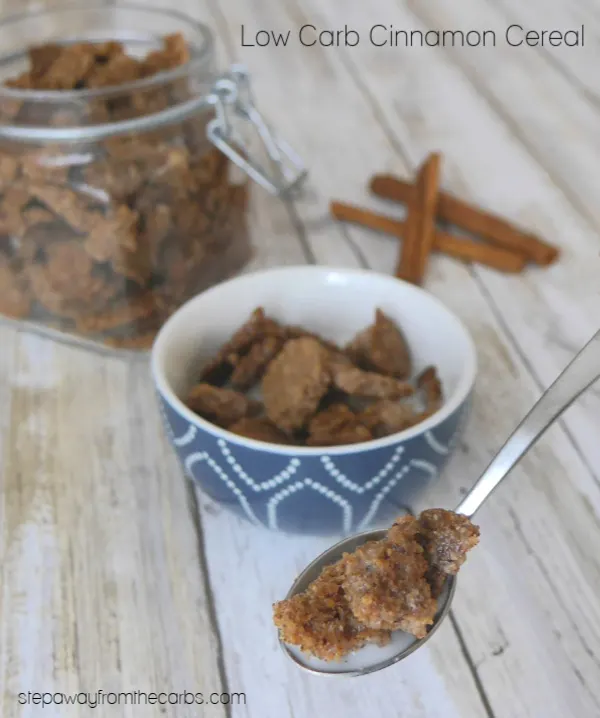 Avocado and Bacon – mash an avocado, chop some cooked bacon, and mix it together with some hot sauce.
Quick Egg and Ham Breakfast – this warm and filling microwave breakfast for one can be yours in just 3 minutes!
Low Carb French Toast – a single serve portion with all your favorite flavors!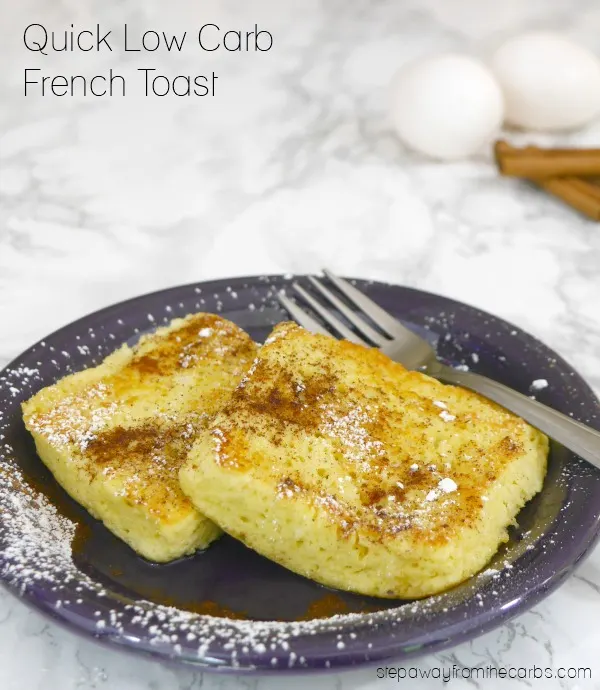 Smoked Salmon and Scrambled Eggs – a favorite brunch at our house!
Blueberry Protein Power Smoothie – you can also make this with raspberries!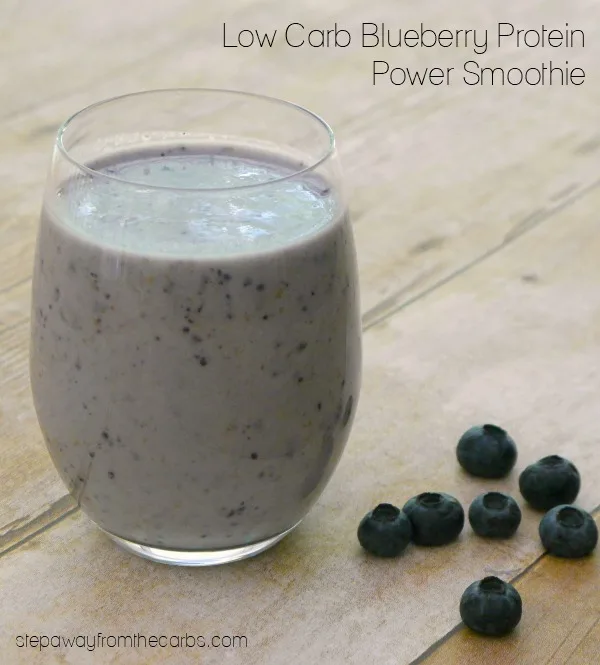 Chocolate Chia Pudding – OK so this is entirely made the night before – but I just had to include it for those of you who are organized!!!
Low Carb Crepes – I've served these with chocolate hazelnut spread and whipped cream, but you could fill them with whatever you like!
Cheesy Scrambled Eggs – make sure you add a LOT of cheese!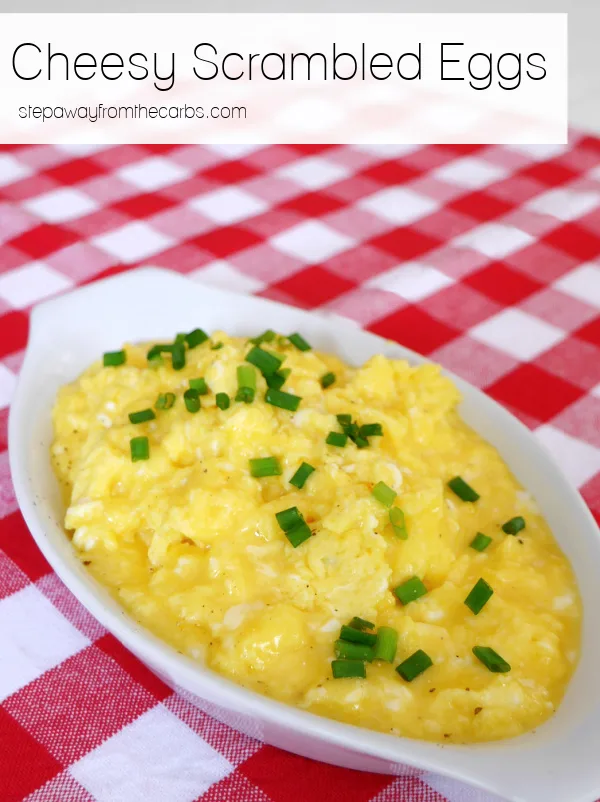 And if you're looking for low carb sandwich bread for a simple toast breakfast, check out my guide to buying low carb bread online! Perfect for peanut butter!
Low Carb Breakfast Products
Here are some other great options for a quick low carb breakfast that you can buy online:
Do you have any low carb breakfast short-cuts not mentioned here? Let me know in the comments! And here's that Eggs Benedict recipe that I promised: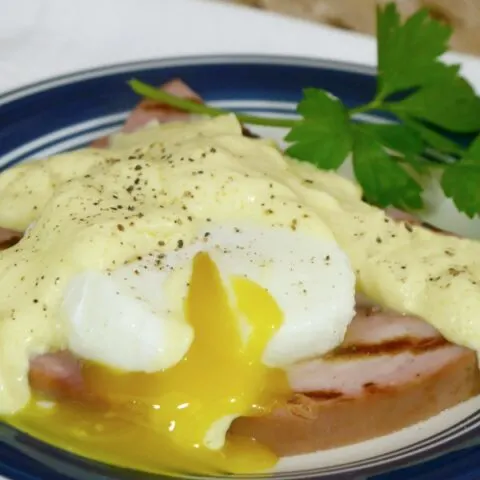 Low Carb Cheat's Eggs Benedict
Grilled ham steak, a poached egg, and jarred Hollandaise sauce makes for a quick and tasty low carb breakfast!
Ingredients
1 large egg
2 tsp white vinegar
½ tsp salt
1½ oz ham steak
black pepper
Instructions
Use an Egg Cooker or poach the egg as follows: Crack the egg into a ramekin and set aside.
Add an inch of water to a small saucepan, add the vinegar, and season generously with salt. Bring the water to a fast simmer, and use a spoon handle to swirl the water round in one direction.
When the water is swirling, drop the egg into the center of the swirl. Turn off the heat, cover, and leave undisturbed for 5 minutes.
While the egg is cooking, warm through the ham steak on a grill pan - about 2 minutes on each side.
Transfer the ham to a plate, then use a slotted spoon to remove the cooked egg from the water. Pour over some of the Hollandaise sauce, season with black pepper, and enjoy!
Notes
3g net carbs per serving (whole recipe).
Recommended Products
As an Amazon Associate and member of other affiliate programs, I earn from qualifying purchases.
Nutrition Information
Yield

1
Serving Size

Whole recipe
Amount Per Serving
Calories

239
Total Fat

18g
Saturated Fat

4g
Cholesterol

209mg
Sodium

2002mg
Carbohydrates

3g
Net Carbohydrates

3g
Fiber

0g
Protein

15g
Update – you might also like my collection of ideas for a low carb breakfast on the go!