Asparagus with Hollandaise sauce is a luxurious dish that you can enjoy for lunch or as an appetizer. Low carb, LCHF, and keto friendly recipe.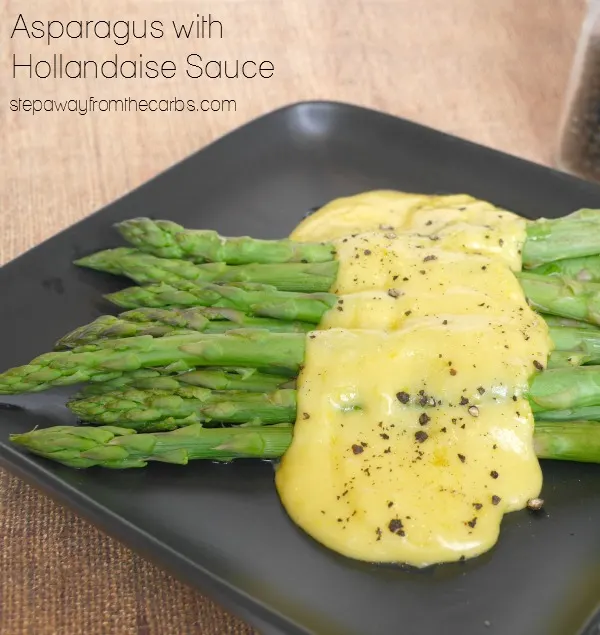 This post may contain affiliate links.
This dish is definitely for a special occasion. Making a Hollandaise sauce is more work than I might usually put in for an appetizer or lunch. But it is SO worth it. Don't let yourself be interrupted or distracted, and you will be rewarded!!
You might also like to try my recipe for Chipotle Hollandaise!
How to Make Asparagus with Hollandaise Sauce
First you'll need to get out a stick of butter and let it get to room temperature. In a small saucepan, add white wine vinegar, water and peppercorns. Boil until reduced by about half. Strain out the peppercorns and let it cool.
For this dish I prefer to have steamed asparagus. I have a really cool microwave vegetable steamer that I just set up in advance, so that I can concentrate on making the sauce. I even put it in the microwave all ready to go.
Now back to the sauce. Set up a bain marie – or if you don't have one – a glass bowl that fits snuggly over a saucepan. Add water to the saucepan and get it simmering. In the bowl, add the cooled vinegar mixture and two egg yolks. Whisk until foamy.
Now add the softened butter, about one spoonful at a time. Whisk each spoonful in completely before adding the next. This is the point where you don't want to be disturbed – this sauce needs constant attention and whisking. Make sure the water isn't boiling underneath the bowl as you want the sauce to cook slowly.
When you have two more spoonfuls of butter left to add, dash over and start the microwave. The asparagus should only take a couple of minutes – you don't want them to be too soft as they'll be harder to dip into the sauce.
When everything is ready, plate the asparagus and pour the amazing sauce over it. Share it with someone special and eat it with your fingers!
Asparagus contains approximately 0.5g net carbs per medium spear. You can find a recipe card and full nutritional data for the Hollandaise sauce HERE!
Asparagus with Hollandaise Sauce #lowcarb
Click To Tweet
Save
Save
Save