This is the ultimate deviled eggs recipe! A keto deviled egg that is topped with a parmesan crisp for a nice crunch factor. This is a wonderful make-ahead appetizer to serve up for a party, game day event, or holiday feast.
If you are wanting more low carb appetizers to try out, I have a nice selection. Also try these bacon deviled eggs or ramp up the spice with these buffalo deviled eggs recipe.
These Keto Deviled Eggs Are…
Keto

Gluten Free

Make Ahead Appetizer

Easy
How to Make Keto Deviled Eggs
Full directions on how to make these keto deviled eggs are in the printable recipe card. This is a quick walk through on how to make.
Preheat the oven and prep your parmesan cheese on your baking sheet with salt and pepper.

Bake in the oven until it is nice and crispy. Remove and allow them to cool.

Peel your hard boiled eggs and cut in half and remove the yolks.

Mash up the yolks, and add in the other ingredients and mix till creamy.

Put the filling in the eggs, and top with the cheese crisp, paprika and green onions.
Helpful Tips for Keto Deviled Eggs
Cheese Crisps
When making the parmesan cheese crisps, make sure to place even piles so you get the same size of cheese crisps for each egg.
Parchment Paper
Using parchment paper or a baking mat will make sure the cheese doesn't stick to the pan. Otherwise, they could break if you allow them to cool on the pan.
Variations To Keto Deviled Eggs
Cheese
You are welcome to use any other flavor of cheese you could use instead of parmesan. Cheddar would be delicious and even a pepper jack cheese. Just make sure to grate fresh cheese.
Sweetness
If you like your deviled eggs to have sweetness, you can add a little of your favorite sweetener to give it a bit of sweetness.
Seasonings
Change up the seasonings you use to flavor your deviled eggs. I love using Everything But The Bagel seasoning and it pairs really nice with all the other flavors of the eggs.
Keto Deviled Eggs FAQs
Can I make these deviled eggs in advance?
You are more than welcome to make these deviled eggs in advance. The parmesan crisps need to be placed right before serving. Otherwise, you will find they become softer if stored in the fridge on top of the eggs.
Can you eat deviled eggs on a keto diet?
Eggs are a great protein packed snack while you are on the keto diet. Just make sure when you are making the eggs they are made with all keto-friendly ingredients.
Can you freeze keto deviled eggs?
No you can't freeze deviled eggs, they will not thaw from being frozen well. You are welcome to make as many eggs as you would like.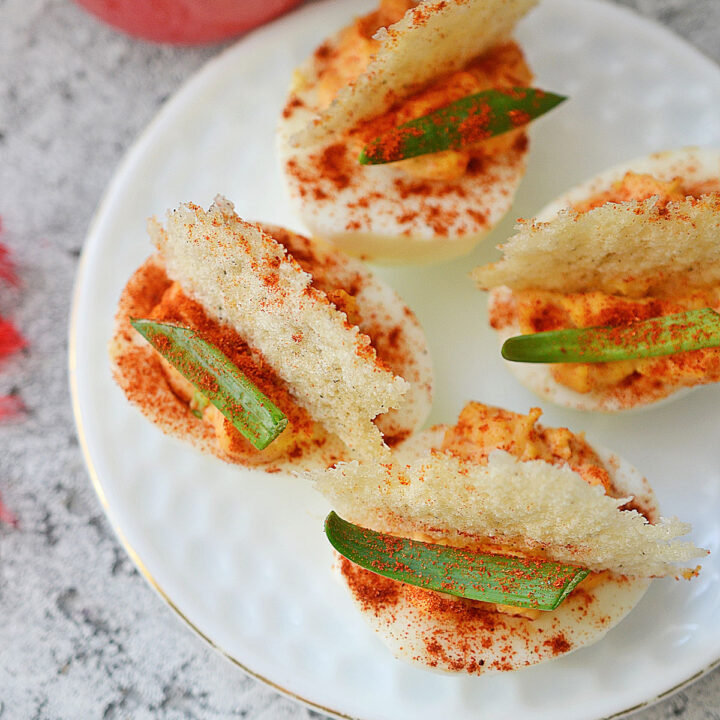 Keto Deviled Eggs (with a cheese crisp garnish!)
These quick and easy Keto Deviled Eggs are packed with delicious flavor and topped with a fun parmesan cheese crisp garnish!
Ingredients
1 cup Parmesan Cheese, shredded
½ tsp Salt
½ tsp Black Pepper
6 Hard Boiled Eggs
3 tbsp Mayonnaise
1 tbsp Dijon Mustard
1 tsp White Wine Vinegar
1 tsp Worcestershire Sauce
1 tsp Smoked paprika
4 Green onions, sliced
Extra green onions and paprika, for optional garnish
Instructions
Preheat the oven to 350F degrees.
Toss the shredded parmesan cheese with the salt and pepper. Line a baking sheet with a piece of parchment paper. Arrange the parmesan in 6 small piles on the parchment paper (they will melt into the cheese crisps).
Bake the chips in the oven for 10-15 minutes, until the cheese has melted and begun to turn crispy.
Alternatively, you can prepare the cheese crisps in the microwave. Lay the cheese piles on a piece of parchment paper in the microwave and cook on high for 1-2 minutes, until they start to look crispy.)
Peel the hard boiled eggs, cut each in half, and remove the yolks.
Mash the yolks in a mixing bowl. Add the vinegar, mustard, mayonnaise, Worcestershire sauce, paprika, and scallions. Mash to combine with the egg yolks.
Stuff the egg halves with the yolk mixture. Garnish with the cheese crisps, additional paprika, and green onion slices to serve.