If you are wanting a simple and easy appetizer try out these mini cheese balls. A bite-size make ahead party food that is made with cream cheese, shredded cheese, dried apricots, and bacon. A sweet and savory appetizer.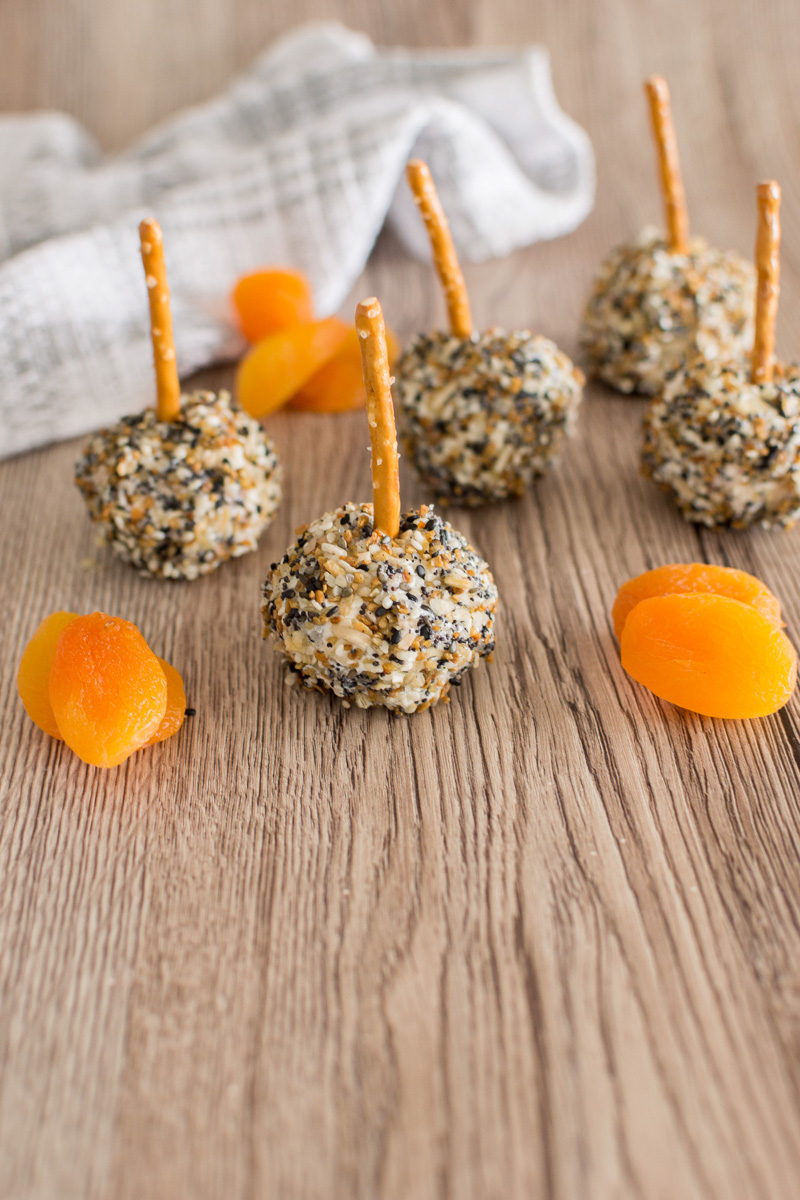 These mini cheese balls use a pretzel as the stick for picking up and eating the cheese balls. A simple and easy to make appetizer.
Make sure to check out these low carb crispy cheese balls too, they are a great appetizer. If you are looking for low carb and keto friendly appetizers you have come to the right place.
This Mini Cheese Balls Recipe Is…
Keto Friendly

Make Ahead Appetizer

Sweet and Savory

Quick To Make
How to Make Mini Cheese Balls
Full steps on how to make these mini cheese balls are listed below in the recipe card. This is a quick walk through on how to make this appetizer.
Start by taking your cream cheese and mixing with shredded cheese and yogurt.

Now fold in the apricots, bacon, and bagel seasoning. Mix well.

Then you will line a baking sheet and roll the cheeseballs, and place on the baking sheet.

Roll each cheese ball in seasoning, and then place a pretzel stick in the center.

Refrigerate until ready to serve.
Helpful Tips for Making Cheese Balls
Softened Cream Cheese
Make sure that you use softened cream cheese for mixing up the cheese balls. You can let the cream cheese set out on counter to soften. Or you can place in warm water for 10 minutes, and then check, and repeat with water. Just don't use hot water or it can melt the cheese.
Wax Paper
Wax paper or parchment paper is great as it will create a non-stick surface to place your cheese balls. Feel free to use either to help prevent your cheese balls from sticking.
Cookie Scoop
I find that using a cookie scoop helps create the same size cheese balls. You will find that if you don't use a scoop it can create uneven shaped cheese balls.
Variations to Mini Cheese Balls
No Apricot
Leave out the dried apricots to give this a more savory take without the hint of sweetness from the dried fruit.
Cranberries
Instead of cranberries you can swap with dried cranberries if you would like. It will of course still add a sweet component as well as a hint of tartness.
Leave Out Bacon
If you do not want to have meat in your cheese balls you can leave it out. You can swap out the bacon with even some green onions to help create a nice layer of flavor to the cheese balls.
Mini Cheese Balls FAQs
How do you make little cheese balls?
Mix up your cheese ball dough and then once mixed roll into balls in your hand. Then roll into the seasoning mixture.
Can mini cheese balls be frozen?
You can freeze the cheese balls to help speed up them setting up. Or freeze the cheese balls for 1-2 months if you want to keep them on hand. Just know the texture can change a bit once it thaws from being frozen.
Can you make cheese ball ahead time?
Absolutely! You can make and store your cheeseballs in the fridge for a day before you plan to serve them up. I find the cheese balls are best served within the first 2 days of being made.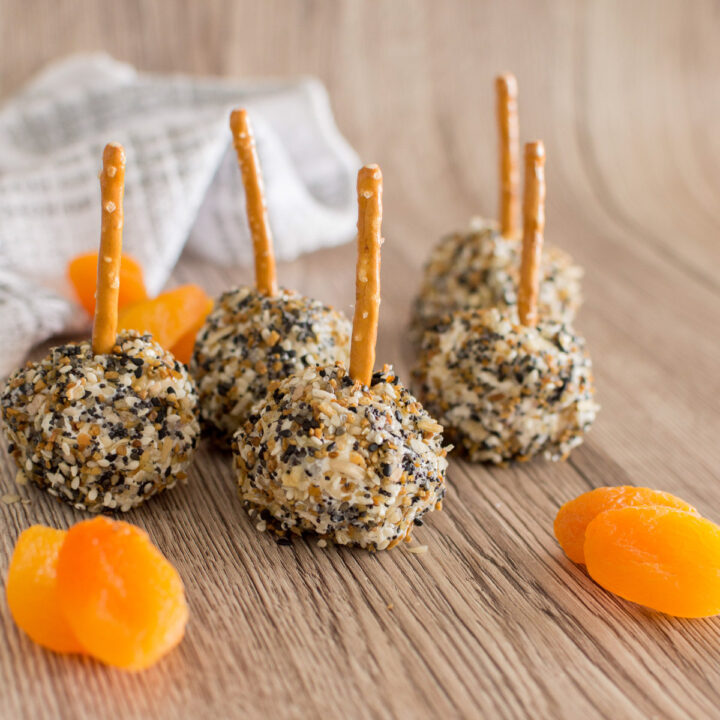 Mini Cheese Balls (Keto Friendly)
Yield:
12 - 15 cheeseballs
These Mini Cheese Balls are just as tasty as they are adorable! With the perfect balance of sweet apricots and savory bacon, these are the perfect keto-friendly party food.
Ingredients
1 8 oz. block cream cheese, softened
½ cup Greek yogurt
1 cup shredded cheddar cheese
Dried apricots, cut into fine bits
5 slices cooked bacon, crumbled into fine bits (best if cooked crispy)
1/3 cup everything bagel seasoning
12-15 pretzel sticks
Instructions
In a medium-sized bowl, cream together cream cheese, Greek yogurt and cheddar cheese. Mix until all three ingredients are well-combined.
Fold in apricot bits and bacon. Mix thoroughly.
Pour everything bagel seasoning into a bowl.
Line a baking sheet or cutting board with wax paper. Roll the cheese mixture into small spheres, about 1 ½ inches in diameter.
Roll each cheeseball into the seasoning, coating it evenly.
Place gently on lined working surface. Insert one pretzel stick at the top center of each cheeseball.
Serve and enjoy! Pairs very well with crackers.