This keto sausage gravy is a total comfort food. A ground pork sausage made with heavy cream, seasonings and almond flour. Serve your homemade sausage gravy over low carb biscuits, chaffles, or even chicken.
If you are new to the keto diet or looking for new recipes to incorporate into your diet, try this sausage gravy recipe. I am loving how creamy and flavorful this keto gravy is.
Make sure to also try my keto chicken fried steak, low carb cheddar biscuits, or bangers and mash low carb style.
This Keto Sausage Gravy Recipe Is…
Gluten Free
Keto Friendly
Breakfast Recipe or Dinner
Made with Pork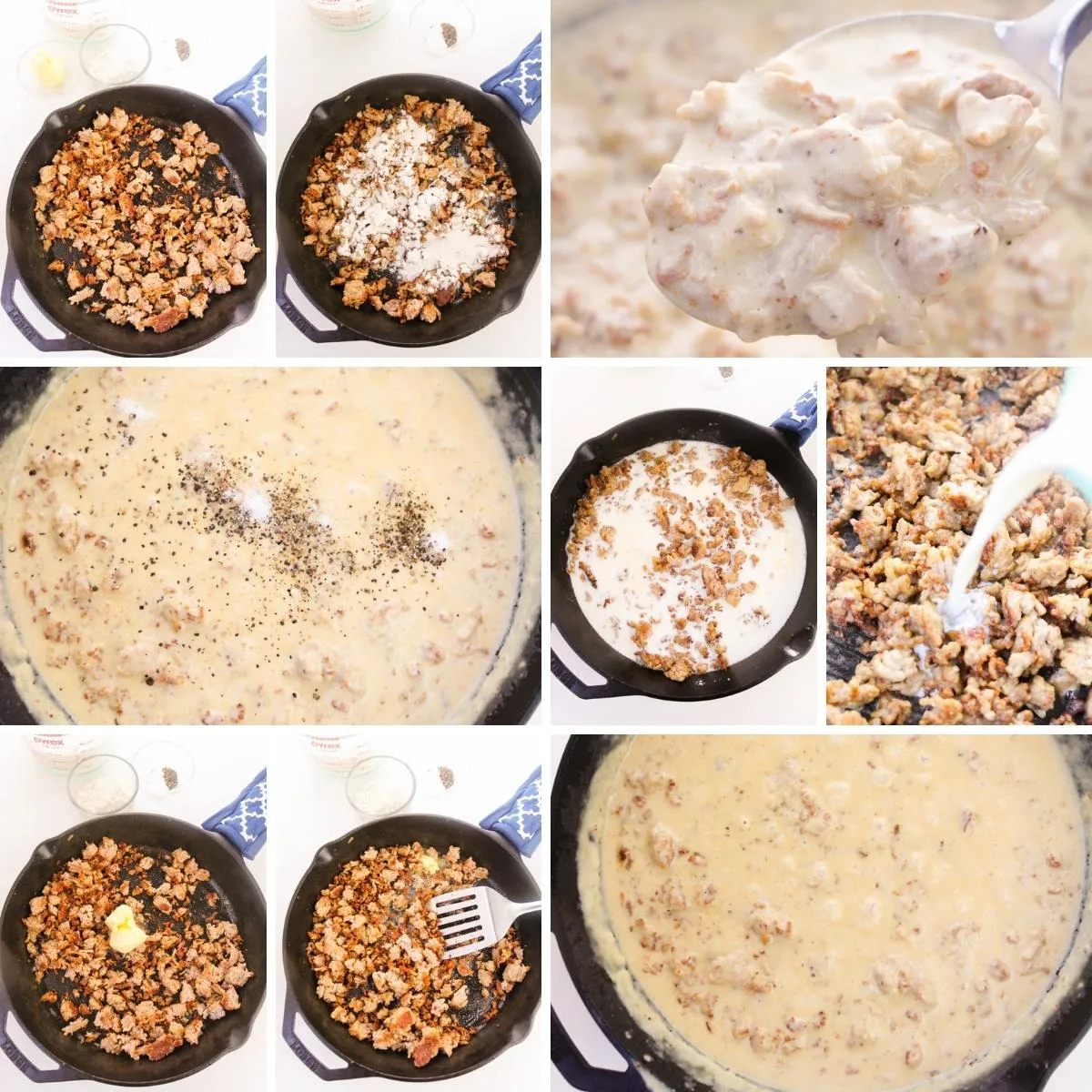 How to Make Keto Sausage Gravy
Full steps on how to make keto sausage gravy is in the printable recipe card. This is a quick walk through on this keto recipe.
Cook the ground pork in a skillet on the stove. You want to cook it until fully cooked and crumbled.
Stir in the seasonings and butter once the pork is done being cooked.
Add in the heavy cream stirring as you slowly pour the cream in.
Heat over low heat and allow the gravy to thicken. Then season with salt and pepper to taste.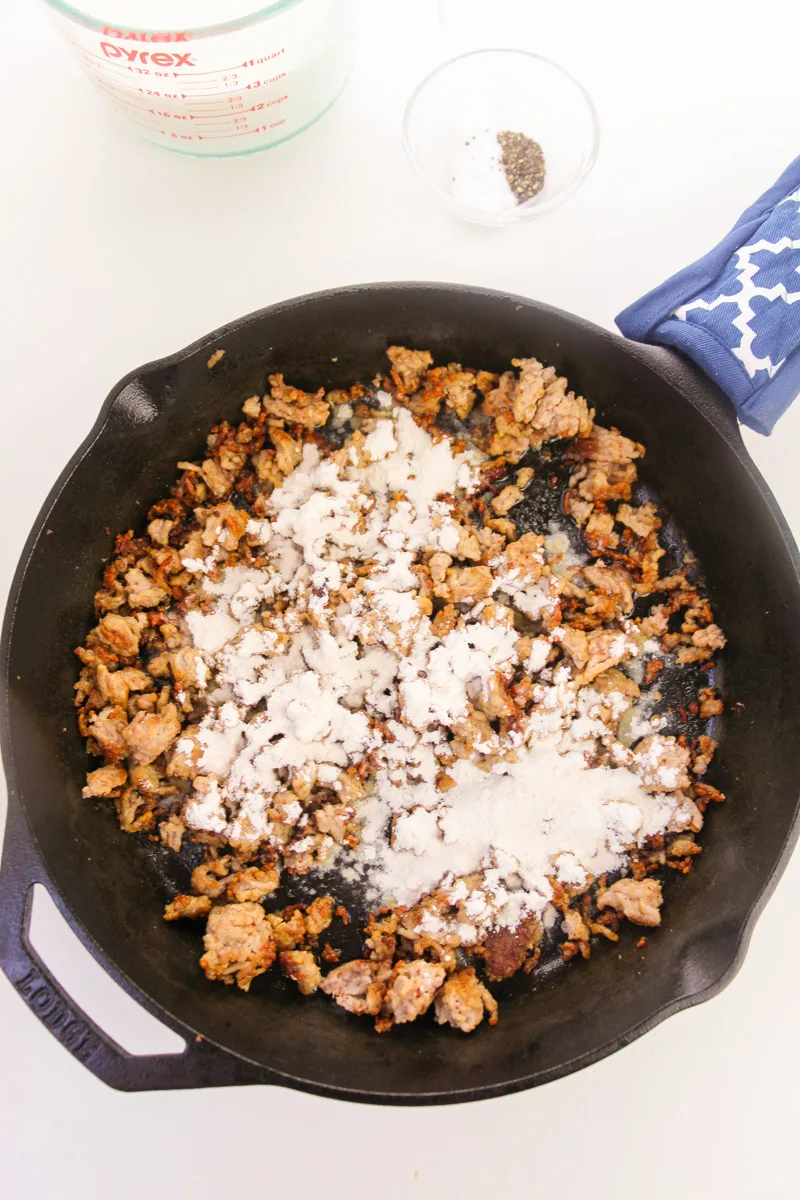 Helpful Tips For Success On Keto Gravy
Whisk
Make sure to use a whisk for mixing the gravy together. This is going to help ensure you remove any clumps that develop. A fork can work but I find the whisk is more efficient.
Thickening Gravy
As you are cooking the gravy it will thicken. So make sure to give it time when you go to cooking your gravy. Otherwise, you will find if you remove from heat too quickly it won't thicken properly.
Drain Off Excess Grease
Make sure that if you have a lot of grease from cooking the pork remove excess grease in the pan. A little is okay as it can flavor the gravy a bit. But too much grease you will find can cause the gravy to separate a bit.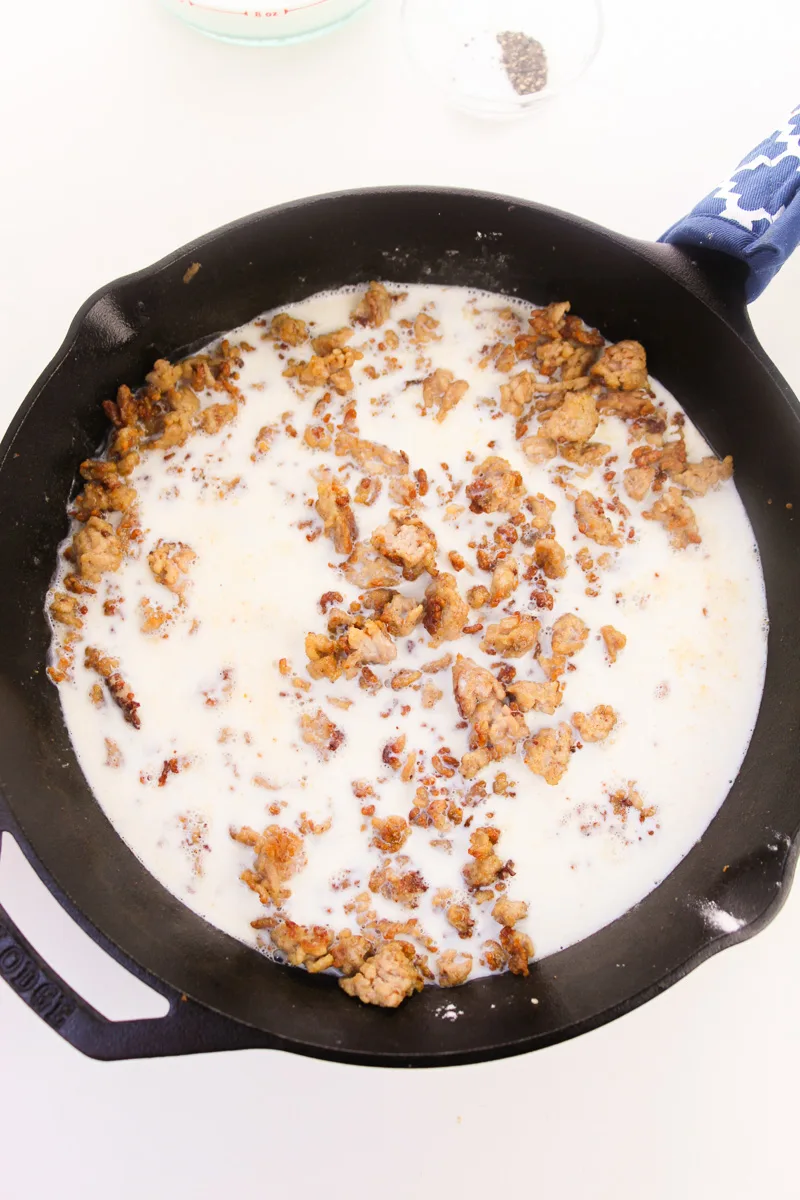 Keto Pork Gravy Variations
Ground Beef
Instead of pork you could use ground beef. Either protein works great and will help add flavor to the gravy. The pork stands out more in flavor.
Seasoning
So for seasoning I used garlic, onion and salt and pepper. You are more than welcome to use your favorite seasonings if you want.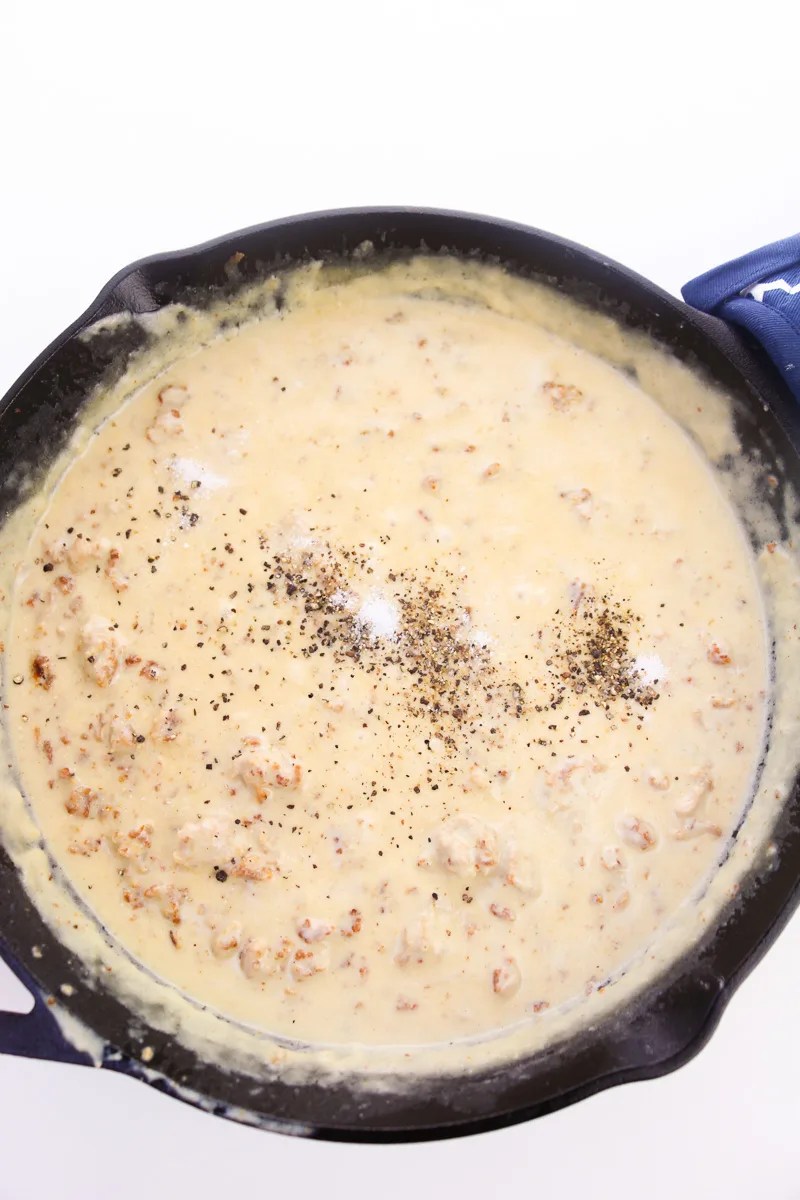 Keto Sausage Gravy FAQs
How to store leftover sausage gravy?
You can store any leftover sausage gravy for 2-3 days in the fridge. The gravy will thicken as it cools down. So when you reheat the gravy it will thin up a bit again.
Does this recipe double well?
You are more than welcome to reach for a larger pan and double the recipe if you would like. You will find due to the dairy the dish doesn't freeze well. So only make what you plan to eat right away.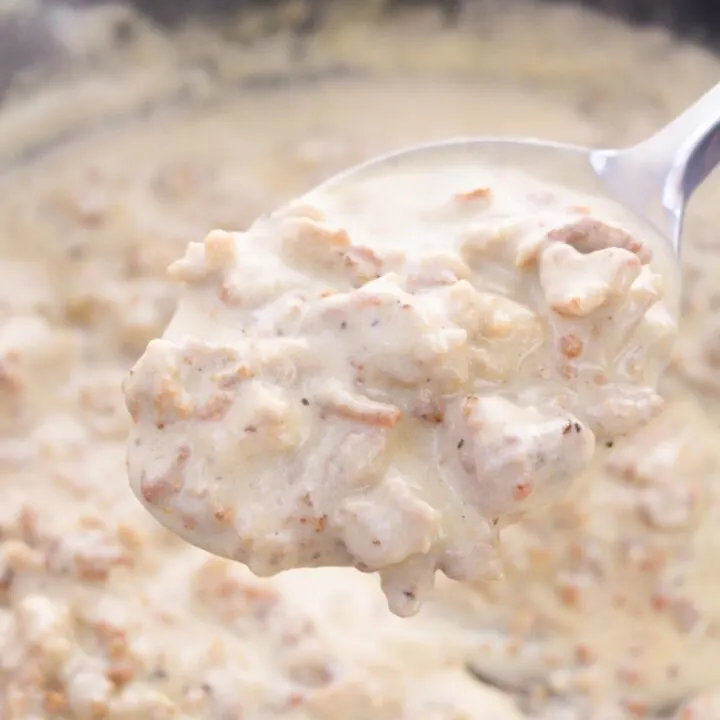 Keto Sausage Gravy
This easy keto sausage gravy is perfect for serving over low carb biscuits or chaffles! And it's easy to make in just 20 minutes.
Ingredients
1 lb Ground Pork
2 Tablespoons Butter
2 tsp garlic powder
1 tsp onion powder
1/4 cup Almond Flour
2 cups Heavy Cream, may add more if you prefer a thinner gravy
Salt and Pepper, to taste
Instructions
Cook ground pork in a skillet over medium-high heat for 10-15 minutes, until cooked through and at desired doneness.
Stir in the butter, garlic powder, and onion powder. Cook for two minutes more, stirring occasionally.
Sprinkle in the almond flour and stir until well combined.
Add the heavy cream and simmer over low heat for 8 minutes until thickened, adding additional cream as desired.
Season to taste with salt and pepper.