If you're looking for low carb bagels, then here's my list of keto bagels that you can either buy or make. All tried and tested by yours truly!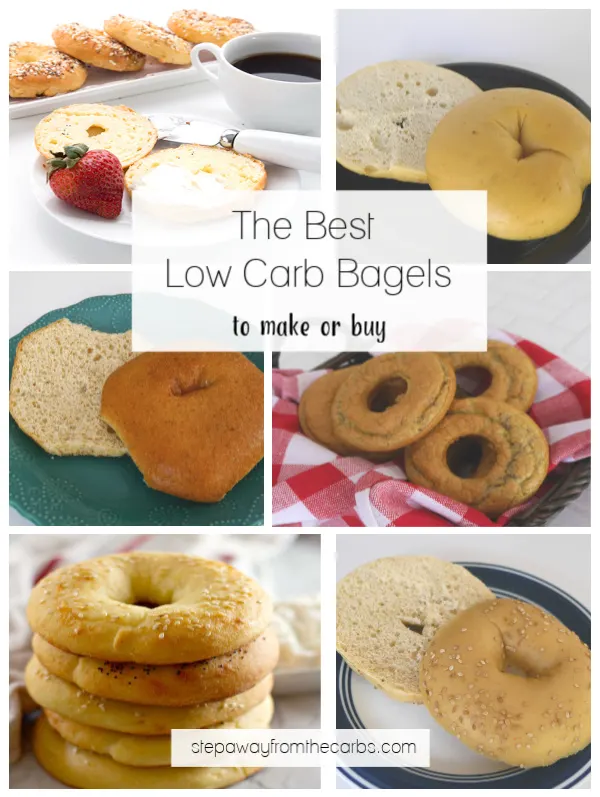 This post may contain affiliate links.
I don't know about you, but I *really* miss bagels! Especially with cream cheese and smoked salmon… Whether it's for a breakfast or a quick snack or meal – there is something about the texture and slight sweetness that makes them more special than regular bread.
Which is why I decided to put myself through the grueling challenge of trying out low carb bagels for you – both ones that you can buy (online only, I'm afraid) and ones that you can make yourself! Someone's got to do it…
---
Low Carb Bagels to Buy
To test out some ready-to-eat bagels, I ordered three different brands from one of my favorite suppliers Netrition – who I've been ordering from for nearly ten years!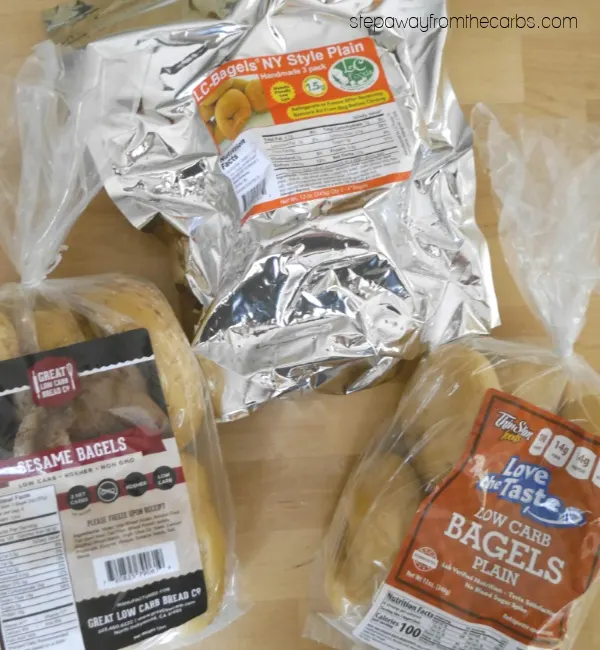 Bagel 1: Thin Slim Foods Low Carb Bagels / Plain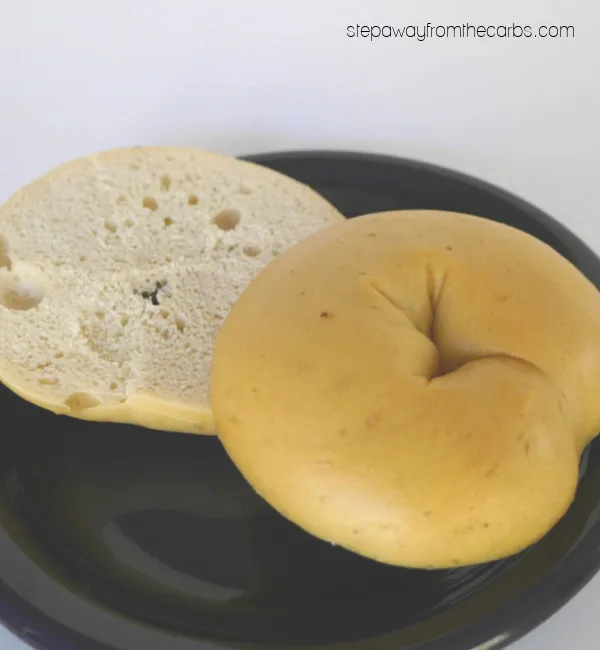 Price: $8.49 for 6 bagels. Also available from Amazon for $18 for 12.
Carbs: 2g net carbs per bagel
Ingredients: Wheat protein isolate, vital wheat gluten, oat fiber, modified wheat starch, flaxseed meal, almond flour, olive oil, chicory root, yeast, salt, stevia, apple cider vinegar.
Available Varieties: Plain, Everything, Cinnamon
Tasting Notes: These have a really good bagel texture, although they aren't as sweet as high carb alternatives. They are very filling – thanks to the 14g of fiber!
Bagel 2: LC Foods Bagels NY / Plain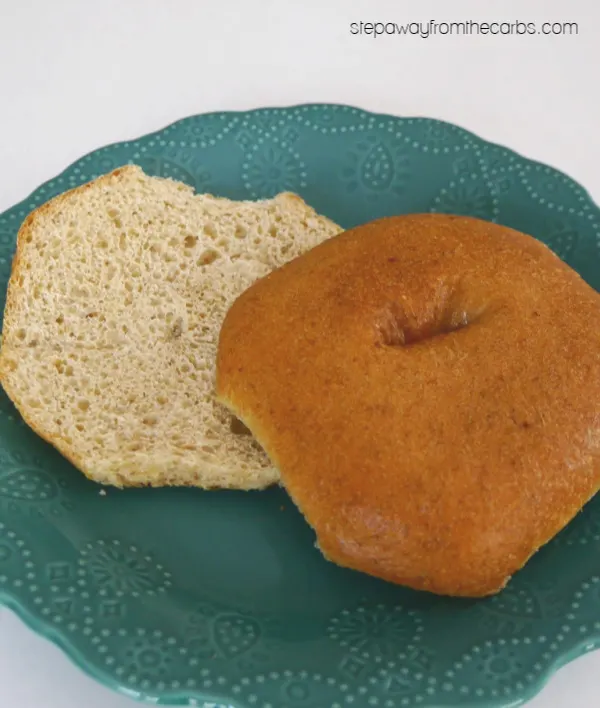 Price: $7.99 for 3 bagels
Carbs: 1.5g net carbs per bagel
Ingredients: Wheat protein isolates, resistant wheat starches, flax seed meal, olive oil, vital wheat gluten, instant dry yeast, inulin (chicory root) fiber, salt, calcium propionate (as a preservative), vinegar, organic stevia rebaudiana leaf natural herbal extracts, and natural luo han guo monk fruit.
Available Varieties: Cinnamon Raisin and Everything via Netrition, although if you order through LC Foods direct they also offer Onion Garlic and Sesame.
Tasting Notes: These hand-crafted bagels take two days to make! They are more like whole grain bagels, and are quite chewy – but I like the taste. And they're big!
Bagel 3: Great Low Carb Baking Co / Sesame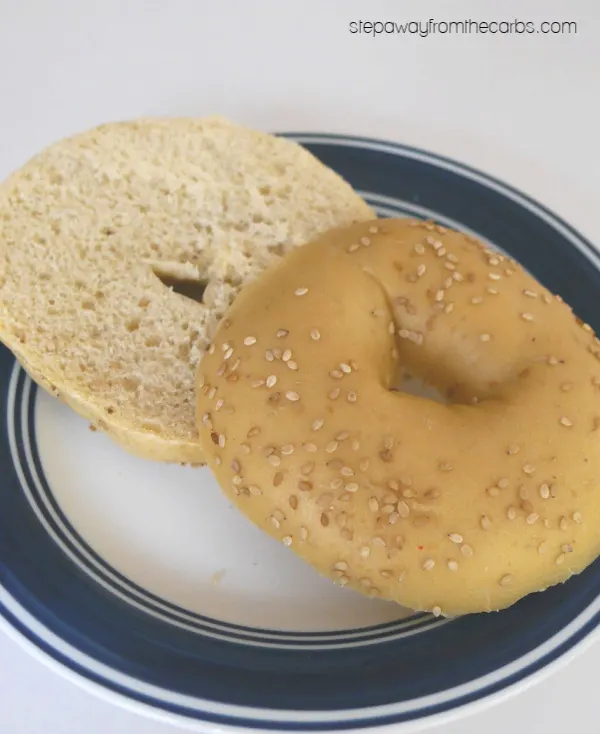 Price: $8.49 for 6 bagels
Carbs: 2g net carbs per bagel
Ingredients: Water, Vital Wheat Gluten, Almond Flour, Flax Seed Meal, Oat Fiber, Wheat Protein Isolate, Modified Wheat Starch, Virgin Olive Oil, Yeast, Calcium Propionate, Enzyme, Vinegar, Sesame Seeds, Salt, Stevia.
Available Varieties: Cinnamon, Everything, Garlic Butter, Multigrain, Onion, Pumpernickel, Pumpkin Spice, Rye, Sesame. The Everything variety is also available on Amazon for $26.00 for 12 bagels.
Tasting Notes: As there isn't a plain version of these bagels, I tried the sesame. They are probably the most similar to regular bagels, although they do need to be stored in the freezer (top tip – slice them before freezing!).
My conclusion? These bagels are all tasty and filling. They are all sugar free but NOT gluten free. I think the winner, though, is Great Low Carb Baking Co!
These bagels can all be bought from Netrition – a great source of low carb goodies!
And for reference – regular plain bagels are around 51g net carbs, and contain 6g of sugar!!!
---
Low Carb Bagel Recipes
Now I am fully aware that as tempting as some of those bagels sound, the price point just isn't realistic for some people. So I obviously wanted to include some homemade options as well.
As I'm not much of a bread baker – even when I wasn't following a low carb diet this eluded me – and I prefer things like Low Carb Microwave Quick Bread these days! So I asked around for some recommended recipes. Luckily, I know a lot of clever people who have some amazing recipes!
First up are these Keto Bagels from Kimspired DIY – they're based on fathead dough and you KNOW how I love my Fathead Dough!!!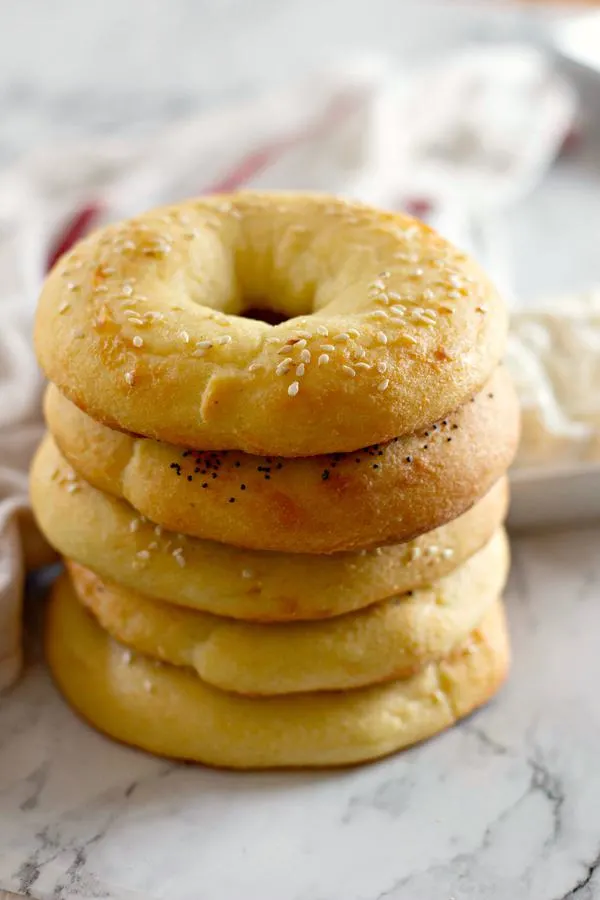 I decided to try them out – and I confess I was rushing a little and didn't mix everything together perfectly (I was desperate for a fathead bagel – what can I say?!?).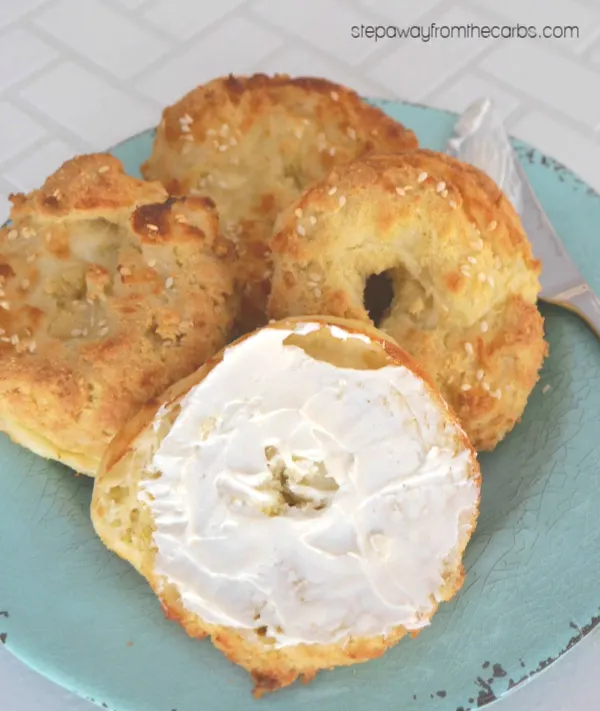 So mine turned out a little more rustic that the original – but they still tasted great. A little cheesy, as you'd expect from this kind of dough. But I'm definitely a fan! 5.6g net carbs per bagel.
Next on my list to try where these low carb and gluten free bagels from Divalicious. They're actually dairy free, and made from a combination of ground flaxseed, coconut flour, baking powder, and eggs.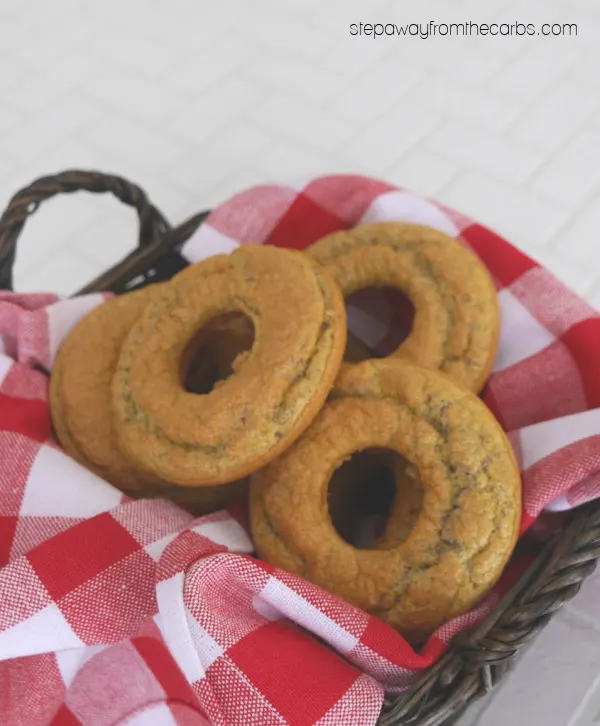 At first glance, the recipe doesn't look like it has enough ingredients to make six bagels, but it relies on the volume from beaten eggs. If you prefer an eggier bagel rather than a cheesy one, try this recipe! Oh and I found that 20 minutes cooking time was enough for me – and I got to use my donut pan! 2g net carbs per bagel.
And finally I tried a chewy keto bagel recipe from All Day I Dream About Food. They're made from a coconut flour based fathead dough, which I hadn't tried before.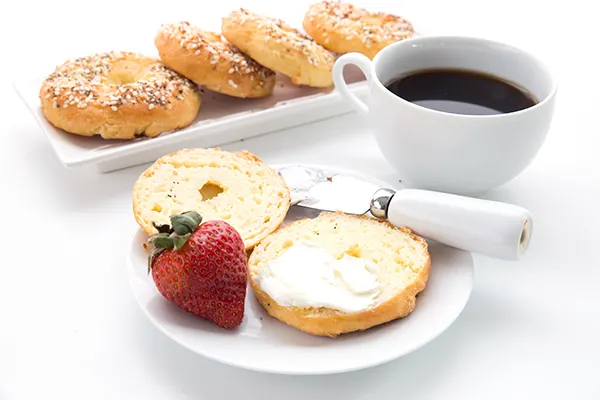 I had a little trouble working with the dough, and I didn't get it as smooth as I would have liked. I also think that the recipe is better suited for making 6 bagels rather than the suggested 8. But despite my issues with the dough, the final texture was fantastic! Perfectly chewy!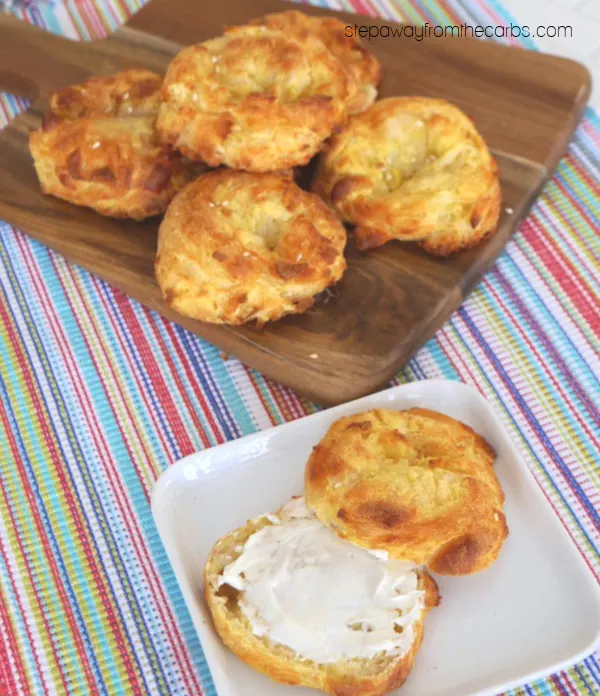 Did I feature your favorite keto bagel? If not, let me know in the comments!!