This low carb honey mustard sauce requires just three ingredients, and is the perfect blend of flavors. Keto and sugar free recipe.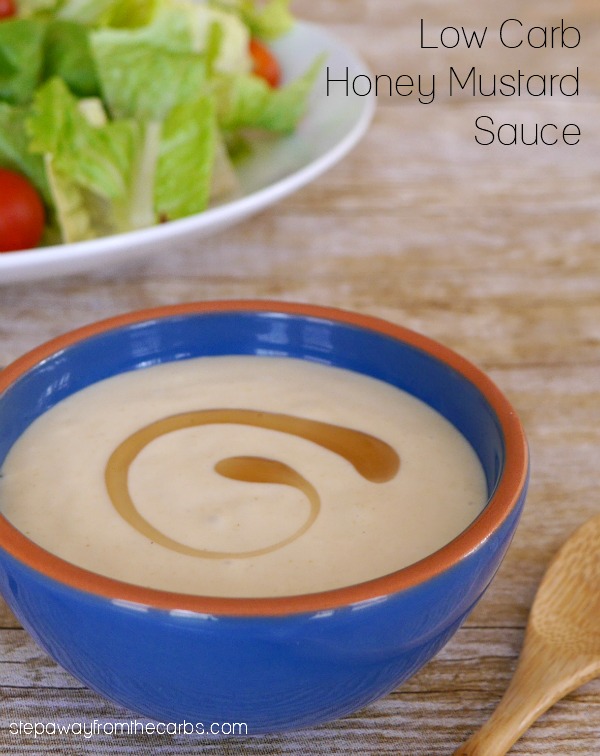 The following post contains affiliate links, which means that at no extra cost to you I can make a tiny bit of money to help support this blog. Thank you!
Is it a sauce? Is it a dip? Is it a salad dressing? Well, it can be whichever you want! It takes less than a minute to make and requires only three ingredients – it's so easy!
When I decided to make this dip – I was clear about what the first two ingredients would be: full fat mayonnaise and smooth Dijon mustard. But how to get the honey flavor and sweetness? I thought about adding some standard low carb sweetener to try and get the same effect – or perhaps some honey flavoring?
Low Carb Honey Alternatives
But I recently tested two sugar free honey products – with very mixed results!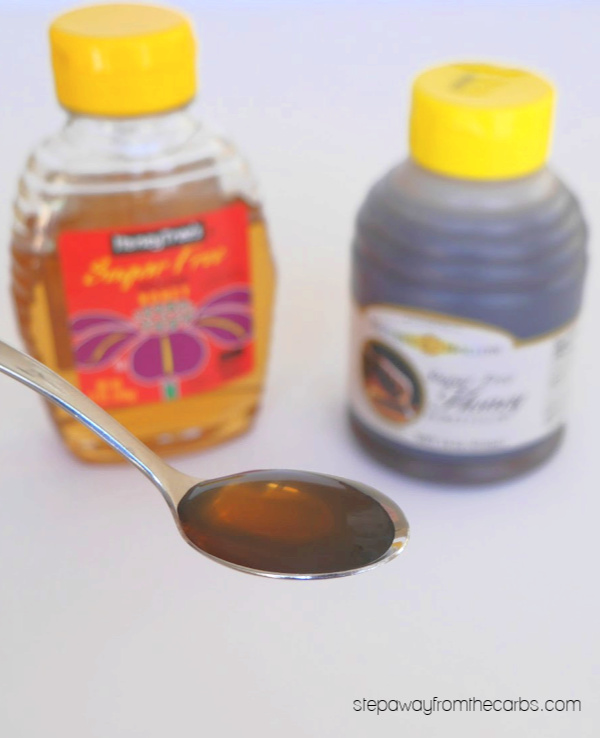 The first honey I tried was Nature's Hollow. I've never seen this in stores, but you can buy it for $6.09 from Netrition, or an (untempting) $14.95 from Amazon for the same sized bottle!
I was excited to try this brand for two reasons: it is sweetened with xylitol – a sweetener that I've used for over a decade, and also it is 1g net carbs per tablespoon. It's an all-natural product, and in my taste test it really DID taste natural. But, not exactly like honey! It was thinner than expected and darker than normal honey. It was fine. It was OK. But I was disappointed.
The second honey substitute was Honey Tree. I picked mine up from Walmart – current price according to their site is $2.38, but if you really want to you can buy a three-pack from Amazon for $22! My main reservation with this product is that it is sweetened with maltitol and sorbitol. Which, not including sugar alcohols, comes out at 2g net carbs per tablespoon. Maltitol AND double the carbs of Nature's Hollow? HOWEVER. It is good. REALLY good. It has the right taste and the perfect gloopy, thick texture with an amazing mouth-feel.
My best conclusion is that it probably depends what you want the honey for. If you want to drizzle it over low carb pancakes or waffles and aren't opposed to maltitol – then no question, go with the Honey Tree. But, if you want a more natural product, and you're mixing it into a sauce or dressing, then I think you'll get the honey flavor and sweetness from Nature's Hollow that you want, with fewer carbs.
Although it wasn't the best honey alternative, the sugar free honey from Nature's Hollow was actually fine for this recipe. I'm happier with xylitol and the thinner consistency made it very easy to mix into the other ingredients.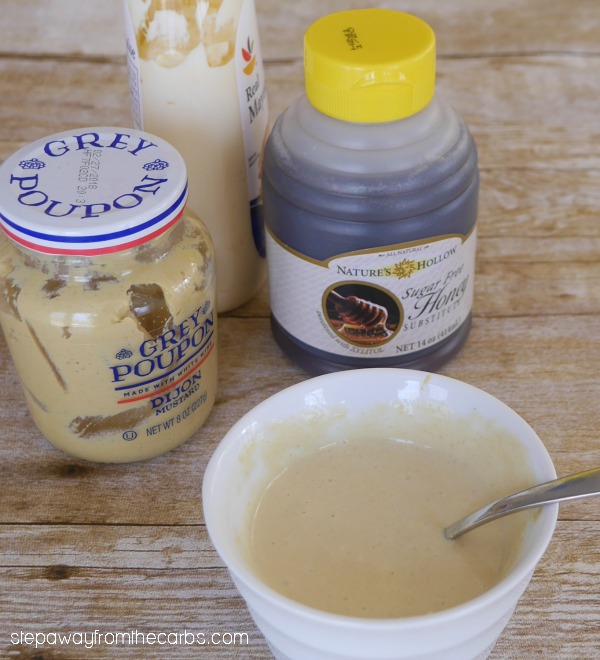 How to Make a Low Carb Honey Mustard Sauce
After testing these three ingredients together, my favorite ratio was 3 parts mayo, 1 part Dijon mustard, and 1 part sugar free honey. I love the balance between the tangy mustard, creamy mayo and the sweet honey! These ratios are how I have calculated the nutritional data for the recipe – but I recommend starting with a small amount (perhaps 1 tbs of mayo, 1 tsp mustard, 1 tsp honey) and seeing if that works for you. Then you can adjust it as necessary.
Just add the ingredients to a bowl, stir together, taste for balance – and you're done!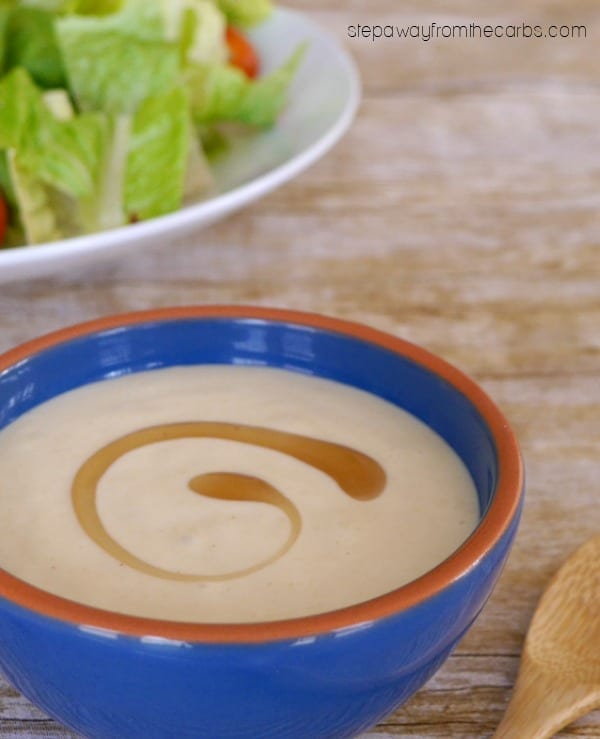 You're going to love it! It's really delicious over a crisp green salad, or you could use it as a dip for chicken bites.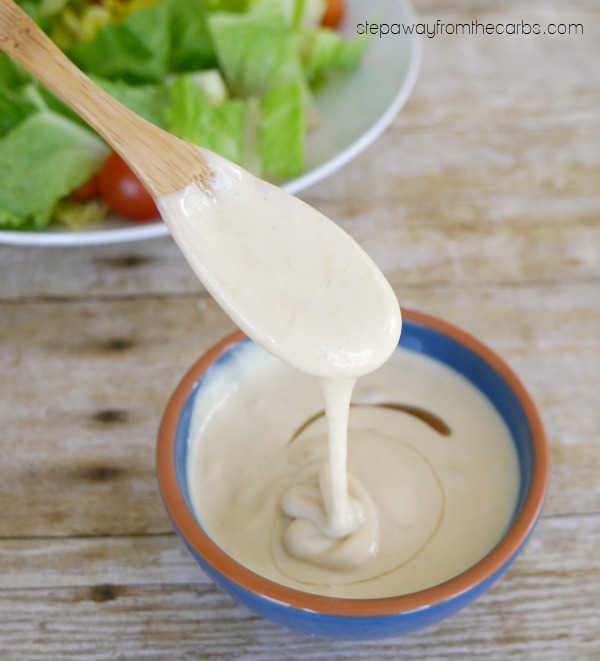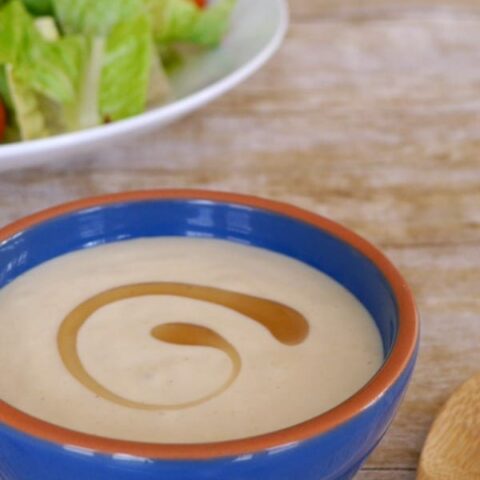 Low Carb Honey Mustard Sauce
This low carb honey mustard sauce requires just three ingredients, and is the perfect blend of flavors. Keto and sugar free recipe.
Ingredients
¼ cup full fat mayonnaise
4 tsp Dijon mustard
Instructions
Add the three ingredients to a bowl, and stir together.
Taste for balance between the flavors, and adjust as necessary.
Notes
0.3g net carbs per serving (quarter of the recipe). Does not include sugar alcohols from the honey.
Nutrition Information
Yield

4
Serving Size

Quarter of the recipe
Amount Per Serving
Calories

108
Total Fat

10g
Saturated Fat

1g
Cholesterol

5mg
Sodium

152mg
Carbohydrates

3.3g
Net Carbohydrates

0.3g
Fiber

3g
Let me know how you use this low carb honey mustard sauce!
Check out my Low Carb Chips & Dips Ebook!
Do you love chips and dips? Check out my mini ebook for more low carb recipes!