Have you tried the low carb meals from Diet-to-Go? They offer a fantastic range of convenient meals – perfect for when you're busy!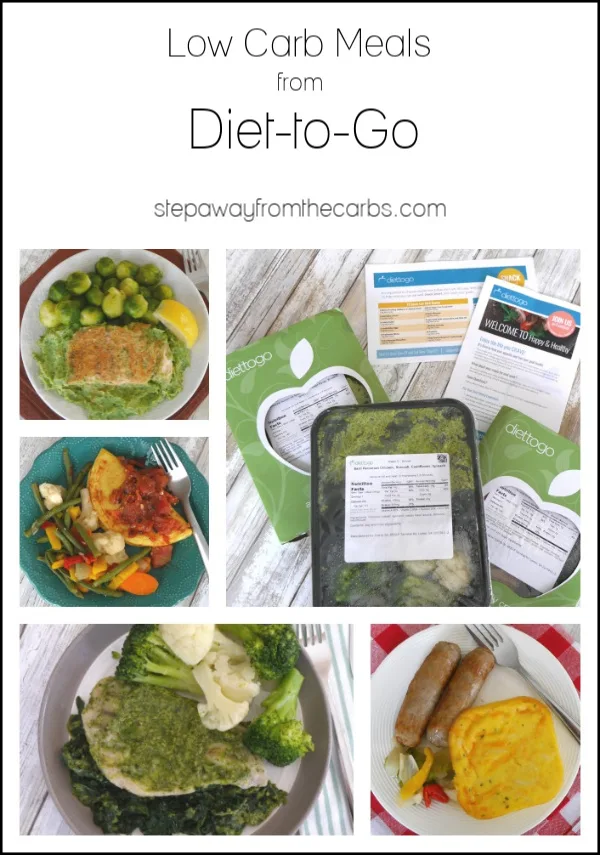 Disclosure: I was provided with these meals from Diet-to-Go free of charge in exchange for my fair and honest review. Please see my disclosure policy. This post also contains affiliate links, which means that at no extra cost to you I can make a tiny bit of money to help support this blog. Thank you!
After over ten years of following a low carb diet, I'll be the first to admit that some days are tougher than others. Quick and convenient meals aren't quite so easy to come by – there's no quick grilled cheese or bowl of pasta options for us, unless you want to start buying expensive specialist ingredients.
Some days I want to cook, sometimes I don't. But I *always* want to eat!!!! And as the only low carber in my family – I often just fit my needs around everyone else.
If all this is sounding familiar and you live in the US, then the low carb meals from Diet-to-Go are REALLY going to help you! Their Keto-Carb30 plan offers quality meals (including breakfast options!) that add up to 30g carbs per day. Here's a little sample of what the meals look like: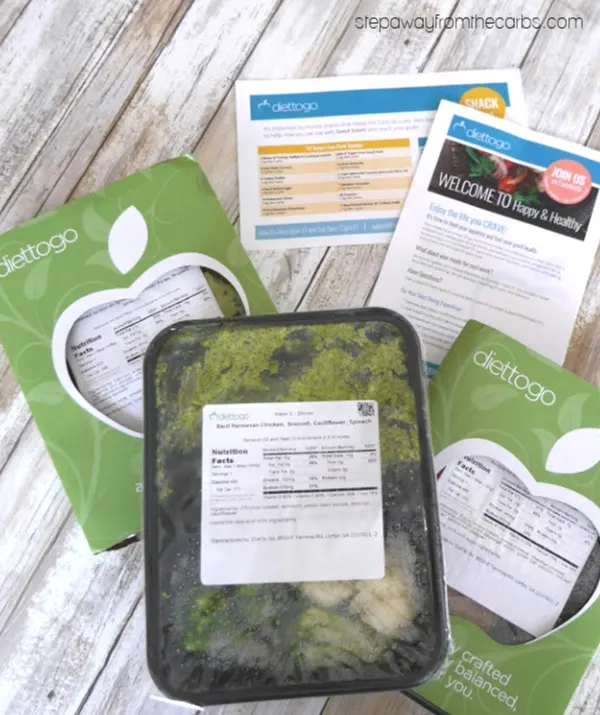 No preparation, no measuring, just reheat and enjoy!
Full nutritional data is provided, and you can easily customize your meal plan to suit your personal needs. Oh, and Diet-to-Go has been in business for 29 years – and they certainly know how to get it right! They have flexible delivery options, and you can stop and start your plan whenever you like. It's seriously easy.
Ready to order your low carb meals? Head on over to Diet-to-Go NOW and get $40 off your first week!
Want to see how the meals look before you order? Keep reading!
The first meal that I tried was a breakfast dish: Three Cheese Quiche with Sausages. It took just a couple of minutes to heat up in the microwave (from the fridge) and smelled amazing.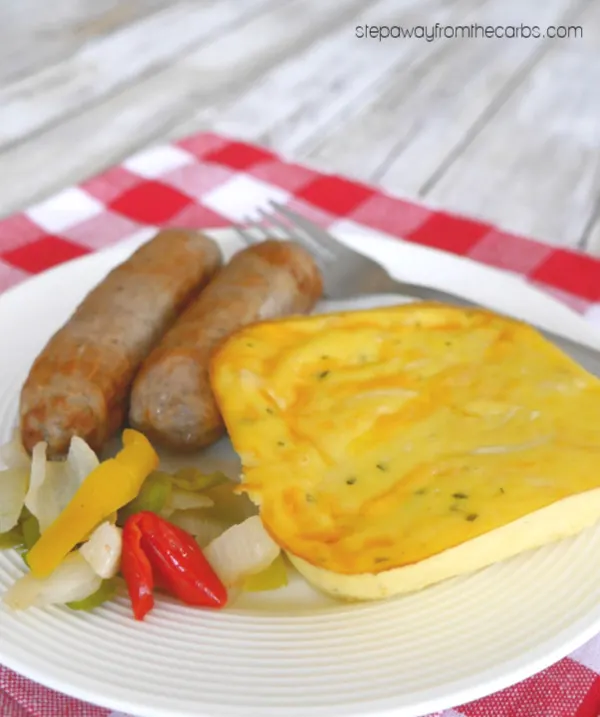 The sausages were really good quality (hoorah for no cheap fillers that add to the carb count!), and the quiche was SO good! Soft, fluffy and seriously cheesy – and 4g net carbs. I was very impressed!
The first dinner that I tried was the Pesto Parmesan Chicken with Broccoli, Cauliflower and Spinach. It was 5g net carbs and was pretty filling!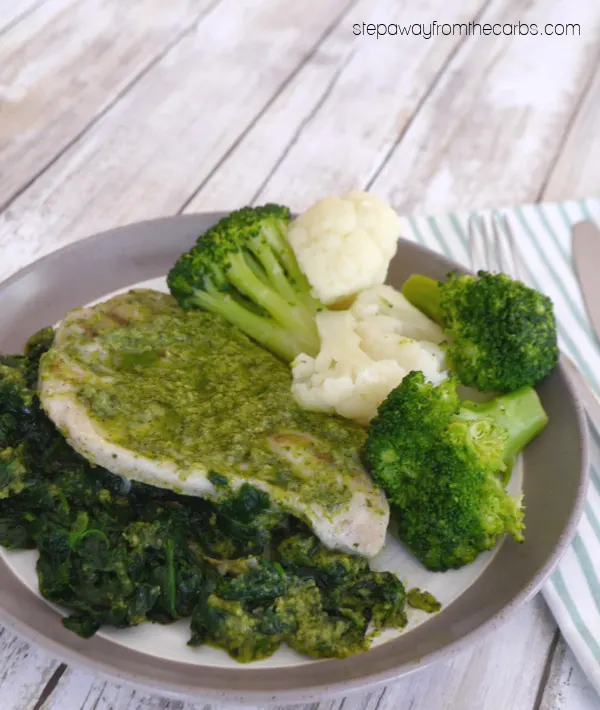 If I had one small negative remark it was that it was all a bit green and white – a pop of some color would have been welcome – but as it all tasted great (especially the spinach!), this really is a very tiny complaint.
Next up was the Spicy Ham and Egg Sofrito. The ham was in long thin strips which was fun (hamoodles?!?) and the dish had some lovely bold flavors.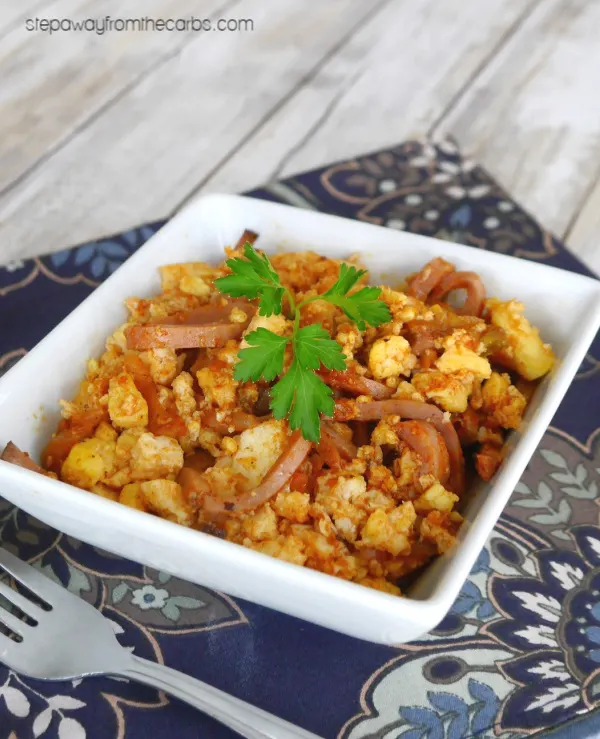 Not particularly spicy, but that might suit some people better! This was also 5g net carbs (and I added the fresh parsley – just for the record!).
The Blackened Salmon on Spinach and Cauliflower Puree with Brussels Sprouts was seriously filling! It was 10g net carbs for the meal, but I really felt like I was getting a tasty and nutritious meal. And the salmon was just wonderful – even cooked in the microwave!
The last breakfast I tried was the Cheese Omelet with Fire Roasted Tomatoes and Veggies. This was probably my least favorite – but at least I can't fault it for not being colorful!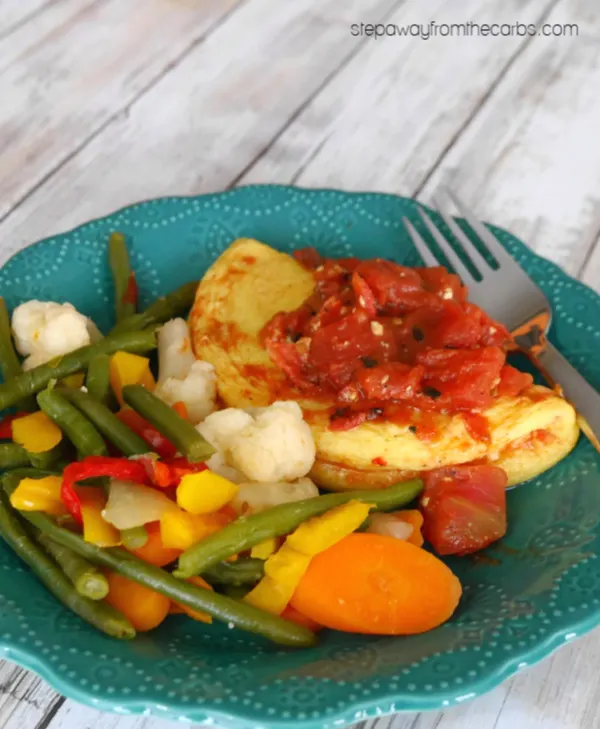 Actually the dish tasted great, but it was just a little too high in carbs for a breakfast at 13g net – and too many veggies too early in the day for my personal taste!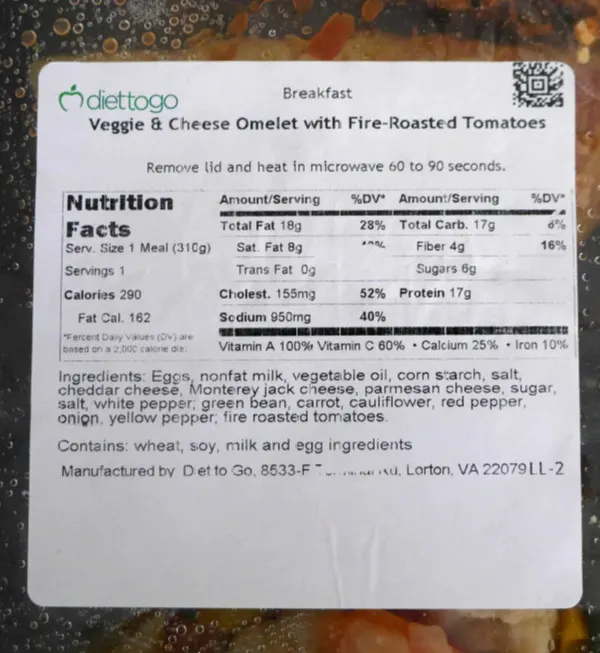 But look at the ingredients – they aren't exactly what I'd call "bad" carbs. But all those vegetables – especially the carrots and tomatoes) do tend to add up. I asked Diet-to-Go about this , and this is what they said:
Our meals average 10g net, so some could be higher or lower. We do this for several reasons…so many of our customers use our meals for so many different purposes and goals that we find offering a range of carb counts helps us serve more needs.

For example, some customers only use us for 1 meal a day- so they might want that meal to be higher than someone consuming 3 meals a day. Others love the breakfasts and use them as 1 of the 2 meals they eat a day- so again, might prefer something a little higher.

We try to offer a variety and the customers choose their meals, so they are in control of what and when they get it."
The Beef Short Ribs with Bordelaise Sauce, Celeriac Puree and Green Beans was also excellent! 10g net carbs and everything was seasoned perfectly. I would have preferred the puree and sauce to have been in separate compartments – as they all got mushed together – but the taste was great.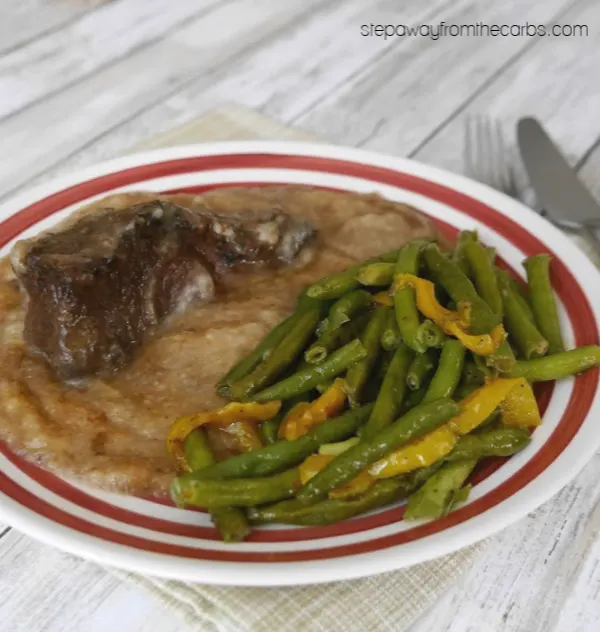 Have I convinced you yet? You SERIOUSLY need to try these meals!
Click HERE for more information and to place your first order! Don't miss getting that $40 discount!!
Diet-to-Go currently only ship within the US.