Check out these low carb skillet meals from Frontera! Great quality ingredients, fantastic Mexican flavors, and a low carbohydrate count!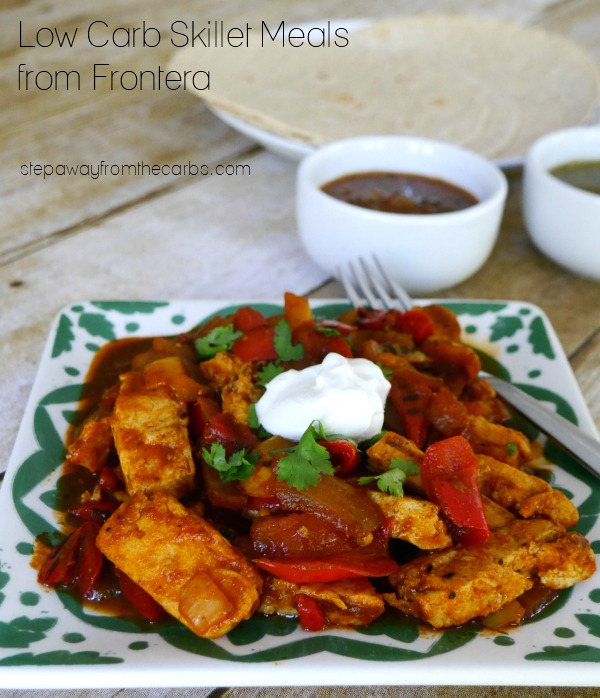 This shop has been compensated by Collective Bias, Inc. and its advertiser. All opinions are mine alone. #FronteraExperience #CollectiveBias
As you can probably imagine, I do a *lot* of cooking at home. Whether it's working on recipe creation for this site, or just because I'm hungry, most meals get made from scratch. Because when you're a low carber, there just aren't so many convenient quick options!
But if I've been cooking a lot during the day, I *really* don't want to cook more in the evening when I'm tired. When I was in Target recently I noticed these Frontera® Skillets (inspired by Chef Rick Bayless!) in the frozen meal aisle.
What attracted me to these products was that (unlike other similar meals), they didn't include high carb ingredients like rice. There are five options to choose from, but the Frontera® Chicken Taco Skillet and the Frontera® Chicken Fajita Skillet are perfect for low carbers! Each bag contains two servings, the Chicken Taco Skillet is 6g net carbs per serving; the Chicken Fajita Skillet is 9g net carbs per serving.
To go with the skillets I decided to pick up some great-looking salsas: Frontera® Tomatillo Salsa, Frontera® Chipotle Salsa and Frontera® Double Roasted Tomato Salsa. These all contain 1-2g net carbs per serving of two tablespoons.
These skillet meals are absolutely perfect for me and my husband to share. They are super convenient, hassle-free and ideal for a weeknight meal when I want to cook something quick, tasty, and low carb! I showed my husband the two options, and we decided to try the Chicken Taco Skillet first.
This skillet meal includes roasted tomatoes, garlic, smokey chipotle and grilled chicken. Absolutely no preparation is required: just heat some oil in a large skillet, and empty the contents of the bag into it! You can immediately tell that the ingredients are of premium quality – perfect chunks of chicken and fire-roasted red and yellow peppers! The sauce is frozen into little cubes, and as it cooks it coats the other ingredients and releases an amazing aroma – just like having a Mexican meal at a restaurant – but at home!
I served the Chicken Taco Skillet according to the pack instructions: with warmed (low carb!) tortillas, sour cream, and fresh cilantro. I added two of the three salsas (the Tomatillo Salsa and the Double Roasted Tomato Salsa) – and nothing else was needed!
My husband and I *loved* this meal! I didn't have to spend all evening cooking, which meant that we could spend more time together! These low carb skillet meals would also work well with cauliflower rice or homemade tortilla chips!
Low Carb Skillet Meals from Frontera #lowcarb
Click To Tweet
Want to know more about Frontera products? Follow them on Facebook, Pinterest, or Instagram!
Save
Save
Save
Save