This sour cream and chive dip is super quick and easy to make! Low carb, keto, and LCHF recipe.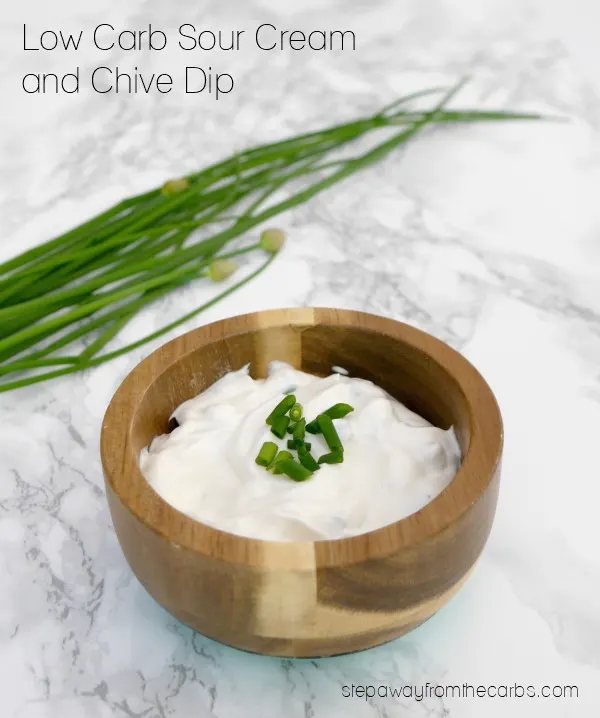 This post may contain affiliate links.
Now, you may be wondering why I'm posting such a simple recipe. Well, there are two reasons.
Simple is GOOD! Low carb cooking doesn't always have to be complicated or involved.
It's nearly summer! Who wants to spend time more time in the kitchen than they have to?
There are SO many ways to use this dip!
(Oh wait, that's three… I'll come in again)
I thought of making this dip because I had an abundance of chives in my herb garden (and it's only May!), and I had a neighbor stopping by at the last minute. This dip really showed off the chives and all their sweet mild onionyness!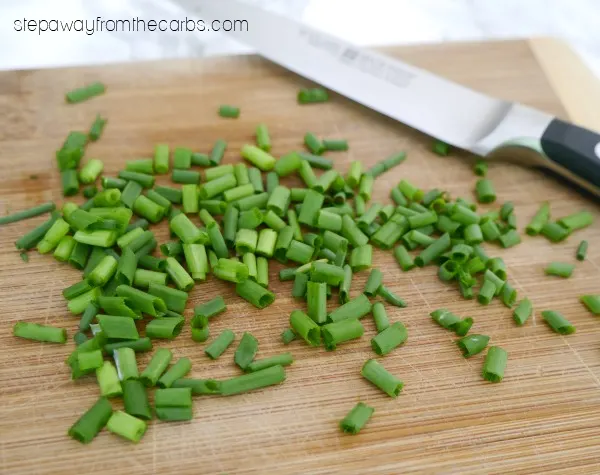 The dip is basically a combination of sour cream, mayonnaise, lemon juice, black pepper and of course the chives. It takes just a few minutes to make!
Does sour cream have carbs?
A tablespoon of sour cream contains 0.3g net carbs, so it's pretty negligible. So you can enjoy sour cream on keto diets – and the final carb count for this recipe is just 1g net per serving of half the dip. However, sometimes it's harder to find something low carb that you can dip into this!
So what can you serve with this Sour Cream and Chive Dip?
Vegetables like cucumber sticks, celery, cherry tomatoes, raw broccoli, or strips of bell pepper
Low carb crackers – my favorite ones right now are Dixie USA Corn Chips (which you can buy from Netrition) or Thinables (which you can order from Amazon). If you prefer to make your own, a quick Pinterest search will reveal a ton of recipes to try!
Make some super simple Pepperoni Chips – they would go SO well with this dip!
Fry up some steak cubes in butter, and provide mini forms or wooden picks for dipping. YUM!
Dip cocktail sausages into it!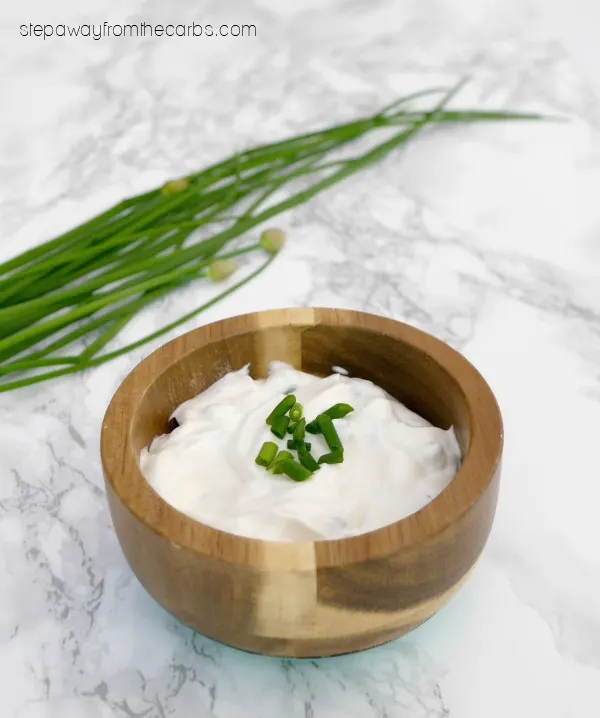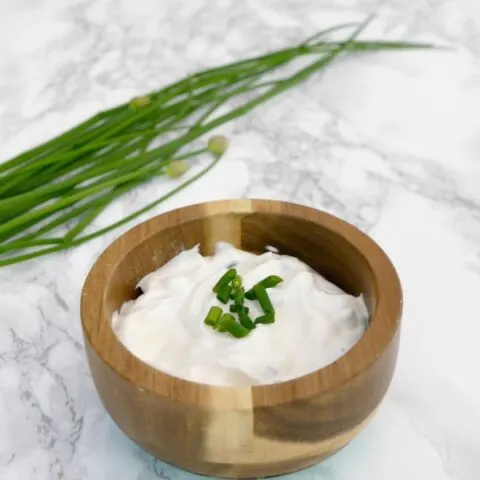 Low Carb Sour Cream and Chives Dip
This sour cream and chive dip is super quick and easy to make! Low carb, keto, and LCHF recipe.
Ingredients
6 tbs sour cream
2 tbs mayonnaise
2 tsp lemon juice
2 tbs chopped fresh chives
black pepper
Instructions
Mix all the ingredients together, adding black pepper as necessary.
Cover and store in the fridge until required.
Notes
1g net carbs per serving (half the recipe)
Nutrition Information
Yield

2
Serving Size

½ the Dip
Amount Per Serving
Calories

165
Total Fat

17g
Saturated Fat

5g
Cholesterol

24mg
Sodium

116mg
Carbohydrates

1g
Net Carbohydrates

1g
Fiber

0g
Sugar

1g
Protein

1g
Check out all my keto dips!
Low Carb Sour Cream and Chive Dip #lowcarb #lowcarbdip
Click To Tweet