This low carb zabaglione is a version of the classic Italian dessert.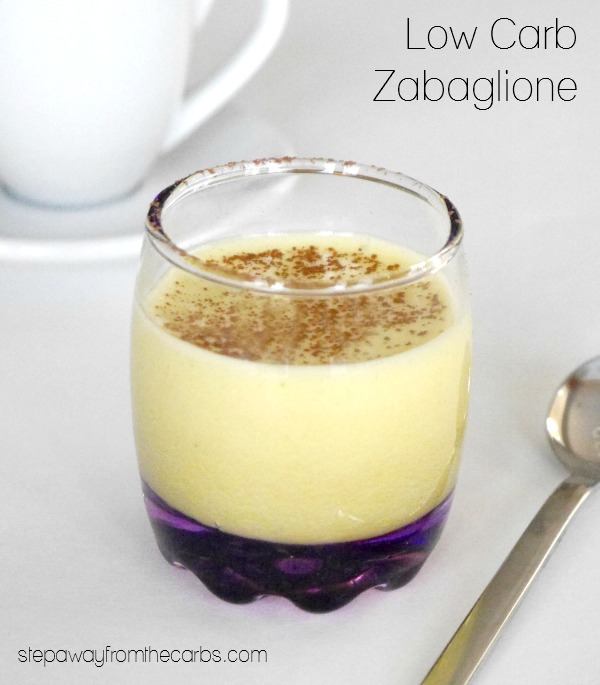 The following post contains affiliate links, which means that at no extra cost to you I can make a tiny bit of money to help support this blog. Thank you!
This classic Italian dessert is traditionally made with egg yolks, sugar and Marsala, and is also known as zabaione, zabajone or in France – sabayon. It can take a little while to make but when served warm it is absolutely gorgeous!
Add egg yolks, granulated Splenda, xylitol* and Marsala wine to a bowl. Make sure that you do not use Marsala cooking wine as this a different product that contains a lot of sugar! To separate the eggs I use a little plastic egg separator that clips over the side of a small bowl. It really works!
*Oh and I'm not using two different sweeteners just to annoy you! The Splenda is so low in carbs it keeps the sweetness up but the carb count down, whereas the xylitol helps provide bulk to the dessert. If you don't include sugar alcohols in your carb counting, then feel free to use just xylitol or similar. I've included the different carb totals in the recipe card. Just use whichever sweetener works best for you!
Place the bowl over a saucepan of simmering water to make a bain marie (like a double boiler). Use a balloon whisk to combine the mixture then keep whisking over the low heat.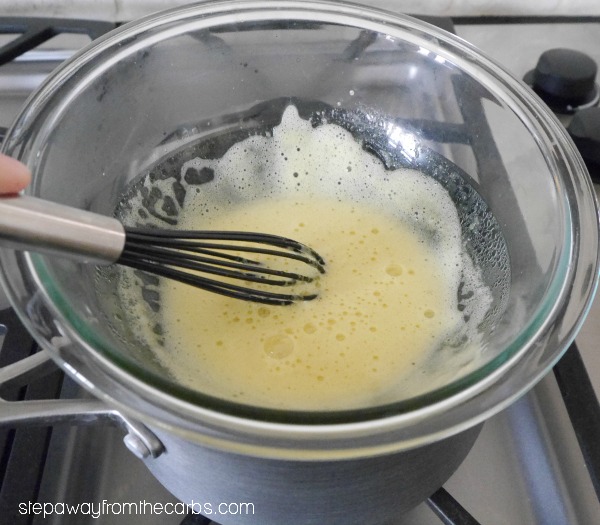 The mixture will get frothier and expand in size. Keep whisking for several minutes! Note: You could use an electric hand mixer but only if it has a super low speed setting! You are aiming for somewhere between a foam and a custard. It will be soft with a luxurious feel to it. Utterly decadent!
Serve in small bowls or glasses (I used shot glasses!) with a little dusting of cocoa powder.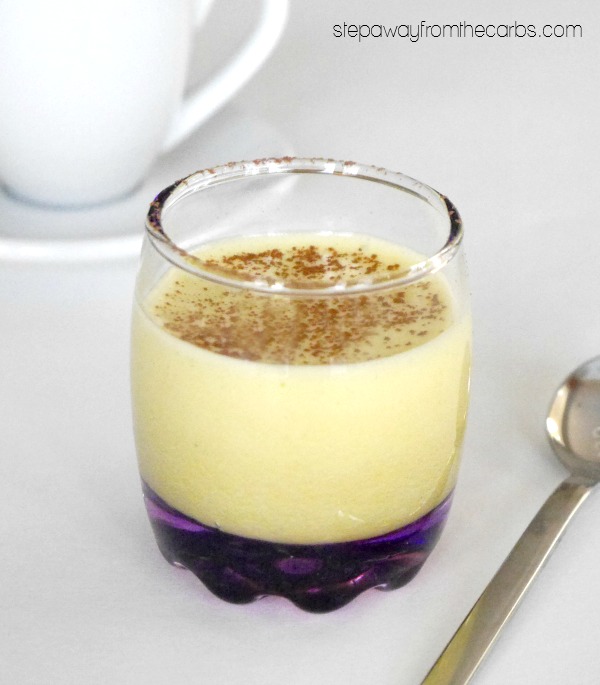 Note: At just over 10g net carbs per serving this isn't exactly an every day dessert. But for a special occasion I'd really recommend trying it, just so that you can experience this warm, slightly alcoholic foamy treat.
This recipe is a #lowcarb version of the classic Italian dessert, Zabaglione!
Click To Tweet
Serves 2
Low Carb Zabaglione
2 minPrep Time
8 minCook Time
10 minTotal Time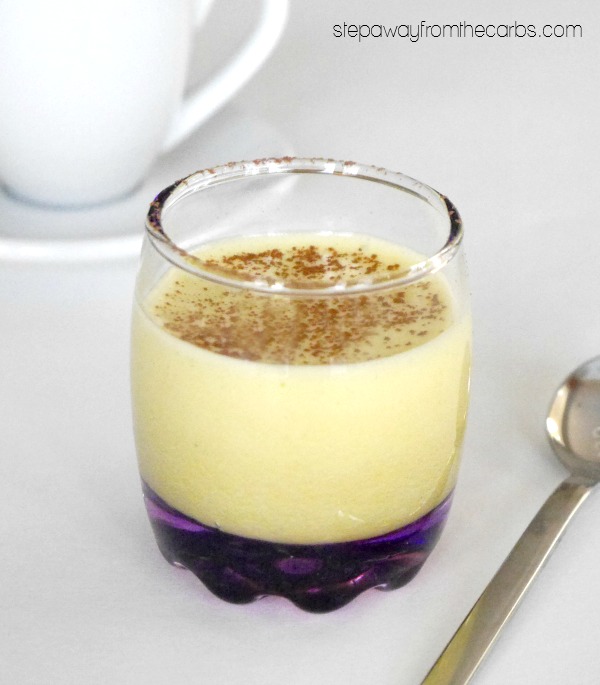 Ingredients
2 egg yolks
2 tbs Splenda (granulated version)*
1 tbs low carb sweetener (eg xylitol)*
1 tbs Marsala wine (NOT Marsala cooking wine)
cocoa powder (for dusting), optional
* OR 2 tbs total xylitol, no Splenda
Directions
Add the egg yolk, sweeteners and Marsala to a bowl and whisk to mix.
Place over a saucepan of simmering water and keep whisking over low heat until mixture starts to get foamy.
Keep whisking until the foam thickens and forms a kind of foamy custard.
Spoon into small bowls or glasses and dust with cocoa powder, if desired.
Notes
Just xylitol: 2g net carbs per serving (NOT including sugar alcohols) Just Splenda: 5.6g net carbs per serving Splenda / xylitol mix: 10.1g net carbs per serving (including sugar alcohols.
7.6.5
60
https://stepawayfromthecarbs.com/low-carb-zabaglione/
© StepAwayFromTheCarbs.com
Save
Save
Save
Save
Save