Enjoy these roasted Brussels sprouts with Parmesan as a delicious low carb side dish!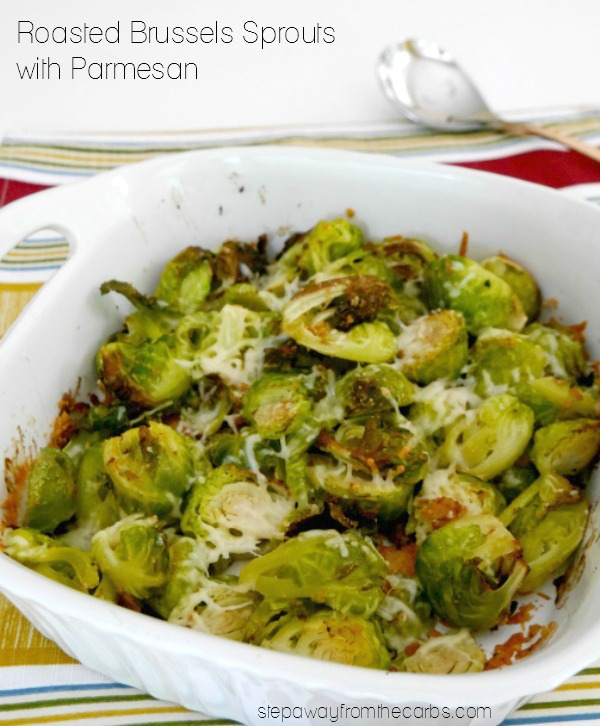 This post contains affiliate links, which means that at no extra cost to you I can make a tiny bit of money to help support this blog. Thank you!
Brussels Sprouts. I'll be honest, I've been rather unconvinced by them despite their low carb count. 1g net carb per sprout, 4.58g net carbs per cup, 1.44g net carbs per oz – however you look at it, they're a good vegetable for low carbers. They're also a great source of riboflavin, magnesium, phosphorus, vitamin A, vitamin B6 and more.
You may love them. You may be thinking that I had lulled you into a false sense of security that this was a sprout-free website. Or you may be thinking… just get on with the recipe. 🙂
I finally decided to try them, and roasting seemed like the best option. But I also decided to add in some bacon bits, crushed pork skins, and shredded Parmesan. I was pleasantly surprised by the outcome, and the added flavors and textures worked really well. So give this recipe a try!
Trim and halve the sprouts, and place them in a baking dish. Add in some olive oil, salt, pepper, bacon bits and some crushed pork rinds (pork skins). The easiest way I've found to crush them is to put a large handful into a zip plastic bag and bash them into crumbs.  Stir everything around well.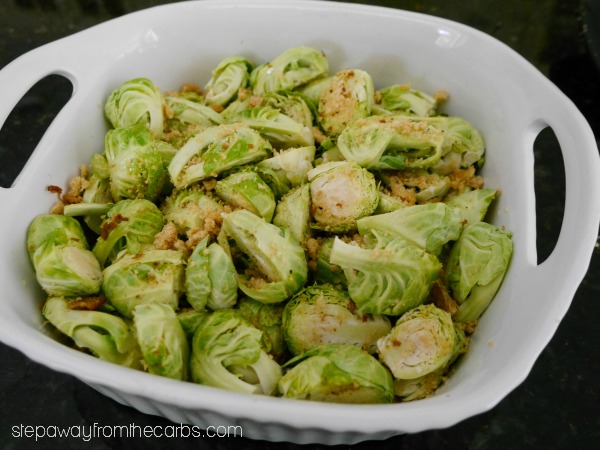 Cover and place in a preheated oven for 15 minutes. Uncover, sprinkle over some shredded Parmesan cheese, then return uncovered for another 5 minutes or until the cheese has melted.
This would be a wonderful side dish to grilled chicken or fish!
Serves 2
Roasted Brussels Sprouts with Parmesan
5 minPrep Time
20 minCook Time
25 minTotal Time
Ingredients
13 oz fresh Brussels sprouts, trimmed and halved
1 tbs olive oil
salt and black pepper
2 tbs bacon bits
¼ cup crushed pork rinds
¼ cup shredded Parmesan
Directions
Preheat the oven to 400F.
Place the Brussels sprouts in a baking dish. Add the olive oil, salt, pepper, bacon bits, crushed pork rinds, and stir to mix well.
Cover and roast for 15 minutes, then uncover, sprinkle the Parmesan over, and roast for another 5 minutes, uncovered.
Notes
10g net carbs per large serving
7.6.5
147
https://stepawayfromthecarbs.com/roasted-brussels-sprouts-with-parmesan/
© StepAwayFromTheCarbs.com
Save
Save
Save
Save