Here are the best low carb uses for pork rinds! Find out how to enjoy this zero carb ingredient as a snack, as breading, as topping – and more!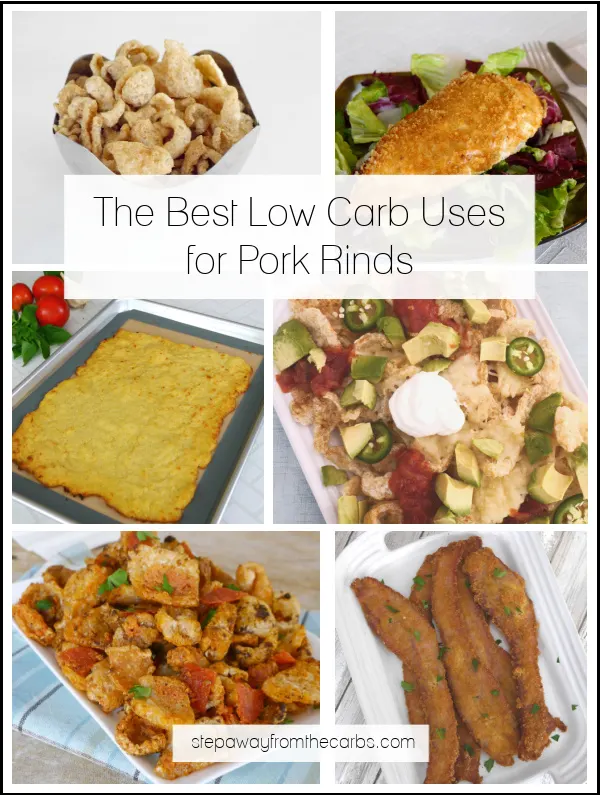 This post may contain affiliate links.
I first featured pork rinds on this blog as a no-prep snack. They are zero carb, tasty, and can easily be found in grocery stores and gas stations. But I soon realized how useful these pork rinds could be. I could keep them whole but advance them into more interesting low carb snacks, or crush them up to use as either topping for a bake or casserole, or to coat anything from asparagus to bacon to pork tenderloin.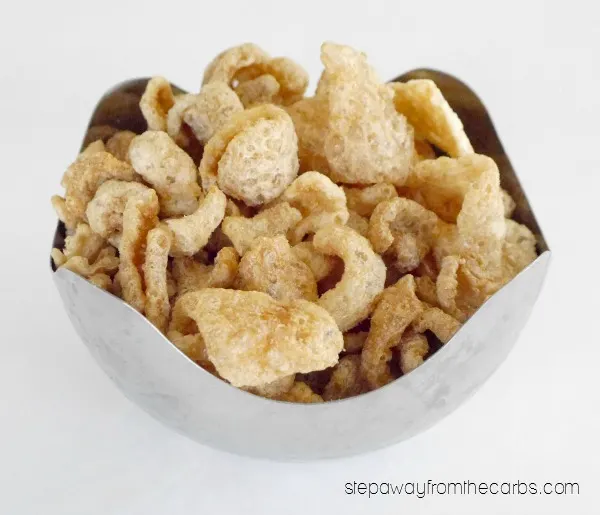 There are three main types to buy: ready crushed into breadcrumbs, ready to eat, and cook in the microwave. I'll admit that I've never tried the ready-crushed style because the price usually seems too high, and I'm quite happy to crush them myself. For the ready to eat kind, there are several brands available, from gas station basics to gourmet "pork clouds". Most of these products are very good. However, I would advise you to check the nutritional data for any flavor variations other than plain – manufacturers often start to add in sugar at this point which raises the carb count. I came up with my own BBQ Pork Rind recipe because of this!
These Microwave Pork Rinds are very good indeed – cooking them "fresh" really enhances the flavor and texture. But it would be a waste to then crush these into crumbs – they are way better when you eat them hot as a snack!
Oh and here's a top tip if you need crushed pork rinds for a recipe, I absolutely love these seasoned pork rind crumbs – they are SO convenient!
This collection of recipes includes coating, topping, snacking and even a pizza crust – all made with pork rinds! So enjoy the versatility of this zero carb food, and check out these fantastic recipes!
The Best Low Carb Uses for Pork Rinds
Low Carb Uses for Pork Rinds
A collection of recipes that demonstrate the low carb uses for pork rinds! #lowcarb
Click To Tweet
Do you have a low carb use for pork rinds that I've not mentioned here? Leave a comment and let me know!
Save
Save
Save
Save
Save
Save
Save
Save
Save
Save
Save
Save