Have you heard of cloud bread? Here's what you need to know about this low carb, keto, and gluten free alternative to bread – with a video tutorial!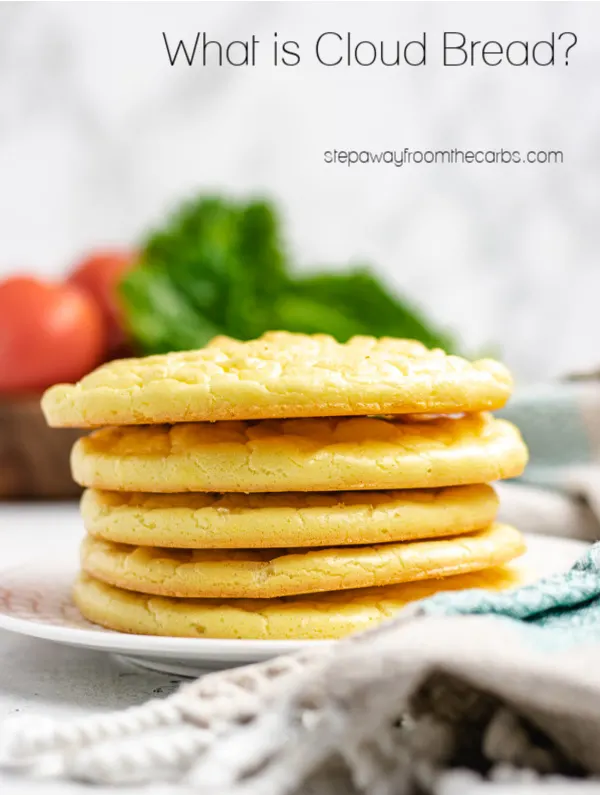 This post may contain affiliate links.
I've been low carbing for many years and I keep hearing about cloud bread. It's also called "oopsie bread" (or "oopsie rolls) and it took me a while to realize that they were the same thing. I rely on my low carb tortillas so much that it hadn't really occurred to me until recently to look for alternatives – but I finally decided to investigate. It turns out that these recipes were all based on Dr Atkins' Revolution Rolls, dating back to 1972. His recipe involved cottage cheese, eggs and cream of tartar.
One low carber known as Cleochatra accidentally invented the "RevolOopsie Rolls" in 2008 – where the cottage cheese was substituted with cream cheese. Subsequently these became known as Oopsie rolls. Her original published recipe included Splenda but she has now updated it on her blog Your Lighter Side stating that the Splenda is not required. Since then she has made all kinds of variations – a huge list of them can be found here.
How the Oopsie roll became known as Cloud Bread is still a mystery to me, however. If you happen to know please leave a comment!
After a lot of research, the conclusion on this recipe (whatever you like to call it) is that while it doesn't replace all your bread needs, it is great for some things. Burger buns are mentioned VERY frequently.
So here's the best version of keto friendly cloud bread that I've tried! Watch the recipe video tutorial or keep reading for the full instructions and a printable recipe card:
How to Make Cloud Bread
First I separated the eggs and mixed the egg yolks into cream cheese in a mixing bowl. Then I whisked egg whites and cream of tartar in a separate bowl. And then I combined the two mixtures.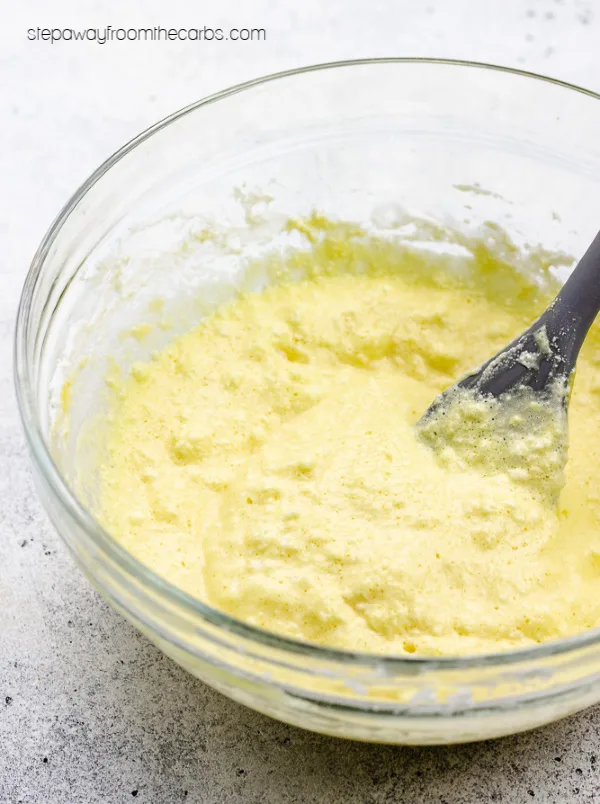 I spooned the mixture out onto a greased baking sheet into six puddles.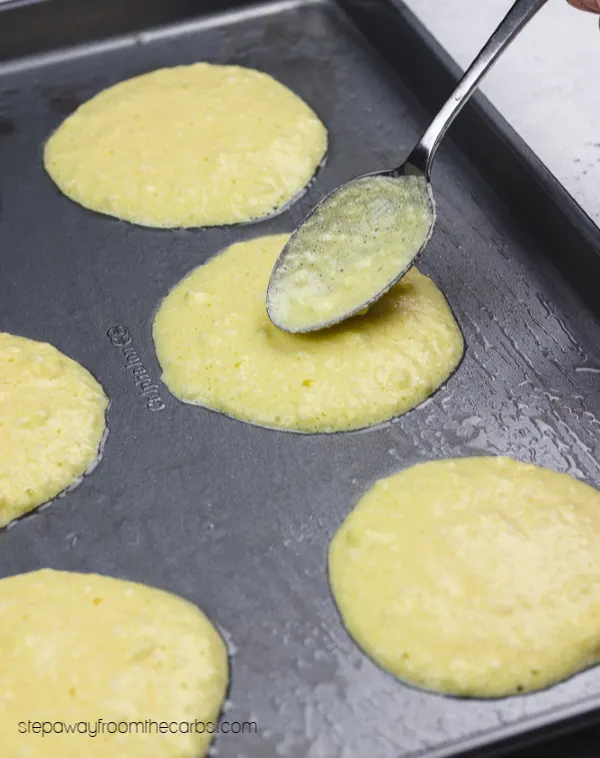 They turned out really well!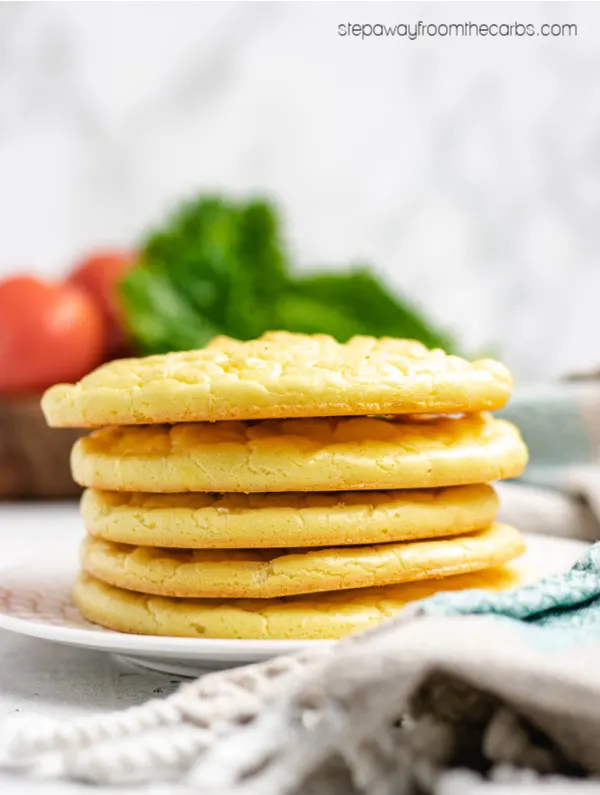 I decided to follow the repeated suggestions for using two as burger buns and I have to say the results were very pleasing. Just being able to pick up a burger and munch was quite a treat!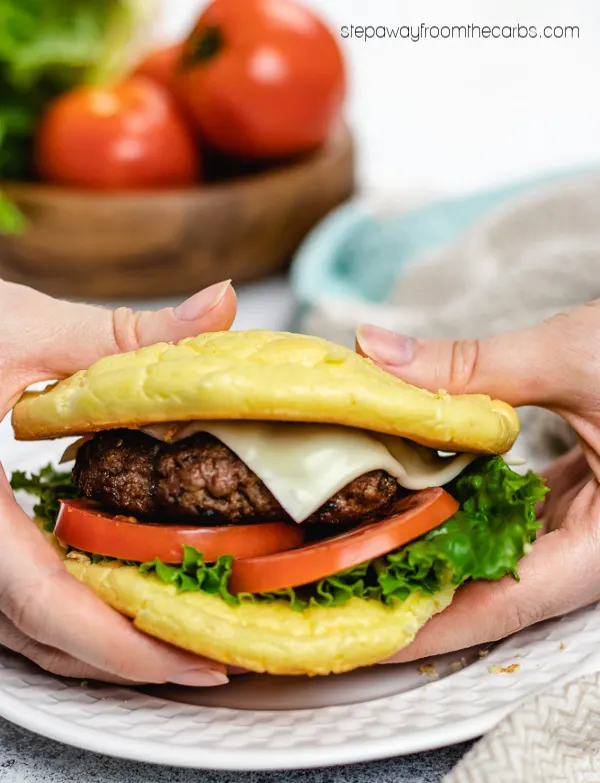 I also tried using one as a wrap with cream cheese and bacon, and I also toasted them and topped them with cheesy scrambled eggs! And it's amazing with some homemade butter!
I really like that cloud bread is so versatile – it is definitely worth trying! They're perfect for anyone following a keto diet! Oh, and I tried freezing them too – super easy and they didn't take long to defrost, plus they had a great texture!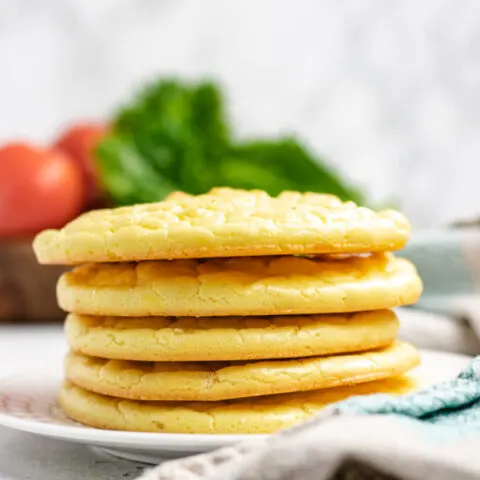 Cloud Bread
Yield:
6 cloud bread slices
Have you heard of cloud bread? Here's what you need to know about this low carb, keto, and gluten free alternative to bread - with a video tutorial!
Ingredients
3 large eggs, separated
⅛ tsp cream of tartar
3 oz cream cheese
Instructions
Preheat the oven to 300F.
Beat the cream cheese and egg yolks together in a bowl.
In a separate bowl, whisk the egg whites and cream of tartar until stiff.
Carefully fold the egg yolk mixture into the white mixture, and spoon onto a greased baking sheet in six puddles.
Bake for 30 minutes, then let cool for 5 minutes.
Transfer the cloud bread to a wire rack to cool fully.
Notes
1g net carb per serving of two pieces (recipe makes six cloud bread "slices").
Nutrition Information
Yield

3
Serving Size

2 "slices"
Amount Per Serving
Calories

160
Total Fat

13g
Saturated Fat

6g
Cholesterol

194mg
Sodium

153mg
Carbohydrates

1g
Net Carbohydrates

1g
Fiber

0g
Sugar

1g
Protein

7g
What is Cloud Bread? Find out all about this #lowcarb alternative to bread.
Click To Tweet
Save
Save
Save