Ever heard of cloud bread? What is cloud bread? Here's what you need to know.
The following post contains affiliate links, which means that at no extra cost to you I can make a tiny bit of money to help support this blog. Thank you!
I've been low carbing for many years and I keep hearing about cloud bread. It's also called "oopsie bread" (or "oopsie rolls) and it took me a while to realize that they were the same thing. I rely on my low carb tortillas so much that it hadn't really occurred to me until recently to look for alternatives – but I finally decided to investigate. It turns out that these recipes were all based on Dr Atkins' Revolution Rolls, dating back to 1972. His recipe involved cottage cheese, eggs and cream of tartar.
One low carber known as Cleochatra accidentally invented the "RevolOopsie Rolls" in 2008 – where the cottage cheese was substituted with cream cheese. Subsequently these became known as Oopsie rolls. Her original published recipe included Splenda but she has now updated it on her blog Your Lighter Side stating that the Splenda is not required. Since then she has made all kinds of variations – a huge list of them can be found here.
How the Oopsie roll became known as Cloud Bread is still a mystery to me, however. If you happen to know please leave a comment!
After a lot of reading around, the conclusion on this recipe (whatever you like to call it) is that while it doesn't replace all your bread needs, it is great for some things. Burger buns are mentioned VERY frequently.
I decided to try this basic eggs/cream cheese/cream of tartar recipe from A Seat At My Table. The first thing I noticed was that I had to halve the cooking time as I presumably made them a lot smaller than intended. The next thing was that they STUCK TO MY SILICONE MAT. What? Wait? NOTHING sticks to it! Sure, I didn't oil or grease it in anyway before cooking, but these were really quite glued on.
Anyway, I followed instructions and after they had cooled I left them in a bag overnight. I have to say, I didn't notice any change at all. Tastewise they were a bit eggy, but not TOO eggy. Quite neutral really, and rather soft and fluffy.
So I tried a slightly different recipe variation – in fact the one from Your Lighter Side. First I mixed egg yolks into cream cheese. Then I whisked egg whites and cream of tartar. And then I combined the two mixtures. This time I made six big rolls. They turned out really well!
I decided to follow the repeated suggestions for using two as burger buns and I have to say the results were very pleasing. Just being able to pick up a burger and munch was quite a treat!
I also tried using one as a wrap with cream cheese and bacon, and I also toasted them and topped them with cheesy scrambled eggs!
I really like that cloud bread is so versatile – it is definitely worth trying! Oh, and I tried freezing them too – super easy and they didn't take long to defrost, plus they had a great texture! Many months later I tried making Cloud Bread Hot Dog Buns – check them out!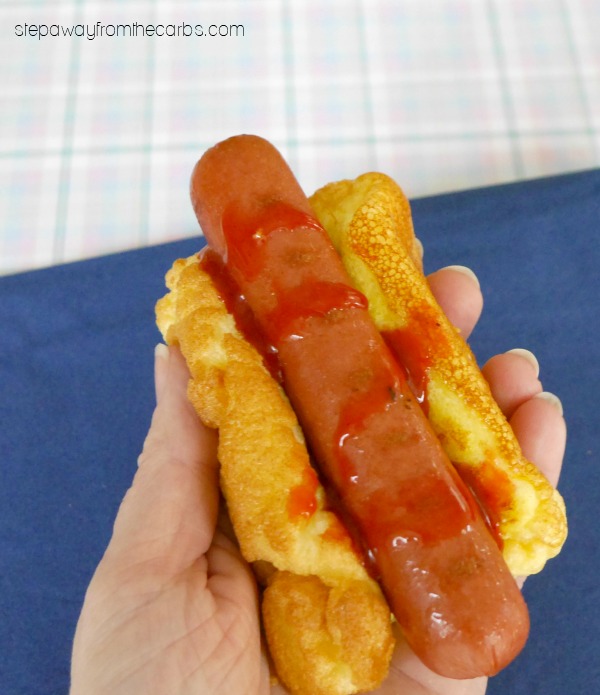 What is Cloud Bread? Find out all about this #lowcarb alternative to bread.
Click To Tweet
Save
Save
Save