Here's my comparison of seven low carb tortilla products. Make sure you get the right wrap for you!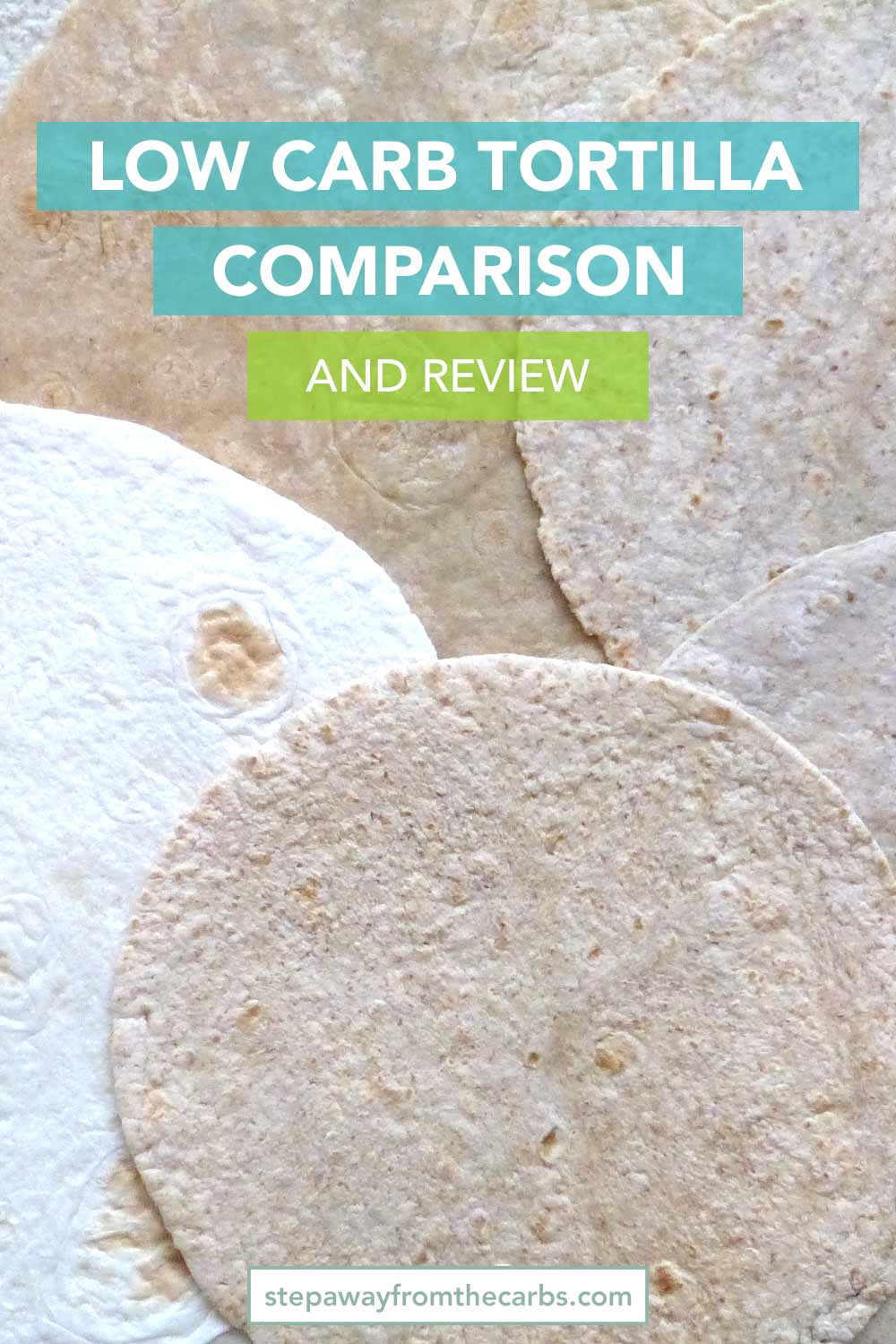 Although this post contains affiliate links, I have not been sponsored by the manufacturers of these products. All opinions are my own. By using my affiliate links I can make a tiny bit of money to help support this blog. Thank you!

One of the important qualities of bread products is a filling platform for adding other things. You never appreciate the convenience of the humble sandwich until you start low-carbing! Low carb tortillas are an absolute staple for me now because they can be used in so many ways: fajitas, quesadillas, wraps and more. I think I have at least one a day so I couldn't be without them.
How to Use Low Carb Tortillas
Once you've found which low carb tortilla you like best, try one of these delicious recipes!
Low Carb Tortilla Reviews
Here is my review of SIX SEVEN* popular brands of low carb tortilla that are currently on the market.
Which Tortillas have Less Carbs?
I have included two varieties of the Mission tortillas because they are very different and are also readily available in most supermarkets. First of all, let's look at some stats:
| Brand | Style | Size | Net Carbs |
| --- | --- | --- | --- |
| La Tortilla Factory | Low Carb | 7″ | 3g |
| Mama Lupe's | Low Carb | 7″ | 3g |
| Maria & Ricardo's | FiberRich | 6″ | 3g |
| Tumaro's | Let's Skip the Sandwich | 8.5″ | 4g |
| Mission | Carb Balance Flour Tortilla | 7″ | 6g |
| Mission | Carb Balance Whole Wheat Tortilla | 6″ | 3g |
So the Mission flour tortilla has the highest amount of net carbs – with two other products of the same size containing half that amount. But what about taste? Here are my thoughts on taste and similarity to cardboard… 🙂
La Tortilla Factory – Low Carb made with Whole Wheat – buy online from Amazon or Netrition
VERY dense and the cardboardiest of those I tried (yes that is a word).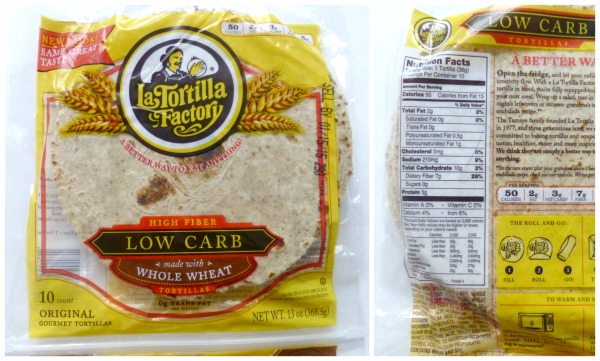 Mama Lupe's Low Carb Fresh Tortillas – buy online from Amazon or Netrition
Great taste – probably the winner overall in terms of size, net carbs, texture and taste.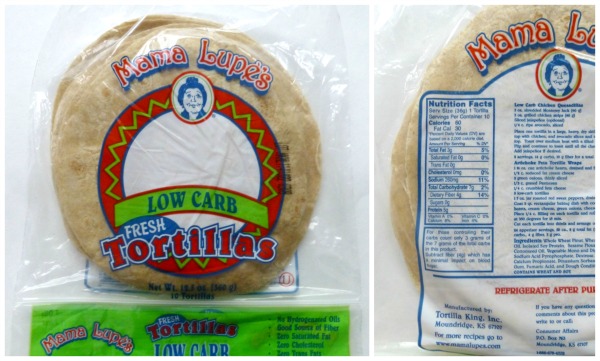 Maria and Ricardo's FiberRich Wholewheat Tortillas – buy online from Amazon or Netrition
These are the lowest in calories out of all the products reviewed. They are very light and tasty, not too cardboardy.
Tumaro's Low-in-Carb Let's Skip the Sandwich Multi-Grain – buy online from Amazon or Netrition
Probably more of a wrap than a tortilla but I wanted to include it anyway! It's the biggest one of those sampled but only 4g net carbs. The wraps are incredibly thin without really much taste at all.
Mission Carb Balance Flour Tortilla Soft Taco – buy online from Amazon
Highest in calories, highest in net carbs. But also one of the tortillas that are easier to find in stores! They have a pleasant, everyday sort of taste that makes them very useful.
Mission Carb Balance Whole Wheat Tortilla Fajita – buy online from Amazon
Really quite different from Mission's other low carb style. These are very filling and super low in carbs. My second favorite!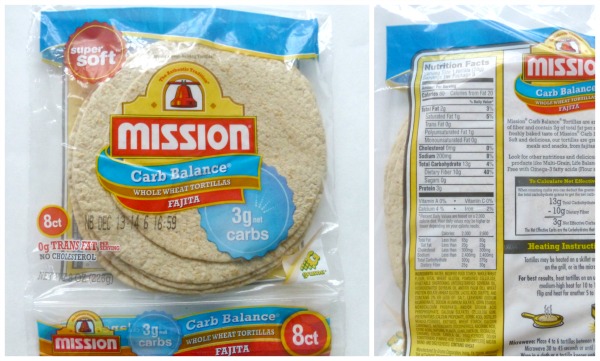 Both Mission varieties are easily found in supermarkets – check out what your local store offers!
*Update: I've heard from several of you that you love the La Banderita low carb tortillas – so I tried them!
La Banderita Carb Counter Tortillas – buy online from Amazon
They're 8″ wide – so the second biggest out of those that I reviewed. They're 5g net carbs each, and are definitely not so "whole-wheaty" as the Mission fajita ones. So thanks to everyone who made the recommendation – this brand wasn't available when I originally wrote this post in 2014 (!) – and I was impressed by the flavor and texture!
2019 Update: Mission Carb Balance now have a Spinach and Herb tortilla – 3g net carbs per wrap!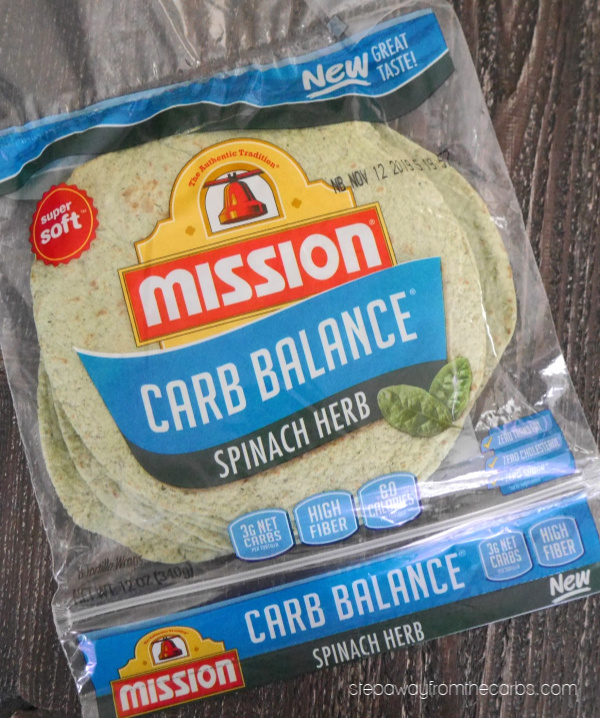 Want to make your own? Try these coconut flour tortillas from My PCOS Kitchen!
Are low carb tortillas really low carb?
It's a question that I hear many times – are they really too good to be true? They key is the fiber content – it's usually very high and therefore the net carbs are low. If you count TOTAL carbs on your way of eating, then no, they won't be low carb.
The best way to find out is monitor whether they throw you out of ketosis – after all everyone is different, and various products affect people in different ways. I recommend getting something like the Keyto Breath Sensor for super easy monitoring!
Did I miss your favorite low carb tortilla? Let me know in the comments!
Save
Save
Save
Save