Almond flour crackers are a delicious and easy recipe for making homemade crackers. This cracker recipe is made with egg, almond flour and seasoning. Simple prep, and a crunchy cracker ready to be dipped in soup, topped with cheese or snacked on.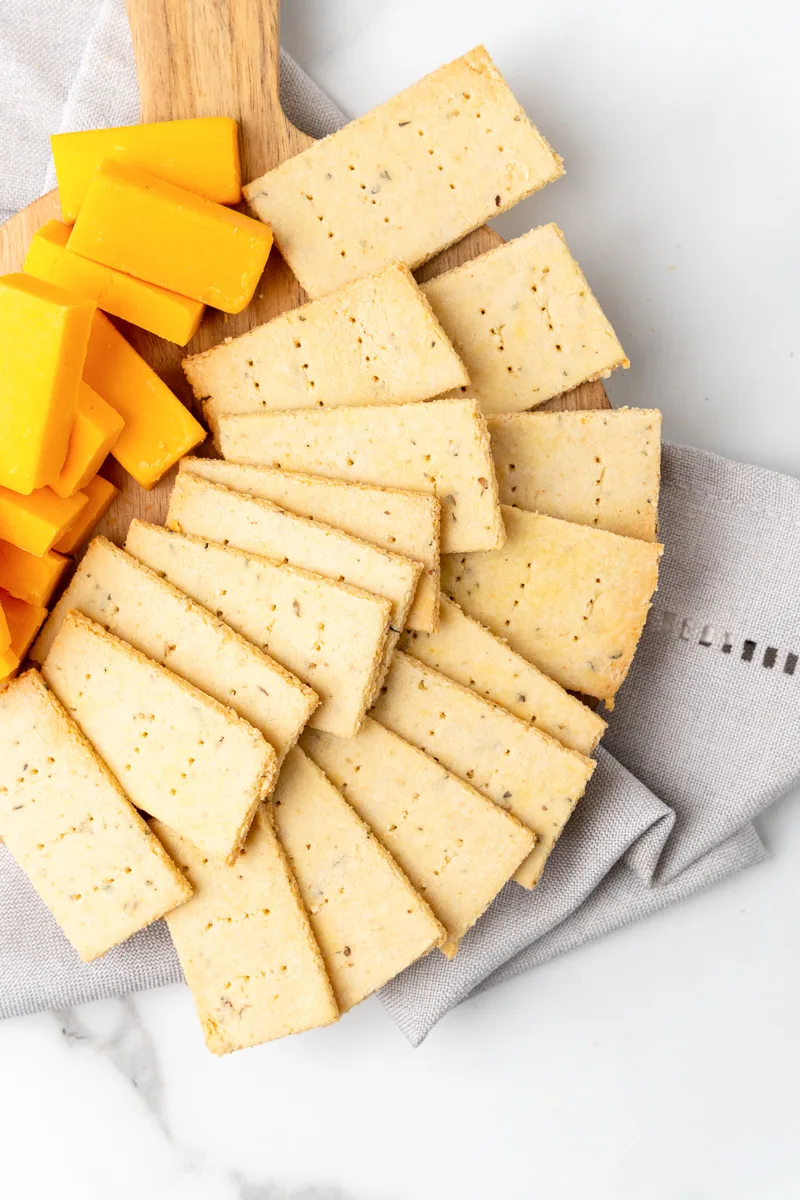 These keto approved almond flour crackers will be a sure treat for the family. I know for me having a good tasting cracker helps me to feel good about serving up a mid-afternoon without the guilt. They are also gluten free if you have an allergy in your home. Also try these sunflower seed crackers for another tasty option.
This Almond Flour Crackers Recipe Is…
Made with simple ingredients.
Crunchy and crisp.
Gluten Free.
Almond flour cracker recipe.
Keto friendly crackers.
How to Make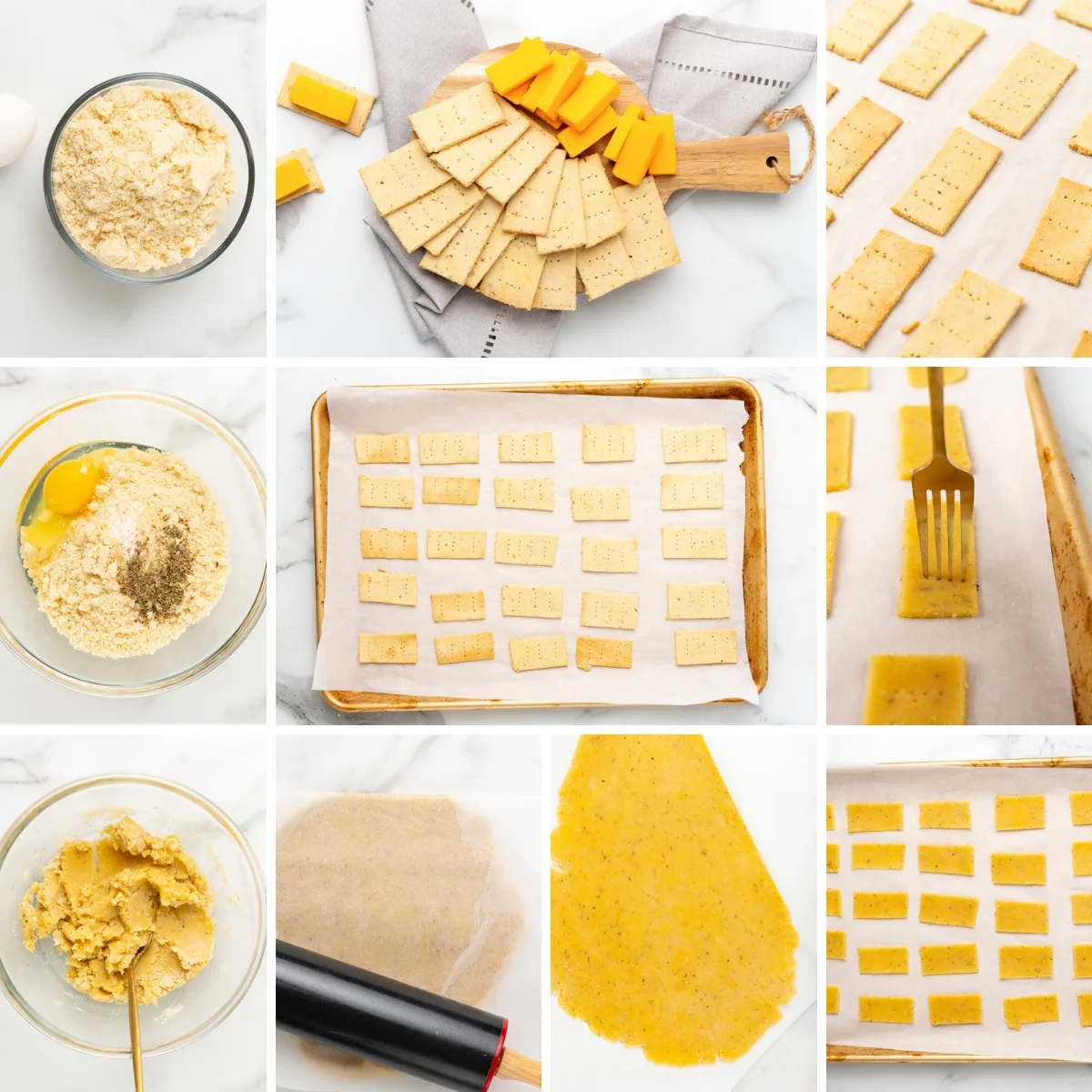 Full steps on how to make this almond flour crackers recipe is featured at the bottom of the post. This is a quick walk through.
Preheat the oven and prep the baking sheet.
In a bowl add your ingredients together, and mix to combine. It will be thick.
Roll the dough out, between two pieces of parchment paper.
Slice into rectangles, then transfer to baking sheet.
Poke holes on the crackers, and bake as directed.
Let the crackers cool and then serve and enjoy.
Tools for Success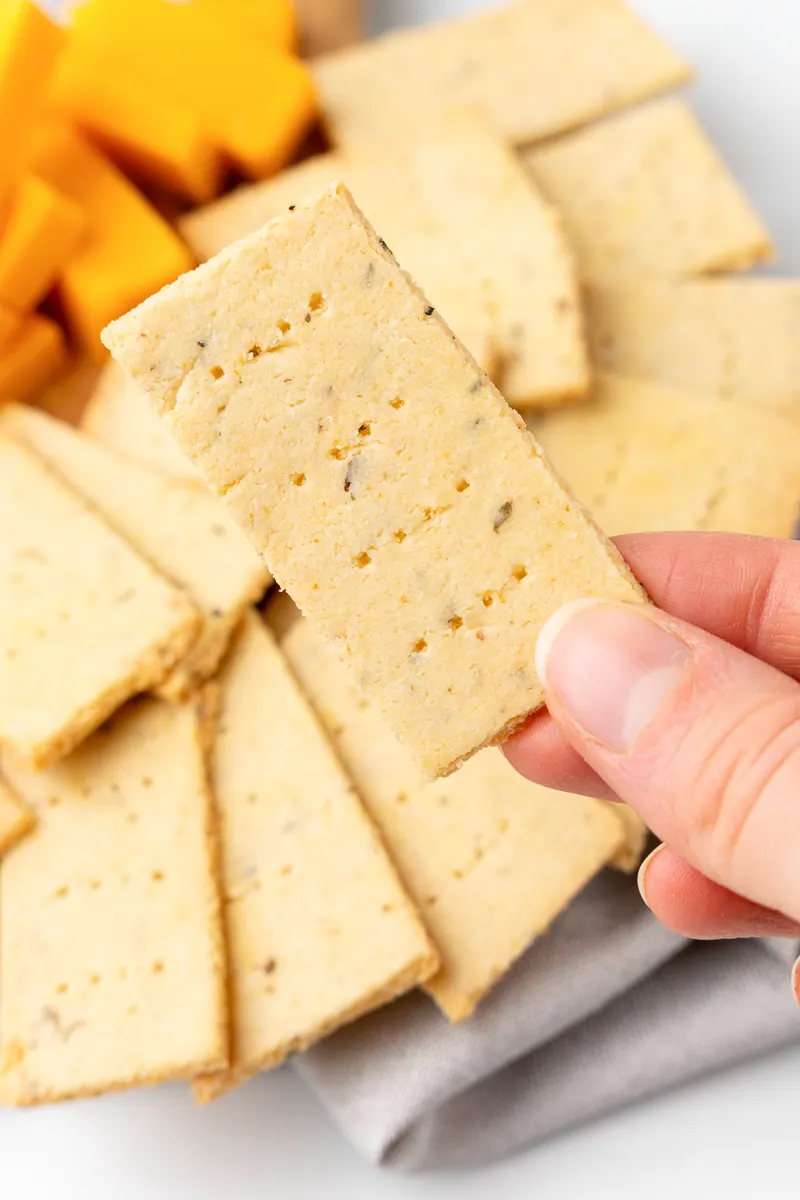 Baking Sheet
I love using a large baking sheet for making the crackers. You want to make sure the crackers do not touch each other.
Rolling Pin
You will want to use a rolling pin for flattening out the crackers. I find this is the best way to get an even thickness.
Tips for Almond Flour Crackers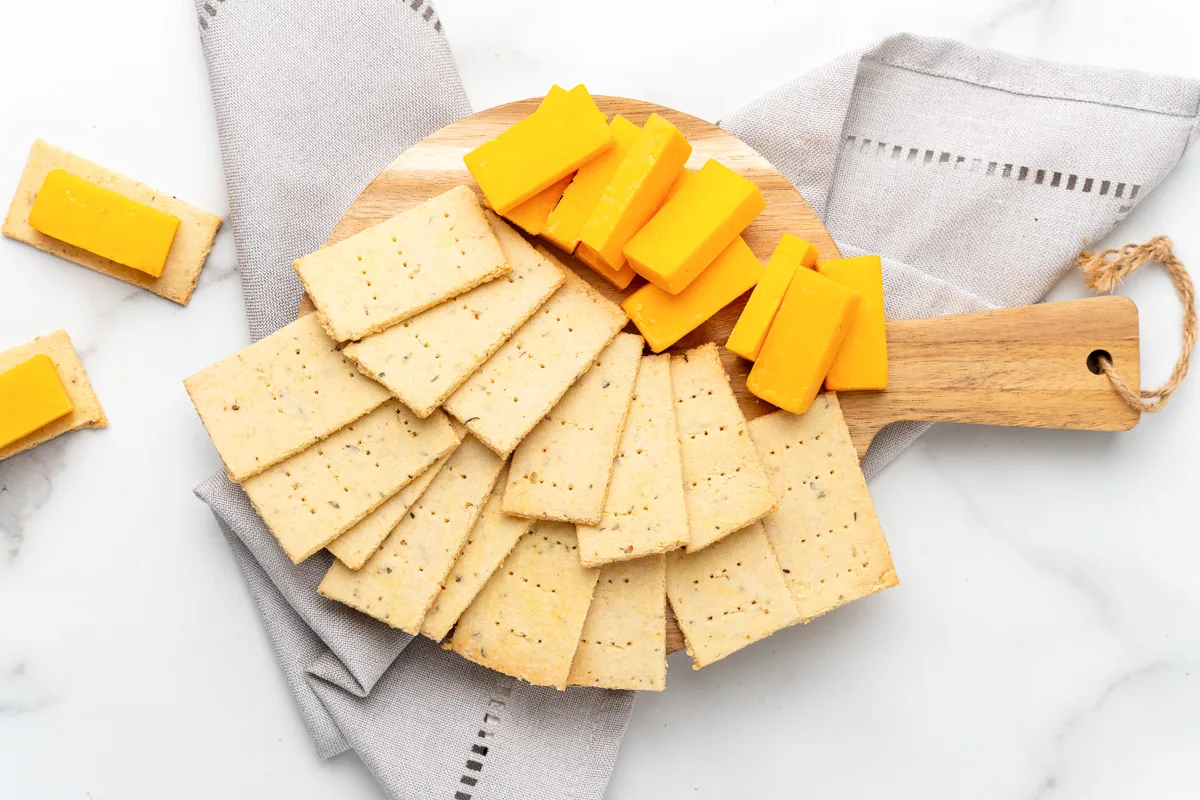 Parchment Paper
Placing the sticky dough between two layers of parchment paper is going to make rolling out the dough a lot easier. If you don't have parchment paper try wax paper.
Even Thickness
Aim for 1/8-1/16″ thickness for the dough. This is important or you will get unevenly baked crackers.
Poke Holes
The crackers need a way to release the air as they bake. So using a fork or skewer is going to be needed. Otherwise the crackers will puff up and not turn out properly.
Variations to Crackers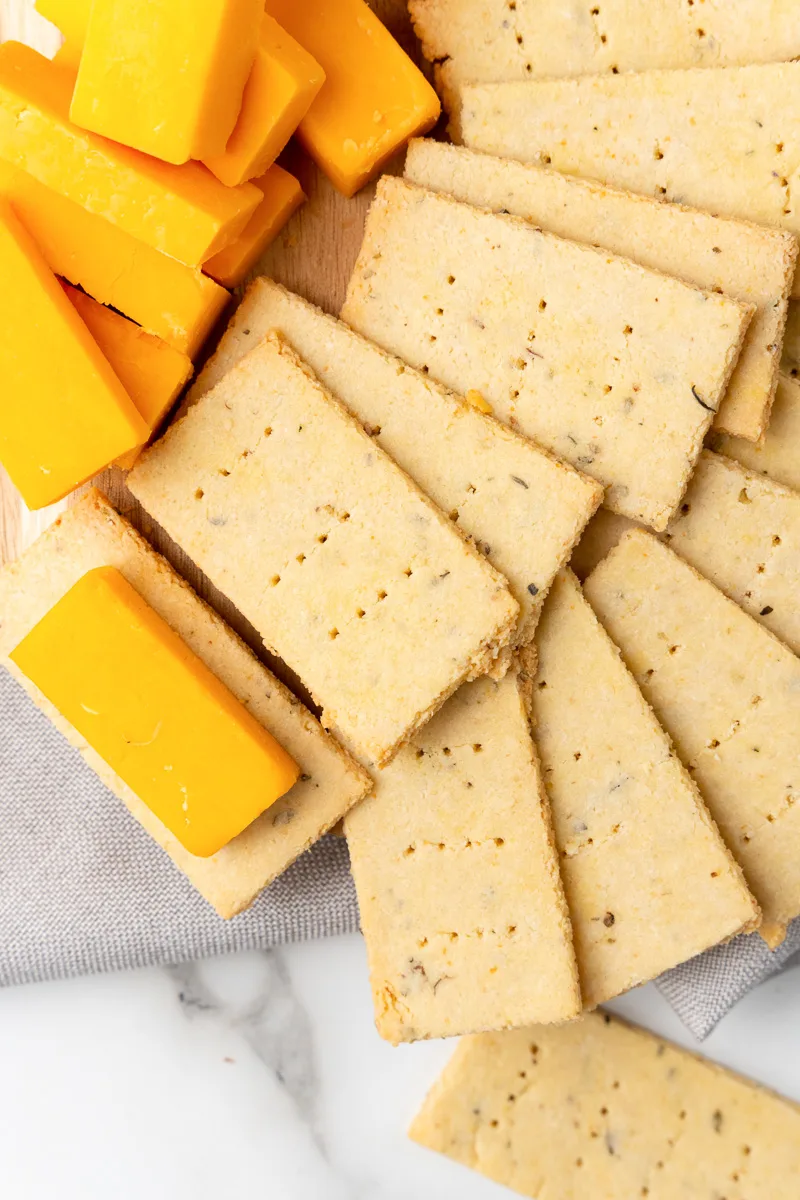 Seasoning to Crackers
I used Italian seasoning, salt and garlic powder. Now you can change up the spices used if you would like a different flavor of crackers.
Shape of Crackers
You can cut out the shape of the crackers anyway you want. Just make sure they are all the same size and have holes poked inside the crackers.
FAQs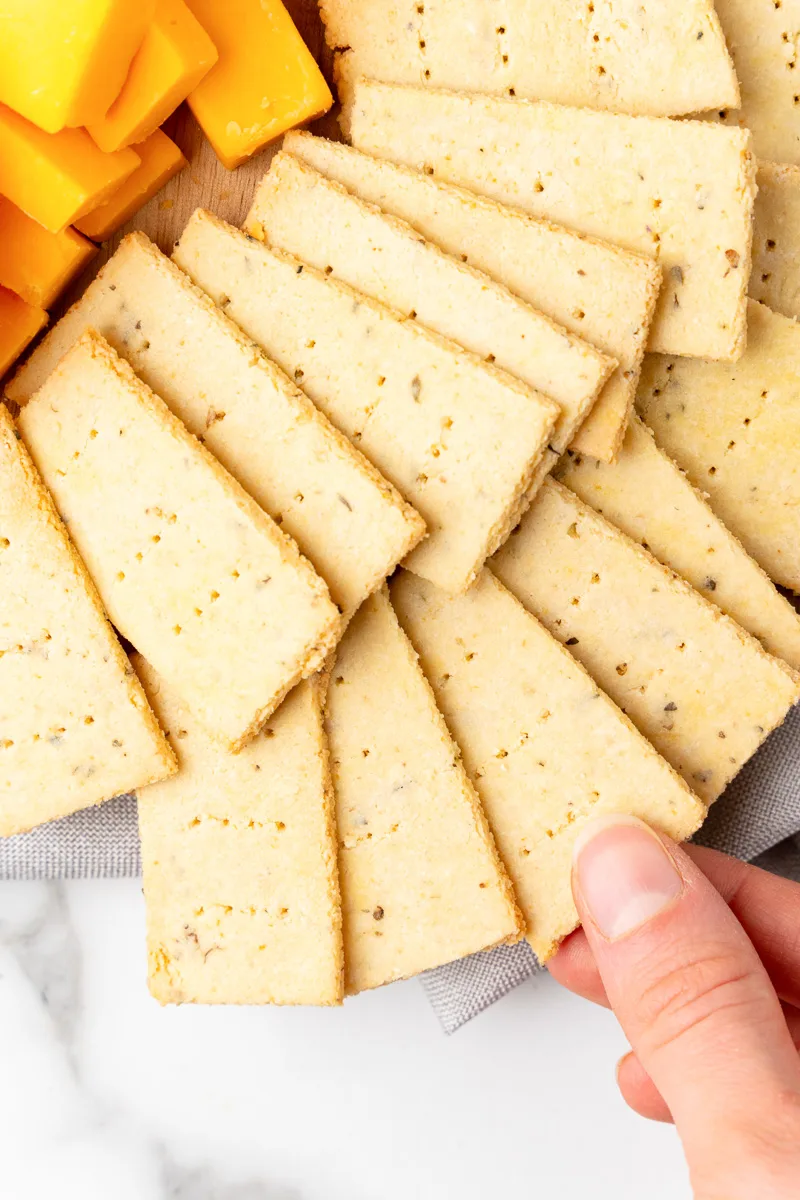 Can you make almond flour at home?
Yes, almond flour can be made at home by grinding blanched almonds in a food processor until they reach a fine, flour-like consistency. It is important to stop and scrape down the sides of the food processor occasionally to ensure that the almonds are ground evenly.
How to store almond flour crackers?
Layer the crackers in the container with parchment paper or wax paper in between each layer to prevent them from sticking together. Then you can store for up to two weeks in the container at room temperature.
Can I freeze these crackers?
If you need to store the almond flour crackers for longer than 2 weeks, you can also store them in the refrigerator or freezer. Stored in an airtight container, they can last up to 3 months in the refrigerator and up to 6 months in the freezer.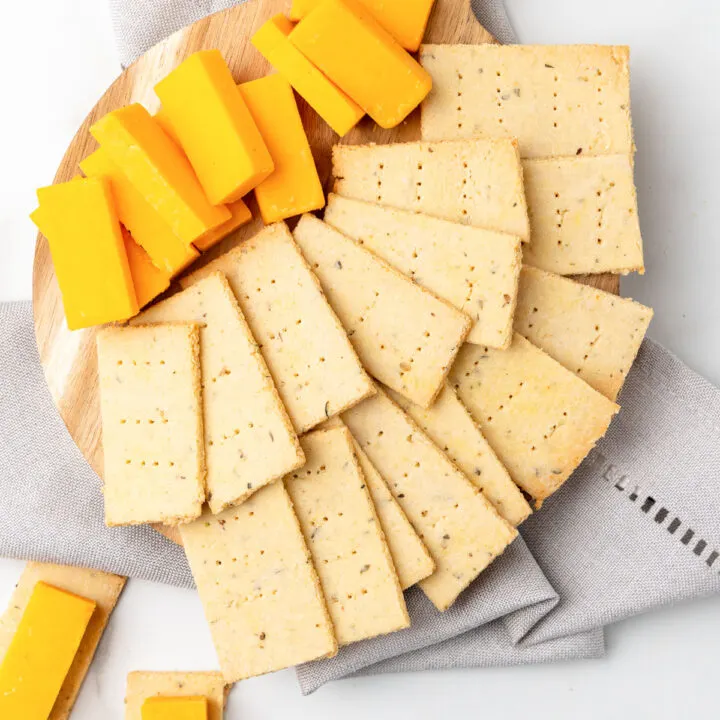 Almond Flour Crackers
Almond flour crackers are a delicious and easy recipe for making homemade crackers. Keto approved crunchy crackers that will be a sure treat for the family.
Ingredients
1 ½ cups almond flour
1 egg
½ teaspoon salt
½ teaspoon italian seasoning
½ teaspoon garlic powder
Instructions
Preheat oven to 350 F, line a baking sheet with parchment paper and set aside
In a medium bowl, mix together the almond flour, egg, salt, italian seasoning and garlic powder
Mix until well combined. Mixture will be very thick and pasty
Roll the dough out between two sheets of parchment paper, until ⅛ - 1/16" thick (uniform thickness is most important)
Cut into 1x2" rectangles (or desired shape) then carefully transfer to prepared baking sheet
Poke holes using a skewer or a fork
Then bake 8-10 minutes, until golden brown
Allow to cool completely before serving