Are you a lover of zucchini? This zucchini pizza boat is a delicious zucchini that is cut in half and stuffed with vegetables, pepperoni, pizza sauce and mozzarella cheese. A healthier version of pizza night at home!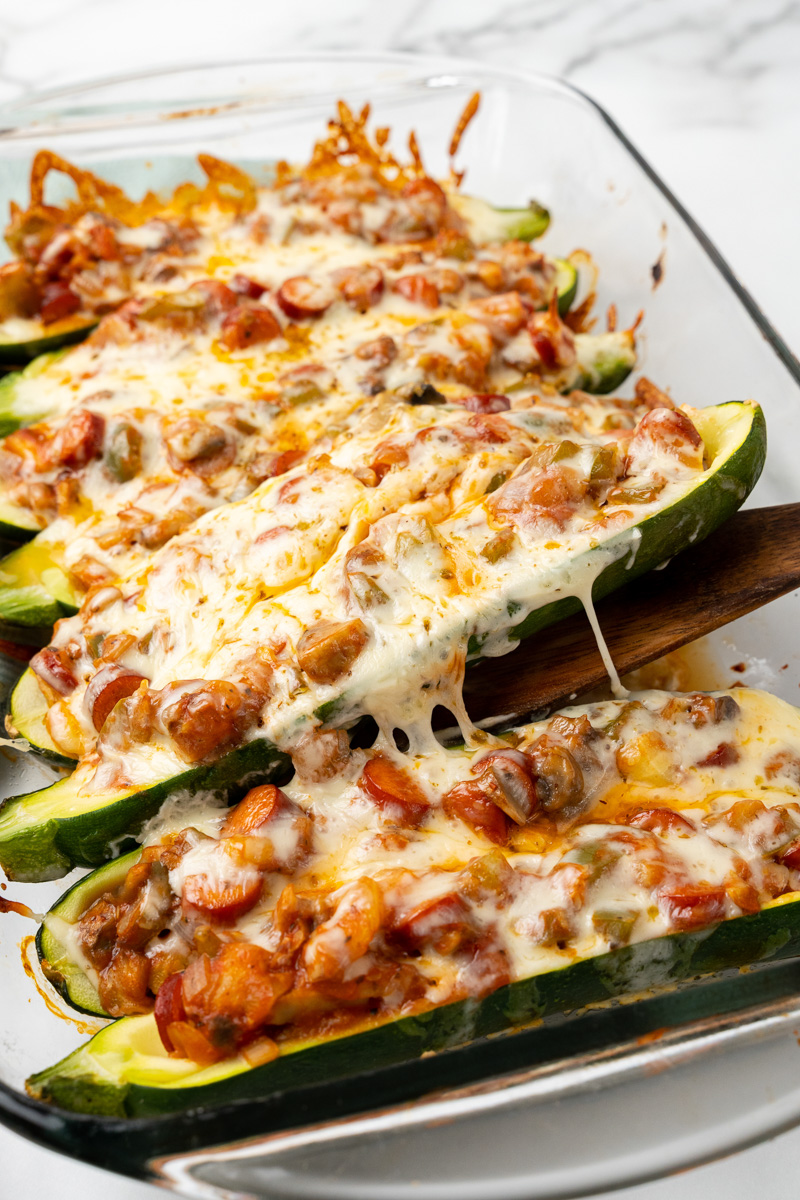 I love zucchini in all forms. It is a great low carb vegetable that is incredibly versatile. These pizza boats are one of our favorite meals when zucchini is in full swing.
If you want more zucchini recipe ideas, try this sauteed tomatillos and zucchini for a side dish. Or if you enjoy bacon this bacon-wrapped zucchini is always a popular choice.
This Zucchini Boat Pizza Recipe Is…
Gluten Free
Low Carb
Quick to assemble.
Bakes in the oven.
Pizza flavored dinner.
Change up toppings to fit your preference.
Healthy dinner idea for the whole family.
How to Make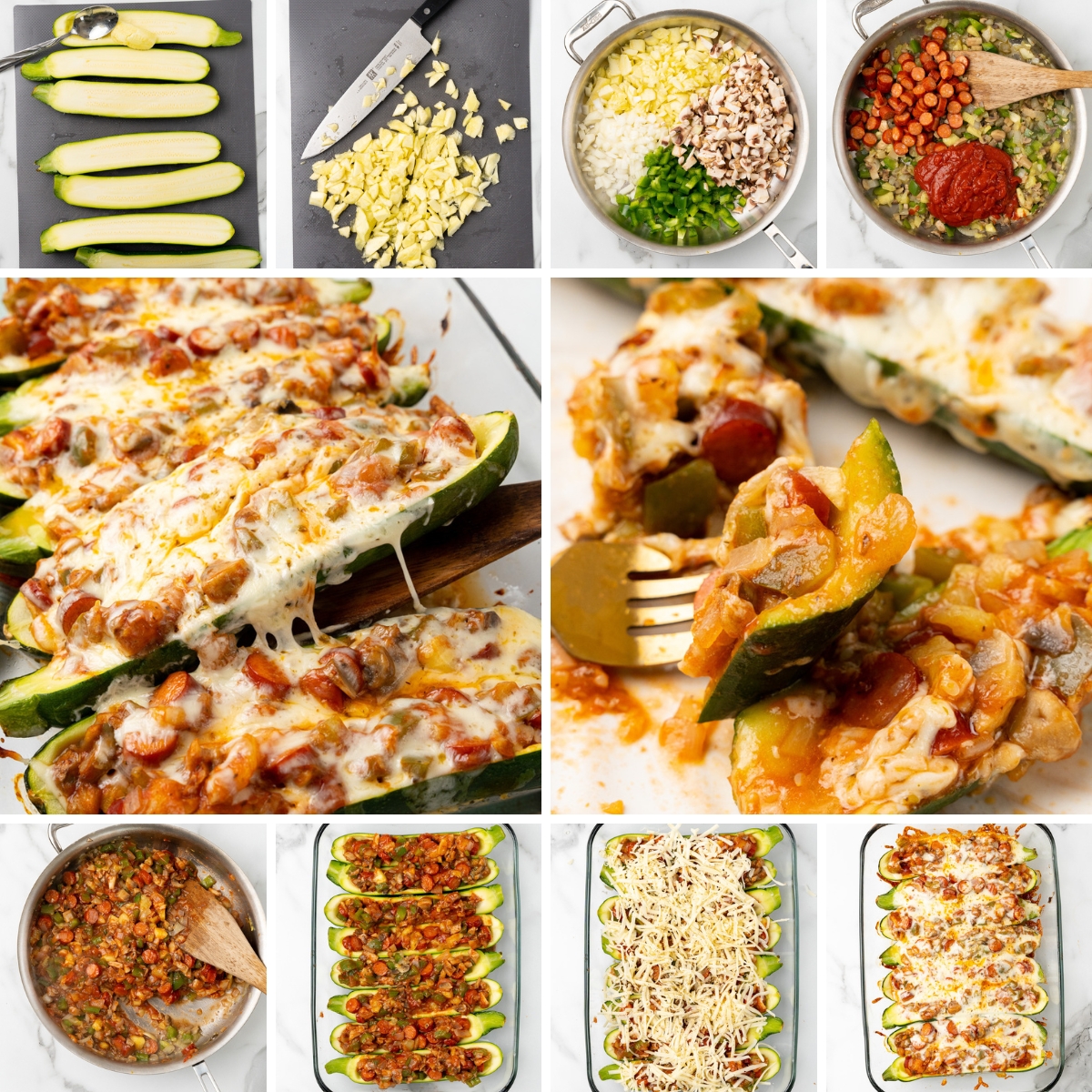 Preheat the oven and then wash and slice the zucchini lengthwise. Spoon out the center.
Place zucchini in a pan and then set it aside.
Saute the vegetables as directed in the recipe card.
Once veggies are softened add in the sauce and pepperoni.
Divide mixture into the zucchini halves, and then top with cheese and oregano.
Bake covered as directed.
Tools for Recipe
Baking Sheet or 9×13 Pan
You can use a rimmed baking sheet or a 9×13 baking pan for this recipe. You just want a flat pan for the zucchini boats. I prefer to have an edge in case it overflows, the pan catches drippings and doesn't get on the heating element with a non-rimmed pan.
Sharp Knife
I love having quality knives in our home for cooking. This is going to create a smooth and clean cut to your zucchini as well as vegetables.
Mandoline
You can buy a mandoline for chopping up the vegetables in an even cut if you want. Just buy one that you have different sizes to how you can dice up your veggies.
Helpful Tips for Success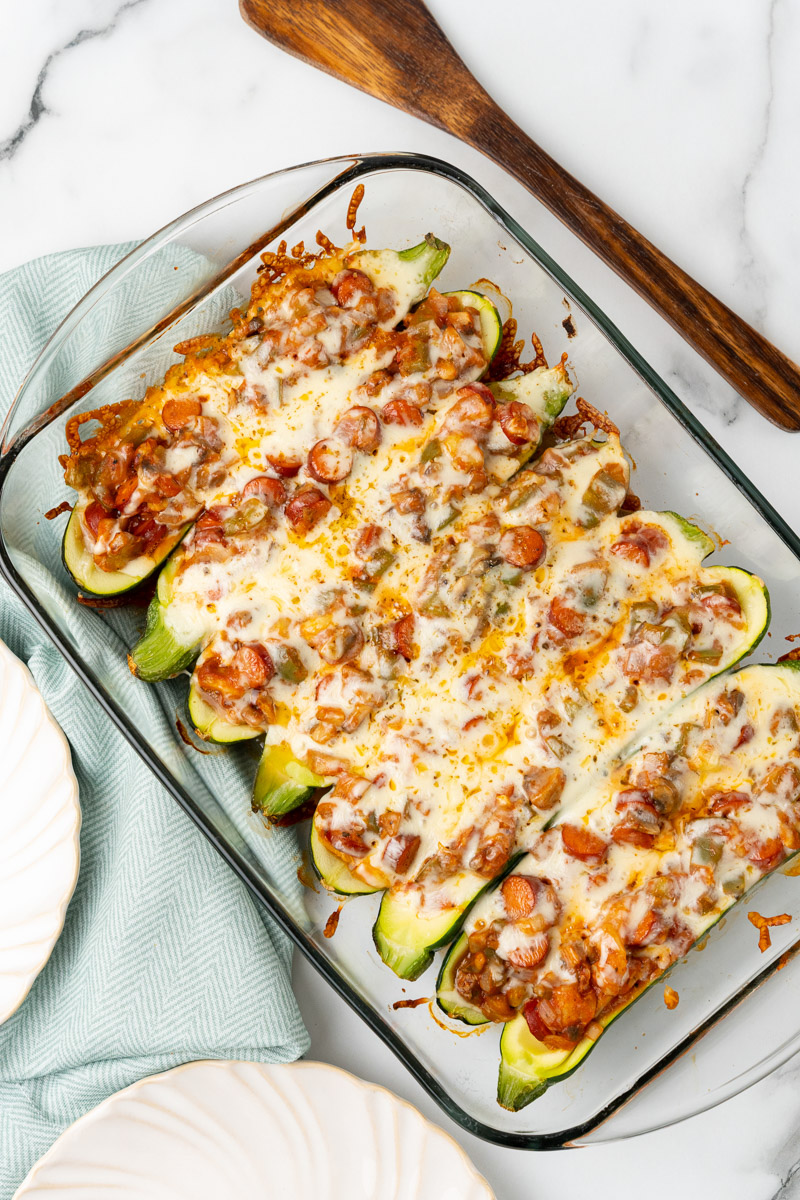 Small Veggies
Make sure to finely dice up the vegetables. As you are going to be eating it like a pizza you want to ensure the veggies are smaller in size so you can enjoy all flavors to the pizza in one.
Scooping out the filling
Scooping out the filling in the zucchini is important. You need to have that hollow center to add in the meat and vegetables to the zucchini. I find a spoon works great at scooping the center filling out.
Variations to Recipe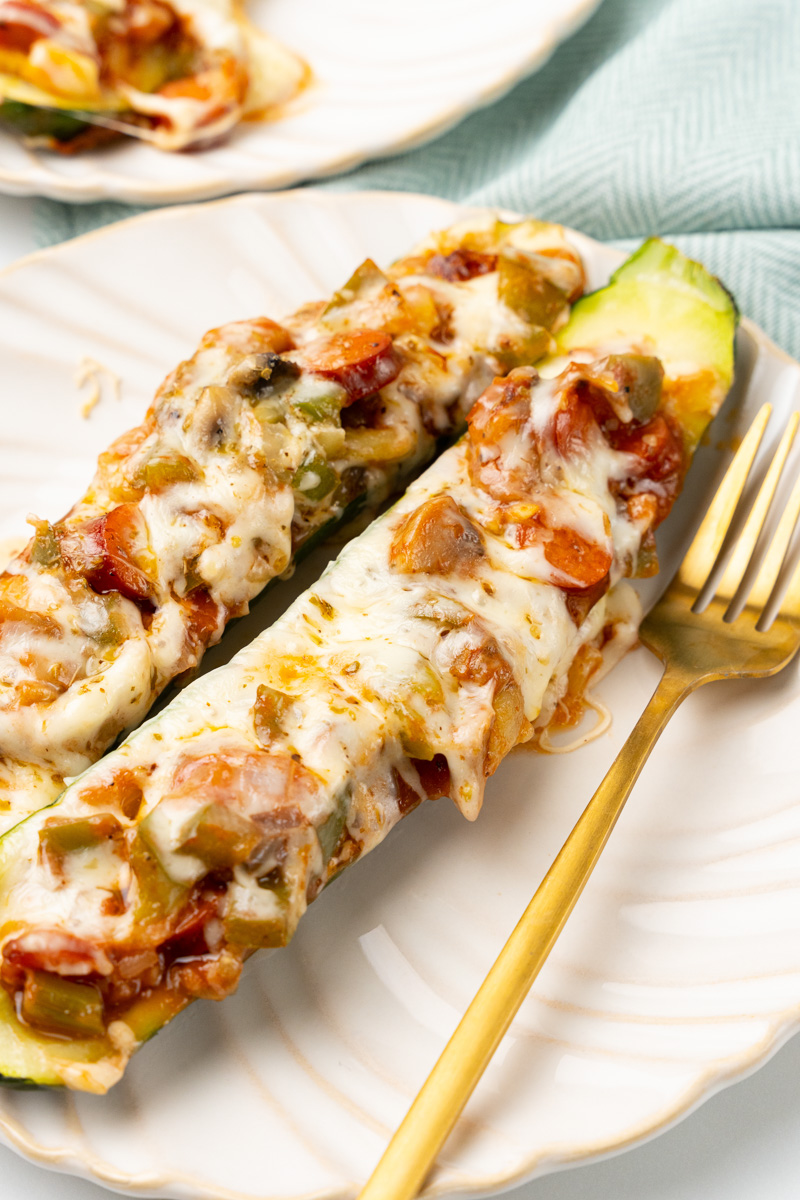 Meatless
Want a meatless zucchini pizza boat? Go ahead and leave out the pepperoni and just do your favorite veggies and pizza sauce.
Pizza Sauce
Make sure the sauce you use is a low carb sauce if you are wanting a low carb dinner. Any brand or homemade pizza sauce works for this recipe.
Meat
If you want to change up the meat or add a variety of meat. Ground beef, Italian sausage or other favorites from pizza. Even a pulled chicken could be a tasty pairing.
Vegetables
You can use any type of vegetables you prefer on pizza. From a classic onion and pepper to olives and mushrooms. Use as many or as few as you would like.
Cheese
I prefer mozzarella but you can do a mix like mozzarella and parmesan or even some grated muenster cheese works good. Feel free to add cheese of your choice. If you are vegan then reach for a vegan cheese substitute.
FAQs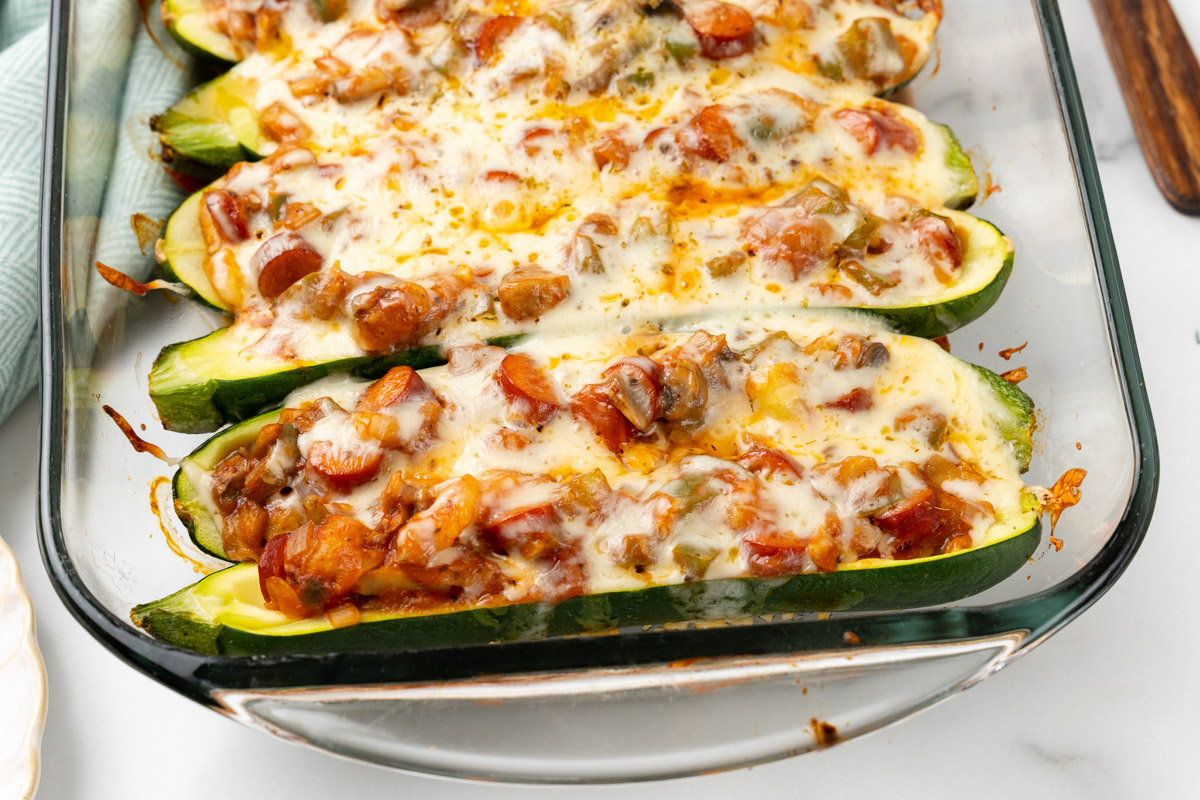 How long do zucchini boat pizzas last in the refrigerator?
Zucchini boat pizzas can be stored in the refrigerator for up to 3-4 days. Make sure to store them in an airtight container to prevent them from drying out or absorbing odors from other foods.
Can zucchini boat pizzas be frozen?
Yes, you can freeze zucchini boat pizzas. Place the baked zucchini boats in an airtight container or freezer bag and store them in the freezer for up to 3 months.
What are the benefits of making zucchini boat pizzas?
Zucchini boat pizzas are a great way to incorporate more vegetables into your diet, and they are also a low-carb option for those who are watching their carbohydrate intake. Additionally, they are easy to make and can be customized with a variety of toppings.
Zucchini Pizza Boats
Yield:
4 servings (2 each)
These zucchini pizza boats are a healthier version of pizza night at home! Stuffed with vegetables, pepperoni, pizza sauce and mozzarella cheese, this zucchini recipe will quickly be a family favorite.
Ingredients
4 medium zucchini
2 tablespoons olive oil
1 onion, diced small
4-5 mushrooms, diced small
1 small green peppers, diced small
1 cup pepperoni, cut small
1 10 oz. can pizza sauce
2-3 cups shredded mozzarella cheese
1 teaspoon oregano
Instructions
Preheat oven to 375 F
Wash and slice zucchini lengthwise in half, then use a spoon to carve out the center of the zucchini to make a "boat"
Chop the inside into small pieces
Arrange the zucchini boats in a 9x13 dish cut side up, set aside
Heat the olive oil in a large pan over medium heat, then add the onion, mushrooms, green pepper, and chopped zucchini
Saute until the veggies have softened and liquid has evaporated, about 10 minutes
Stir in the sauce and pepperoni and cook an additional 1-2 minutes to heat through
Divide the mixture between the pizza boats
Then top with the mozzarella cheese and a sprinkle of oregano
Tightly cover with foil, then bake in preheated oven for 35-40 minutes