Have you seen the new meal kits from Atkins? Read all about them here!
This is a sponsored post written by me on behalf of Atkins Nutritionals. All opinions are my own. Please see my disclosure policy.
2020 UPDATE: These meal kits are no longer available. Please check the Atkins site for current products.
As you may recall from my round-up of Store-Bought Low Carb Snacks, I am a big fan of the meals, snacks and drinks made by Atkins Nutritionals. So I was delighted to try out one of their new meal kits: the Easy Peasy Meal Kit. They also offer the Evening Chef Meal Kit and the Frozen Foodie Meal Kit! All kits ship free and yes – they ship frozen food too!
So after getting over the excitement of a HUGE box getting delivered, I started unpacking. I prioritized the frozen food section, so let me show you what it includes: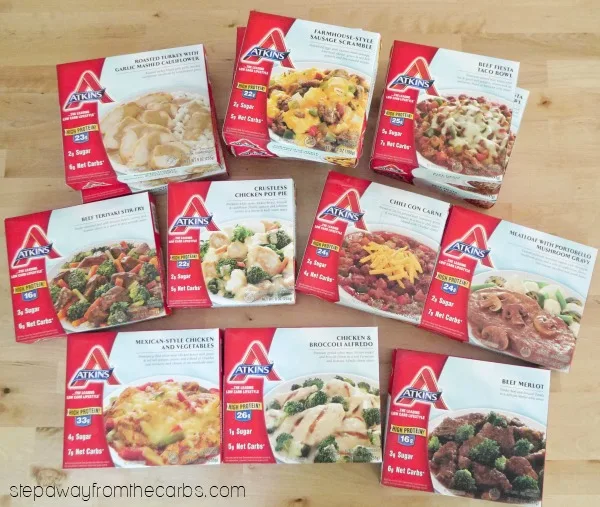 Farmhouse-Style Sausage Scramble (x2)

Bacon Scramble

Roasted Turkey with Garlic Mashed Cauliflower (x2)

Beef Fiesta Taco Bowl (x2)

Beef Merlot

Beef Teriyaki Stir-Fry

Chicken & Broccoli Alfredo

Chili Con Carne

Crustless Chicken Pot Pie

Meatloaf with Portobello Mushroom Gravy

Mexican-Style Chicken and Vegetables
I don't know about you, but I can't always find a huge range of these frozen meals at my local stores. Some of these meals I had previously tried, and some I'd never seen before!
Moving onto the non frozen section, the kit includes: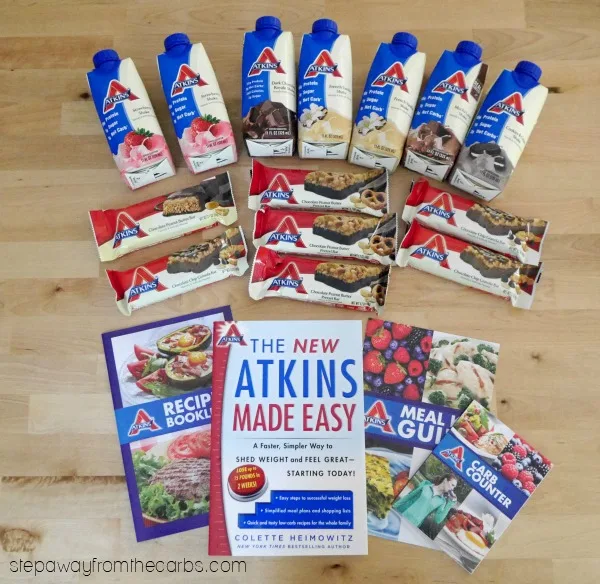 Chocolate Chip Granola Meal Bar (x3)

Chocolate Peanut Butter Pretzel Meal Bar (x3)

Chocolate Peanut Butter Meal Bar

French Vanilla Shake (x2)

Strawberry Shake (x2)

Cookies & Crème Shake

Dark Chocolate Royale Shake

Mocha Latte Shake
And in addition:
Atkins Recipe Booklet
Atkins Meal Kit Guide
Atkins Carb Counter Booklet
Atkins Recommended Shopping List and Menu Plan
A copy of The New Atkins Made Easy (320 page book!)
This amazing kit means you save about $50, which is a great saving if you're going to use them all and have previously been buying them individually. Also, you can schedule it to receive the kits weekly or monthly, plus you get 5% off any subsequent orders after your first meal kit purchase!
So now you've seen what's included, I want to highlight some of the individual products.
Meals:
I've been enjoying Atkins frozen meals for many years! They are just perfect when I want a hot meal but I'm busy/don't want to think too hard/don't want a stack of dishes to deal with! The Scramble meals are great for breakfast and the other meals are ideal for lunch on my own at home. My personal favorites are Chicken & Broccoli Alfredo, Beef Fiesta Taco Bowl and the Mexican-Style Chicken and Vegetables. I often add black pepper, hot sauce, fresh herbs or extra cheese to increase my enjoyment.
Meal Bars:
Now I know that I'm unusual, but I'm not actually a peanut fan. So the meal bar selection was a little peanut-heavy for my personal preference. However, my husband (who doesn't low carb) is often on the lookout for protein bars post-workout, and was happy to try them out for me!
Shakes:
I always have Atkins shakes in the fridge, but I've got stuck in a rut and only buy the Dark Chocolate Royale and French Vanilla – both of which taste SO good! Now I'm completely in love with the Cookies & Crème and Strawberry flavors, too! Oh and they actually don't NEED to be refrigerated, so they are great for traveling and lunch on the go!

Introducing the Easy Peasy Meal Kits from Atkins Nutritionals! #lowcarb #atkins
Click To Tweet
Save
Save
Save
Save
Save
Save
Save
Save