These store-bought low carb snacks will keep you away from high carbohydrate temptation! All keto friendly and sugar free.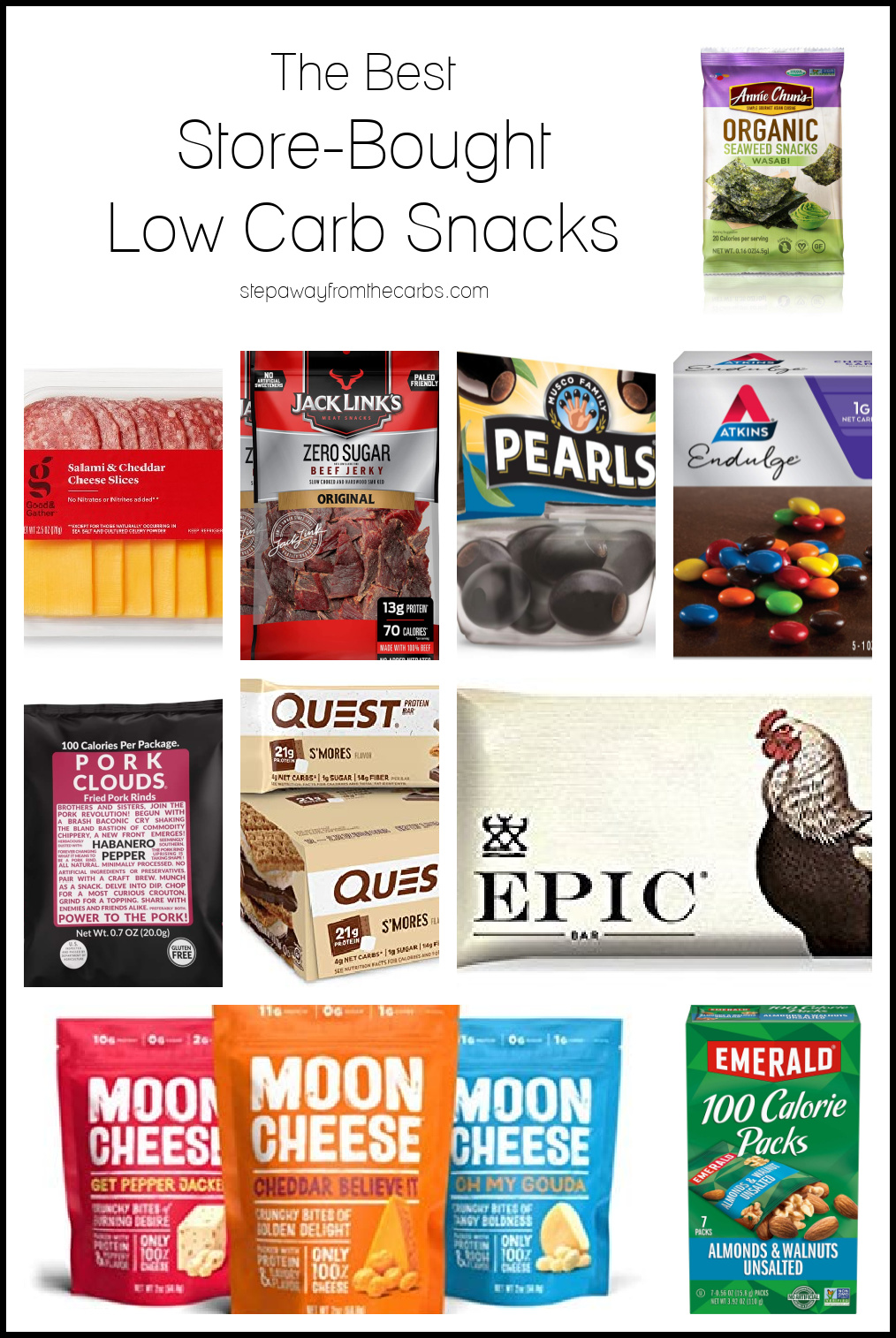 This post may contain affiliate links.
Whether you're on a road trip, going to work or visiting someone who just doesn't understand your way of eating, having a low carb snack with you at all times is a pretty good way to avoid hunger-led cheating. I've written on the subject of low-prep snacks before, but the difference with the list here is that these items can be bought from the store (so ZERO preparation)!
So if you're looking for low carb snacks to buy at the grocery store – read on!
Store Bought Low Carb Snacks
Meat Sticks (eg Slim Jims, Jack Links) – Easy to find in gas stations and supermarkets – these smoked sausages make a great low carb snack on the go!
Pork Rinds – Available in ready-to-eat-bags, these crunchy snacks are fairly high in fat but do not contain any carbs! Often stocked at supermarkets and gas stations. Or you could go all fancy with gourmet Pork Clouds – available in flavors like Rosemary and Sea Salt, Garlic Thyme, and Habanero! Just always check the label as some brands add sugar.
Crunchy Cheese Snacks (eg Whisps, Moon Cheese) – Look out for Moon Cheese in Starbucks or buy an assortment pack from Amazon. Whisps can be found in grocery stores!
Olives – I've seen these in little cups (Olives to Go!) and also handy sachets (Mario). Both types offer different varieties of olives and all are pitted, with no brine!
Cheese and Salami Snacks – Look out for products from Fiorucci, Columbus, Primo, Hillshire and in-store brands like this one from Target!
Jerky – This rich and tasty snack is available in several types of meats and flavorings. Check the carb content – I've seen quite a range! Jerky isn't the cheapest snack but it sure tastes good! Note – it is recommended that you refrigerate the bags after opening. Definitely check out this Zero Sugar Jerky that you can buy from Amazon!

Nuts – Pecans, walnuts, almonds and macadamias are some of the lowest in carbs (see this table for full details). Depending on the mixture, 100 calorie snack packs of nuts can contain as little as 1-2g net carbs per pack.
Low Carb Candy (eg Atkins) – You can buy all kinds of low carb goodies from the Atkins Nutritionals range from pharmacies and the diet section of grocery stores (usually near the protein powder!). Here are three of my favorites: Chocolate Candies (they really are a good substitute for M&Ms and there is also a peanut version!), Strawberry Almond Bar and Chocolate Chip Granola Bar.


Hard Boiled Eggs – I've seen these in the chiller cabinet everywhere from Walgreens to CostCo! Often available in packs of two, six, or twelve – and of course they're zero carb!
Seeds – Sunflower seeds and pumpkin seeds (also known as pepitas) are the most readily available. As usual, check the carb count but a very filling serving of ¼ cup is great for a snack – and often can be found in convenience stores too.
Roasted Seaweed Snacks – As well as being readily available in Asian supermarkets – many grocery stores stock them too! They also come in a variety of flavors! The wasabi style from Annie Chun's is one of my favorites!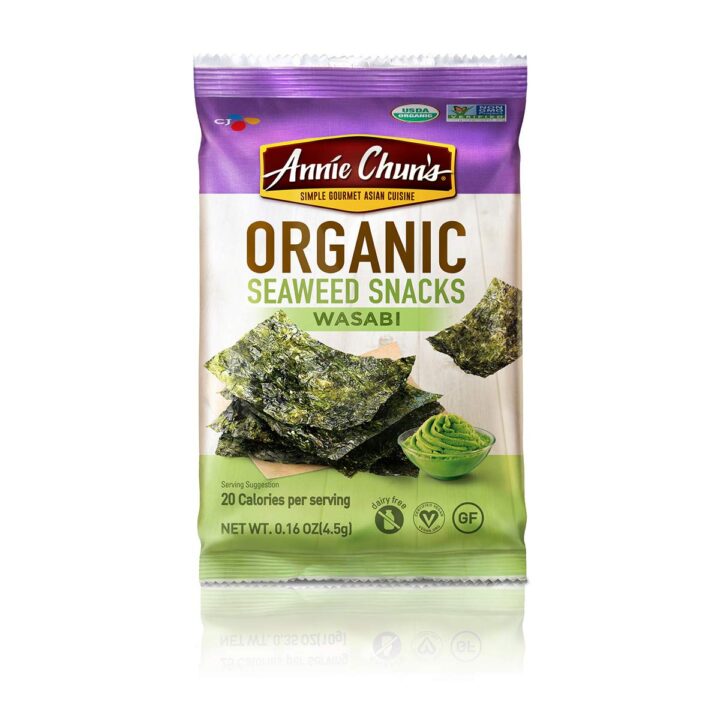 Protein Bars (eg Quest) – These are available in some amazing flavors! Sold at The Vitamin Shoppe, diet sections of some supermarkets, and I've even seen them in Bed, Bath & Beyond! They are REALLY filling and I love getting a big variety pack and picking out my favorites!
Meat Snacks (eg Epic Bars) – Chicken, beef, bison, venison, bacon – this company takes meat snacks to a whole new level! Find them in Whole Foods or try the variety pack from Amazon.
Did I include your favorite store bought low carb snack? Do you have anything to add to this list? Let me know in the comments!
If you'd like to find new snack RECIPES, please go to my Low Carb Snacks page for a full list of recipes on this site!
Store Bought Low Carb Snacks #lowcarb #lowcarbsnacks
Click To Tweet
Save
Save
Save
Save
Save