These gravy burgers are the perfect low carb answer to that burger craving. Hamburger steaks are pan fried and smothered in a rich mushroom-onion gravy for a quick, easy, and satisfying meal!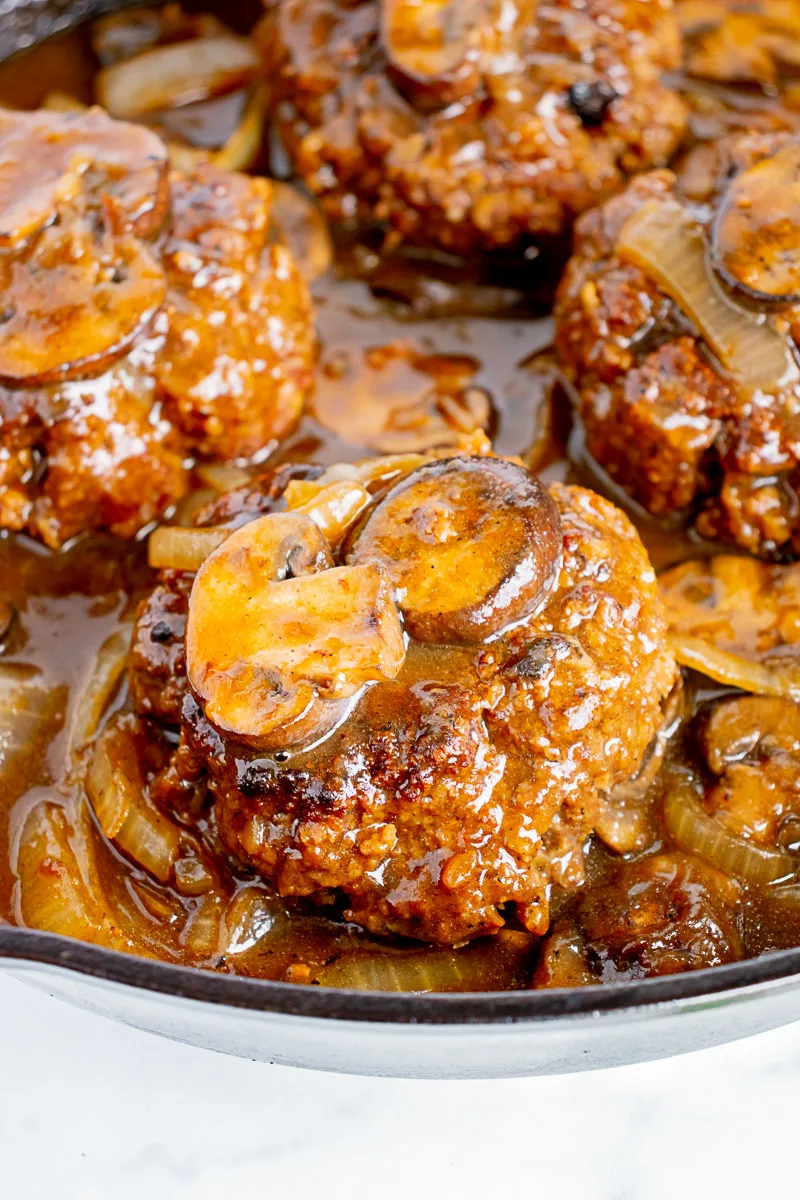 Hamburger steaks (aka gravy burgers) have been a thing in the South for as long as I can remember. And that's for one obvious reason – they taste good. But they're also a fantastic keto-friendly alternative to traditional burgers!
These gravy burgers are great for busy weeknights since it takes just 30 minutes to throw them together. The magic of this recipe is in its simplicity. All you need to do is mix together some simple burger patties, fry them up, and them cover them in a delicious homemade gravy sauce.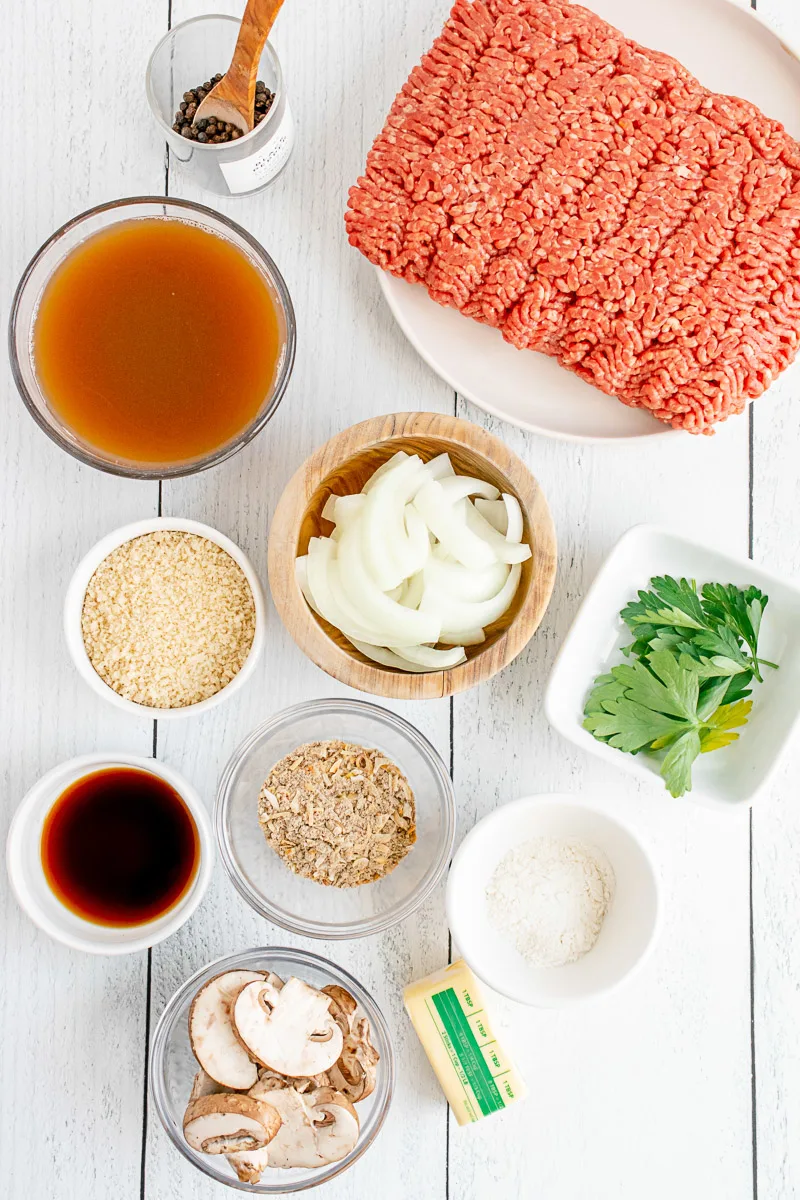 Helpful Tips
Press the burgers
Make sure to press down gently in the middle of the patties, using your thumb or a spoon, to create a slight indentation. This will prevent the burgers from puffing up in the skillet and also helps them hold onto more gravy!
Cast iron is best
A cast iron pan will give you the best results. Cast iron retains heat and cooks evenly, and also gives that perfect searing effect!
Serving Ideas
You can serve these gravy burgers all by themselves or with a hearty side. Traditional hamburger steaks are served with mashed potatoes, so low carb mashed cauliflower makes a great pairing!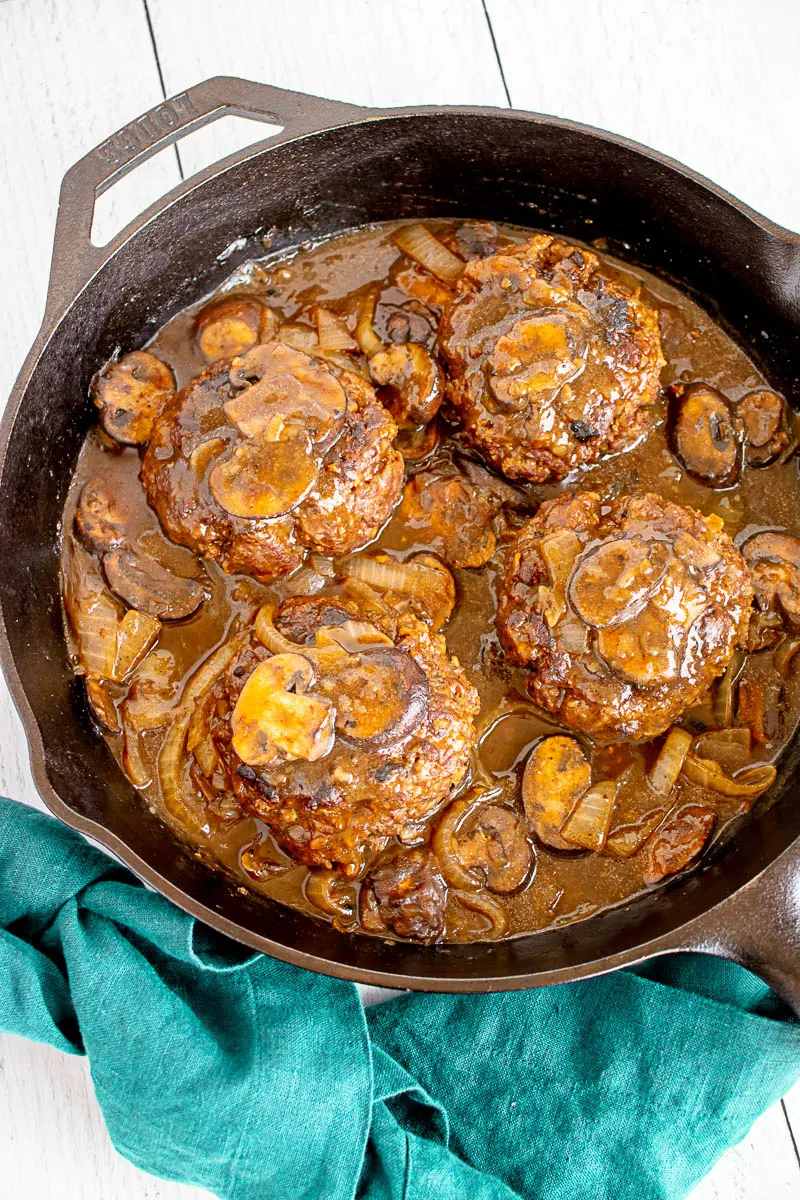 Variations
Use leaner meats
I used 80/20 ground beef for my gravy burgers. But you can also use a leaner beef, such as 92/8, or even substitute ground turkey for a lower fat version.
Add wine
Try replacing 1/4 cup of the broth in the gravy with a rich red wine, such as Cabernet Sauvignon.
Add fresh herbs
Mix some chopped fresh herbs of your choice into the burger patties for an extra pop of fresh flavor.
Add cheese
Everything is tastier with cheese, right? For a delicious twist, add 1/2 cup of shredded sharp cheddar cheese to the burger patties or top with a bit of shredded cheese while cooking.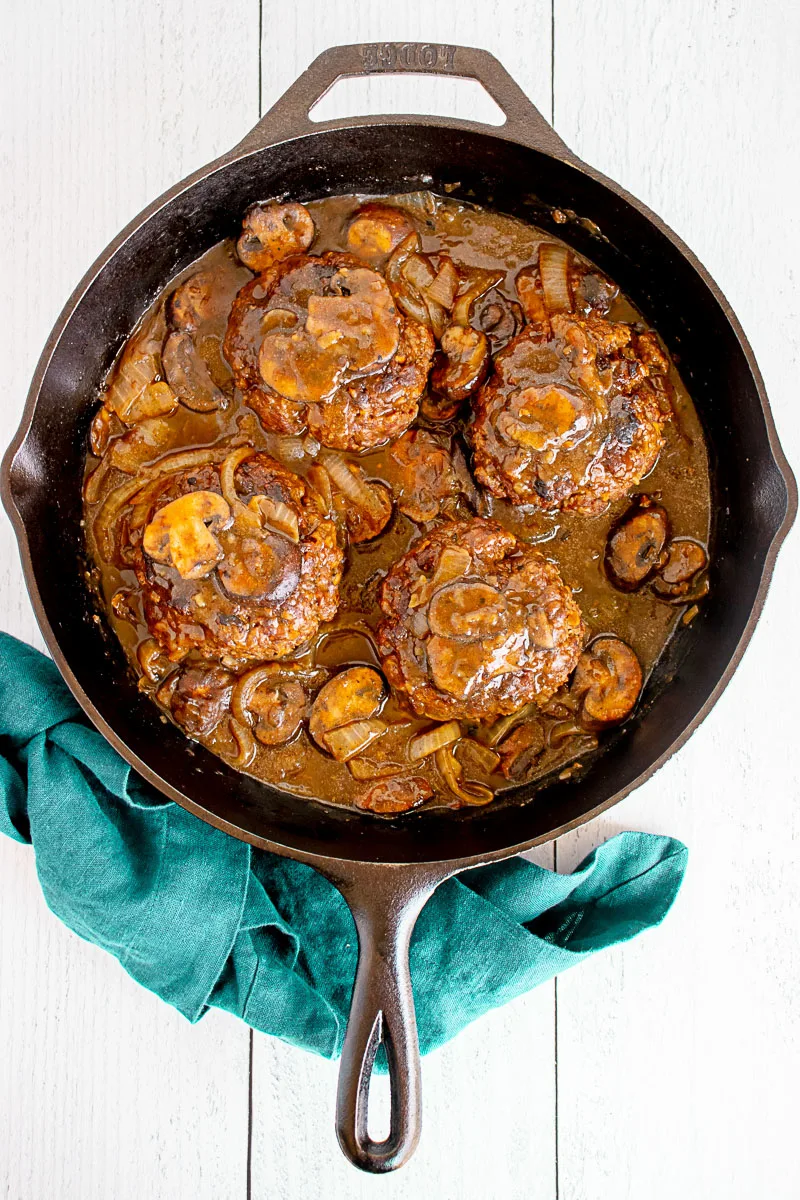 More Low Carb Recipes
If you love these easy gravy burgers, be sure to check out these other delicious ideas: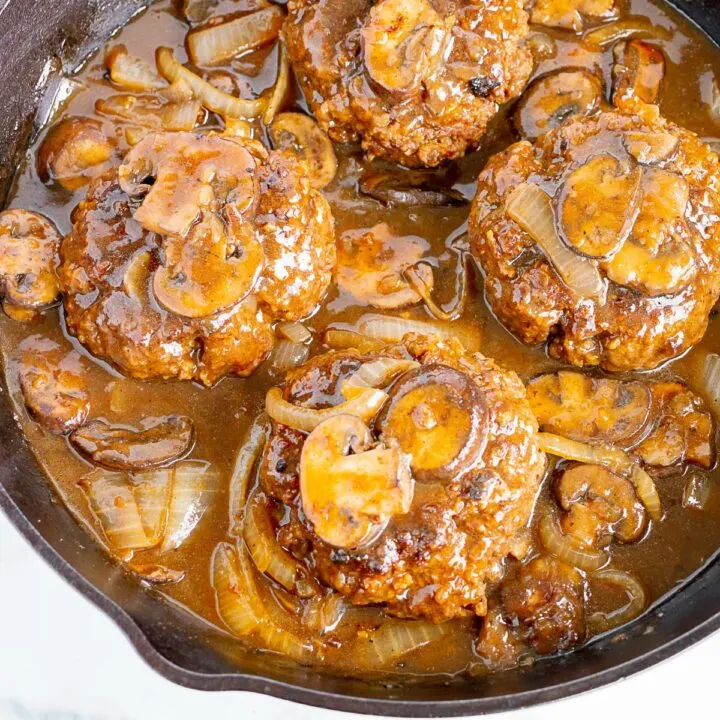 Gravy Burgers
These gravy burgers are the perfect low carb answer to that burger craving. And it takes just 30 minutes to throw them together.
Ingredients
1 ½ pounds ground beef, lean
½ cup crushed pork rinds or keto bread crumbs
1 package Lipton onion soup and dip mix
1 teaspoon freshly cracked black pepper
1 tablespoon Worcestershire sauce
¼ cup unsalted butter, divided
1 cup mushrooms, sliced
1 yellow onion, sliced
2 cups beef broth
2 tablespoons cornstarch, for the slurry
¼ cup water, for the slurry
salt and pepper, to taste
Fresh parsley, chopped for garnish
Instructions
Mix the ground beef, pork rinds, soup mix, black pepper, and Worcestershire sauce in a large bowl. Combine with your hands until fully incorporated.
Form into four ½-inch thick hamburger patties.
Using your thumb, press down the center of each patty to create an indentation.
Heat a large skillet over medium-high heat. Add 2 tablespoons of butter.
Add hamburger patties and cook for 5 minutes on each side.
Transfer to a plate.
Reduce the heat to medium, and add onions and mushrooms to the skillet. Saute for 5-7 minutes. Add salt and pepper, to taste.
Whisk in the broth and bring to a boil.
Make the cornstarch slurry by mixing 2 tablespoons cornstarch with ¼ cup water.
Pour the slurry into the sauce. Stir for 2 minutes, or until the sauce has thickened.
Turn off the heat and stir in the remaining 2 tablespoons of butter.
Add the hamburger patties back to the skillet. Garnish with parsley and serve.
Notes
I'm using 80/20 gound beef for this recipe. You can use any ground meat that you like (chicken, turkey, beef).
You can usually find Lipton onion soup and dip mix in the soup aisle on the top shelf.
I'm using baby bella mushrooms in this recipe but feel free to use another type of mushroom.
Be sure to salt and pepper the sauce to your liking. Since there is the onion soup mix, and Worcestershire sauce there is no need to add extra salt. It's a personal preference.
This is best served over cauliflower mash with choice of vegetable (green beans, broccoli, salad).
You could substitute chicken broth in place of beef broth.
Tools needed to make this recipe: large skillet, spatula, wooden spoon, large mixing bowl.
I am using a 12-inch cast iron skillet for this recipe.