This Cheesy Ham and Cauliflower Casserole is rich, creamy, and so easy to throw together. It makes a great addition to your brunch menu, and it's the perfect way to use up leftover ham too.
If you plan on serving up ham this holiday season (like this Keto Brown Sugar Ham!), you are going to want to save this casserole recipe for later. Even a small ham can feed a lot of people, and we tire of eating the same leftovers pretty quickly in our house. But transforming leftovers into a totally new dish is a great way to use them up!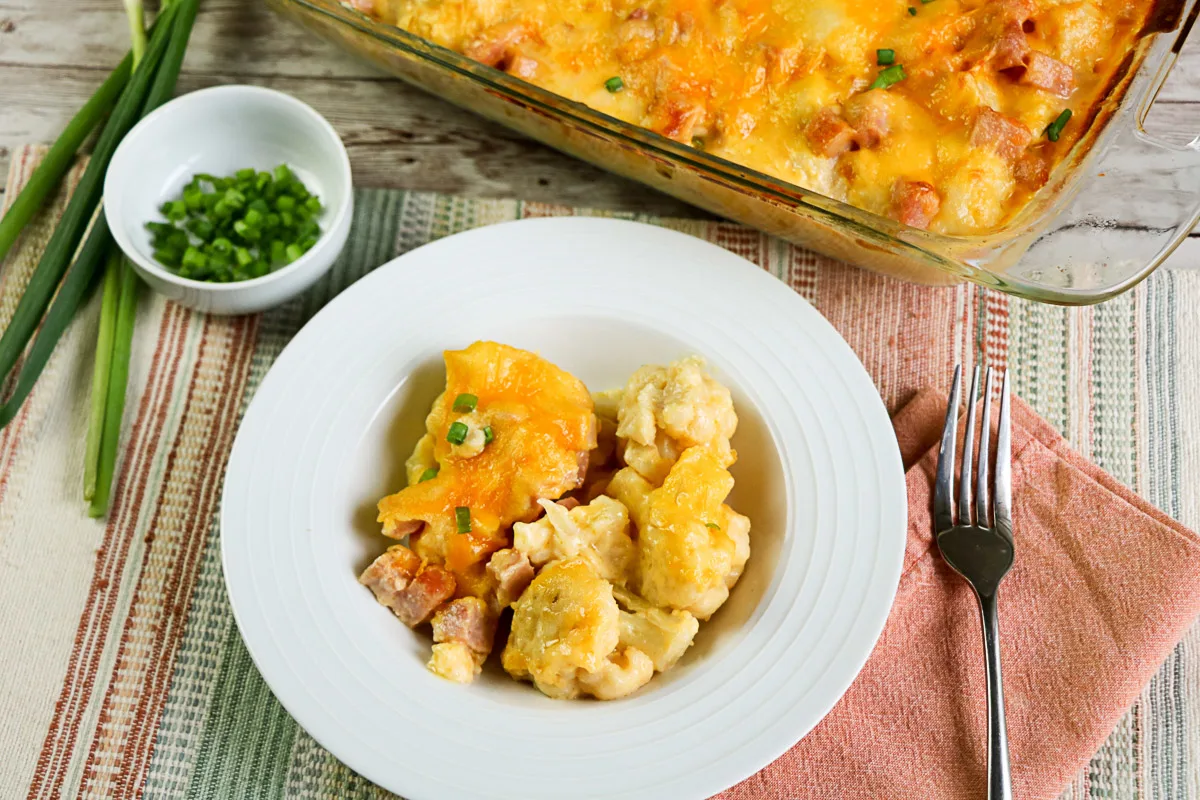 Enter this keto-friendly ham and cauliflower casserole! It's an easy, delicious, and hearty casserole that will make the whole family happy. This creamy casserole is made with tender cauliflower, cubed ham, sharp cheddar cheese, and topped off with a buttery cream sauce. Get ready to savor every cheesy and flavorful bite.
Oh, and it's a great dish for all of those holiday potluck parties too!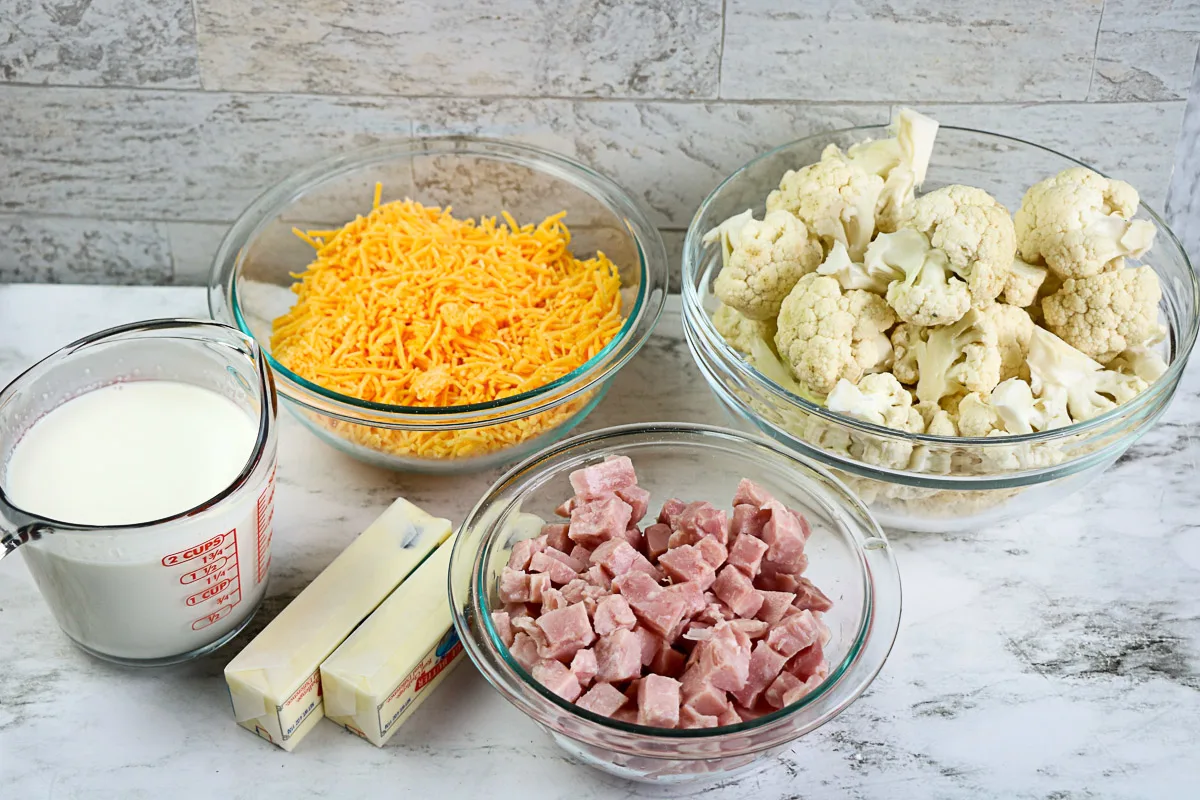 The Ingredients!
This is a pretty simple recipe with just a handful of ingredients. To make this casserole, you'll need:
Cauliflower – I used two large heads, but you can also start with the pre-cut florets if you wish. You'll be chopping them up, so either option is fine.
Ham – You can use chopped up cubes from ham steaks or a whole ham, whichever is easiest for you. If you want to keep this recipe keto friendly, be sure the ham isn't made with added sugar.
Butter – Easy.
Heavy Cream. – Also easy.
Sharp Cheddar Cheese – Really any cheddar cheese is fine, but I think a sharp variety gives the best flavor.
Green Onions (scallions) – These are for garnish!
And of course you will need a casserole dish. I recommend a 9″ x 13″ dish, coated with nonstick cooking spray for easy clean up.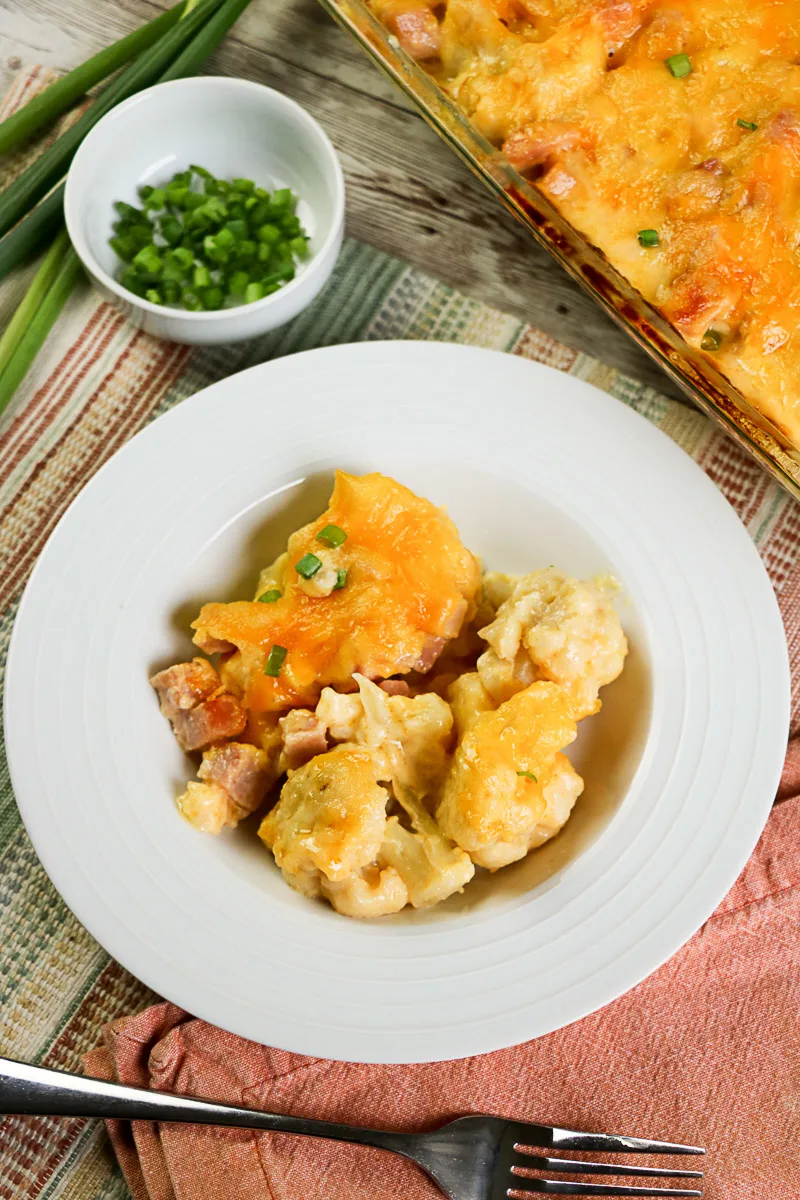 Helpful Tips & Variations
Add more veggies!
Add some extra veggies to the dish, like bell peppers or broccoli to turn it into an even heartier and healthier meal.
Add crunch.
For some crunch, try sprinkling some crushed pork rinds or sliced almonds over top before baking.
Add bacon.
Everything tastes better with bacon, right? Add in 2 cups cooked and crumbled bacon (or sausage) for that salty, crunch factor.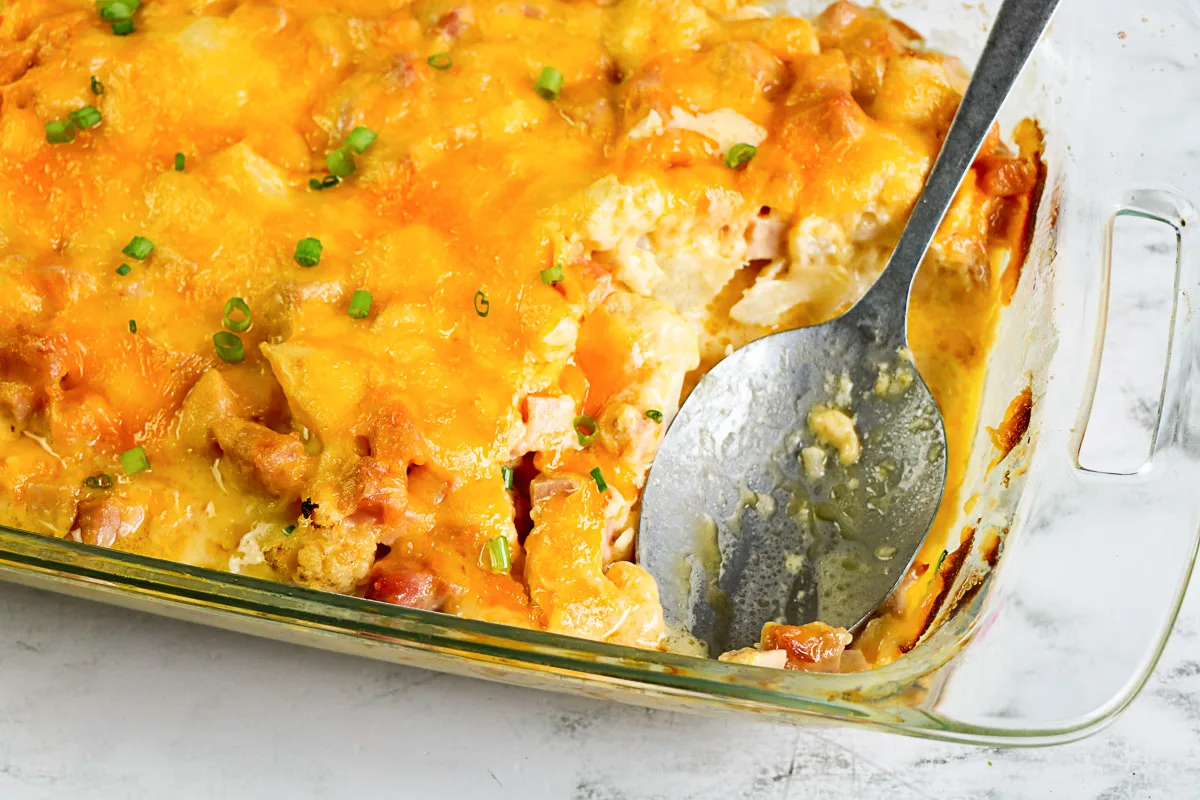 Mix up the cheese.
Substitute white cheddar, gouda, or pepper jack cheese for a slightly different flavor. Don't be afraid to add extra cheese; it will make your casserole extra cheesy and yummy! There's no such thing as too much cheese in my book.
Make it creamier.
For an even creamier casserole, stir in 2 tablespoons of cream cheese into the cream sauce.
Give it a Mexican twist!
Add some Mexican seasoning to your cream sauce and top the casserole with roasted diced green bell peppers or jalapenos for a fun twist.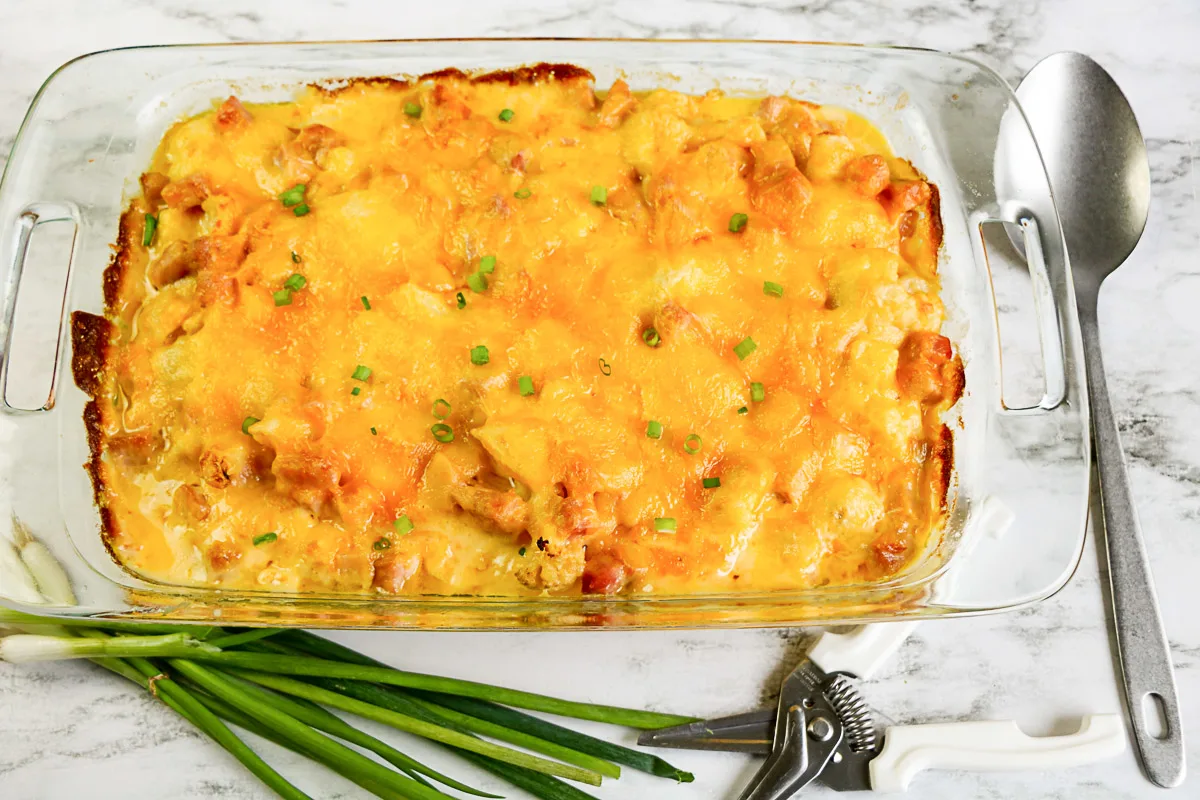 More Low Carb Recipes
If you love this Cheesy Ham & Cauliflower Casserole, be sure to check out these other delicious ideas: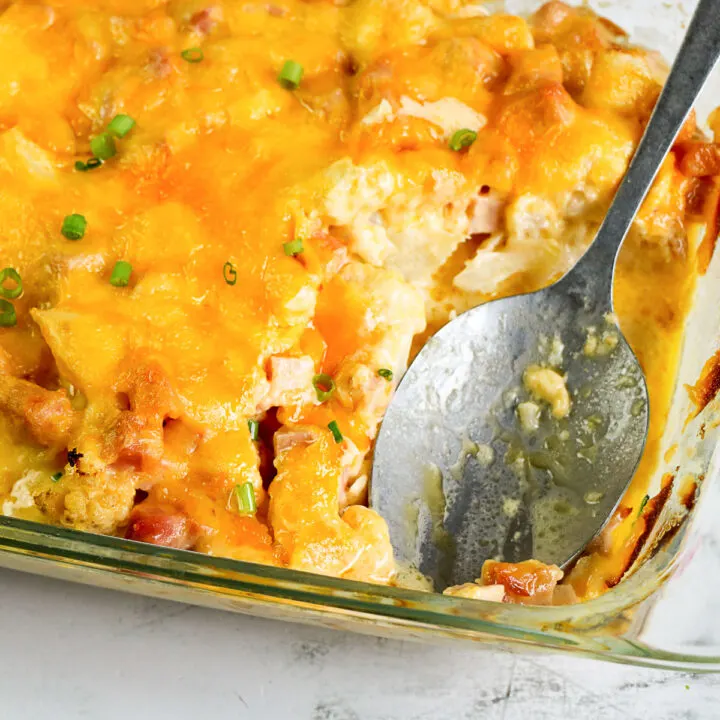 Cheesy Ham Cauliflower Casserole
This keto-friendly ham and cauliflower casserole is an easy, delicious, and hearty casserole that will make the whole family happy.
Ingredients
2 large heads cauliflower stems removed and separated into evenly-size florets
1 cup ham, cubed
1 cup ( 2 sticks) unsalted butter
2 cups heavy cream
3 cups sharp cheddar cheese, divided
Sliced green onions, for garnish
Instructions
Preheat the oven to 350 degrees. Prepare a 9x13 casserole dish with nonstick cooking spray.
Fill a large stockpot with water to three-quarters full. Add about 1 teaspoon salt. Bring the water to a boil over high heat. Add the cauliflower florets and cook florets for about 10 minutes or until fork tender. Drain the cauliflower well and place in the casserole dish.
Sprinkle the ham over the cauliflower and tuck into the cauliflower florets.
Meanwhile, in a large skillet, melt the butter over medium-low heat. When the butter is melted, add the heavy cream and bring to a boil, stirring often. Allow to simmer for 10 minutes. Stir in 2 ½ cup of the cheese and stir until melted. Allow the sauce to simmer, stirring often, for an additional 3 to 4 minutes or until the sauce coats the back of a spoon and begins clinging to the sides of the skillet.
Pour the sauce over the cauliflower and ham. Top with the remaining cheese.
Bake for 45 minutes or until the cheese has melted and the cauliflower begins to brown.