Have you tried the low carb cereal from The Cereal School? This is my review of the keto breakfast cereal that's making a splash!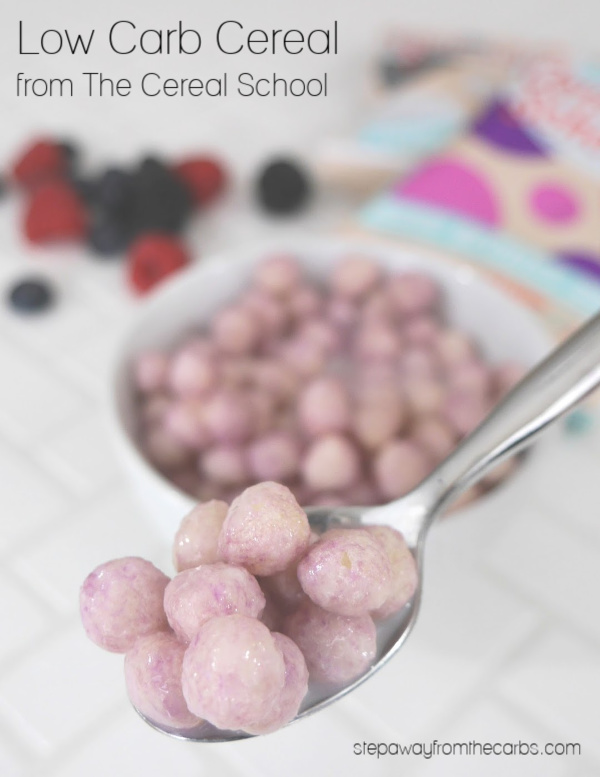 This is a sponsored post written by me on behalf of The Cereal School. All opinions are my own. Please see my disclosure policy. The post also contains affiliate links, which means that at no extra cost to you I can make a tiny bit of money to help support this blog. Thank you!
I *love* cereal. Before I started low carbing (12 years ago!) I would happily eat cereal for breakfast every single morning. But I knew I had to give it up – and I can't say it's been easy. I still really miss it.
These days, we are so lucky to have fantastic low carb products available – everything from bread to pizzas to crackers. So when The Cereal School invited me to try their cereal – I absolutely couldn't refuse!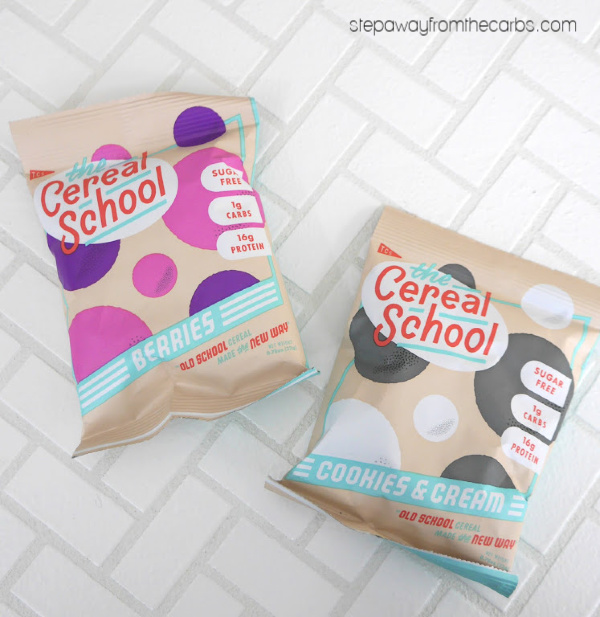 So here are the facts about this amazing low carb cereal:
Gluten and grain free
Sugar free
1g total carbohydrates per bag
Soy free
No artificial ingredients
Available in six flavors: Fruity, Peanut Butter, Cocoa, Berries (new!), Cinnamon Bun, and Cookies & Cream (new!)
So what IS in this cereal? Let's look at the ingredients for the Fruity flavor, as an example:
Lactose free milk protein isolate, high-oleic sunflower oil, tapioca flour, natural flavor, monk fruit, paprika extract (color), beet juice (color).
That's it! Also, the cereals are all nut free, apart from the peanut butter variety, which is made in a separate facility.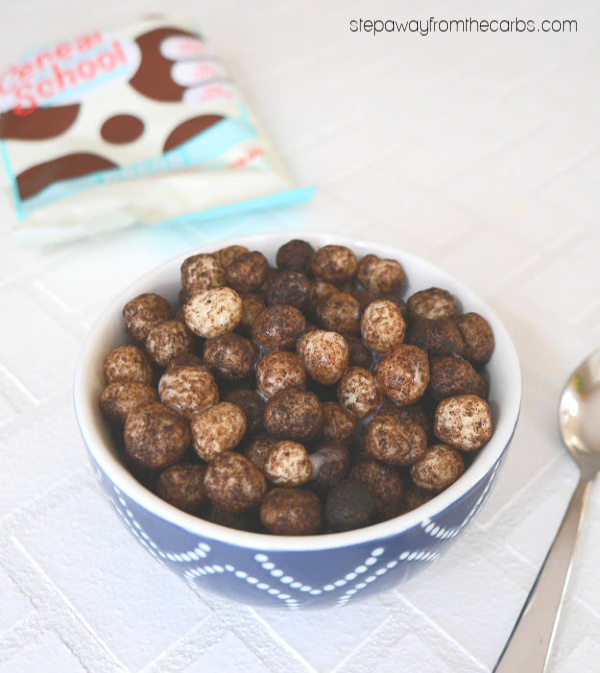 How does it compare to other cereals?
The ball shape of the cereal looks similar to Kix, Corn Pops, or Trix. I created a quick comparison spreadsheet for the fruity variety and Trix.
I think you'll agree that The Cereal School has created an amazing product! Just add some unsweetened almond milk (or your favorite low carb milk) and you're good to go!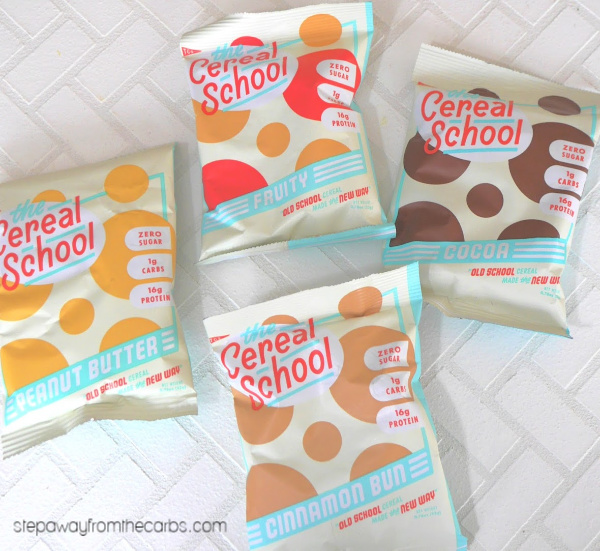 So what is it actually like?
It's crunchy. It's sweet – but not *too* sweet. The 22g bags are a perfect serving size – this isn't one of those products where the serving size is tiny to make the nutritional data look good!
I've tried five of the six flavors (I'm not a peanut butter fan – shocker!!), and I've enjoyed them all. I think Cocoa is my favorite. Or maybe the new Cookies & Cream…
What I love most is that I don't feel like I'm eating a low carb cereal. It doesn't feel "diet". It just tastes good.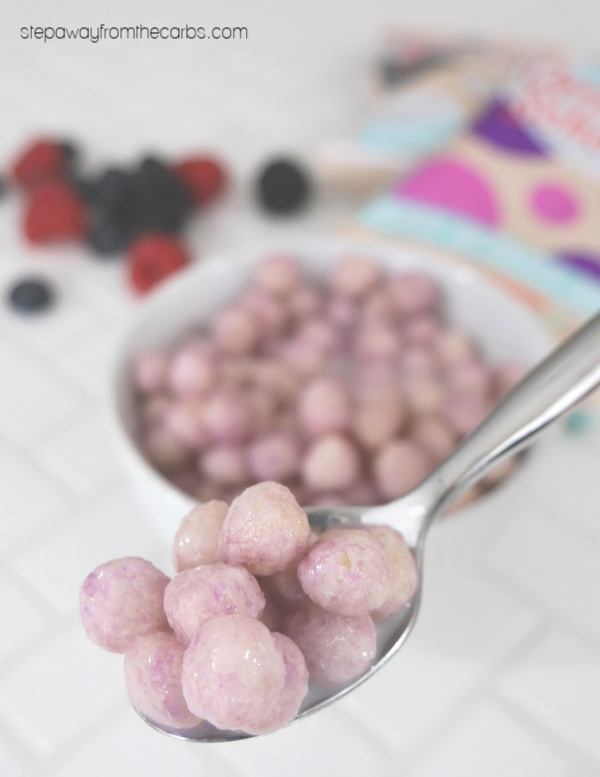 How can I buy this cereal?
Right now your best bet is to head to their website. And I know what you're thinking – it's going to be expensive. HowEVER. The Cereal School offer all kinds of flavor combination deals, with one time purchase and subscribe and save options. You can get the price down to just $1.87 per bag!
And no, you're not locked in – you can cancel the subscription option at any time, plus they will offer a full refund if you're not satisfied within 14 days!
Is this cereal just for breakfast?
Nope. Because these cereal bags are portable, they actually make awesome snacks. I have a bag in my car and one in my purse – you never know when you'll need something to keep you going! You could also crush them up and make them into a low carb pie crust or other clever things like that – but for me, I'll stick to keeping them whole!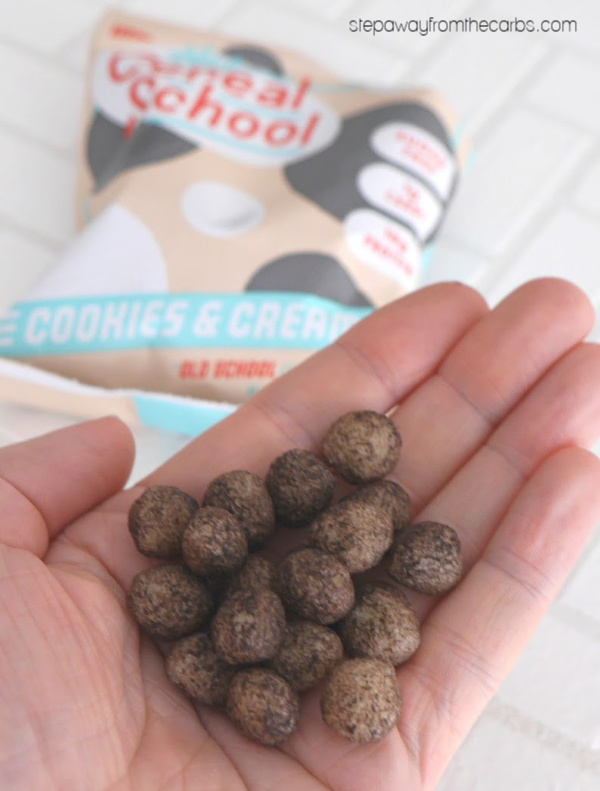 So what are you waiting for? Go and order some breakfast from The Cereal School today!