Here's my guide to low carb milk alternatives, including carbohydrate counts and best uses! A handy list for anyone starting a keto or low carb diet.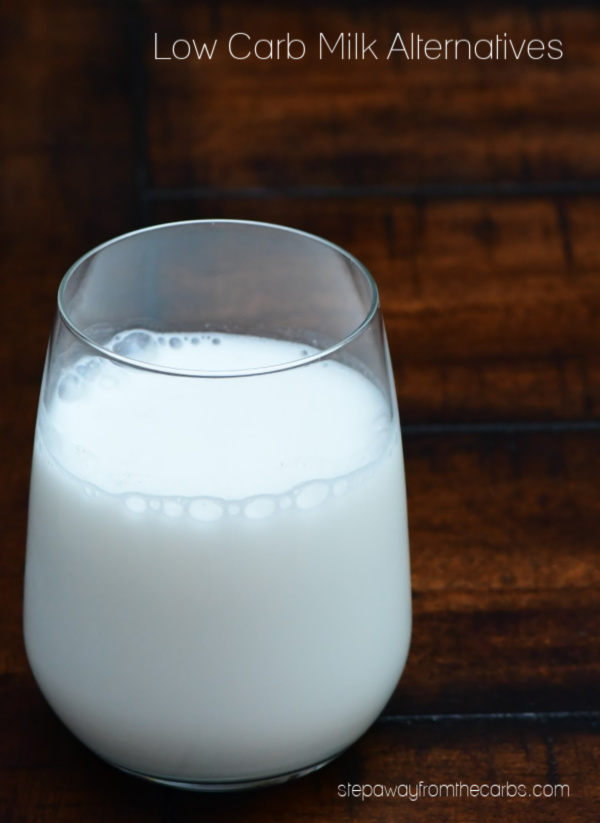 The following post contains affiliate links, which means that at no extra cost to you I can make a tiny bit of money to help support this blog. Thank you!
When you starting out low carbing – there are SO many changes to make. I mentioned a lot of substitutions for every day ingredients in my 28+ Low Carb Hacks article – so you might want to check that out too!
A cup of cow's milk contains 11-12g net carbs, regardless of whether it is whole milk, 1% etc. With many people trying to stay under 20g of carbohydrates per day – it just isn't possible to drink very much of it, so it's best to look for other options.
The first thing that I should mention is that it really depends what you're using milk for. Because you wouldn't necessarily use the same alternative for a shake as you would do a soup.
Which milk has the least carbs?
Unsweetened almond milk (0g net carbs per cup) My favorite brand is Silk, but Almond Breeze is also good.

Unsweetened coconut milk (1g net carbs per cup)
Unsweetened cashew milk (1-2g net carbs per cup) – buy it from Amazon!
Unsweetened soy milk (0-4g net carbs per cup)
Unsweetened macadamia milk (0-1g net carbs per cup) – buy it from Netrition!
Unsweetened flax milk (1g net carbs per cup)
Unsweetened hemp milk (1g net carbs per cup) – buy it from Amazon!
Heavy cream (7g net carbs per fluid cup)
Heavy cream and water mix (net carbs depend on ratio)
Water (0g net carbs per cup)
Low Carb Milk Mix* (1g net carbs per cup) – just add heavy cream and water to the powdered mix. It's high in protein (17g per cup) and low in carbs (1g per cup). I tried it a few years ago and while it didn't taste exactly like cow's milk, it was a reasonable alternative. Look out for the $1 sample bags if you want to try it!
Stock or broth (0-1g net carbs per cup)
You'll notice that the emphasis is on unsweetened! Always choose these varieties and add sweetness yourself if necessary. When I started low-carbing nearly ten years ago, the only low carb milk alternative was soy milk – and I'm personally not a fan. These days I always have unsweetened almond milk (I like the Silk brand with a light vanilla flavor) and heavy cream in the fridge – and one or both of these substitutes covers me for most uses!
Water might seem like an odd alternative but when you need to add bulk and liquid to a sauce, it can work! Oh, and just in case you're looking for condensed milk, check out this low carb condensed milk recipe from All Day I Dream About Food!
How you use these substitutes is really a matter of personal preference. For example, some people like almond milk in their coffee or tea – for others it doesn't work at all!
Do you have a favorite low carb milk alternative? Let me know in the comments!
Main milk photo by Kim Gorga on Unsplash
Almond milk photo from FreeRange Stock
Pouring cream photo by Nathan Dumlao on Unsplash