This low carb margarita is an almost-zero-carb version of the traditional drink! A sugar free recipe.

The following post contains affiliate links, which means that at no extra cost to you I can make a tiny bit of money to help support this blog. Thank you!
A margarita is one of my favorite drinks. But restaurant-made or commercially bought versions are usually LOADED with sugar. The traditional ingredients are tequila, lime juice and Cointreau (a brand of triple sec) or Grand Marnier. The tequila is zero carb, and the lime juice is low carb – but those sweet orange spirits are where the problem lies. Even worse if the cocktail is made from a high sugar "margarita syrup"!
A neighbor of mine recently had the idea of using orange extract instead of the triple sec, and then I added some liquid sweetener – I highly recommend making your own low carb simple syrup, but you could also use Da Vinci sugar free sweetening syrup.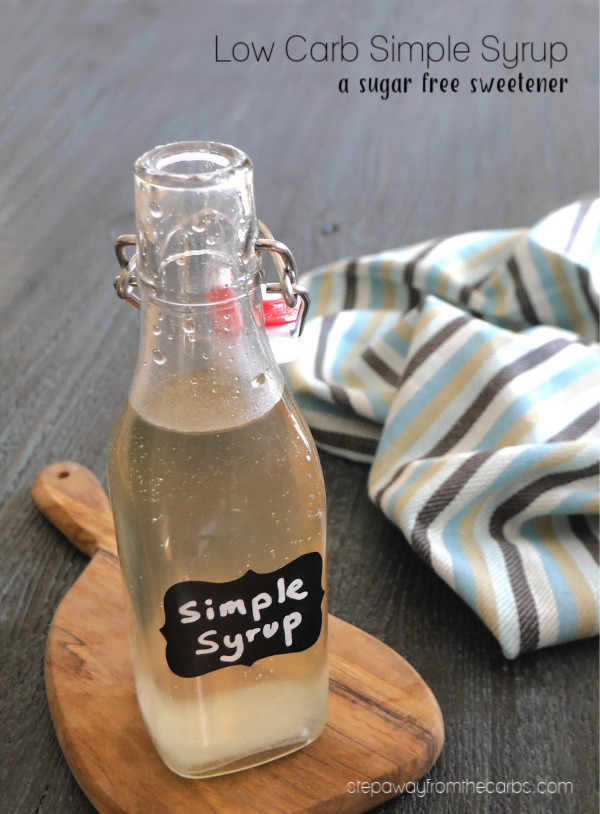 Both syrups are zero carb and act as part sweetener, part mixer! The result was really convincing! Oh – and if you like this recipe, check out my SPARKLING margarita cocktail!!!
Find the instructions below, or check out my recipe video!
How to Make a Low Carb Margarita
Cut a lime wedge and run it round the edge of a margarita glass or martini glass. Sprinkle some salt onto a plate, invert the glass and dip it into the salt, coating the rim in salt.
Add crushed ice, tequila, lime juice, orange extract, sweetening syrup and the juice from the lime wedge to a cocktail shaker. Shake well, and strain into the prepared glass. Add more crushed ice if desired – this cocktail is pretty strong! 🙂
Low Carb Margarita #lowcarb #margarita
Click To Tweet
This drink is SO refreshing!!!
And if you're wondering how many carbs in margarita – regular ones – then I've seen anything from 34g to 120g – although the latter is for a huge 32oz frozen cocktail. Definitely worth making your own!
Low Carb Margarita
This low carb margarita is an almost-zero-carb version of the traditional drink! A sugar free recipe.

Print
Instructions
Run the lime wedge around the edge of a glass. Dip the rim of the glass into a plate of salt.

Add the remaining ingredients to a cocktail shaker and shake well.

Strain into the prepared glass and serve with extra ice if desired.
Recipe Notes
0.8g net carbs per serving (yes really!)
Nutrition Facts
Low Carb Margarita
Amount Per Serving
Calories 71
% Daily Value*
Fat 0g0%
Cholesterol 0mg0%
Sodium 0mg0%
Carbohydrates 0.8g0%
Protein 0g0%
Vitamin C 3mg4%
* Percent Daily Values are based on a 2000 calorie diet.
Save
Check out my Low Carb Cocktails Recipes Ebook!
If you want more low carb cocktail recipes, check out my mini ebook!
Check out my Low Carb Mexican Recipes Ebook!
If you adore Mexican food, you'll love this ebook collection of 18 delicious low carb Mexican recipes!