Here's my Snake River Farms review – they produce premium beef and pork products that are perfect for low carbers!
This is a sponsored post written by me on behalf of Snake River Farms. All opinions are my own. Please see my disclosure policy. The post also contains affiliate links, which means that at no extra cost to you I can make a tiny bit of money to help support this blog. Thank you!
So let's start off with some basics:
Who are Snake River Farms?
Snake River Farms is a family-owned and operated company, located in Idaho and Washington. They have over 50 years of experience in the beef industry and pioneered the American Wagyu beef category with their program in 1988. Their cattle graze at the foot of the Cascades all summer, roaming in 80,000 acres of land. Snake River Farms treat their animals humanely and feed them a diet of fresh and local feed.
What do Snake River Farms Offer?
From their website:
American Wagyu beef is the ideal combination of the exceptional intramuscular marbling of purebred Japanese Wagyu and the intense meaty flavor of traditional American cattle. Snake River Farms are the pioneer of American Wagyu beef with a complete line of roasts, briskets and steaks. Snake River Farms also has a complete line of hard-to-find butcher's cuts, including picanha and teres major.

Snake River Farms Kurobuta is gourmet pork from Berkshire, a heritage breed hog with a history in Japanese cuisine. Known for fine, abundant marbling, Kurobuta pork is juicy and flavorful.
Snake River Farms Products
I was lucky enough to try some of the beef products from Snake River Farms – here's what I thought:
American Wagyu Ground Beef
The ground beef was the first product I tried.
I browned it off in a skillet and took a taste – it was SO good, and this was before any seasoning was added. Fantastic texture, too – it would be awesome for burgers!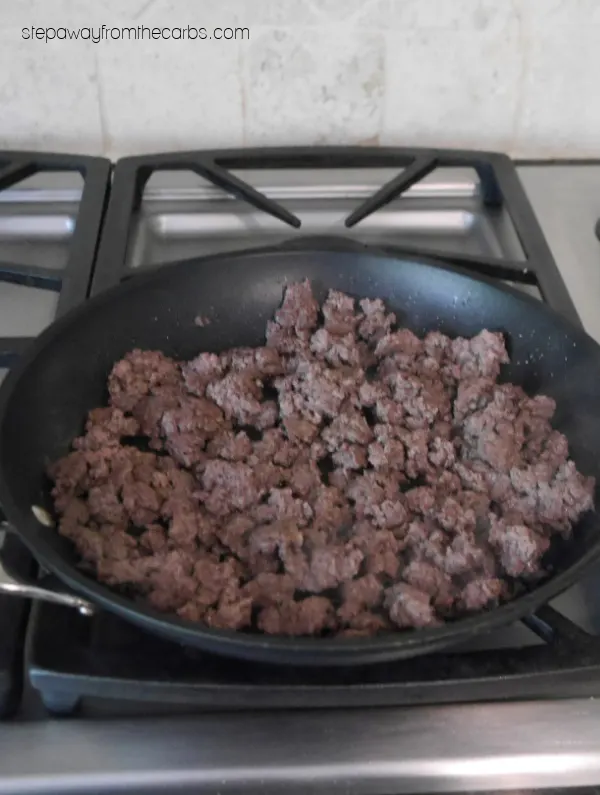 Need recipe ideas? Check out my best low carb recipes with ground beef!
American Wagyu Filet Mignon
These 4 oz filet mignon steaks look so good – that marbling!
I seasoned with salt and pepper, cooked them in a grill pan and served them with buttery mushrooms and a quick horseradish gremolata (parsley, grated lemon zest, lemon juice, horseradish and olive oil all whizzed together).
I love my meat rare and thanks to the cooking guide that was included with my meat it turned out perfectly! The beef was so soft and had a wonderful flavor. Very impressed!
American Wagyu Tenderloin Pieces
These are random-sized high quality trimmings that are produced when they cut the filet mignon steaks.
They looked perfect for a stir-fry, so I put together this quick and highly flavorful low carb meal of tenderloin pieces, zucchini, and asparagus tips.
American Wagyu New York End Cut Steak
This 10oz steak looked SO good!
I cooked it to medium rare in a grill pan, then finished it with sea salt flakes and a rosemary and garlic compound butter (softened butter with chopped fresh rosemary, garlic paste, and black pepper, then rolled into a log and chilled). I can honestly say that this was the best NY strip I have *ever* had!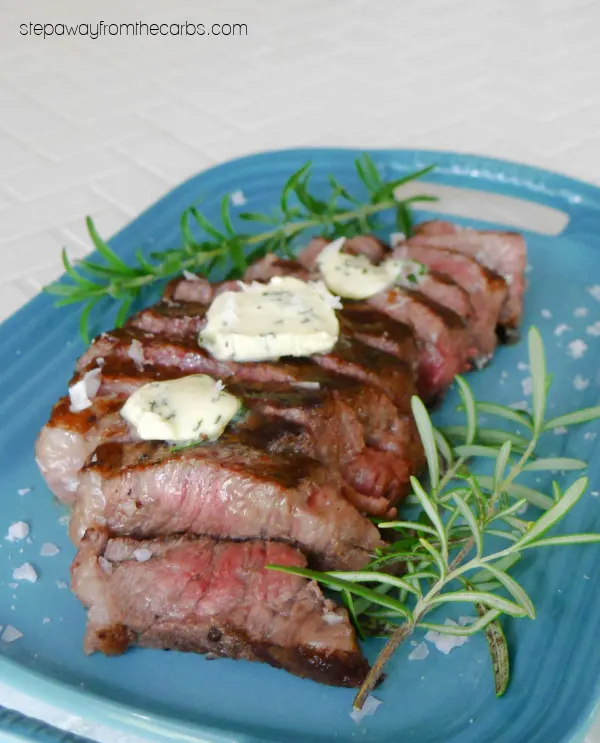 Other cuts that I will be trying soon are Steakhouse Petite Tenders and American Wagyu Top Sirloin, and I will report back!
Conclusion
The products from Snake River Farms arrive frozen, so you will need to plan ahead so that they have time to defrost before cooking. But I think that this is a good thing – as you might expect this premium meat is a little more pricey than you'd pay in a regular supermarket, so you might enjoy it only for special occasions to start with.
But most low carbers eat a good amount of meat, and I think we owe it to ourselves to make sure we feed our bodies with great quality ingredients.
I was highly impressed with the flavor and texture of all the cuts that I tried (but especially the filet mignon which was PHENOMINAL)! And trust me, once you've tasted how good this meat can be, you might find yourself having a lot more special occasions!
Check out Snake River Farms website to find out more.