Whip up these cheesy Keto cauliflower bites as a snack or side dish that is keto friendly. These cauliflower bites are made with frozen cauliflower, eggs, cheese, green onions, and bacon.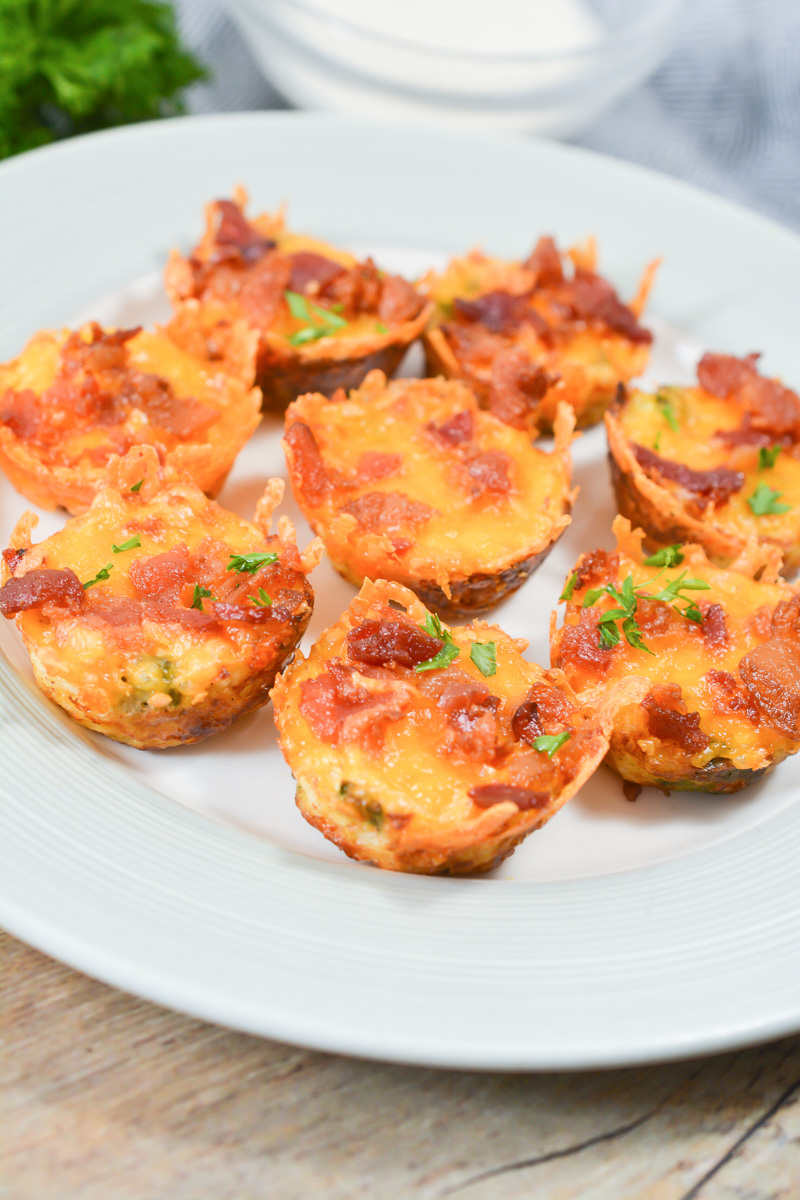 Craving more keto approved snacks? I have a few more recipes that might entice you. Mini cheese balls, deviled eggs, or my popular keto armadillo eggs.
This Cheesy Keto Cauliflower Bites Recipe Is..
Easy Recipe
Cauliflower Bites
Cheesy
Keto Friendly
Gluten Free
How to Make Cauliflower Bites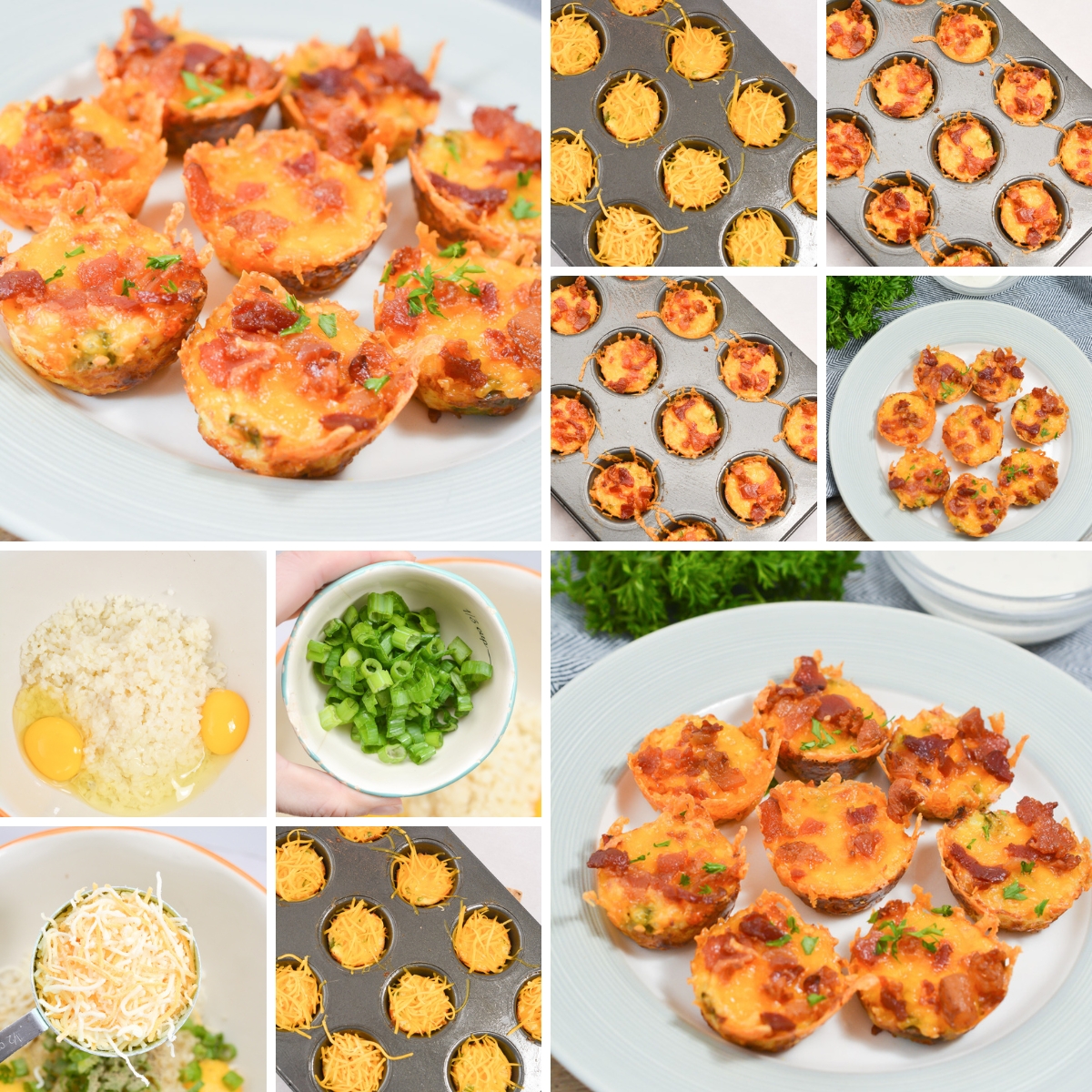 Full steps on how to make these keto cauliflower bites are in the printable recipe card. This is a visual walk through of how it is made.
Preheat oven and prep muffin tin.
Add the ingredients in a bowl and mix well to combine.
Fill the mini muffin tin with the mixture, and bake as directed.
Sprinkle with bacon and cheese and bake an additional 5 minutes and serve.
Tools for Success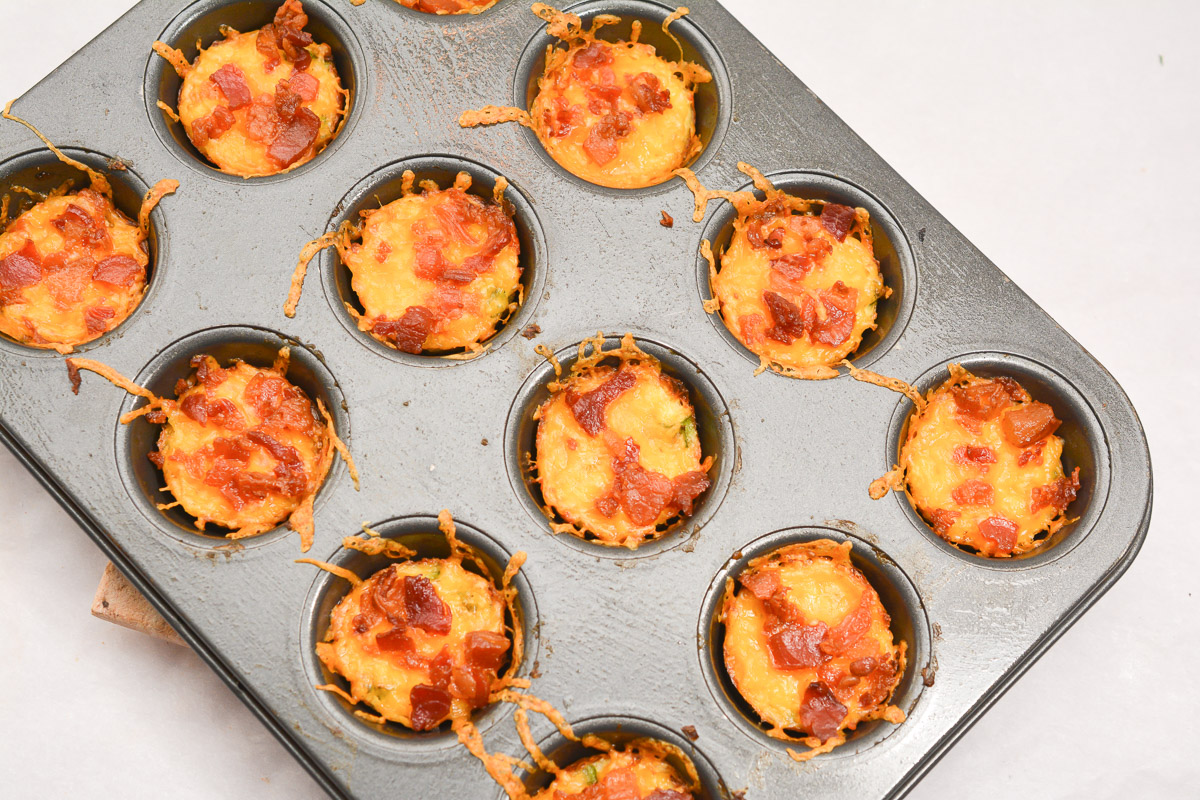 Mini Muffin Tin
I used a mini muffin tin, so make sure to reach for one that is nonstick. This will help tremendously as you do not want the bites to stick.
Herb Scissors
Did you know you can buy herb scissors. Works great on cutting green onions, parsley, etc. You get evenly cut items.
Large Cookie Scoop
You can use a large cookie scoop for making sure all the cauliflowers are in even sizes so they bake evenly.
Tips For Cauliflower Bites
Riced Cauliflower
Now you do not have to use frozen cauliflower rice. You can buy refrigerated rice in the refrigerated section at the grocery store. Or you can make homemade riced cauliflower.
Mix Well
Make sure that your cups are well mixed. Making sure all the ingredients are well mixed is key that way you get even flavor in the bites.
Variations to Cheesy Cauliflower Bites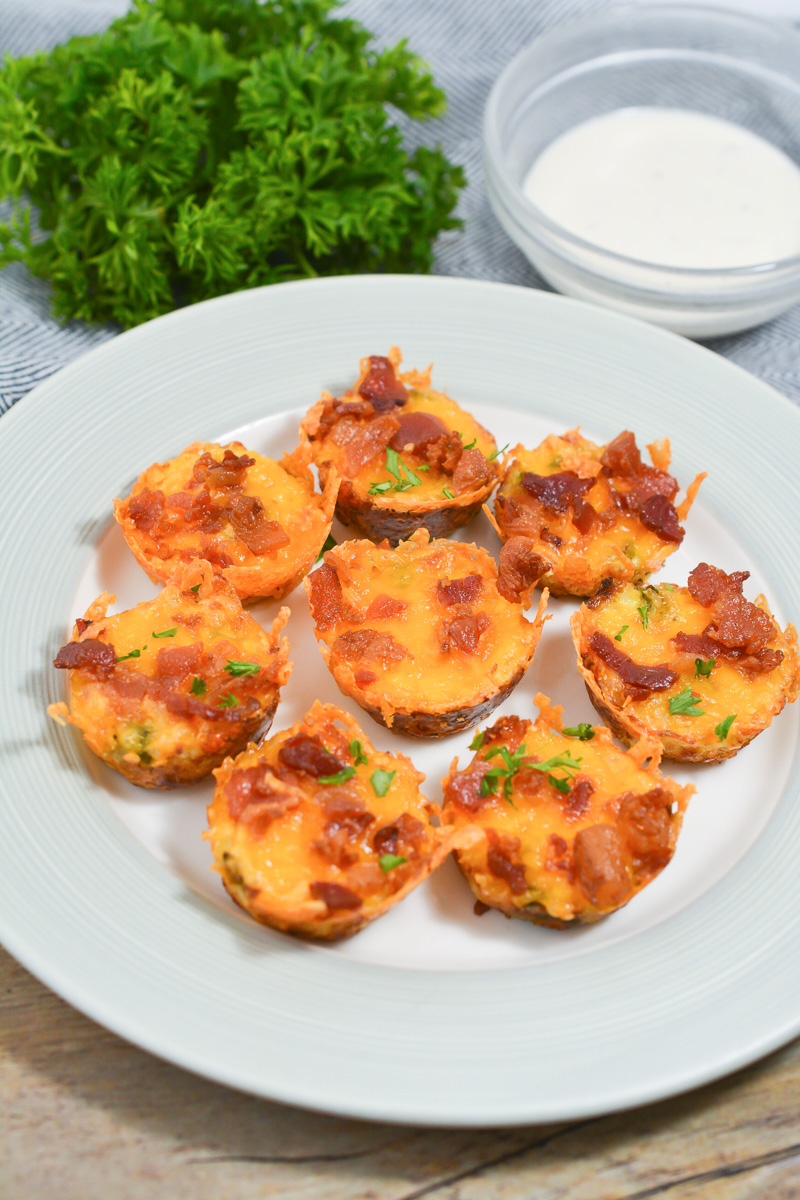 Cheese
I used Colby Jack but you can easily swap with pepper jack cheese, sharp cheddar, etc. Feel free to use any type of cheese you prefer. It is important to make sure that you use a block cheese you shred to ensure it doesn't have too much oil like pre-shredded cheese.
Ham
Instead of bacon consider adding diced ham on top for another option. Or leave off the meat if you are one who doesn't need to have meat on things.
Seasonings
I used salt and pepper for this recipe, but you can add in garlic powder, onion powder, etc. Feel free to change up the spices. Even a season salt or garlic salt with parsley will be tasty.
Cheesy Cauliflower Bites FAQs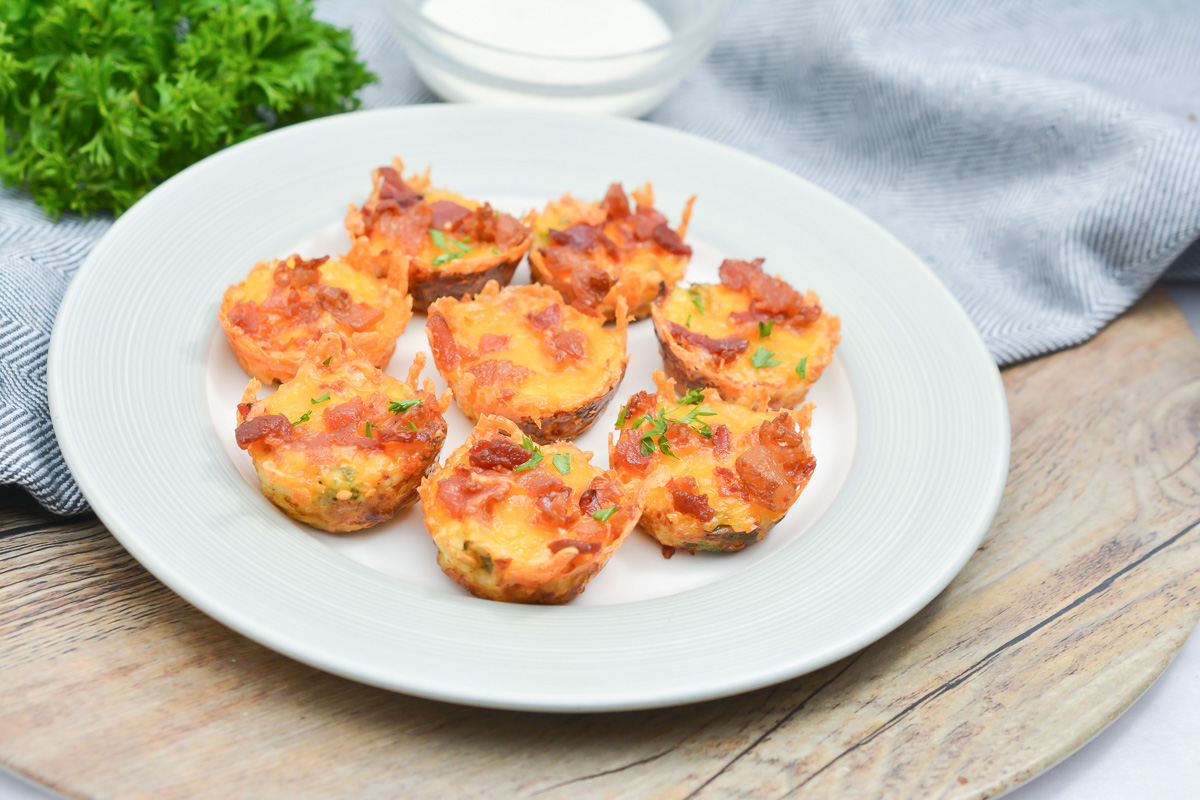 How to store cheesy cauliflower bites?
Store your cauliflower bites in the fridge in an airtight container. These will last for 3-4 days in the fridge. You can warm up in the microwave or opt to reheat in the oven.
Can I make a double batch?
Yes, go right ahead and make a double batch if you would like. Just use an extra muffin tin to double the recipe. If your oven isn't large enough for two trays at once, just batch cook.
Can you freeze cauliflower bites?
Go right ahead and allow your bites to cool completely. Then you can freeze for 2-3 months in a freezer container or freezer bag. Then when you want to eat, reheat them straight from frozen and bake in the oven in a muffin tin until they are warmed all the way through.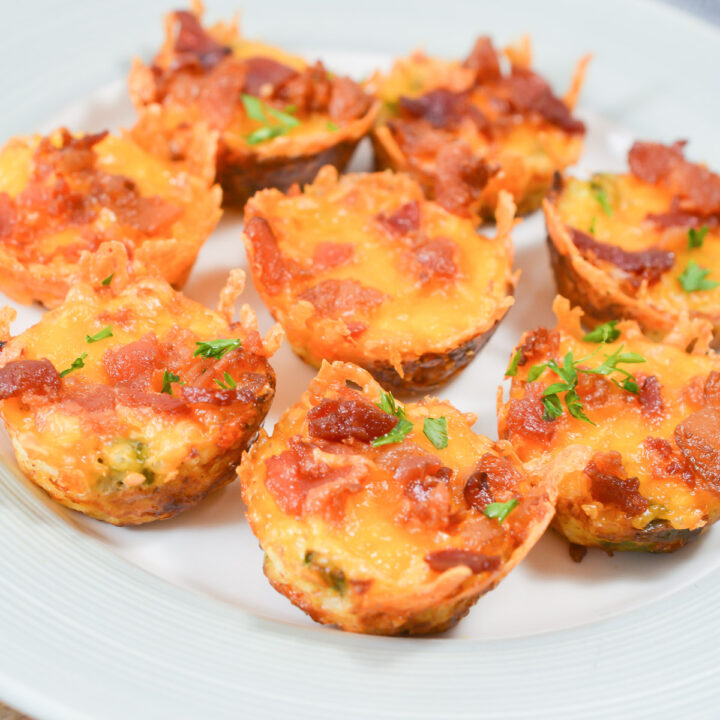 Cheesy Keto Cauliflower Bites
Whip up these cheesy Keto cauliflower bites as a snack or side dish that is keto friendly. These cauliflower bites are made with frozen cauliflower, eggs, cheese, green onions, and bacon.
Ingredients
1 Package of frozen cauliflower rice cooked according to package instructions
2 Large eggs
½ Cup Colby jack cheese shredded
¼ Cup Chopped green onions
Salt and pepper to taste
¼ Cup Crumbled bacon pieces
½ Cup Shredded cheddar cheese
Instructions
Preheat the oven to 350 degrees.
Add the cauliflower rice, eggs, colby jack cheese, green onions and salt and pepper to taste in a mixing bowl, and combine well.
Fill the sections of a well greased mini muffin tin almost to the top with the cauliflower mixture.
Bake for 25 minutes.
Take out of the oven and sprinkle the bacon and cheddar cheese.
Bake for another 5 minutes. Leave in the pan to cool before serving.