Mexican seasoned salmon is a delicious and healthy way to incorporate Mexican flavors into your diet. This is a low carb dish that is full of spice and nutrients. This dinner takes no time to prep and offers impressive flavor and presentation.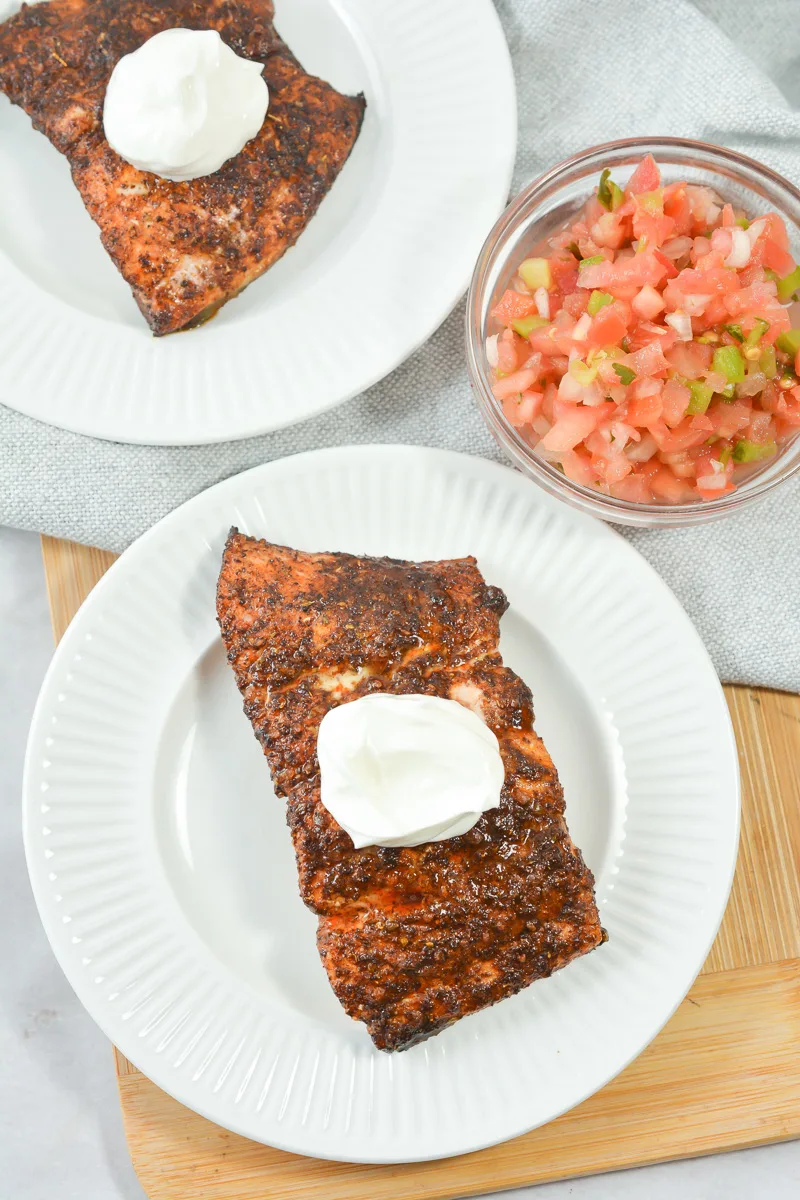 Salmon is a great protein to incorporate into your diet. If you are looking for a new way to change up the flavor of your salmon try out this dinner idea soon. Give this seafood salad a try, tarragon salmon, or oyster dip for another seafood option.
The Mexican Salmon Recipe Is..
Low Carb
Keto
Mexican Spices Used
Easy Prep
Quick Cook
How to Make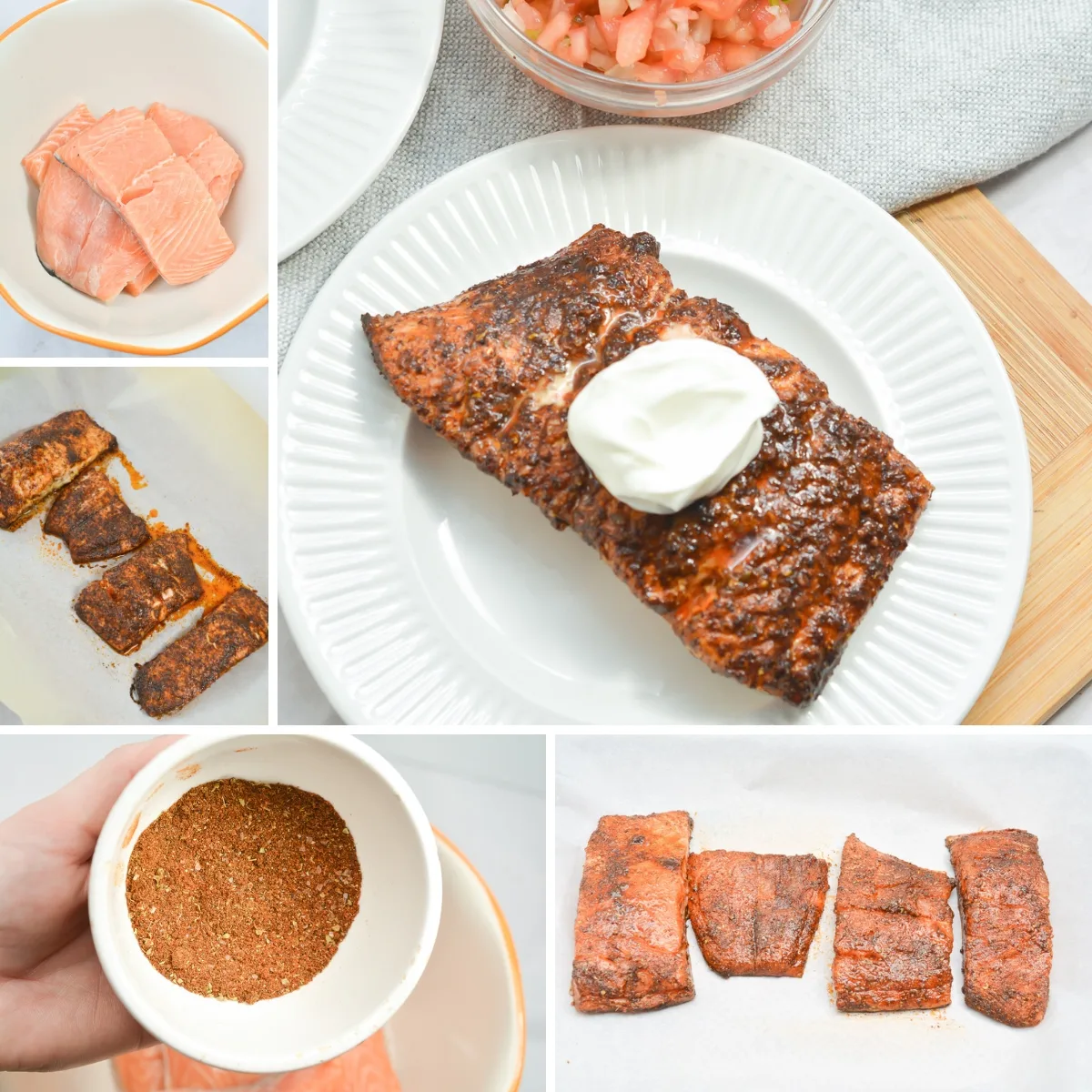 Full steps on how to make this Mexican salmon are in the printable recipe card at the bottom of the post. This is a simple walk through on how it is made.
Preheat your oven to 450 degrees.
Rinse the salmon filets under cold water and pat them dry with paper towels.
Place the filets in a large mixing bowl and drizzle them with olive oil.
In a separate bowl, mix together the seasonings.
Sprinkle the seasoning mixture over the salmon filets.
Line a baking sheet with parchment paper and arrange the salmon filets on it.
Bake the salmon for 12 minutes or until it is cooked through.
Tools for Recipe
Baking Sheet
Make sure to use a baking sheet for the salmon. If you don't have a baking sheet you can use a 9×13 pan just make sure to have the salmon in an even layer.
Parchment Paper or Silicone Baking Mat
Use parchment paper to ensure the salmon doesn't stick to the pan. You could also use a silicone baking mat which is a reuse-able mat.
Tips for Salmon Recipe
Skin On
Leave the skin on to ensure it does not fall apart as it cooks in the oven. If you take the skin off you will also find it can dry out the salmon a bit more than with skin on.
Proper Internal Temperature
Make sure to not overcook the salmon as it can dry out the salmon very easily. Use a meat thermometer to ensure the internal temperature is accurate and doesn't overcook.
Variations to Salmon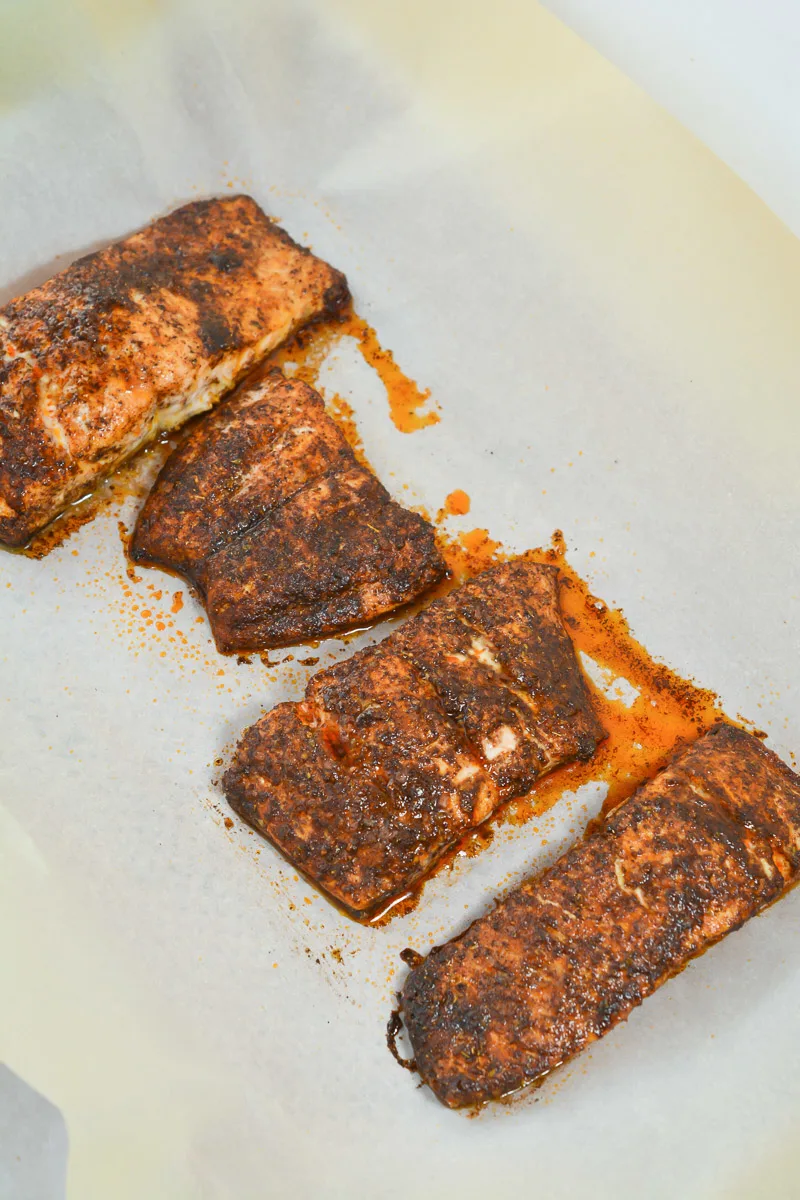 Spices Used
Feel free to change up the spices you use to flavor the salmon differently. Reach for lemon pepper, garlic salt, Creole seasoning or a simple salt and pepper.
Avocado Oil
Instead of olive oil reach for avocado oil or another type of oil that has a good heat tolerance. Give it a try, as avocado oil flavors lightly and is delicious.
Vegetables on Side
Consider adding some asparagus or fresh green beans on the side of the sheet pan to create a meal in one. You can drizzle with oil and then lightly season with salt and pepper.
FAQs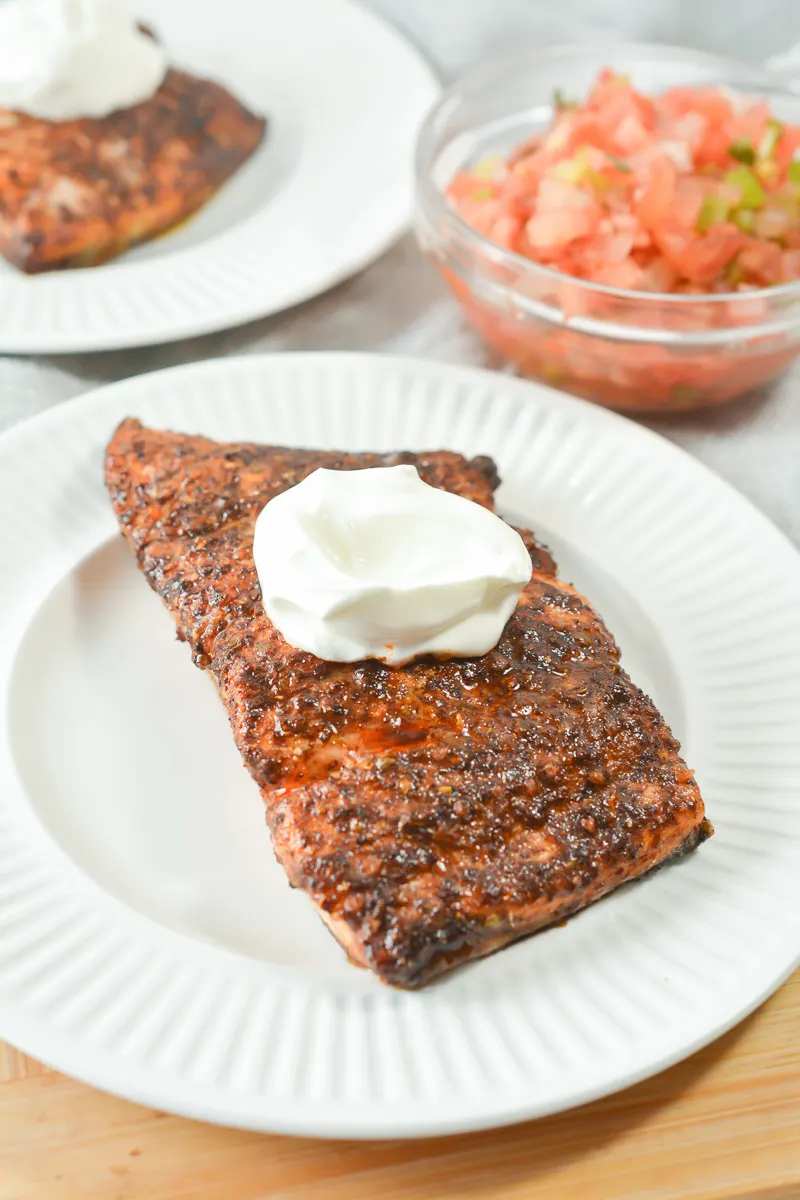 Is salmon healthy or unhealthy?
Salmon is generally considered a healthy food due to its nutritional content. It is an excellent source of protein and omega-3 fatty acids, which are important for heart health, brain function, and reducing inflammation in the body. Additionally, salmon is a good source of vitamins and minerals, such as vitamin B12, vitamin D, selenium, and potassium.
Can you eat salmon everyday?
It is not recommended to eat it every day. This is because salmon, like other types of fish, can contain small amounts of mercury and other contaminants that can build up in your body over time.
How to store leftover salmon?
If you plan to eat the leftover salmon within the next few days, store it in the refrigerator. Place it on a shelf towards the back of the fridge, where it is colder. Cooked salmon can last up to 3-4 days in the refrigerator.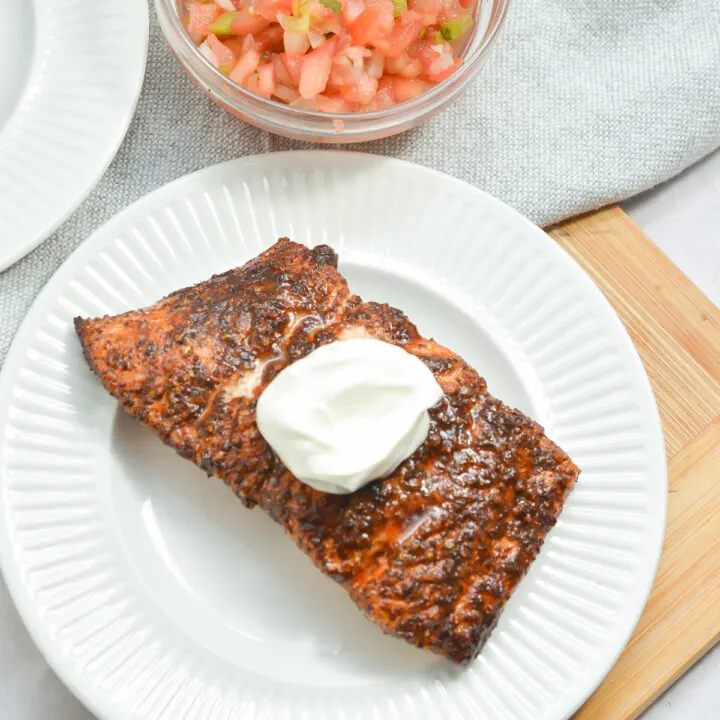 Mexican Salmon
This Mexican Salmon recipe is a low carb dish that is full of spice and nutrients. If you are looking for a new way to change up the flavor of your salmon try out this dinner idea soon.
Ingredients
4 Filets of salmon skin on
1 Tbsp. Olive oil
2 tsp. Chili powder
1 ½ tsp. Cumin
½ tsp. Paprika
¼ tsp. Oregano
Salt and pepper to taste
Instructions
Preheat the oven to 450 degrees.
Wash the salmon filets and pat dry.
Place the filets into a large mixing bowl, and drizzle with the olive oil.
In a bowl, combine the seasonings.
Sprinkle the seasonings over the filets to coat well.
Add the filets to a parchment lined baking sheet.
Bake for 12 minutes.