Healthy, nutrient rich, and delicious is what you will find in this chicken kale soup. This savory soup is made with fresh chicken, kale, cauliflower rice, Italian seasonings, herbs and more. The perfect soup to fuel your body and warm you up on a chilly day.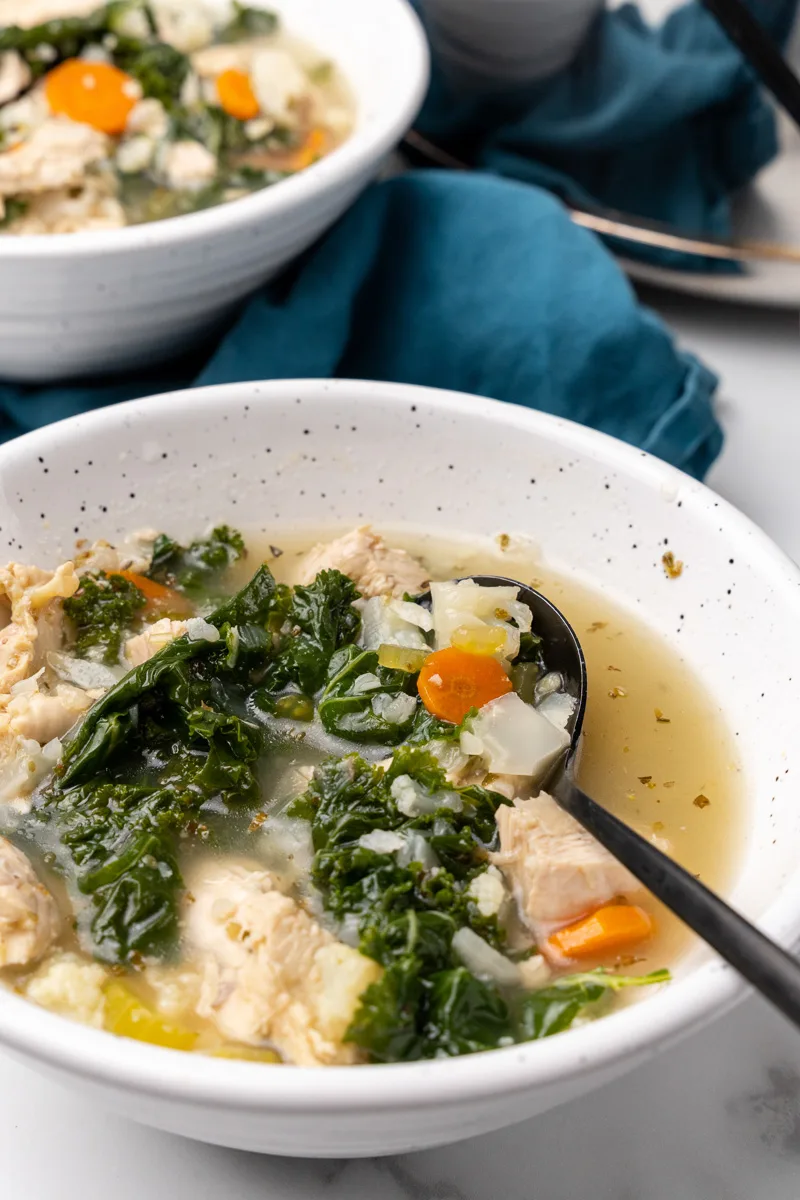 Best part of all, this kale and chicken soup is great for meal prepping for lunches for the week. Try my purple cauliflower soup, egg drop soup, or my popular mushroom soup.
This Chicken Kale Soup Recipe Is..
Healthy
One Pot Dinner
Nutrient Rich
Made with Fresh Veggies
Stores Well
Family Friendly
How to Make Chicken and Kale Soup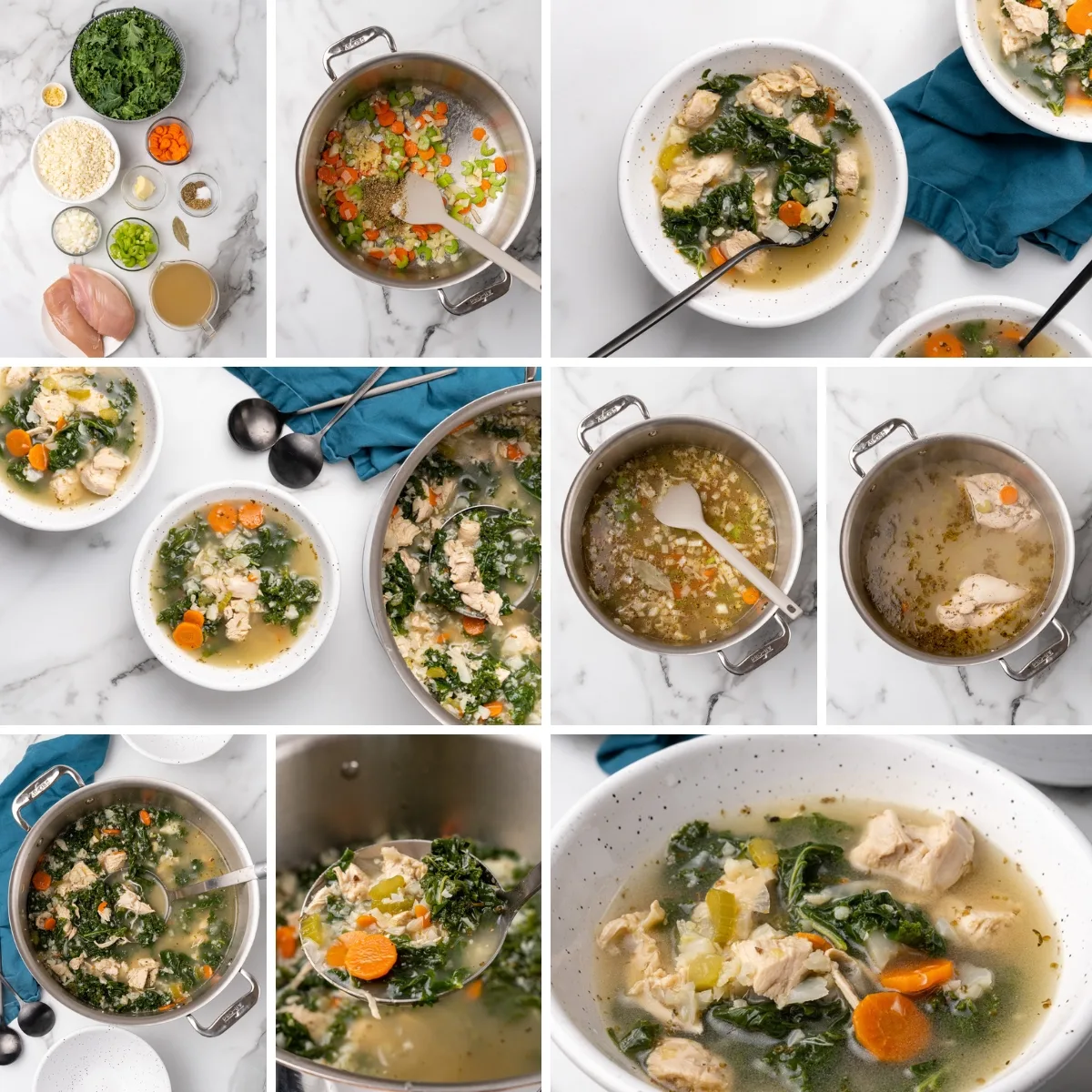 Full steps and measurements for the healthy chicken soup are in the printable recipe card. This is a quick walk through on how to make it.
Heat a large Dutch oven over medium heat and melt the butter. Add the onion, carrot, and celery, and sauté, until they start to soften.
Stir in the garlic, Italian seasoning, oregano, and salt, and cook for an additional 2 minutes.
Pour in the broth, add the bay leaf, and bring the mixture to a simmer.
Add the chicken breasts to the pot and let them simmer until cooked through.
Remove the chicken from the pot and let it cool until you can handle it. Then chop or shred it into bite-sized pieces.
Return the chicken to the soup, and add the kale and cauliflower rice. Cook for another 5 minutes or until the kale is tender.
To serve, ladle the soup into bowls and sprinkle fresh parsley on top. Serve warm.
Tools for Making Soup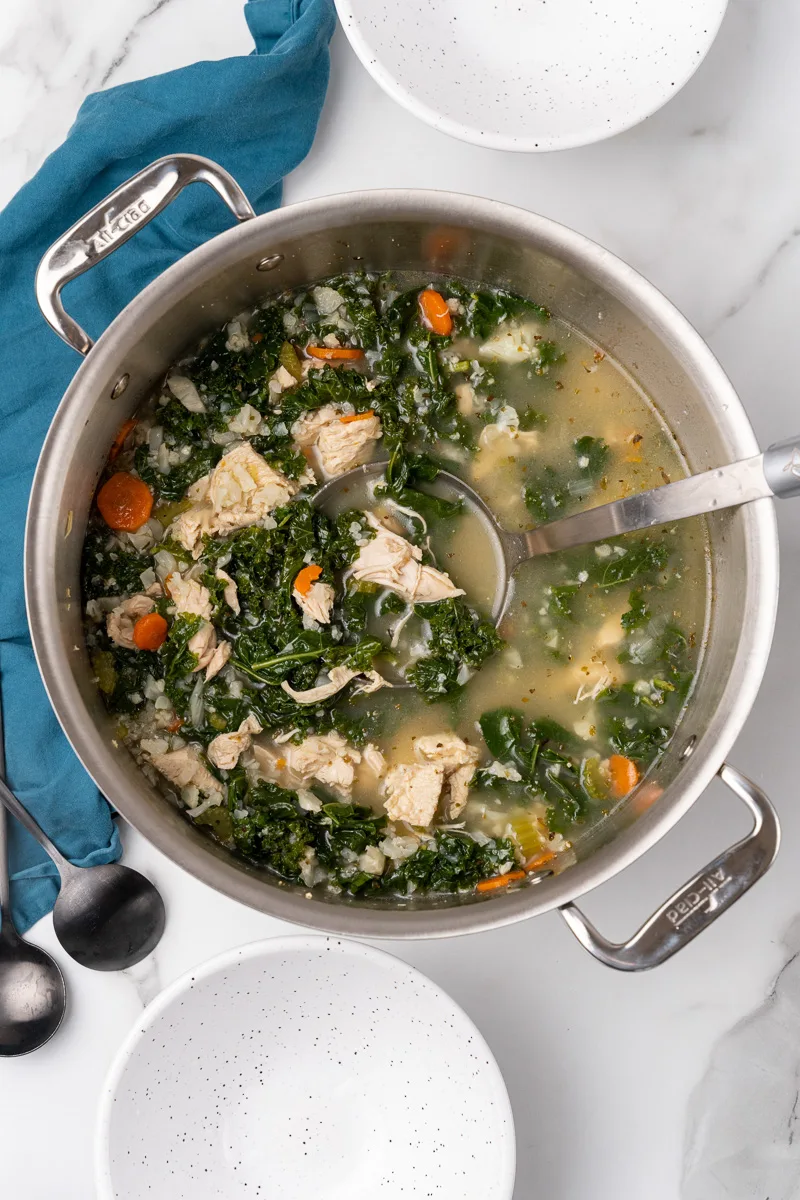 Dutch Oven or Sturdy Soup Pot
Having a heavy duty pot like a Dutch oven is going to ensure you have an even cook on your soup. If you are using a lighter pan you will find it can have hot spots and burn or overcook portions of your soup. I recommend using quality cookware.
Meat Claws
If you haven't tried meat claws they are great for shredding meat once it is cooked. They are two claws you hold in hand and then poke into meat and pull in opposite directions and it shreds the meat quickly.
Ladle
Ladles are wonderful for getting all the ingredients along with broth in each scoop you do when dishing up your soup. Consider investing in a ladle.
Tips for Success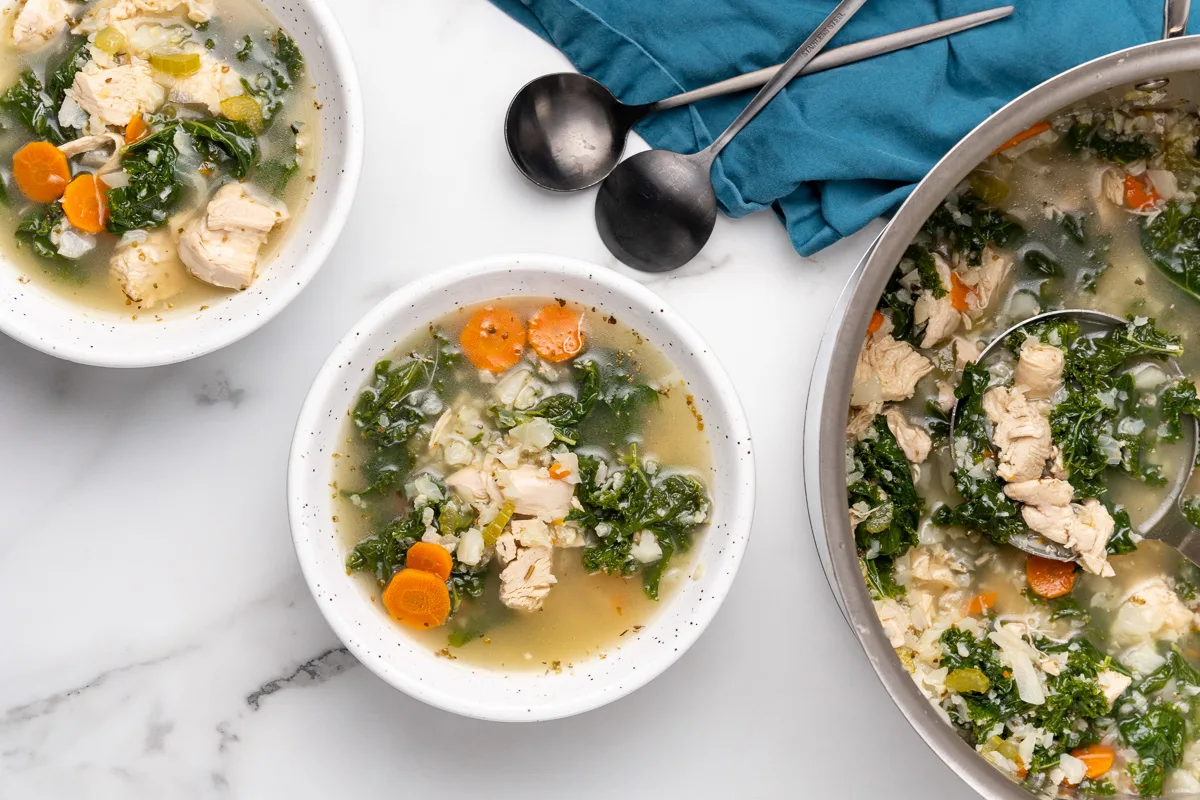 Finley Dice
Make sure that all the vegetables and ingredients are finely diced into bite-size pieces. You don't want a piece of celery to be huge as it can really change up the flavor of the soup when you go to take a bite.
Add Kale at the end
The kale is going to go in at the end of cooking your soup. The goal is to allow the leaves to wilt but still have some texture to it. If you add the kale in the beginning it would become completely mushy. So adding at the end of cooking is key.
Variations to Recipe
Spinach
Don't love kale? If not, go ahead and swap the kale for spinach leaves and it will go in at the end of cooking the soup as well.
Vegetarian
Leave out the chicken and use a vegetable broth to easily make this a vegetarian dish to serve up. You could add in some beans to help add additional protein.
Vegetables
Want to add in more of your favorite vegetables? Go right ahead and reach for any veggies you think that would make this soup even more delicious. Maybe some sliced zucchini, okra, etc. Get creative and create a soup that fits your favorite flavors.
Chicken and Kale Soup FAQs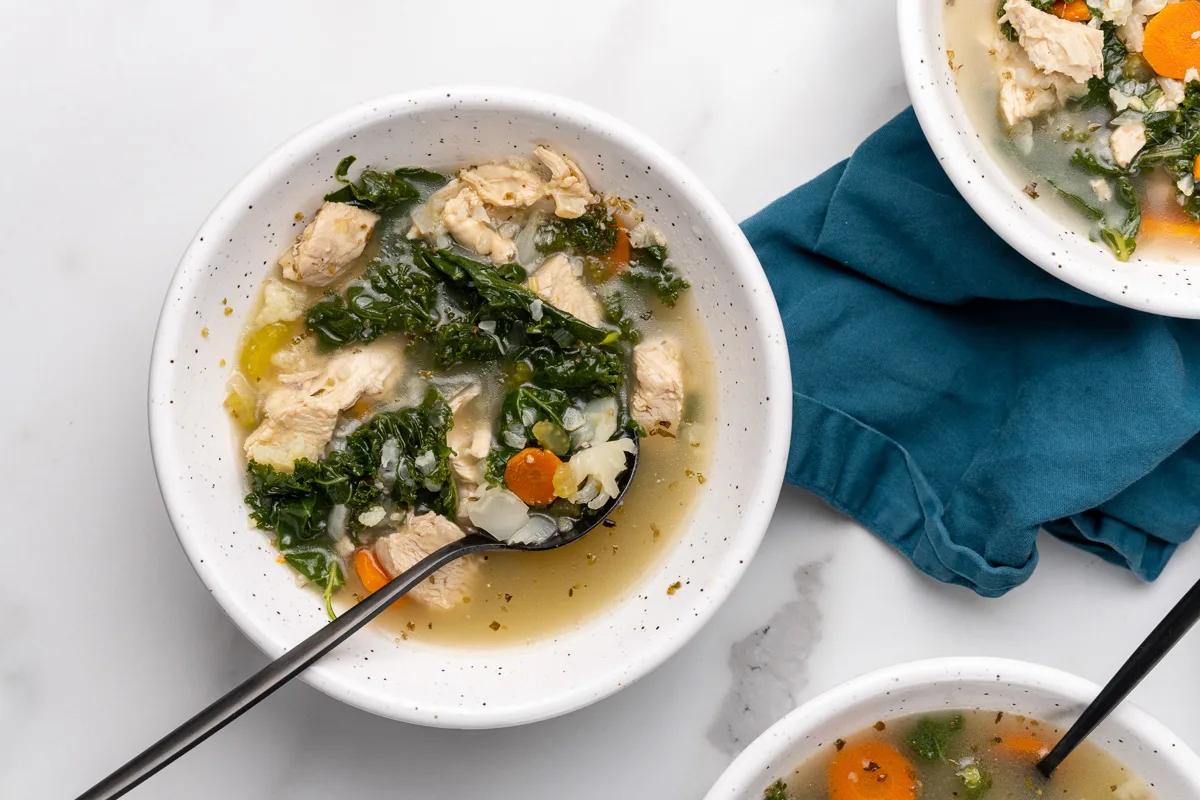 Is kale and chicken soup healthy?
Kale and chicken soup can be a healthy meal as it is rich in vitamins and minerals. Kale is a nutrient-dense vegetable that is high in vitamin C, vitamin K, and antioxidants. Chicken is a good source of protein, and the broth provides electrolytes.
Can I make kale and chicken soup ahead of time?
Yes, you can make the soup ahead of time and store it in an airtight container in the refrigerator for up to four days. Reheat it on the stove or in the microwave before serving.
Can I freeze kale and chicken soup?
Yes, you can freeze this soup for up to three months. Let it cool down completely before transferring it to freezer-safe containers or bags. When ready to eat, thaw the soup in the refrigerator overnight and reheat it on the stove or in the microwave.
Can I use boneless, skinless chicken thighs instead of chicken breasts?
Yes, you can use boneless, skinless chicken thighs in this recipe instead of chicken breasts. Thighs are often more flavorful and tender than chicken breasts, but they have slightly more fat and calories.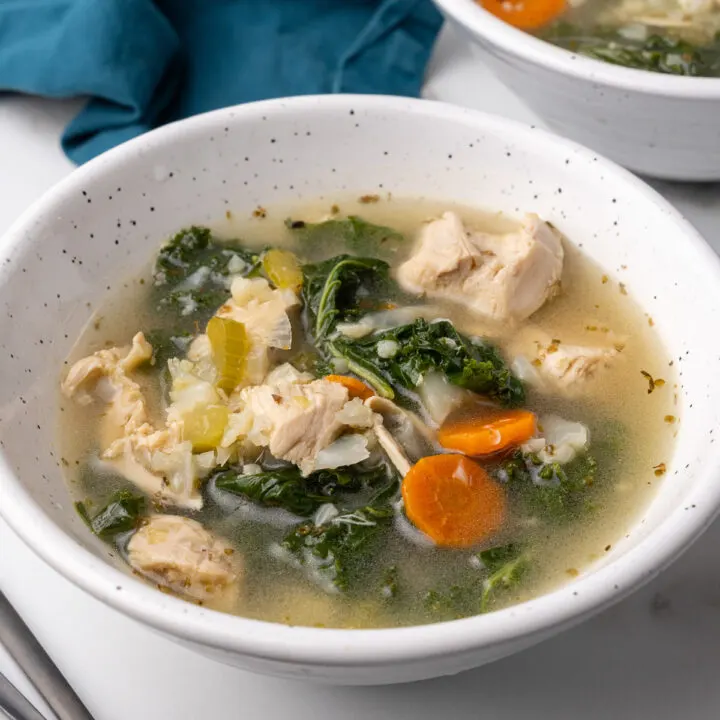 Chicken Kale Soup
Healthy, nutrient rich, and delicious is what you will find in this chicken kale soup. The perfect soup to fuel your body and warm you up on a chilly day.
Ingredients
2 tablespoons butter
1 onion, finely diced
1 carrot, sliced
2 stalks celery, sliced
3 cloves garlic, minced
1 teaspoon italian seasoning
1 teaspoon oregano
½ teaspoon salt
¼ teaspoon fresh cracked pepper
8 cups chicken broth
1 bay leaf
2 chicken breasts
1 bunch kale, chopped
3 cups cauliflower rice (fresh or frozen)
Fresh chopped parsley for garnish (optional)
Instructions
In a large dutch oven, melt the butter over medium heat, then add the onion, carrot, and celery and cook for 3-4 minutes, until softened
Add the garlic, italian seasoning, oregano, and salt and cook an additional 2 minutes
Add the broth, bay leaf and bring to a simmer
Add the chicken breasts and simmer until cooked through, about 15- 20 minutes
Removed chicken, allow to cool until it can be handled and chop or shred into bite sized pieces
Add the chicken back to the soup, along with the kale and cauliflower rice and cook until kale is tender, about 5 minutes
Serve warm with a sprinkle of fresh parsley