Crab Cake Benedict is a fun twist to a classic eggs benedict. A low carb crab cake that is topped with asparagus and a poached egg and a creamy hollandaise sauce. A luxurious breakfast or brunch to whip up any day of the week.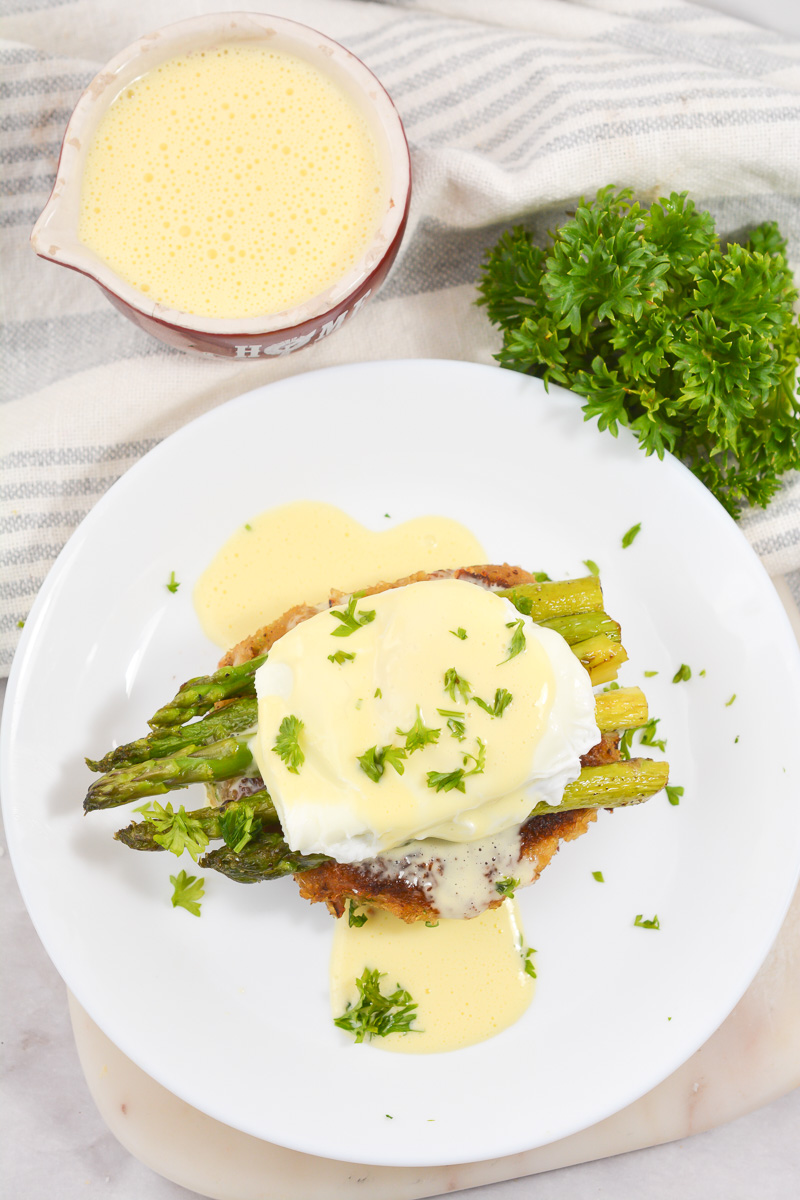 This twist on the classic dish is a game changer. If you are on a low carb diet you don't have to stray and feel like you are indulging in one satisfying dish that is restaurant worthy but easy to make.
Make sure to check out my Ranchero eggs benedict as well, it is another version. I have tons of low carb breakfast recipes for you to check out for new recipes to try out.
This Crab Cake Benedict Is..
Low Carb
Full of Flavor
Crispy Crab Cake
Great Breakfast Recipe Or Brunch Recipe
How to Make Crab Cake Benedict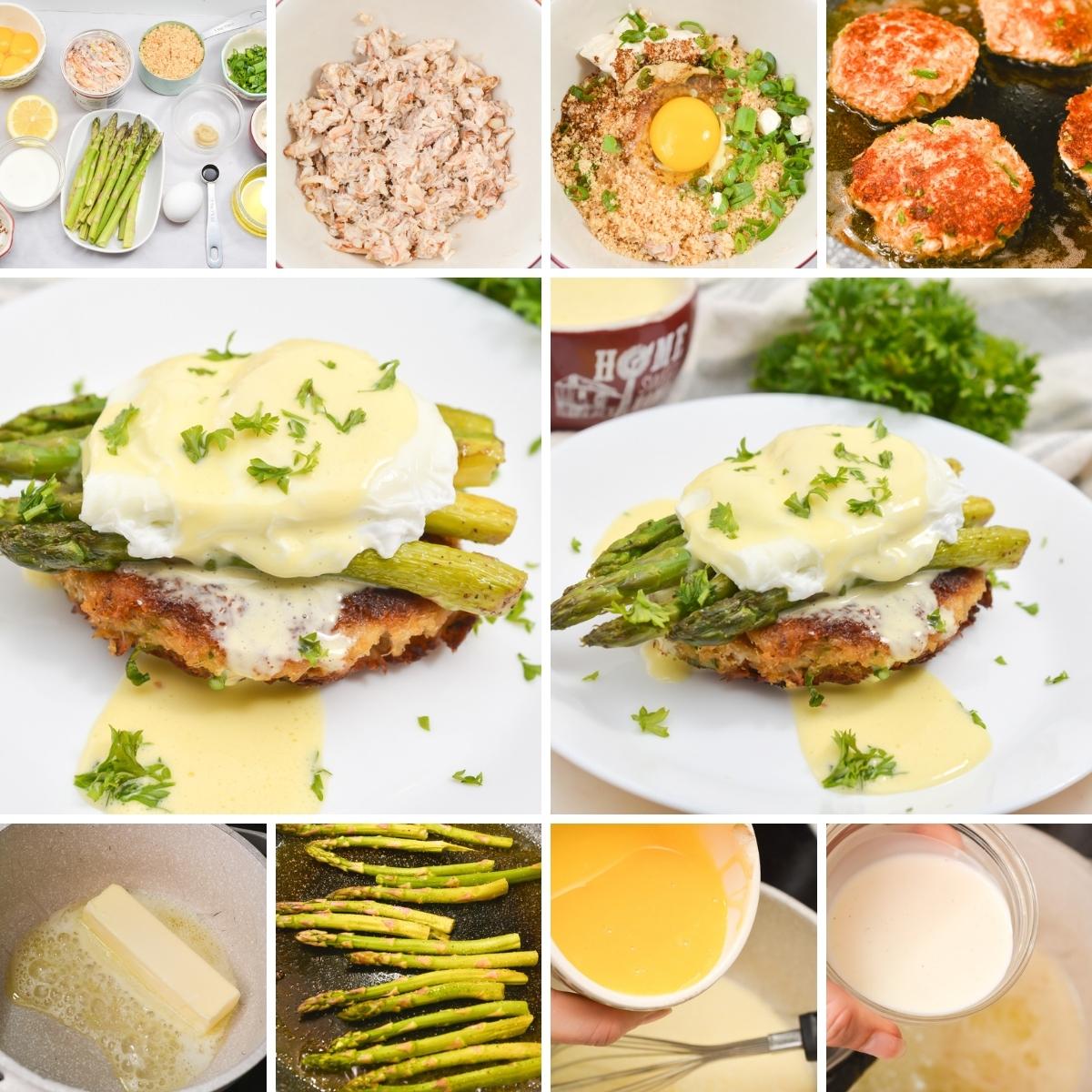 Full steps and directions on how to make crab cake benedict are in the printable recipe card at the bottom of the post. This is a quick walk through.
Start by adding an egg into a bowl and beat lightly.
In a large bowl you will add meat, pork rinds, egg, scallions, mayo, Dijon, and seasonings.
Knead and mix the crab to form patties.
Heat oil in a skillet then pan fry each side of the crab cakes. Remove and set on a paper towel lined plate.
Saute your asparagus once crab cakes are done in the same skillet.
Poach your eggs, and then work on the hollandaise sauce in the meantime.
To serve, place crab cake on a plate, add asparagus, poached egg, and drizzle with creamy sauce.
Helpful Tips For Crab Cakes Benedict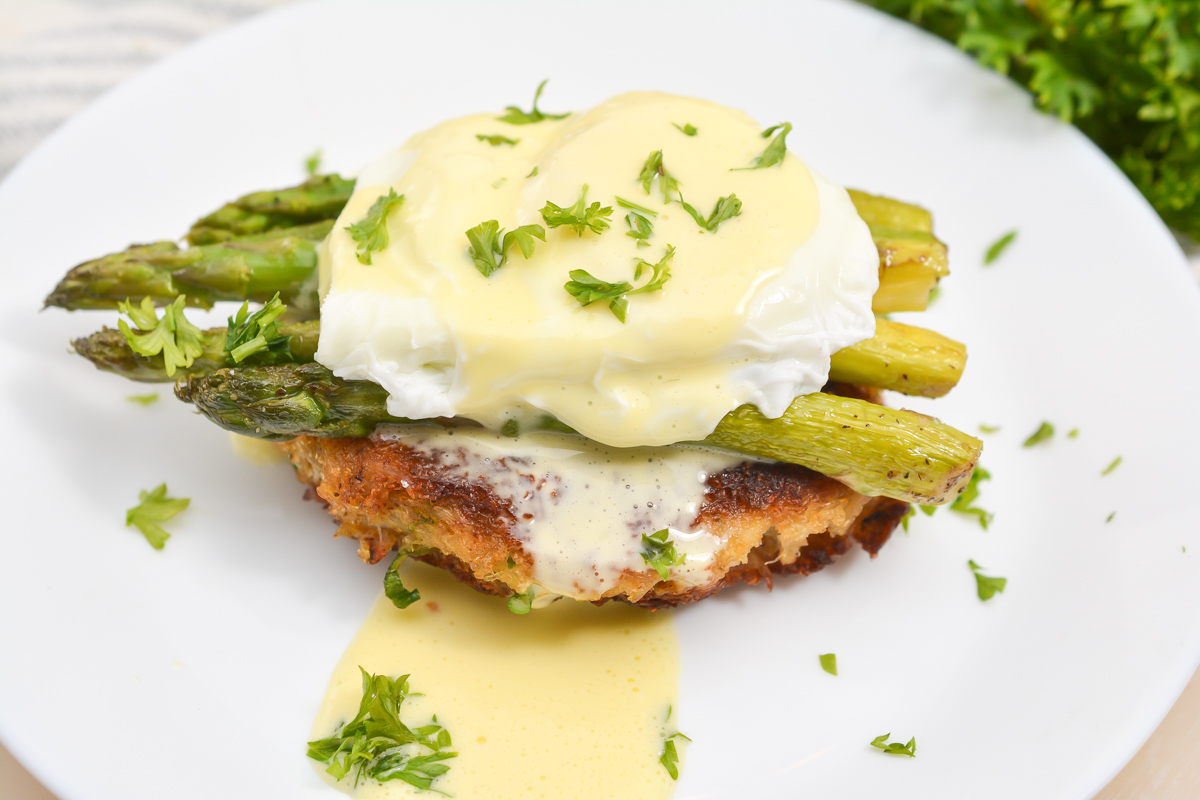 Poaching Eggs
When you poach your eggs use a medium sized pot. Then make sure to be careful placing egg in the water and not break the yolk. Use a slotted spoon when you go to remove the egg so it drains off the water.
Blender
Use a high speed blender to make the hollandaise sauce, or use a whisk. Either method works, just make sure that you mix until the sauce is smooth and thick and creamy.
Don't Overcook Eggs
When making the hollandaise sauce make sure to not overcook the egg yolks or it will turn into scrambled eggs.
Variation Of Crab Cake Benedict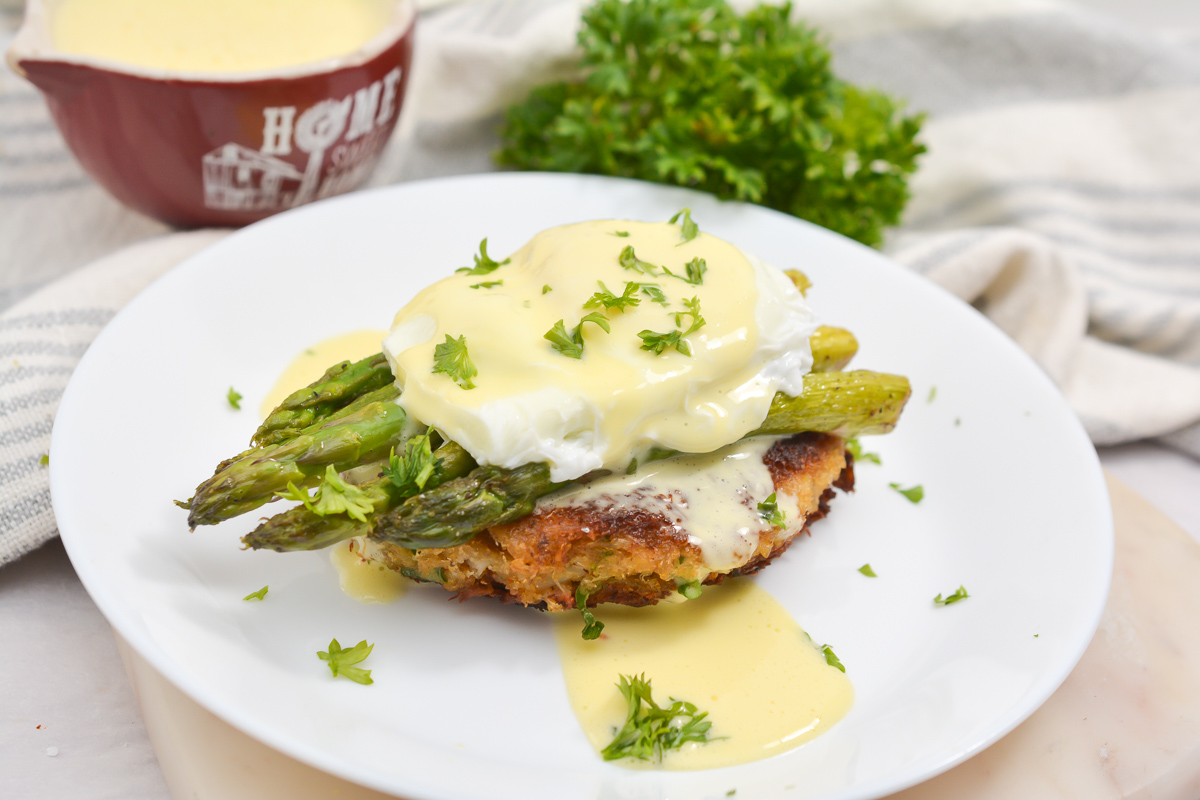 Lobster or Salmon
Swap out the crab meat with another type of seafood. Lobster or even salmon would work in making cakes like the crab.
Leave Off Asparagus
Leave off the asparagus if you are not a fan of asparagus spears or don't have any on hand. You can swap with a different vegetable or leave off the veggies altogether.
Crab Cake Benedict FAQs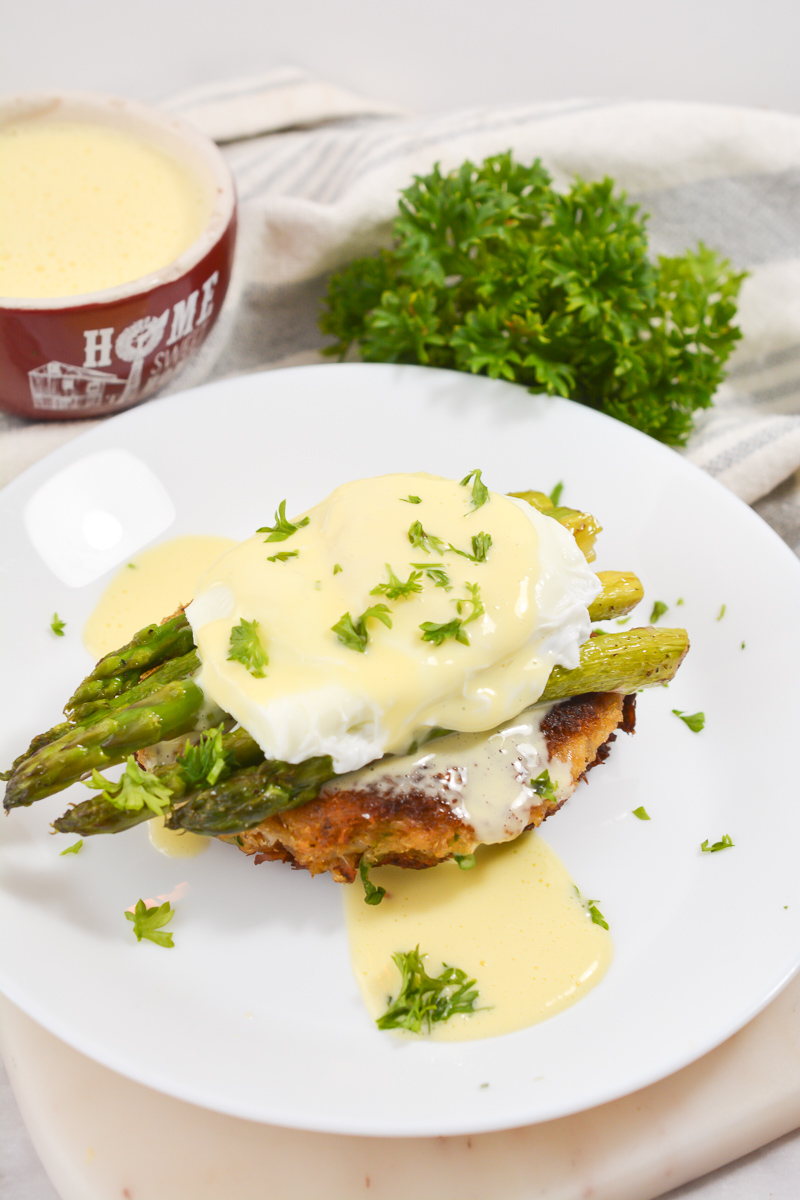 How to store poached eggs?
If you don't plan to eat your poached eggs right away, place them in an ice water bath right after you pull them from the pan. Then store the eggs in cold water in the fridge for up to 4-5 days.
How to reheat poached eggs?
Warm up water on the stovetop and once the water is warm you will drop the egg into the water and let it warm up again. Don't overcook the eggs.
Can you freeze crab cakes?
If you don't plan to eat all the crab cakes you can freeze them in an airtight container or freezer bag. Then freeze for 2-3 months. Warm up and assemble as you would like.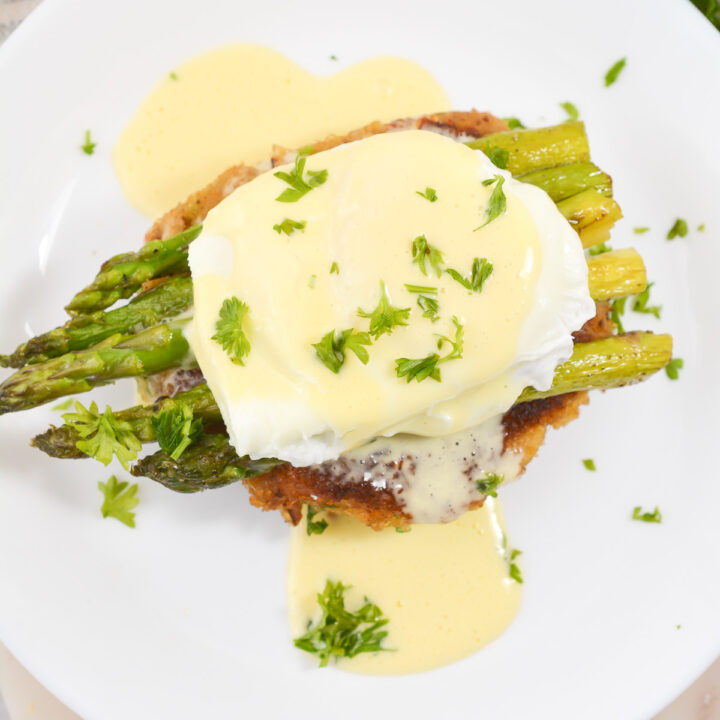 Crab Cake Benedict
This easy Crab Cake Benedict is the ultimate brunch recipe! Savory crab cakes are topped with perfectly poached eggs, fresh asparagus, and a drizzle of creamy hollandaise sauce. And it's keto friendly too. Yum!
Ingredients
For the crab cakes:
8 oz Lump Crab Meat
1 cup pork rind crumbs, or keto bread crumbs
1 egg
¼ cup scallions, chopped
1 tsp Dijon mustard
2 Tbsp Mayonnaise
1 tsp Old Bay seasoning
Salt and pepper, to taste
Oil, for frying
For topping the crab cakes:
16 Asparagus spears
4 eggs poached
Salt and pepper, to taste
For the hollandaise sauce:
4 Egg yolks, beaten
2 Tbsp Heavy whipping cream
8 Tbsp Butter, unsalted
2 tbsp fresh lemon juice
Salt, to taste
Instructions
Place one egg into a small bowl and beat lightly.
In a large mixing bowl, combine the crab meat, pork rind crumbs (or keto breadcrumbs), beaten egg, scallions, Dijon mustard, mayonnaise, old bay seasoning, salt, and pepper. Mix until well combined. Knead with your hands to fully combine, if needed.
Form the crab cake mixture into four evenly sized patties.
Heat a thin layer of oil in a skillet over medium high heat. Add the crab cakes and fry for 3-4 minutes on each side, until crispy and lightly golden.
Remove the crab cakes from the pan, and set them aside on a paper towel lined plate to drain.
Pour most of the oil out of the skillet, reduce the heat to medium, and saute the asparagus for 6-7 minutes until crisp tender. Add salt and pepper, to taste. Set aside.
To poach the eggs: Bring a medium sized pot of water to a boil. Reduce to a simmer. Carefully crack the eggs into the hot water, taking care not to break the yolk. Cook for 2-3 minutes until the egg white is set and the eggs are cooked to your liking, and remove from the water with a slotted spoon. Set aside.
To make the hollandaise sauce: Add the butter to a saucepan and heat over medium heat. When butter is just melted, add the whipping cream and lemon juice. Stir to combine. Remove from the heat and slowly add the egg yolks, whisking continuously until the sauce is smooth and thick. Add salt to taste. Be careful not to heat the egg yolks too much, or they will scramble!
To serve, top each crab cake with a few pieces of asparagus and a poached egg. Drizzle with the hollandaise sauce.