Whip up a batch of this keto chicken salad as a creamy chicken salad that is low in carbs but loaded with flavor. The perfect rotisserie chicken recipe that is paired with celery, bell peppers, onions, and a creamy mayonnaise and Dijon mustard sauce.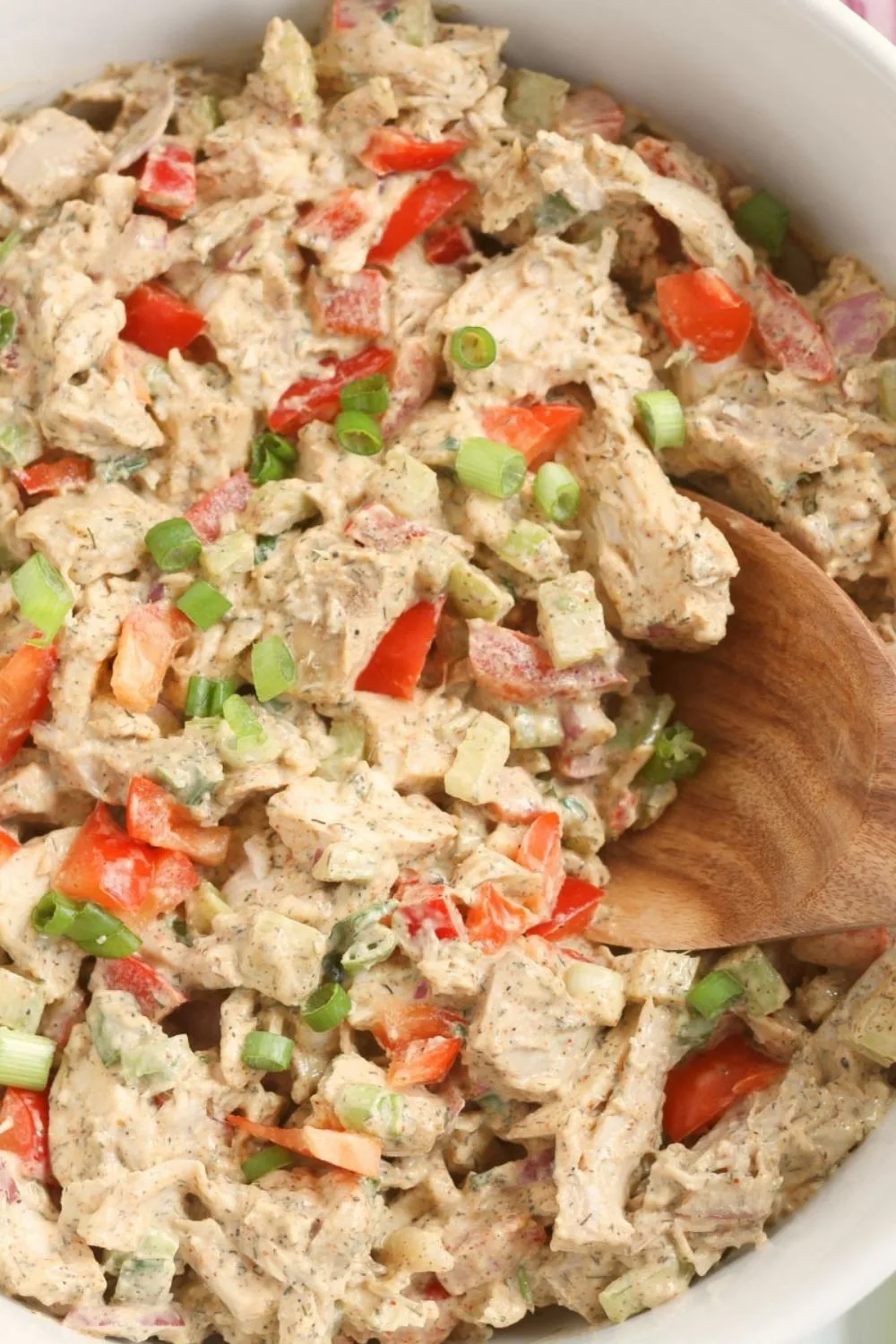 This keto chicken recipe is great for meal prepping or to whip up for an easy lunch or dinner. I love to serve this on lettuce wraps or a keto wrap.
If you enjoy spice, try this buffalo chicken salad. Another great salad is this chicken Caesar salad. If you enjoy chicken I have tons of low carb chicken recipes for you to check out.
This Keto Chicken Salad Recipe Is…
Loaded with Veggies and Chicken in Each Bite
Gluten Free
Keto Friendly
Great Way to Use Leftover Chicken
How to Make Keto Chicken Salad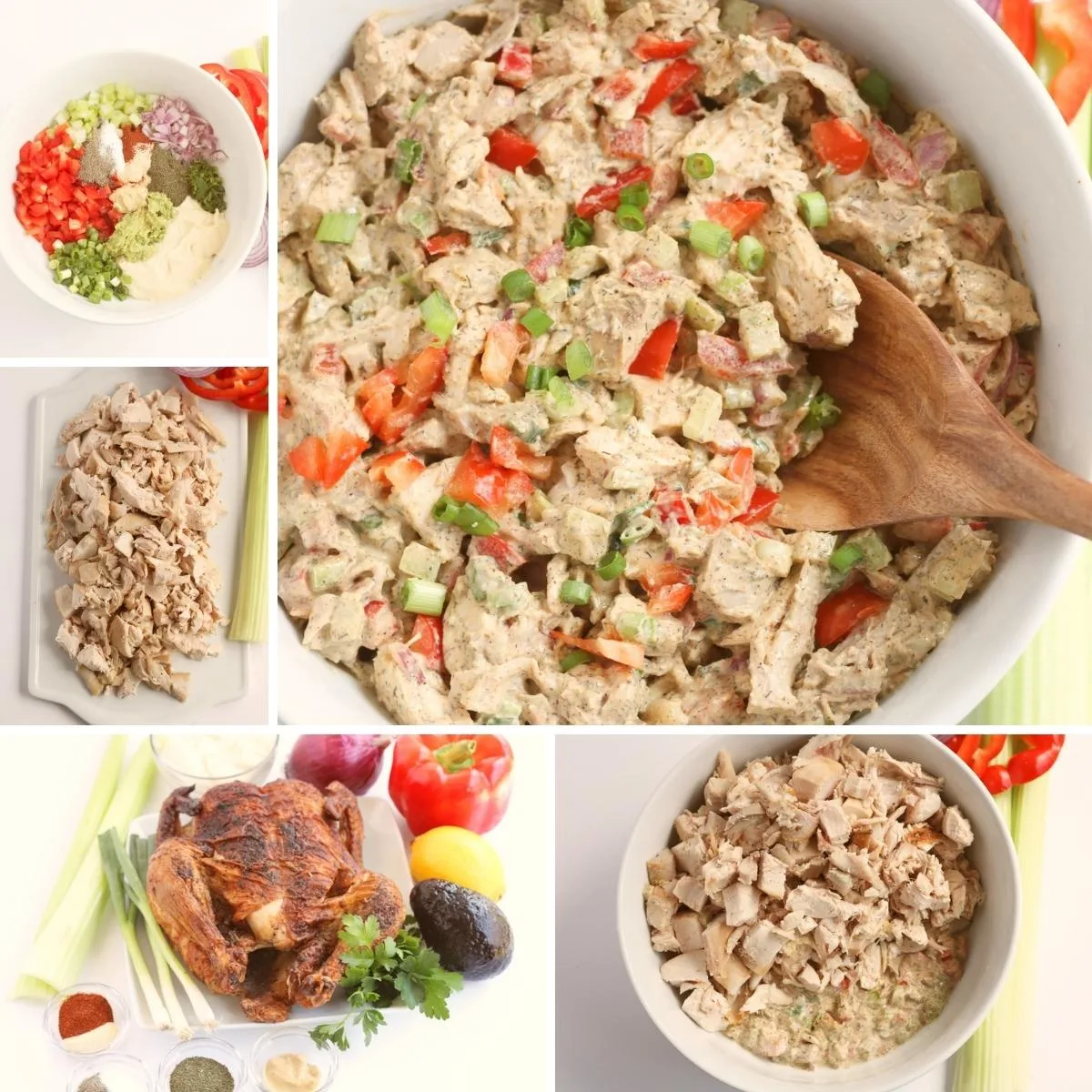 Full steps on how to make this keto chicken salad are in the printable recipe card below. This is a quick walk through.
Start by prepping all the vegetables into finely diced pieces. Then add the items to a bowl.
Next add in the seasonings, and toss to mix.
Mash up the avocado with a fork till nice and smooth. Then add the mashed avocado into the bowl with veggies and mix.
Use a fork to shred or chop your chicken, and then toss in the bowl. Make sure the chicken is cool.
Add in the mayo and the rest of the ingredients and mix well to fully combine. Then chill an hour before serving.
Helpful Tips For Keto Chicken Salad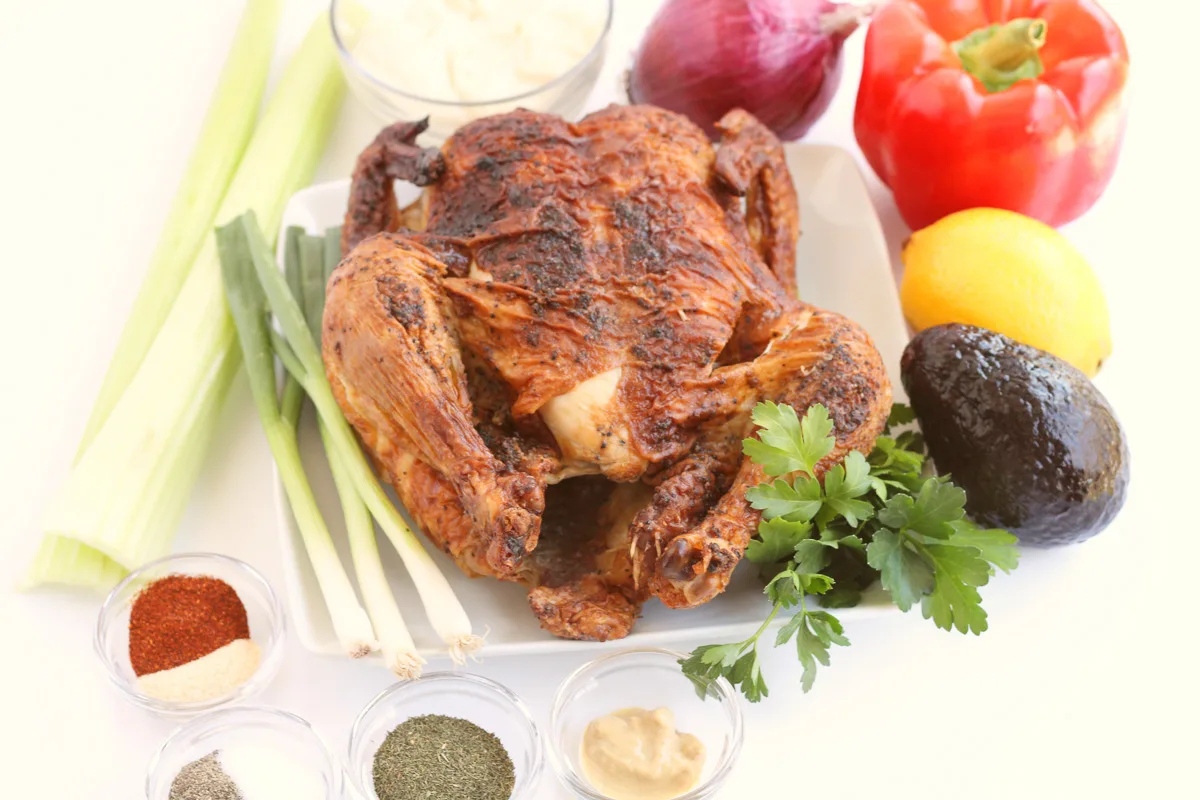 Pre-Cook Chicken
Make sure that you precook your chicken or allow time for the chicken to cool before you add into the bowl.
Vegetables Chopped
Make sure you use finely chopped vegetables. You can use a sharp knife to cut, or you can cut up and use a mandoline to get evenly cut veggies.
Allow Salad To Rest
Make sure that once you mix up the salad that you allow it to rest in the fridge an hour. This will help to blend the flavors of the salad together and help to elevate the flavor.
Keto Chicken Salad Variations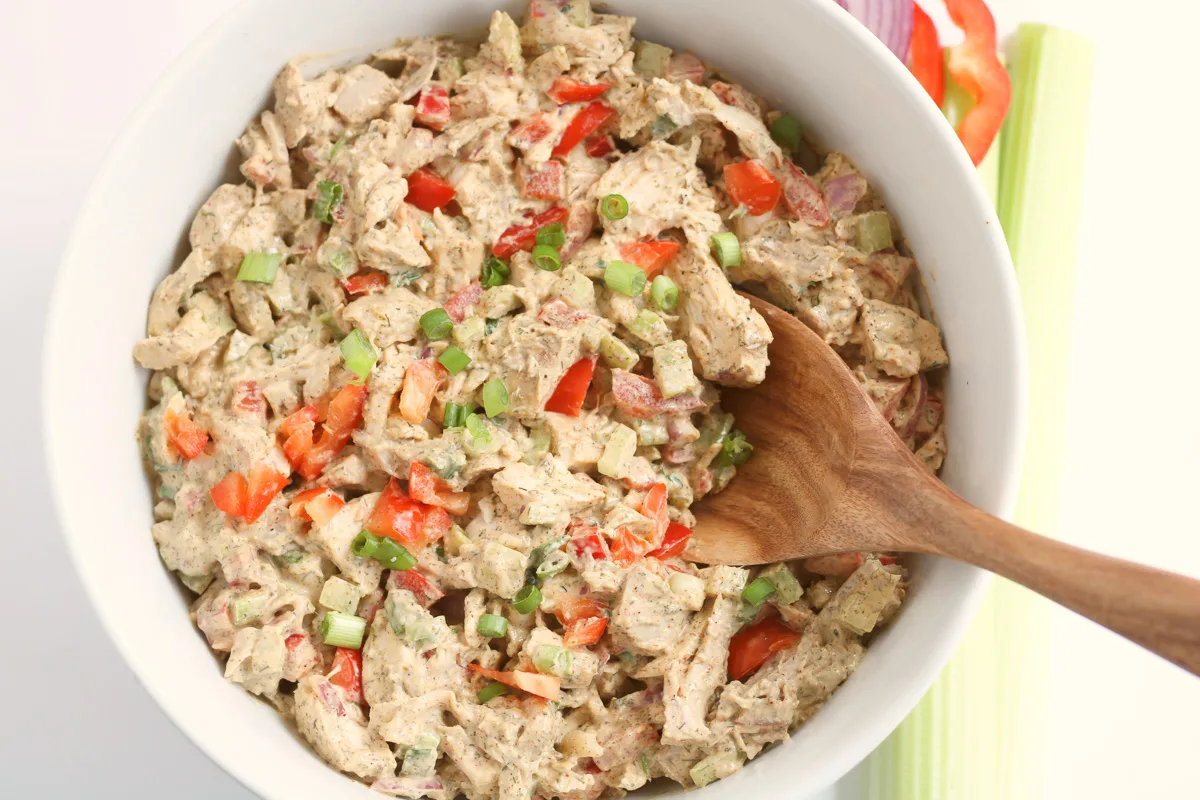 Greek Yogurt
Instead of mayonnaise you can use a plain or Greek plain yogurt. You will add more protein the dish in a healthy way.
Vegetables
You can change up the veggies used, or leave some vegetables out if you are not a big fan of say onions. Play around with ingredients to find what works best for you.
Eggs
Cook up and add in a hard boiled egg or two. This will help to add more flavor but protein to the salad.
FAQs for Keto Chicken Salad
Is mayonnaise keto friendly?
Mayonnaise is a very popular condiment when on the keto diet. It is high in fat which is exactly what you need with a low protein.
Are pickles keto?
You can have pickles on the keto diet if they are not preserved with sugars. Make sure to read the back of the labels to ensure they don't contain a lot of sugar.
How to store leftover keto chicken salad?
You can store any leftover chicken salad in an airtight container in the fridge. It will store for 3-4 days easily in the fridge when stored properly.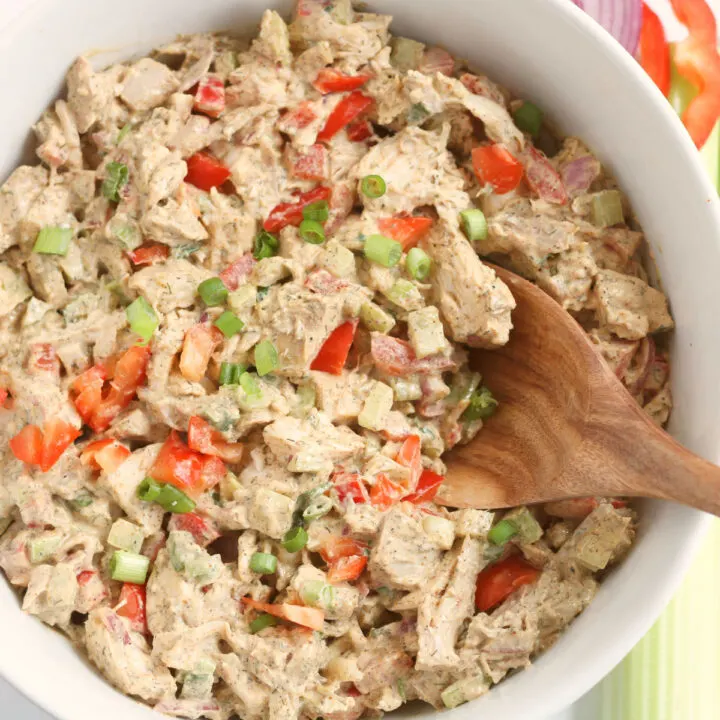 Keto Chicken Salad
Total Time:
1 hour
20 minutes
This Keto Chicken Salad is packed with flavor from tender rotisserie chicken, fresh veggies, and creamy dressing. It makes a great low carb lunch or light dinner, and it's easy to make in just a few minutes!
Ingredients
2 pounds fully cooked rotisserie chicken
2 celery stalks, chopped
1 red bell pepper, diced
1/2 red onion, small, diced
1 teaspoon garlic powder
1 teaspoon paprika
1/4 teaspoon kosher salt
1 teaspoon black pepper
1 teaspoon dijon mustard
1 tablespoon lemon juice
2 teaspoons dill, fresh, chopped
1 tablespoon parsley, fresh, chopped
1/4 cup scallions, sliced
1/2 cup mayonnaise
1/2 avocado, peeled and pit removed
Instructions
Add the celery, bell pepper, and onion to a mixing bowl. Add the garlic, paprika, salt, pepper, mustard, lemon juice, dill, parsley, and mayonnaise to the bowl and stir to combine.
In a separate small bowl, mash the avocado with a fork until it is smooth and creamy.
Add the avocado to the vegetable mixture and fold together until combined.
Use a fork to shred the meat from the rotisserie chicken. Place the meat on a cutting board (leaving the skin behind) and roughly chop with a sharp knife.
Add the chopped chicken into the mixing bowl with the veggie mixture and stir until well combined.
Chill the chicken salad for 1 hour before serving. Top with scallions for garnish, if desired.
Notes
Make sure the chicken is cold before shredding, as it is easier to remove the meat. The two pound rotisserie chicken will yield 6-7 cups of chicken meat.

The keto chicken salad will keep for 3-5 days in the refrigerator, in an airtight container.

Try serving this keto chicken salad with low carb tortilla wraps or lettuce wraps.