Spice up dinner tonight with this keto bang bang shrimp. An almond flour and parmesan crusted shrimp that is crispy coated and then tossed in a homemade bang bang sauce that is sweet and spicy. This keto shrimp is bursting with flavor and finger licking good.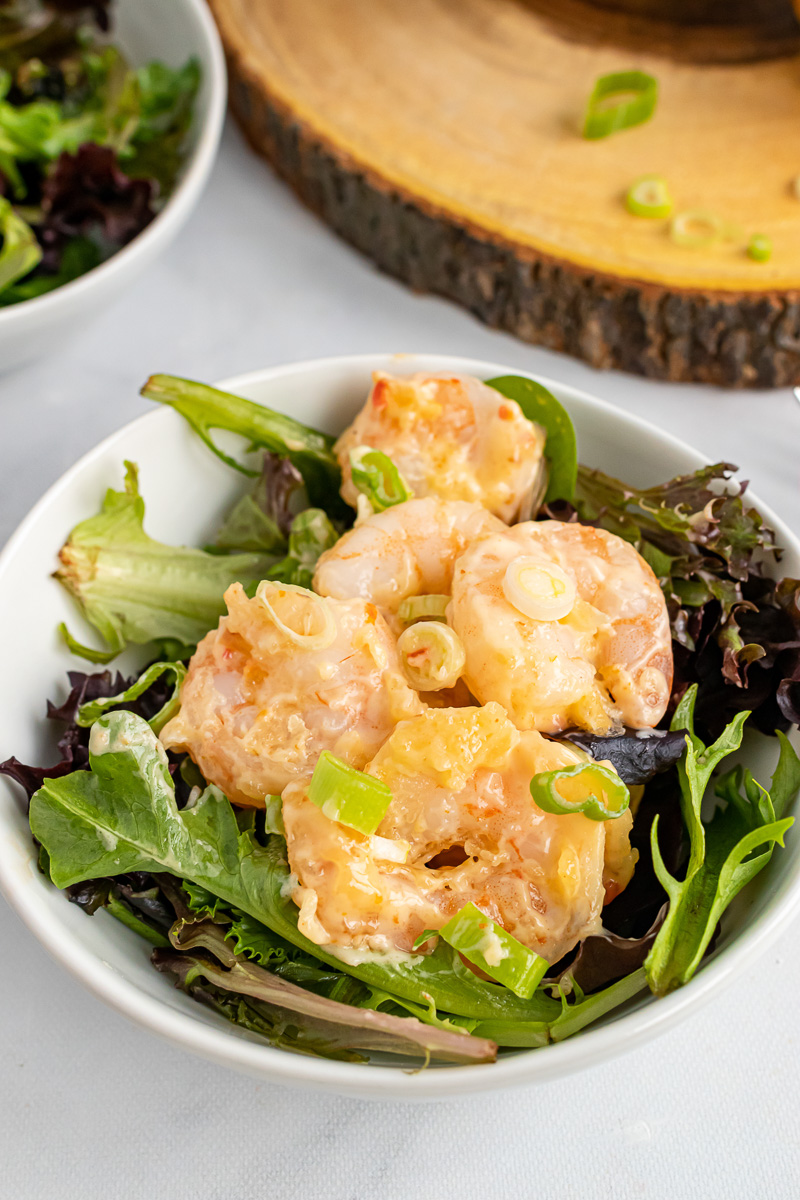 For a meatless option try my bang bang cauliflower as well. Also these low carb shrimp fritters are a great party appetizer or light dinner option.
This Keto Bang Bang Shrimp Recipe Is…
Keto
Made with Almond Flour
Gluten Free
Sweet and Spicy
How to Make Keto Bang Bang Shrimp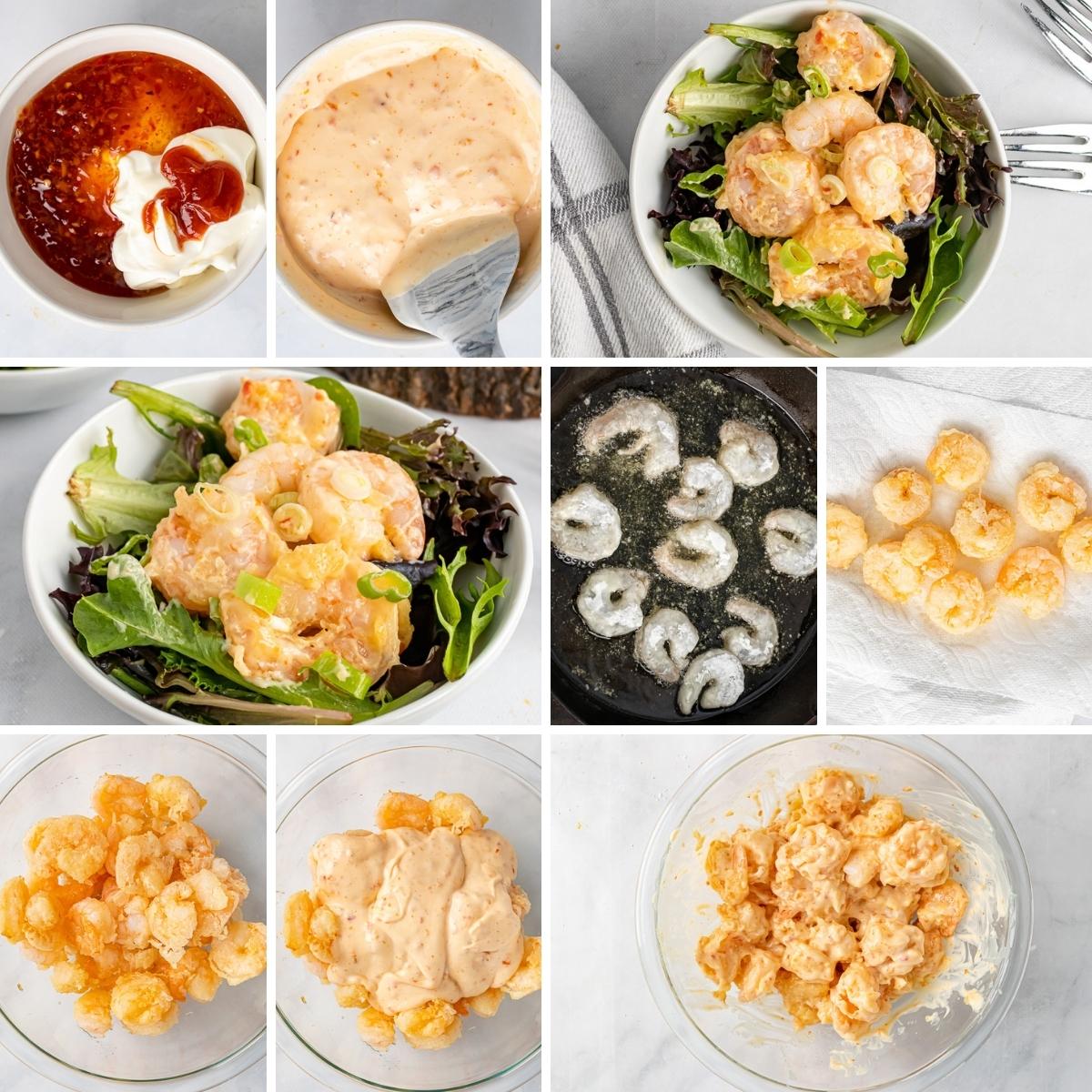 Full steps on how to make this keto bang bang shrimp recipe are in the printable recipe card. This is a quick walkthrough on how the recipe is made.
Start by adding all the sauce ingredients into a bowl. Whisk well to combine.
Next in a small bowl add your egg and beat with a fork.
Then you will grab another bowl and add in the flour, parmesan, and salt and pepper. Toss to blend.
Heat oil in a pan.
Dredge shrimp in the egg mixture, then flour mixture. Place in pan, and fry until shrimp is cooked.
Once done, remove and toss in the bang bang sauce. Then pour into a platter or plate and garnish with green onions if you want.
Helpful Tips for Making Bang Bang Shrimp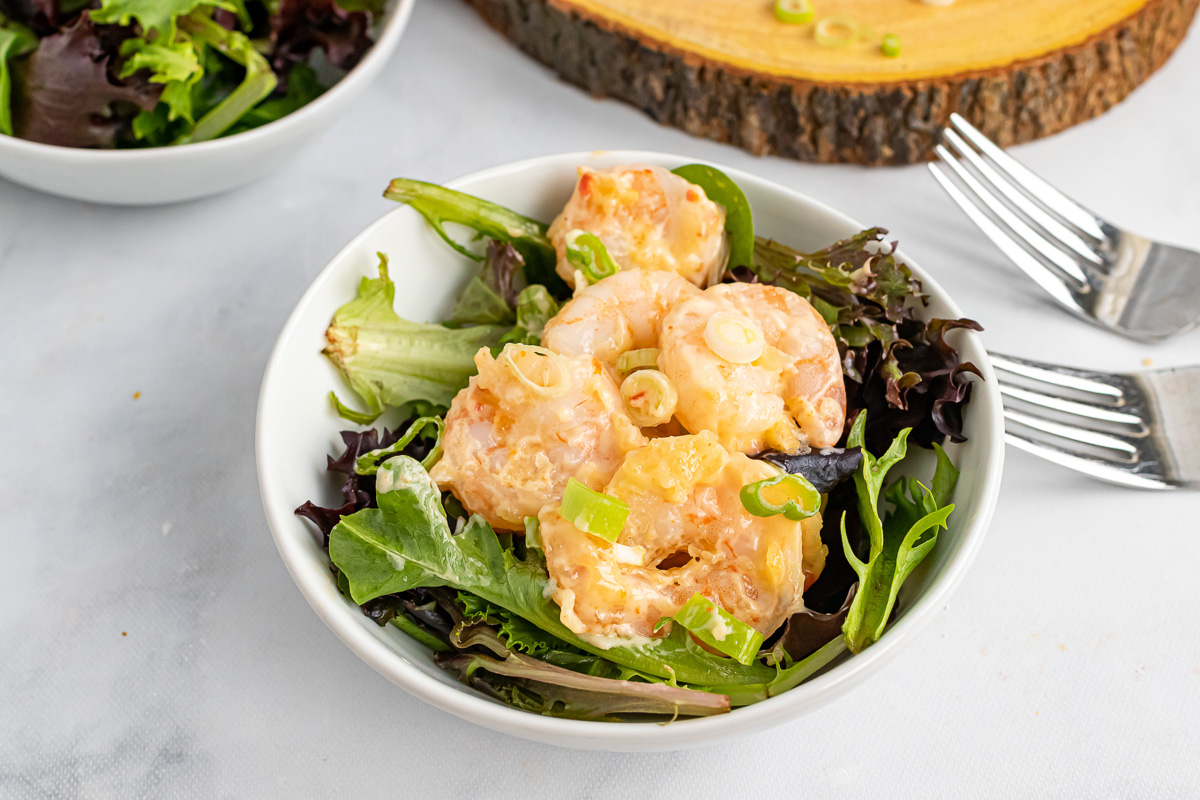 Hot Oil
Your oil has to be nice and hot before you place your battered shrimp into the pan. Otherwise it will take to long to cook the shrimp and you won't get that crispy coating on the outside.
Drain Shrimp
Once you are done frying up the shrimp place on a paper towel lined plate or basket. This will help take away the excess oil and not make the shrimp feel so heavy once you go to eat it.
Variations to Keto Bang Bang Shrimp
Sweetener
I used a keto honey but you could swap with any type of sweetener you would like. I do find that liquid sweeteners work best for this bang bang sauce.
Red Pepper Flakes
Add in 1/4 to 1/2 teaspoon of red pepper flakes into the sauce. This will really give you an elevated spice factor.
Chili Sauce
I used a garlic chili sauce, but if you don't have that or don't love garlic use a classic chili sauce instead. Just ensure it is keto-friendly and not a sugar loaded sauce.
Bang Bang Shrimp FAQs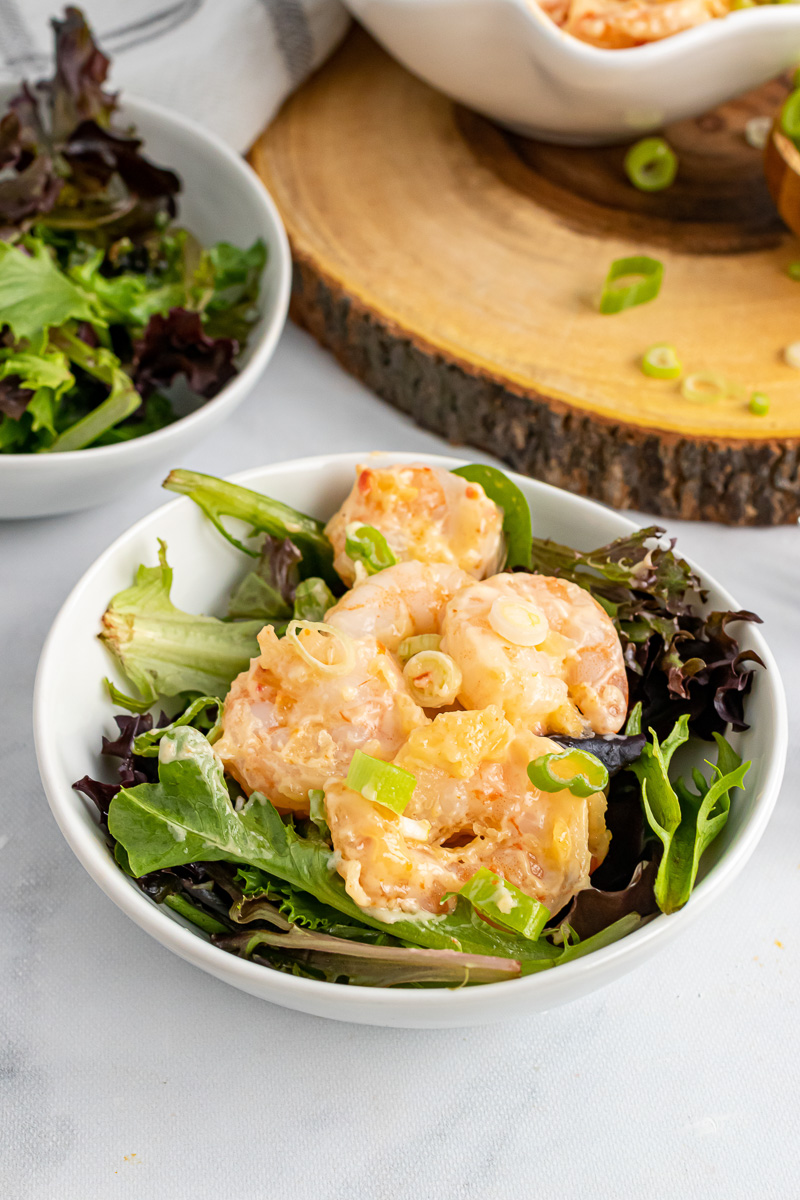 Does the shrimp need to be peeled?
Yes, your shrimp needs to be peeled and deveined before you make this shrimp dish. The shell has to be gone so the breading sticks but also is tasty when you bite into, instead of chewy.
Is bang bang shrimp spicy?
Bang bang shrimp offers a spicy and sweet creamy sauce that helps to balance all the flavors. You can adjust the ingredients to make it spicy or tame down the heat.
What goes good with bang bang shrimp?
Serve bang bang shrimp with a bed of cauliflower rice, on lettuce wraps, or even in low carb tortillas. You can even cook up zoodles and place the shrimp on top. The possibilities are endless.
How to store leftover shrimp?
Place any shrimp you do not eat right away in an airtight container. Then store for 2-3 days in the fridge. To reheat you can warm up in the microwave or on low heat on the stove.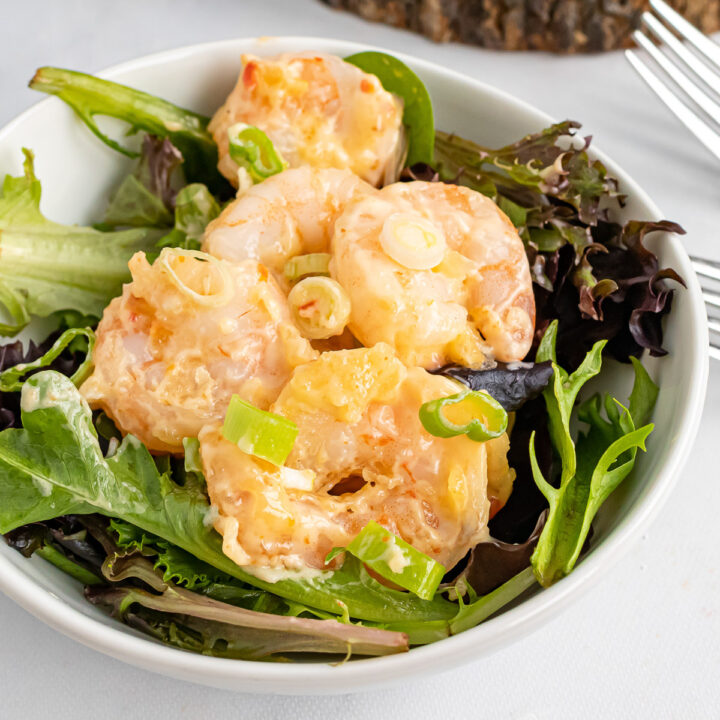 Keto Bang Bang Shrimp
This Keto Bang Bang Shrimp is even better than the original. Crispy shrimp are tossed in a sweet and spicy sauce in this totally addictive low carb copycat recipe.
Ingredients
For the keto bang bang sauce:
1/2 cup mayo
1 tbsp sriracha, add additional tbsp for extra spicy
2 tsp chili garlic sauce
1 tsp rice vinegar
1 tbsp keto honey, or allulose sweetener
salt and pepper, to taste
For the shrimp:
1 lb shrimp, peeled and deveined
1 egg
1/2 cup almond flour
2 tbsp parmesan cheese, grated
salt and pepper, to taste
Oil for frying
Green onion and/or salad greens, optional for serving
Instructions
In a small bowl, stir together all of the ingredients for the keto bang bang sauce, until well combined. Set aside.
In one mixing bowl, crack the egg and lightly beat with a fork. Set aside.
In another mixing bowl, combine the almond four, parmesan, salt and pepper.
Heat 1-2 inches of oil in a heavy bottom pan over medium heat.
Dunk each piece of shrimp in the beaten egg, then dredge in the almond flour mixture.
Fry the shrimp in the oil for 3-4 minutes each side, or until cooked through. Repeat, working in batches, until all shrimps are fried.
Drain the shrimp on a layer of paper towels, then transfer to a clean mixing bowl.
Toss the shrimp with the bang bang sauce until lightly coated.
Garnish with the green onions and serve over salad greens, if desired.