If you own a full-size or mini waffle maker you have to try out this keto cream cheese waffles recipe. Or you might know them as chaffles. Eat these for breakfast, lunch or even a mid-day snack. An almond flour and cream cheese based waffle that is topped with diced strawberries.
The ultimate keto waffle recipe that is ready in no time to be made. You will feel like this sweet chaffles recipe is one you will want to make again and again.
Make sure to check out these low carb chocolate waffles too, and these low carb waffles with a whipped butter. They are sinfully delicious. I also have a handful of low carb breakfast recipes you might want to try out.
These Keto Cream Cheese Waffles Are…
Gluten Free
Keto Friendly
Easy to Make
Great for Breakfast or a Dessert
How to Make Keto Cream Cheese Waffles
Full directions on how to make keto cream cheese waffles are in the printable recipe card below. This is a quick walk through on how it is made.
Start by adding all the ingredients in bowl but berries.
Mix well until nice and smooth.
Add in some of the strawberries and fold into batter.
Grease waffle maker and cook as directed.
Top with fresh strawberries, syrup or even whip cream.
Helpful Tips for Keto Chaffles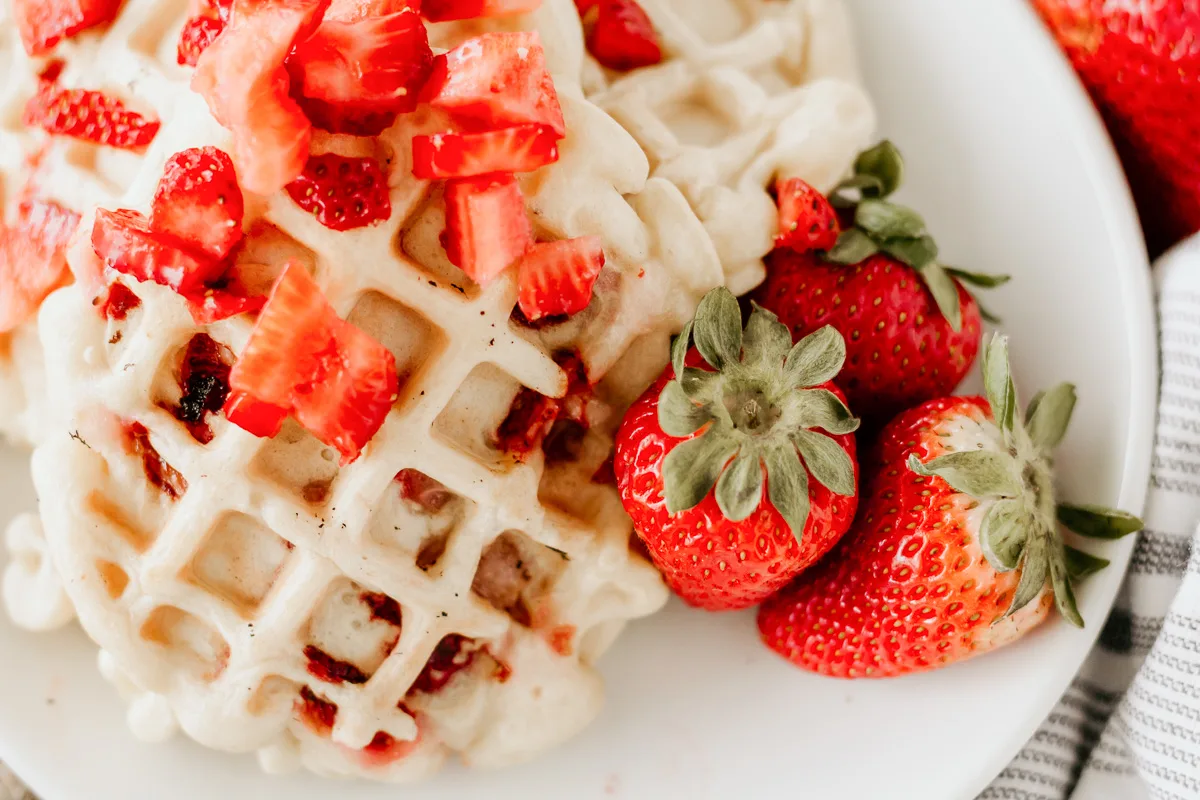 Softened Cream Cheese
Make sure you are working with softened cream cheese. If not you will find that your cream cheese will curdle and it won't give your waffles the right texture.
Waffle Maker
You can use any size or style of waffle maker for this recipe. Just adjust the cook time as needed for the size of waffle. Refer to your waffle maker manual to learn how to cook your waffle.
Variations to Keto Cream Cheese Waffles Recipe
Fruit
You can use other types of berries if you don't want to use strawberries. Just remember some fruit contains higher sugar so you won't want to go overboard with the fruit.
Sugar free chocolate chips
Add in 1/4 cup of mini sugar free chocolate chips. This will give the waffles that strawberry and chocolate flavor that is out of this world! Semi-sweet, milk chocolate, or even white chocolate works!
Keto Strawberry Waffles FAQs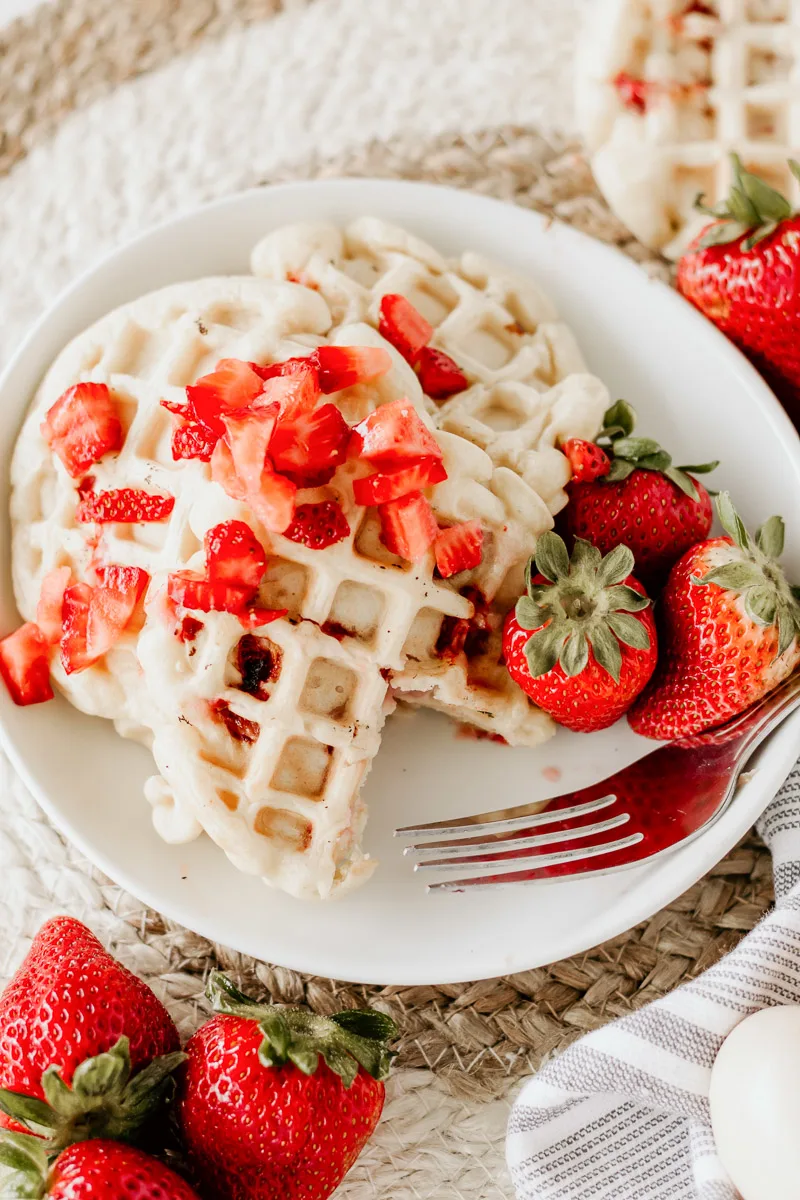 What does a Chaffle taste like?
Chaffles are a bit different than a classic waffle as they are made with cream cheese, almond flour, egg and such. They have a chewier texture than a traditional waffle.
Can I double this waffles recipe?
Go ahead and make as many or as few as you would like. This waffle recipe does double nicely. Then just batch cook your waffles and keep them warm in the oven.
How to store leftover strawberry waffles?
I recommend storing any waffles you don't eat right away in the fridge in an airtight container. You will find that it preserves the fruit longer than if you left them on the counter.
Can you freeze leftover cream cheese waffles?
Flash freeze the waffles on a parchment lined cookie sheet for an hour. Once the waffles are frozen, then place in a freezer bag or container. Then warm the waffles up in the microwave or even toaster for a crunchier texture.
Are chaffles healthy?
Chaffles are a great nutrient rich waffle. You will find with the egg it offers some protein and the almond flour isn't carb loaded like a traditional all-purpose flour is. So if you are eating waffles this is a better route to go.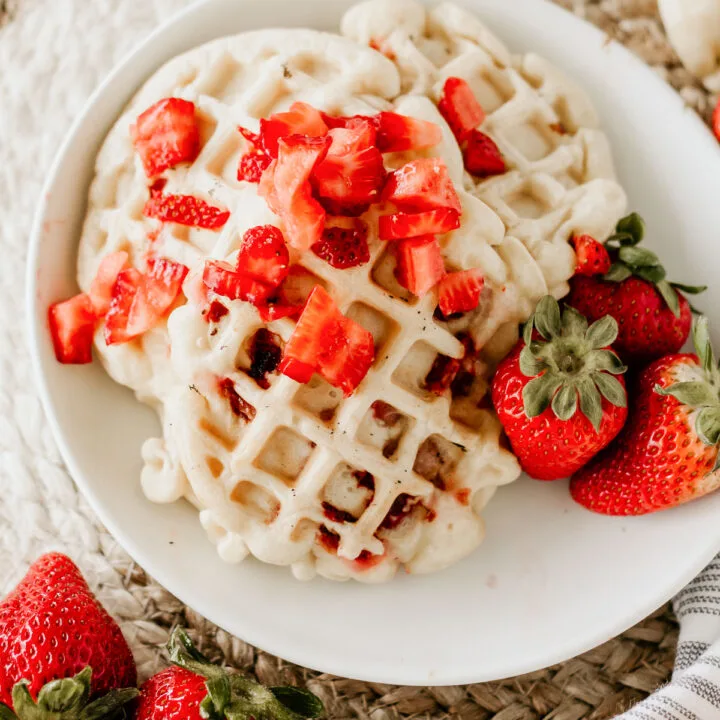 Keto Cream Cheese Waffles (Chaffles!)
Yield:
10 to 12 Mini Waffles
These keto cream cheese waffles are so light, creamy, and delicious - you'd never guess they're low carb!
Ingredients
4 oz. of Melted Cream Cheese
1 and ½ cups of Whole Milk
2 Eggs
1 and ¾ cups of Almond Flour
3 teaspoons of Baking Powder
couple dashes of Salt
3 teaspoons of Oil, such as sunflower oil
1 cup of Diced Strawberries
Cooking Spray
Diced Strawberries (for topping)
Instructions
Start by adding all your ingredients except your diced strawberries to your mixing bowl.
Mix on high until smooth.
Add one cup of strawberries, and fold into batter.
Grease your waffle maker.
Pour batter into your waffle maker.
Cook for 3 to 5 minutes.
Top with chopped strawberries.
Serve with syrup or whip cream and enjoy!
Notes
I used a Dash mini waffle maker for this recipe, but you can also use a full-sized waffle maker if you prefer. It will make about 10-12 mini waffles or 5-6 full-sized waffles.