These Lemon Caper Pork Chops make a delicious and easy dinner! Tender pork chops are cooked to perfection, then smothered in a savory lemon-caper piccata sauce for an effortless weeknight meal that the whole family will love.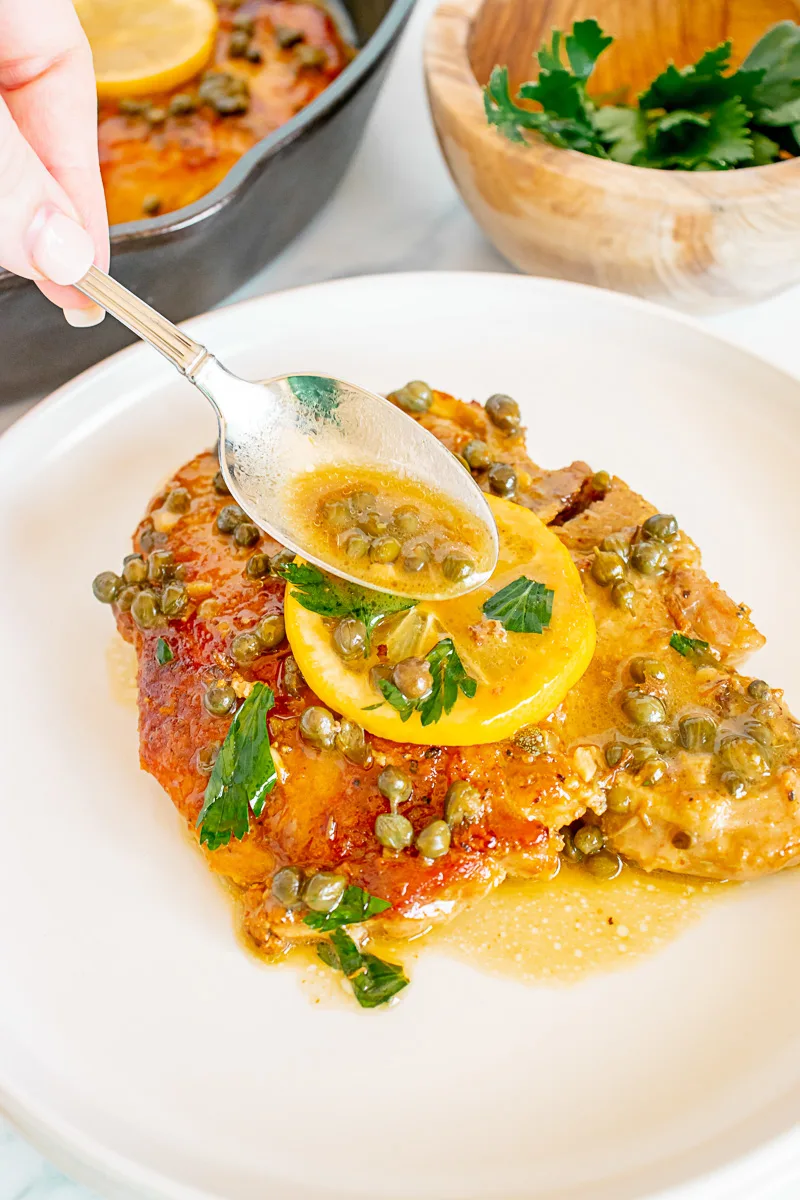 Pork chops are really an underrated dish. And in my opinion, that's because they are often prepared in such an uninspiring way. But with a little creativity and the proper technique, they can become a tasty and regular part of your dinner routine!
And these lemon caper pork chops (aka "pork piccata") are the perfect place to start. The tender pork chops are seared to a golden-brown perfection before being smothered in a delicious lemon-caper sauce that will make you want to lick your plate. And it's easy to make with just a few ingredients and 30 minutes in the kitchen.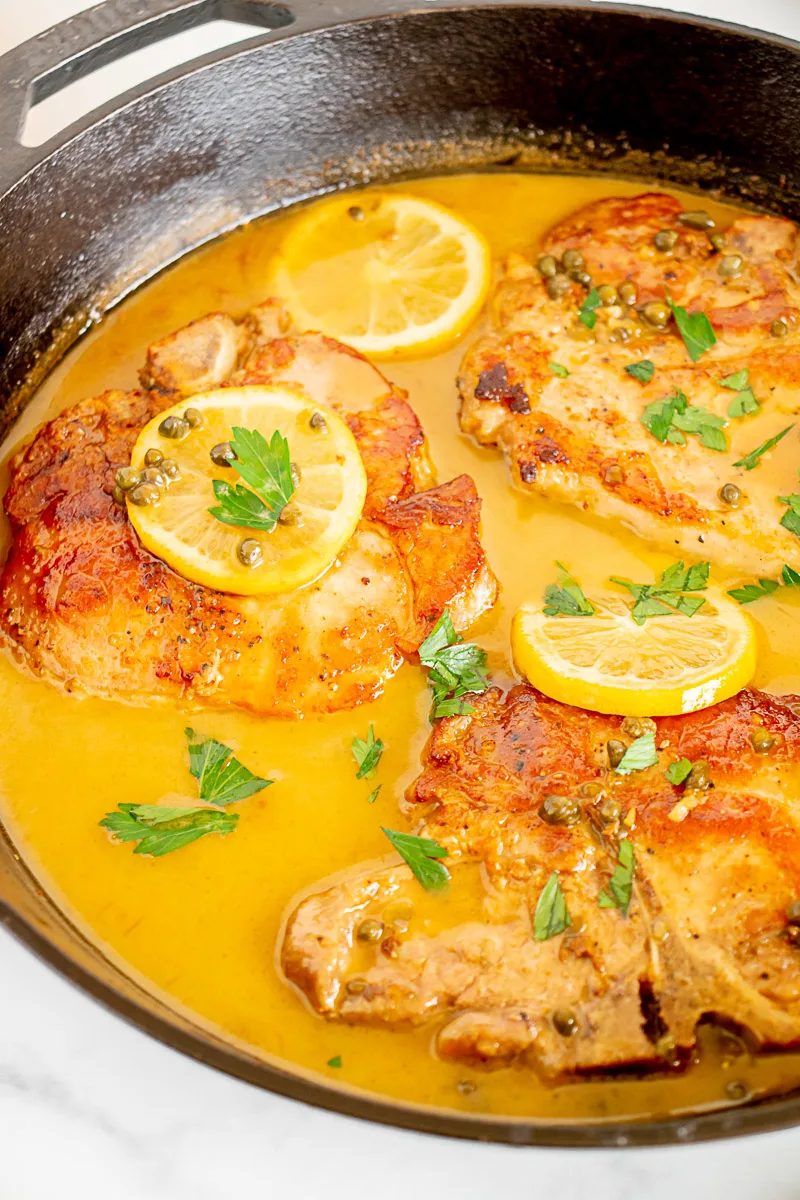 Helpful Tips
Cooking Time
Pork should be cooked to at least 145°F in order to be safe for consumption, but if the pork chops are cooked for too long, they can become dry and tough. To cook your pork chops perfectly, I recommend using an instant read thermometer to check the temperature and removing them from heat just before reaching 145°F. They will continue to cook a bit more while resting.
Bone in vs Bone out chops
I used bone in pork chops for this recipe, but you can also use bone out chops, if you prefer. Make sure they are about 1/2″ thick for quick cooking. Thicker chops will be difficult to pan fry.
Use quality ingredients
For best results, make sure to use good-quality pork chops and only fresh lemon juice. The flavor of the dish will depend on the quality of your ingredients.
Dry the pork chops before dredging
To prevent sticking to the pan, pat the pork chops dry with a clean paper towel or cloth before coating them with flour.
Storing Leftovers
Store leftover pork piccata in the fridge, in a covered container, for 3-4 days. Reheat on the stovetop before serving again.
Serving Ideas
You can serve these pork chops are a one-pan meal on their own. But if you want to add a side dish, I suggest some creamy mashed potatoes or roasted veggies like broccoli or asparagus.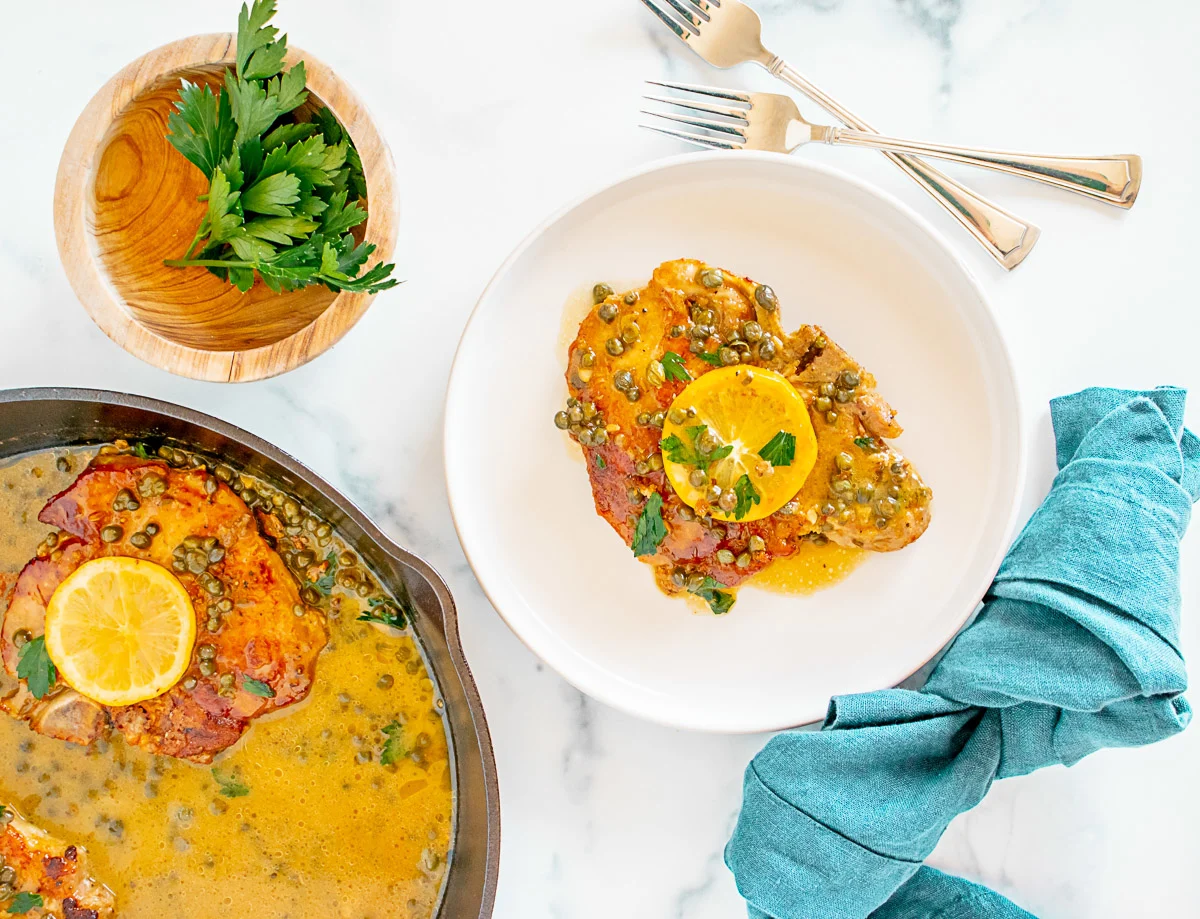 Variations
Flour alternatives
I used a low carb almond flour to coat the pork chops. You can also use grated parmesan cheese or crumbled pork rinds if you prefer, or a mixture of any of these.
Add wine!
Use white wine instead of chicken stock for a richer, more complex sauce.
Make chicken piccata
Substitute pork chops with boneless, skinless chicken breasts for a chicken based version of the same dish!
Add cream
I kept the lemon caper sauce on the lighter side here. But if you prefer a heavier, creamier sauce you can add 1/4 cup heavy cream!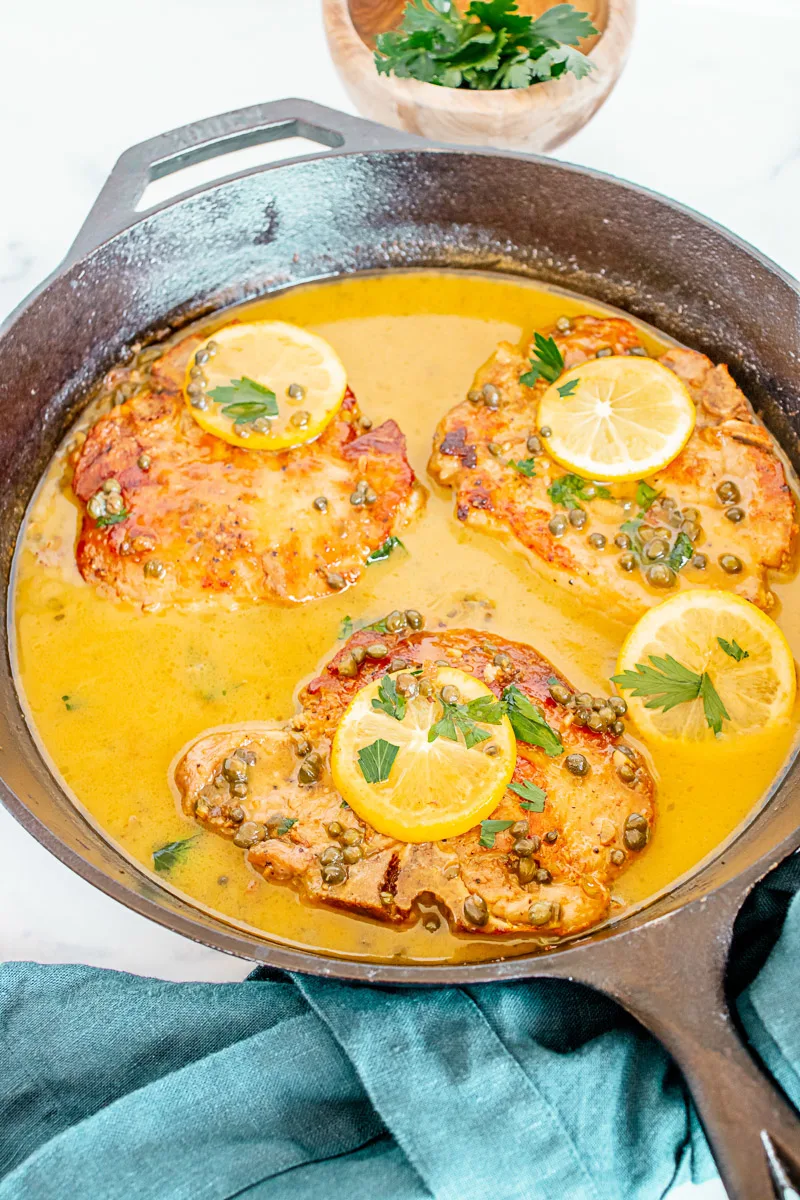 More Low Carb Recipes
If you love these lemon caper pork chops, be sure to check out these other delicious ideas: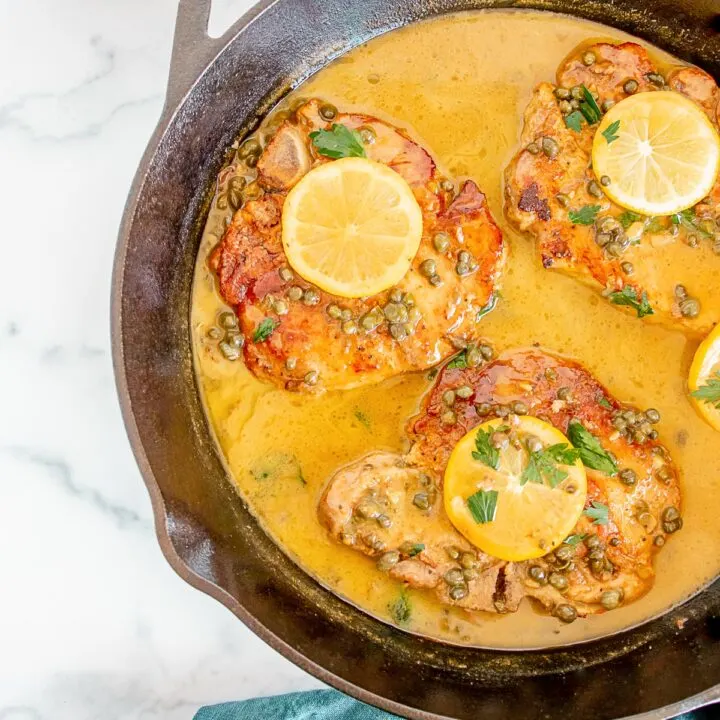 Lemon Caper Pork Chops (Pork Picatta)
These Lemon Caper Pork Chops are seared to a golden-brown perfection and smothered in a savory lemon-caper piccata sauce for a delicious and easy dinner!
Ingredients
4 bone-in pork chops, 1/2 inch thick
1/2 teaspoon Kosher salt or sea salt
1/2 teaspoon freshly cracked black pepper
3 tablespoons almond flour
2 tablespoons olive oil
2 cloves garlic, minced
1/2 cup chicken stock
2 lemons (one juiced and one sliced for garnish)
1/4 cup capers, drained and rinsed
3 tablespoons butter
1/4 cup fresh Italian parsley, chopped
Instructions
Prepare the Pork Chops: Pat the pork chops dry with a paper towel. Season both sides with salt and pepper. Lightly coat each side with flour, tapping off any excess.
Cook the Pork Chops: Heat olive oil in a large skillet over medium-high heat. Place the pork chops in the skillet, leaving space between them. Sear for 4-5 minutes on one side until golden brown, then flip to cook the other side to a similar color.
Check the Temperature: Insert a meat thermometer into the thickest part of a chop, near the bone. When it reads 145°F, the pork is cooked through. Remove the pork chops to a plate to rest; they will continue to cook slightly from residual heat.
Make the Sauce: Lower the heat to medium. Add the minced garlic to the skillet and sauté for 1-2 minutes until aromatic. Pour in the chicken stock, add lemon juice, and capers. Let the sauce come to a simmer, scraping up the flavorful browned bits from the bottom of the pan.
Finish the Sauce: Once the sauce begins to reduce and thicken slightly, turn off the heat. Stir in the butter until it melts and is fully integrated into the sauce.