This Chocolate Chia dessert is sugar free and super low in carbohydrates!
The following post contains affiliate links, which means that at no extra cost to you I can make a tiny bit of money to help support this blog. Thank you!
It's been ages since I posted a chia recipe! I went through quite a phase last year that resulted in my recipes for Raspberry Chia Drink and Blackberry Chia Pudding. This time I'm going chocolatey – and it is SO good!
Mix together unsweetened almond milk, cocoa powder, and sugar free sweetening syrup (I use Da Vinci brand) in a blender. I recently received a fab Ninja blender for my birthday that has a "single serve" setting – which works so well and is way easier to clean up afterwards. You could stir or whisk it by hand, but cocoa powder can be tricky sometimes to mix evenly, so a blender is ideal.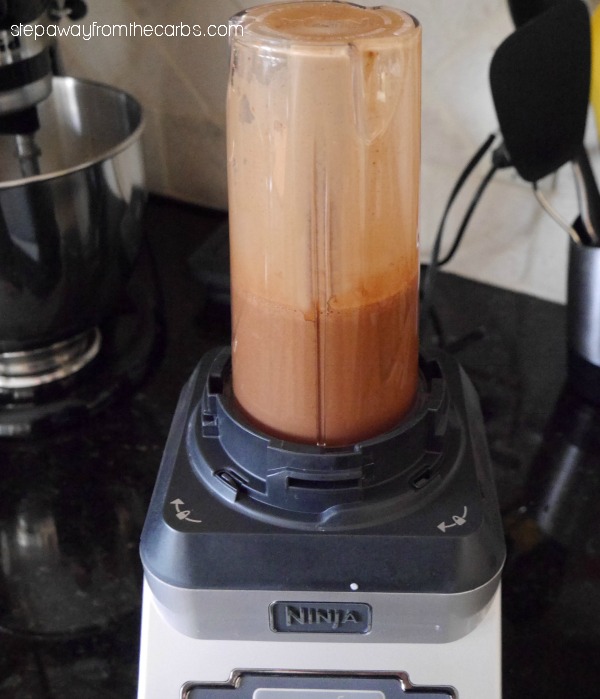 When the mixture is smooth, add in chia seeds and mix well. I don't do this in the blender because I love the chia texture. Cover the mixture and leave overnight in the fridge.
The next morning, the chia seeds will have absorbed a lot of the liquid and the mixture will have thickened substantially.
I'll be honest and say that this probably isn't a "company" dessert, LOL! But it works well for me either as a solo dessert and I love it for breakfast! You get a dense chocolatey taste for only 1.1g net carbs per serving – because chia seeds are high in fiber but zero carb!
Oh, and variations are easy – try adding a tiny amount of extract like peppermint or orange to get a flavored version!
Serves 2
Low Carb Chocolate Chia Dessert
Ingredients
1¼ cup unsweetened almond milk
2 tbs unsweetened cocoa powder
2 tbs sugar free sweetening syrup (Da Vinci or similar)
¼ cup chia seeds
Directions
Add the milk, cocoa and syrup to a blender and mix until the cocoa has been fully incorporated.
Pour into a container and add the chia seeds. Mix well, then cover and place in the fridge overnight.
The next day, stir and serve.
Notes
1.1g net carbs per serving
7.6.5
6
https://stepawayfromthecarbs.com/low-carb-chocolate-chia-dessert/
© StepAwayFromTheCarbs.com
Save
Save
Save
Save
Save
Save
Save
Save
Save
Save
Save
Interested in more chocolate recipes? Check out my book, Low Carb Chocolate Recipes!
Save
Save
Save