These snacks for low carb diets are super easy and require very little preparation. Perfect for on-the-go keto snacking!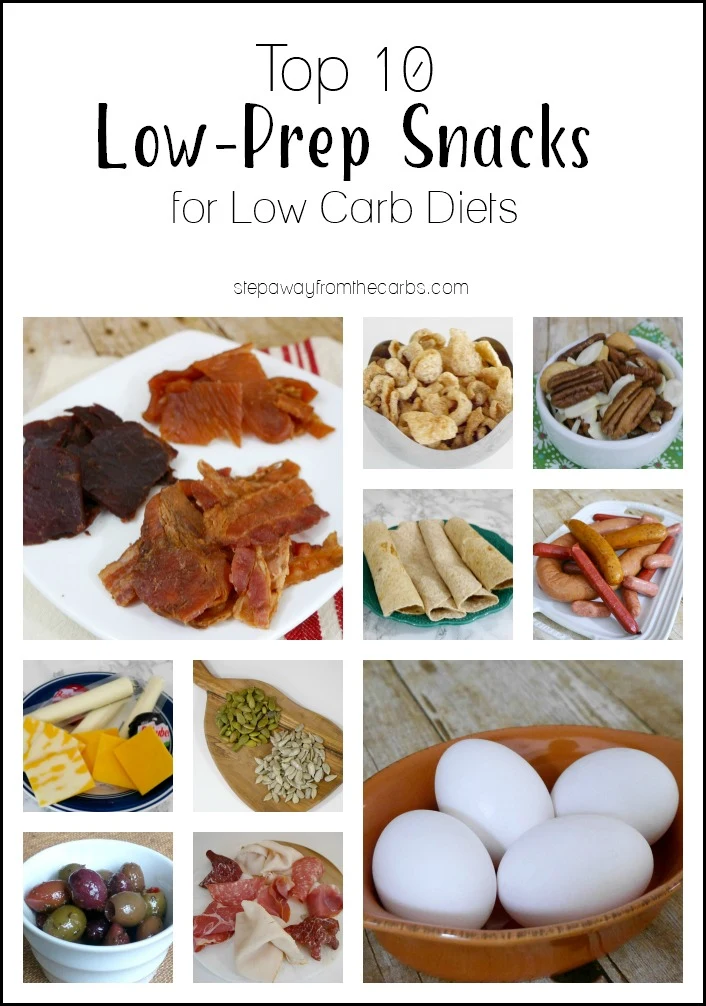 This post may contain affiliate links.
Before I converted to the low carb life, a quick snack meant a slice of toast, an apple or a bar of chocolate! Snacks CAN be tricky in a low carb world, so here are some ideas for you!
Hard boiled eggs
OK so this does take a little pre-planning – but I often cook six or so at a time then have them in the fridge ready to go. Top tip: Cook them in your Instant Pot!
Carbs: 0g!
Snack cheese
String cheese, stick cheese, Babybel or even pre-sliced cheese. No preparation needed!
Carbs: 0-1g net carbs per serving
Jerky
These rich and tasty snacks are available in several types of meats and flavorings (featured below: beef, bacon, and turkey jerky). Check the carb content though – I've seen quite a range! Jerky isn't the cheapest snack but has the benefit of not needing to be refrigerated until the bag is opened. If you have time, try making your own jerky or check out this Zero Sugar Jerky that you can buy from Amazon!
Carbs: 1-8g net carbs per 1oz serving
Pork Rinds (Pork Skins)
Available in ready-to-eat-bags and microwave packs – these crunchy snacks are fairly high in fat but do not contain any carbs! Oh, and if you love pork rinds, check out these yummy low carb ways to use them!
Carbs: 0g!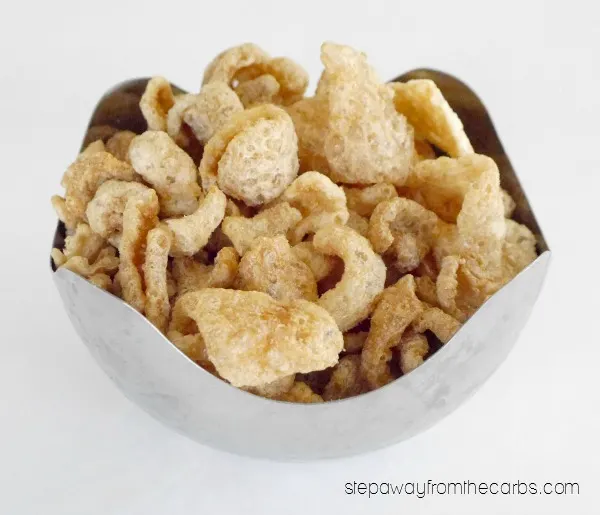 Cooked Sausages
Buy them ready-cooked or cook them yourself. So many meat and flavor combinations – just check the carb content. Sausages can often contain sugar in some form or other, which really bumps up the carbs! Try and find some you like that are under 2g net carbs per link or serving.
Carbs: 0-2g net carbs per link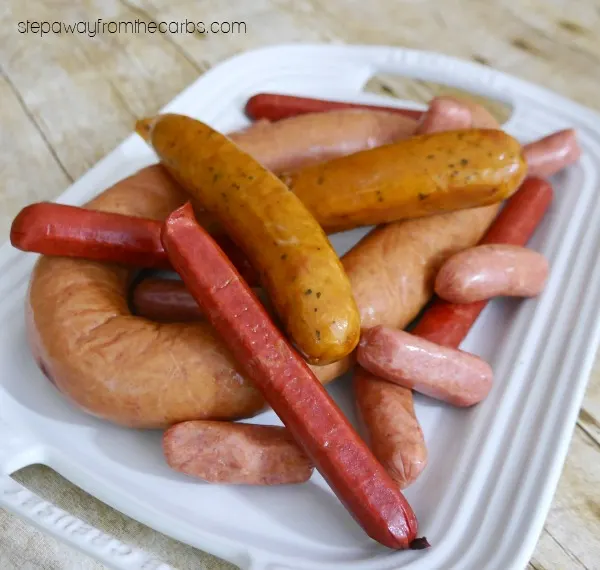 Nuts
Look out for 100-calorie snack bags of nuts – they make a perfect low carb snack too! The best choices are almonds, pecans, walnuts, macadamias, and hazelnuts. Try these slow cooker Cocoa Nuts!
Carbs: 1-2g net carbs per snack pack
Low Carb Tortillas
A *tiny* bit of preparation needed here unless you want to eat them dry. Check out my low carb tortillas review to make sure you buy the right brand for you. For a quick snack, add cooked meat/cheese/salsa/bacon jam/lettuce/sour cream, then roll up – and enjoy! Alternatively, use them to make homemade tortilla chips!
Carbs: 3-6 net carbs per tortilla plus fillings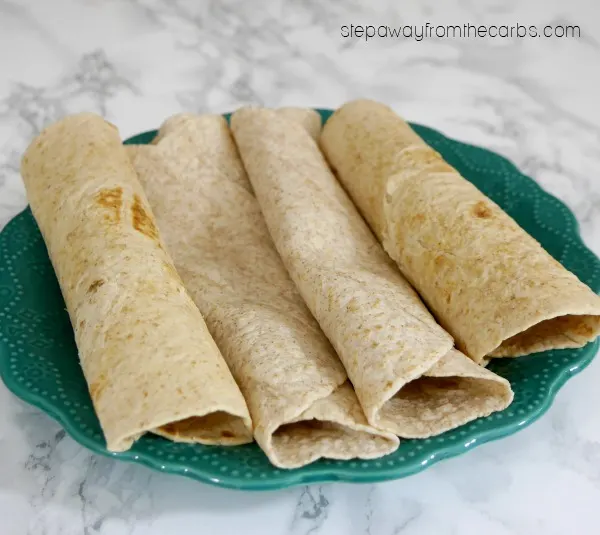 Olives
Olives are a great snack to have in the house as they are ready to eat and so low in carbs. Experiment with different olive varieties, flavorings and stuffed options.
Carbs 0-2g net carbs per serving of four olives
Deli meat
Avoid honey-roasted ham or any other kind that may contain a lot of sugar – always check the carb content before buying. Eat on its own, or spread some cream cheese on a slice and roll up.
Carbs: 0-1g net carbs per 2oz serving
Seeds
Sunflower seeds and pumpkin seeds (pepitas) are the most readily available. As usual, check the carb count but a very filling serving of ¼ cup of seeds is great for a snack – and they often can be found in convenience stores too.
Carbs: Pumpkin seeds approx. 1g net carbs, Sunflower seeds approx. 3-4g net carbs per ¼ cup serving.
Top 10 Low-Prep Snacks for Low Carb Diets #lowcarb #lowcarbsnacks
Click To Tweet
Interested in more snack recipes? Check out my Low Carb Snacks page with all my recipes in one place! Or order my Low Carb Snacks book!
Save
Save
Save
Save
Save
Save
Save
Save