These zero carb gummy candies are a sugar free treat! Watch the video tutorial!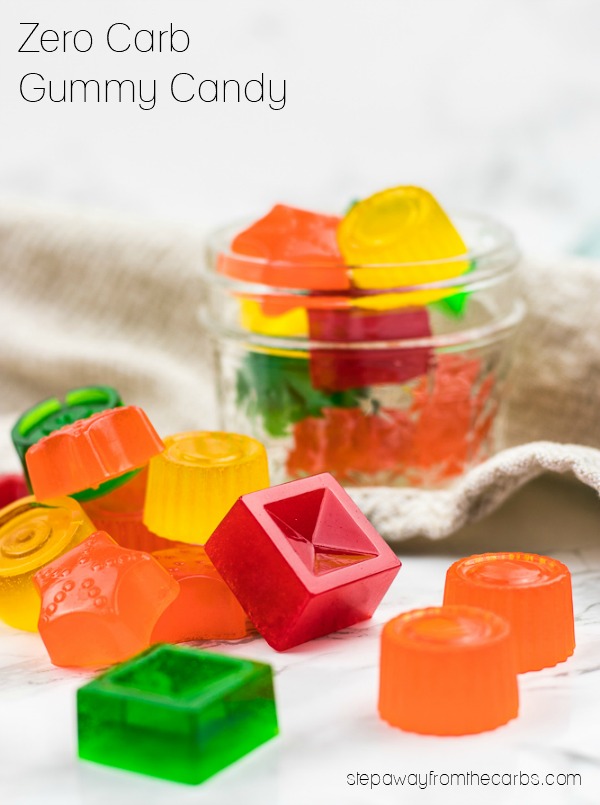 The following post contains affiliate links, which means that at no extra cost to you I can make a tiny bit of money to help support this blog. Thank you!
Once I realized how easy it was to make these gummy candies, I couldn't stop! All you need are three ingredients and a candy mold: sugar free jello, unflavored gelatine powder and ¼ – ⅓ cup cold water. The amount of water used depends on how chewy or firm you want your gummy candies. ¼ cup water makes them really quite firm – but I rather like that! Candies made with ⅓ cup water are softer and of course it makes a few more!
Note: Quick-setting Jello or products that set with carrageenan may not work so well.
Add all three ingredients to a small saucepan, stir well, and cook over a low heat. It will start off as a thick paste but as the gelatine melts it will become more liquid. Cook until all the granules have dissolved – it only takes 2-3 minutes.
Use a jug, squeeze bottle or a spoon to carefully pour the mixture into the mold. I used a variety of molds, purchased from Amazon:
Knox Gelatine Original – 4 CT
Jell-O Sugar Free Gelatin Sampler (Bundle of 8 Different Flavors .3-oz)
Wilton Mini Squeeze Bottles, 2-Piece
Freshware CB-610BR 15-Cavity Silicone Tiered Square Chocolate, Candy and Gummy Mold
Silicone 3 Piece Candy Mold set, Hearts, Round Mold, and Lions/bear/hippo Candy Molds
Freshware CB-609BR 15-Cavity Silicone Spiral Cone Chocolate, Candy and Gummy Mold
Click this NEXT PAGE button to continue to the zero carb gummy recipe card and VIDEO tutorial!
Save
Save
Save
Save
Check out my Low Carb Snacks Recipes Ebook!
If you need more snack ideas, check out my book! Over 70 delicious sweet and savory recipes - all low carb, sugar free, and gluten free!