These bacon boats are a low carber's dream come true! They are just waiting to be loaded with delicious toppings!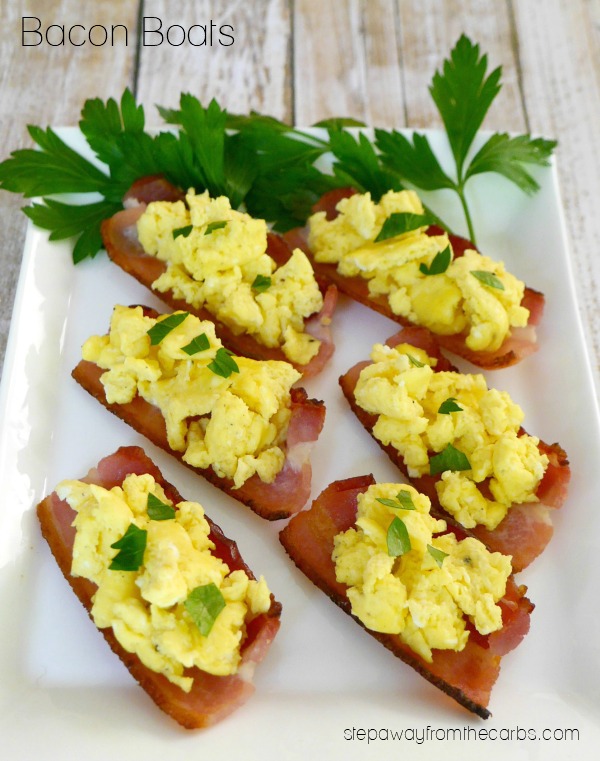 The following post contains affiliate links, which means that at no extra cost to you I can make a tiny bit of money to help support this blog. Thank you!
The idea for these bacon boats was a result of needing more bacon in my life (well, who doesn't?) and a particular baking pan begging to be used. I bought this Wilton Delectovals pan for making my Cloud Bread Hot Dog Buns, and I haven't been able to use it for anything else. I think the pan is supposed to be used for making Twinkies – which aren't exactly low carb!
However, the shape is perfect for gently curling up the sides of half strips of bacon – making them a wonderful one- or two-bite platform for so many things!
For this recipe I use thick cut center cut bacon, and then flattened them out a little with a meat tenderizer to make them a bit wider.
Cut them in half, discarding any excess fatty parts (not because they won't taste good, but because they will shrink and curl too much). Place each piece in the delectovals pan.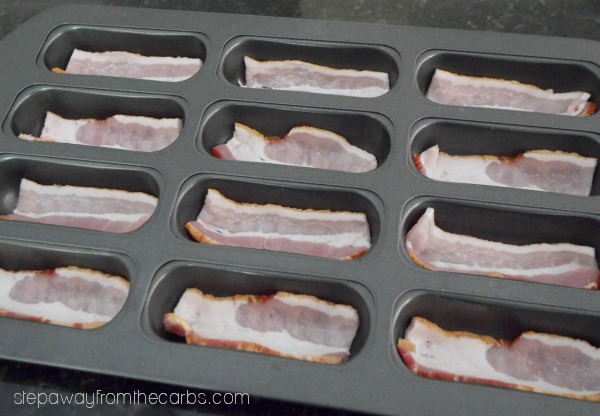 Place under a broiler preheated to high for 3-4 minutes until the base of the bacon is starting to crisp up. Remove from the broiler and let cool slightly, then drain on kitchen paper to remove excess grease.
If you want to fill them with scrambled eggs as shown in the main photo, 2-3 eggs is the right amount for 12 boats (6 slices of bacon). Scramble however you choose (add cheese, herbs, spice – whatever you like!), then spoon into the bacon boats. Garnish with chopped herbs such as flat leaf parsley.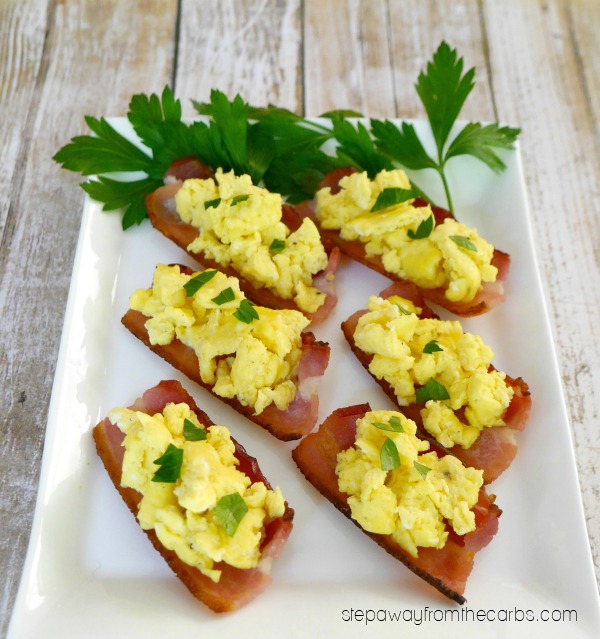 Other filling ideas:
Salsa and cheese
Spinach and artichoke dip (shown below) – store bought or homemade
Cream cheese and chopped chives
Chipotle mayo
Leftover low carb chili
Save
Save
Save
Save
Save
Save
Save
Save
Check out my Low Carb Party Food Ebook!
Are you planning a party? Check out my mini ebook for low carb recipe inspiration!