Are you ready to enjoy some amazing low carb avocado toast? Grab some low carb bread and get creative! Here are 14 toppings to start you off!
This post contains affiliate links, which means that at no extra cost to you I can make a tiny bit of money to help support this blog. Thank you!
OK so I'm a bit late in joining the super trendy Avocado Toast craze – but I figured I'd make up for it by providing you with 14 options! Here are the key elements (in case it wasn't obvious!):
Low carb bread. I don't make my own, I buy it – and I make no apologies for it! Check out my guide to buying low carb bread.
Ripe avocado. It has to be squishy enough that you can mash it easily with a fork, and I reckon about one avocado for two slices of toast is ideal.
Salt and pepper.
Toast the bread, mash the avocado onto the toast, season. Done.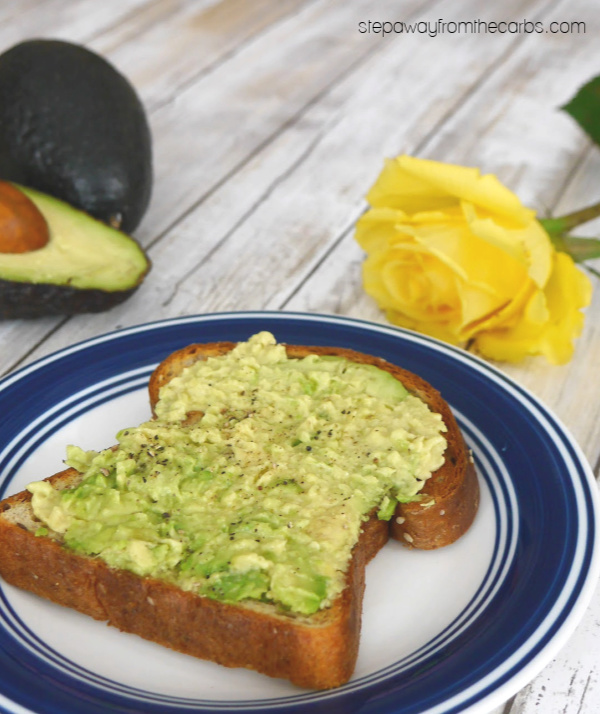 After that, of course, you can get creative. Maybe a dash of lime juice or hot sauce? Once I'd started making avocado toast – I couldn't stop! It's perfect for breakfast, lunch, or even a snack!
Here are some options that you will be the perfect topping to your low carb avocado toast:
Arugula
Bacon and a shake of chipotle powder
Smoked salmon and fresh dill
Red pepper flakes
Buffalo sauce mixed into the avocado and then topped with celery and blue cheese crumbles (my new favorite!)
Deli turkey and wholegrain mustard
Mini (2oz) burrata, fresh basil, and cherry tomatoes
Hard or soft boiled eggs
Cucumber slices
Crumbled goat cheese
Fried or poached egg
Pesto and grated Parmesan
Baby spinach and feta cheese
Do you have any other favorite toppings for your low carb avocado toast? Let me know in the comments!
Check out my Low Carb Snacks Recipes Ebook!
If you need more snack ideas, check out my book! Over 70 delicious sweet and savory recipes - all low carb, sugar free, and gluten free!
Check out my Low Carb Ebook - all Five Ingredients or Less!
If you're too tired or too busy to prepare complicated low carb meals, then this is the recipe book for you!