These low carb Halloween jalapeño poppers look just like mummies – and are the perfect spooky dish for a Halloween party!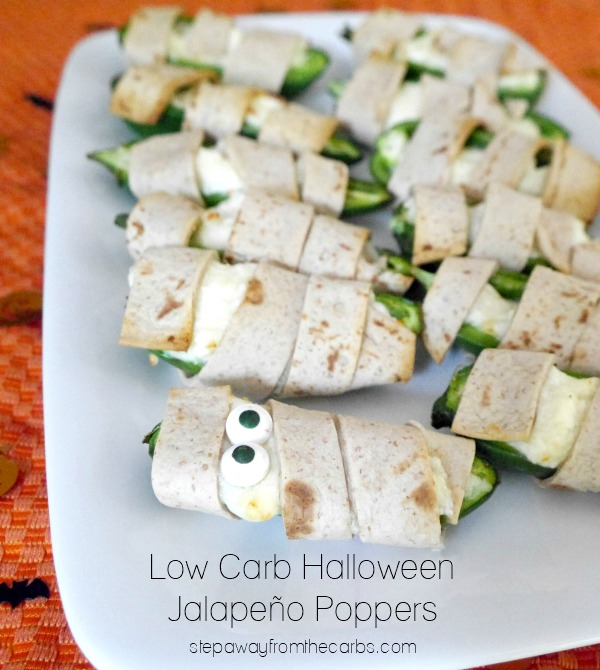 The following post contains affiliate links, which means that at no extra cost to you I can make a tiny bit of money to help support this blog. Thank you!
If you've enjoyed my low carb Halloween Chips and Halloween Quesadilla – you'll love these poppers! The inspiration started with my crazy "Mammoth Jalapeño" plant. It was less than a foot tall when I planted it in late July, and just when everything else is dying back and preparing for winter, my jalapeño plant keeps growing and growing. And producing peppers, too!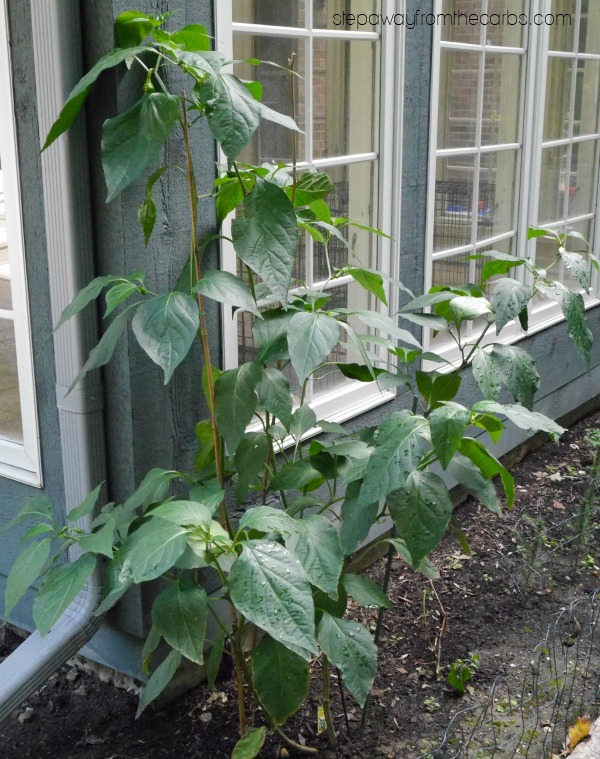 While looking for recipe ideas for fresh jalapeños I though of jalapeño poppers, and then came across ones that looked like mummies by wrapping them in crescent roll pastry. I figured that I could make a low carb version by using my most trusty ingredient – low carb wraps! This recipe has probably the longest preparation time out of any on this blog – but cooking time is quick and the results are SO worth it. 🙂
Cut each jalapeño in half lengthwise and scoop out the seeds and pith. Take whatever cautions you think necessary to protect yourself from potential burns! Place the cut jalapeños on a baking tray lined with a silicone mat.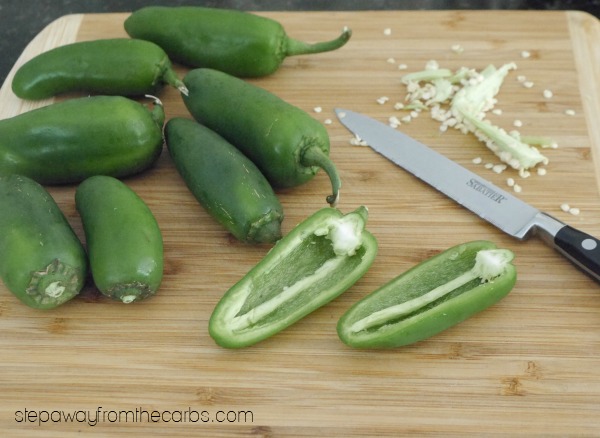 Mix together cream cheese and shredded cheese in a bowl. I used an Italian blend of cheese but pretty much anything works in this recipe. Scoop a spoonful of the mixture into the cavity of each jalapeño half.
Cut low carb wraps (I used Mission Carb Balance Whole Wheat Fajita – 3g net carb each) into 8-10 strips. Thinner is better for wrapping!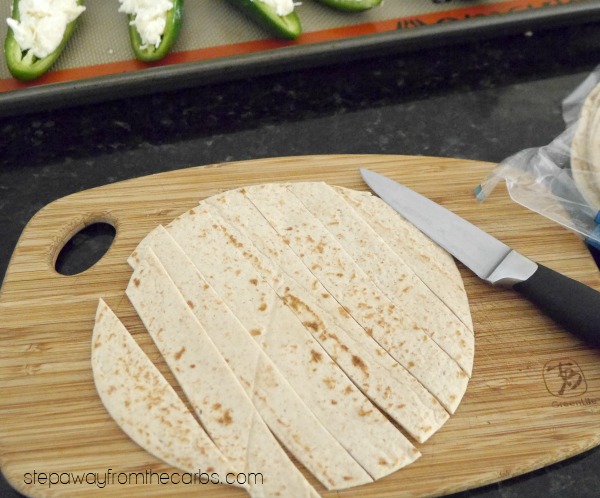 Wind two strips around each jalapeño, tucking ends underneath or into the cheese mixture to secure them. I definitely got better at this, and went back to re-do the early ones!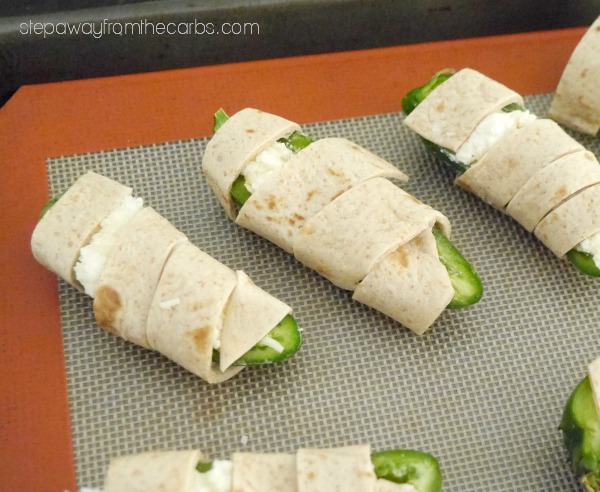 Bake in a preheated oven for around 8 minutes – or until the cheese starts to brown.
If you want, press edible googly eyes into any gaps that you've left between the tortilla strips while the cheese is still warm. This part is completely optional – the eyes aren't exactly low carb and definitely not sugar free. As far as I can work out, there are 4g net carbs in one teaspoon of the candy eyes. That's maybe four eyes? Very hard to say, so your guess is as good as mine.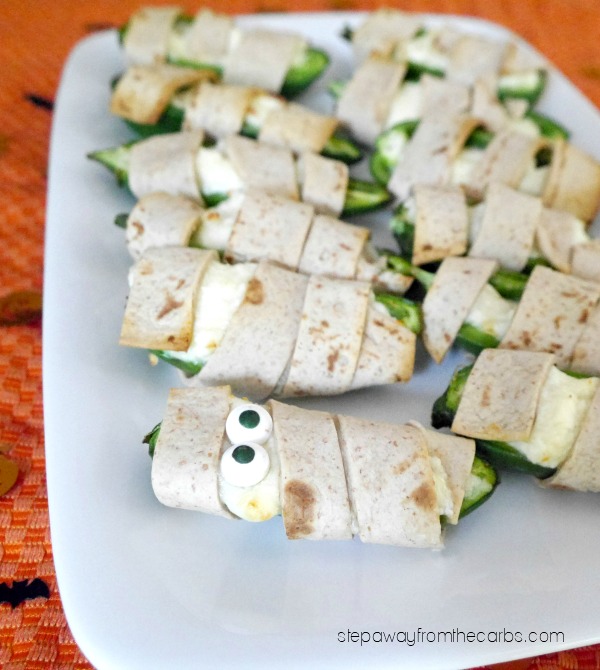 Low Carb Halloween Jalapeño Poppers #lowcarb #lowcarbhalloween
Click To Tweet
Serves 4
Low Carb Halloween Jalapeño Poppers
30 minPrep Time
10 minCook Time
40 minTotal Time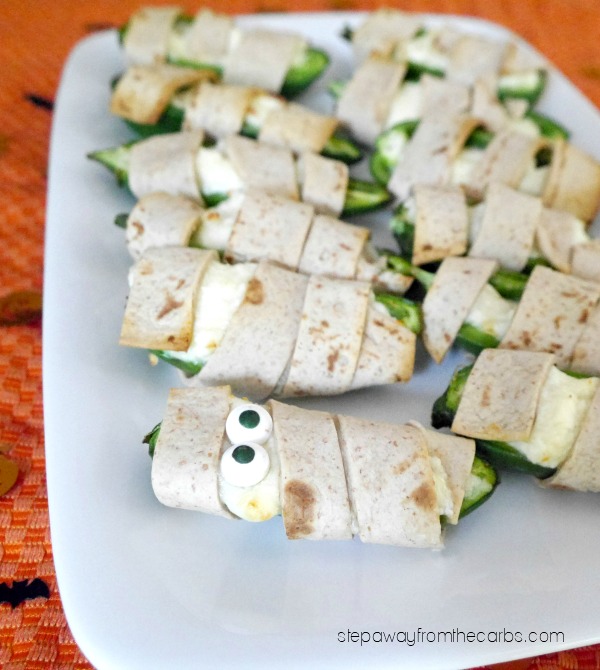 Ingredients
8 fresh jalapeños, halved lengthwise, seeds and pith removed
4 oz cream cheese
4 oz shredded cheese
4 small low carb tortillas
edible googly eyes, optional
Directions
Preheat the oven to 400F.
Place the prepared jalapeños on a baking tray lined with a silicone mat.
Mix the cream cheese and shredded cheese together in a bowl, then spoon it into the cavities of the jalapeños.
Cut each tortilla into 8-10 narrow strips, then wind two strips around each jalapeño half.
Bake for 8 minutes or until the cheese starts to turn brown. Serve warm, with added googly eyes (if using).
Notes
6.9g net carbs per serving (based on low carb tortillas with 3g net carb each). Data does not include edible googly eyes!
7.6.6
222
https://stepawayfromthecarbs.com/low-carb-halloween-jalapeno-poppers/
© StepAwayFromTheCarbs.com
Save
Save
Save
Save
Save
Save
Save
Save