Here are some fantastic low carb Halloween recipes for you to try! Let's get ready for a spooky time!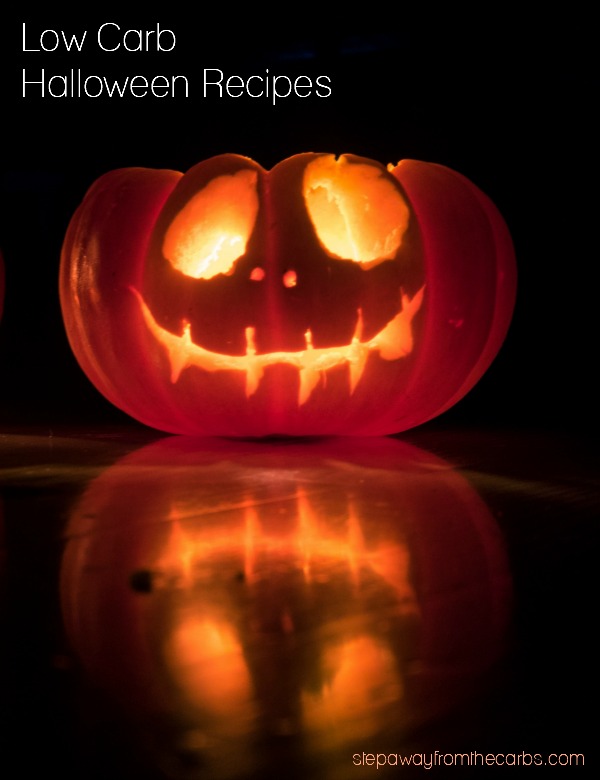 This post may contain affiliate links.
Spiders and ghosts and bats, oh my! Whether you're planning a party, or want to make something fun for the kids – here's a whole bunch of recipes to try!
Most of them are keto friendly, and apart from the ones that use tortillas, they're also gluten free! There are dishes like Jack O'Lantern Stuffed Peppers, Halloween Quesadillas, Halloween Jalapeño Poppers – and more!
Here are some useful supplies that you might like to stock up on:
Halloween cookie cutters – not just for cookies, I use these for shaped low carb tortilla chips too!
Food dye – especially green and orange!
Halloween napkins
Edible googly eyes – use sparingly but great for a hint of decoration!
Deviled egg platter – essential for serving this appetizer!
Black olives – as one of the only low carb naturally black-colored foods – they're super useful!
So here are the recipes! Each year I'll be adding to this list, so be sure to pin or bookmark this post and come back to it when you're ready to plan your Halloween food!
And remember, although many of these dishes look like they're for children – many adults appreciate the humor, too!
Low Carb Halloween Recipes
If you want even more inspiration – check out my Pinterest board! It features recipes and ideas from lots of other bloggers and websites!
Main Jack o'Lantern photo by David Menidrey on Unsplash