These low carb mixed drinks are all quick and easy to make! Sugar free and keto friendly recipes and ideas.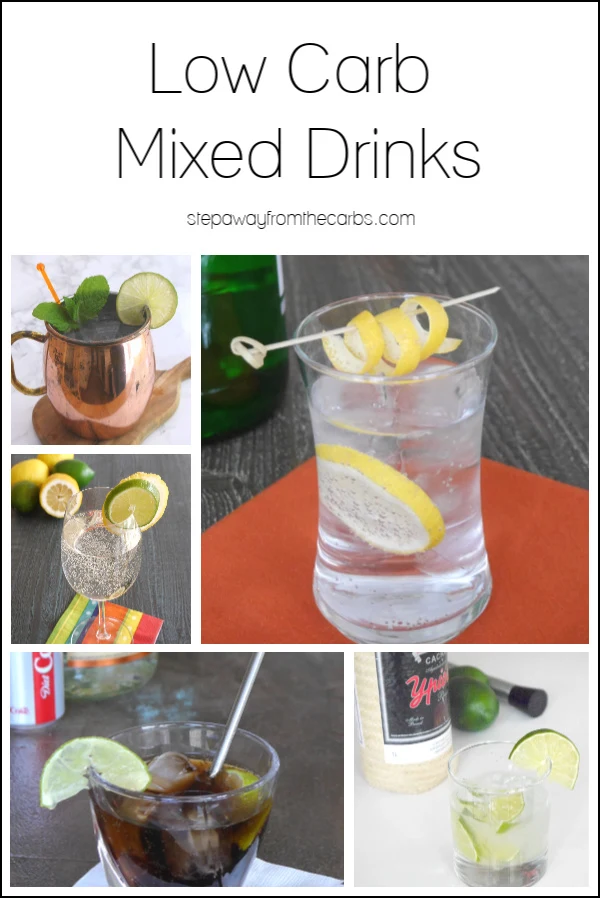 This post may contain affiliate links.
So when I started writing this post, I realized that I wanted to check what was the common understanding of the term "mixed drink". Was it the same as a cocktail? I sent out a request for thoughts on the subject on Facebook one day, and although many people said they were the same, here are two great responses:
I think of a mixed drink as something like gin and tonic, and a cocktail as a fancy mix of alcohol, liquor, sweeteners, etc." Megan P
and also this:
Not a hard and fast rule but I think 2 ingredients = mixed drink. 3+ ingredients = cocktail. But if you use a shaker it's a cocktail whatever the ingredients." Dave G
So bearing all that in mind, here's my collection of low carb alcoholic drinks that don't require a shaker, and have minimal ingredients (usually just two or three). Many of these I have also featured in my list of zero carb cocktails – so you might like to check that out too!
Low Carb Mixed Drinks
First up is the classic: a gin and tonic! To make it low carb, all you need to do is make sure you use slimline (or diet) tonic. Add ice and a twist of lemon or lime – perfection!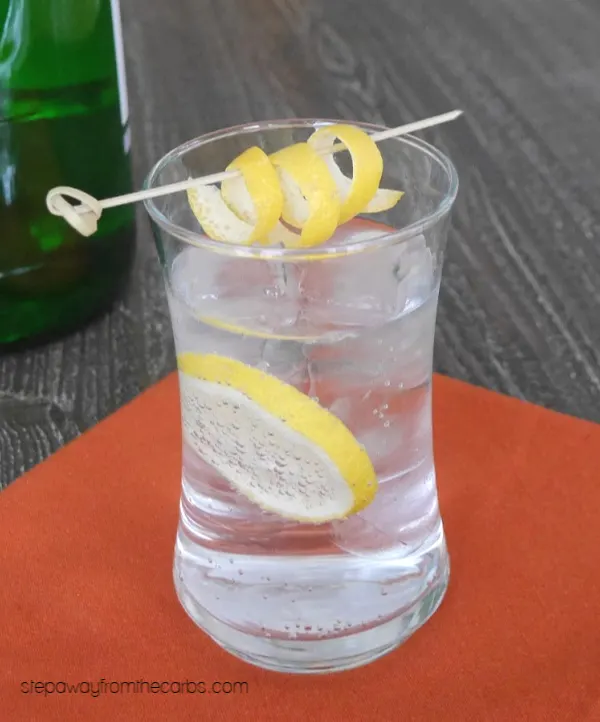 Update – try my keto gin & tonic with basil – or check out all my low carb gin drinks!
And here's another popular drink – a moscow mule! My version is actually a zero carb moscow mule – and it is seriously refreshing!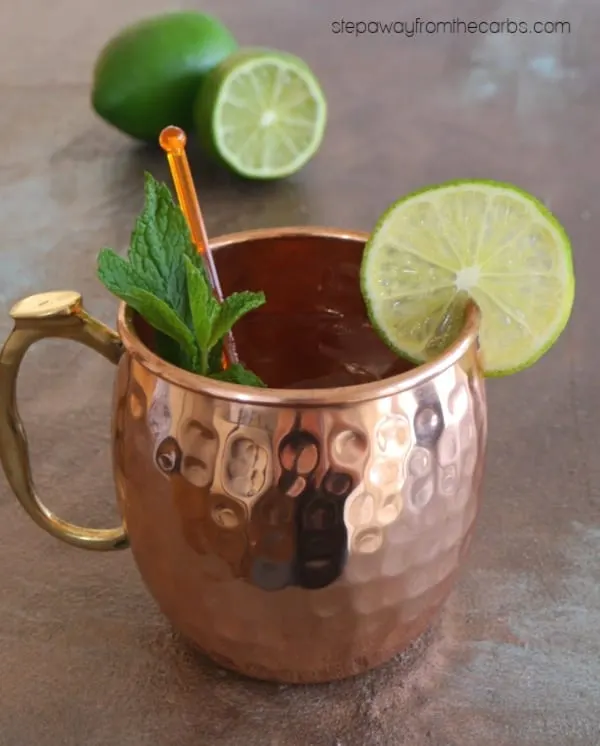 (And you might also like to try my Low Carb Pumpkin Moscow Mule – although this one is definitely a cocktail, not a mixed drink!)
If you allow diet soda in your low carb diet, then a classic combination is a Vodka and Diet Coke – this drink has the benefit that it is SUPER easy to order in bars and restaurants. I like a splash of lime juice with mine! And if coke isn't your thing, then Vodka and Soda is another popular choice – all you need is vodka, club soda, and ice! Oh and Rum and Diet Coke is another great option!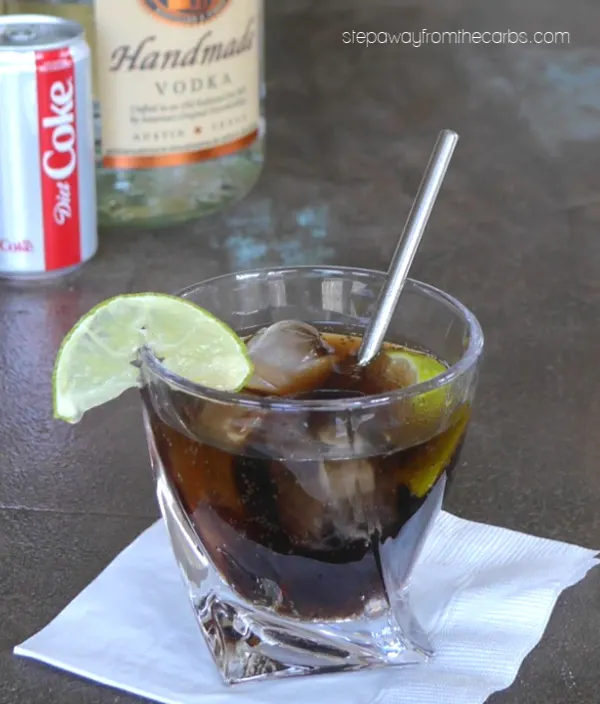 I was unsure whether to include my recipe for a Low Carb Caipirinha in this collection – although it doesn't need a cocktail shaker there is muddling involved. But as the ingredient list is just rum, lime juice, sweetener and ice, I felt that it was borderline between mixed drink and cocktail – so added it here anyway!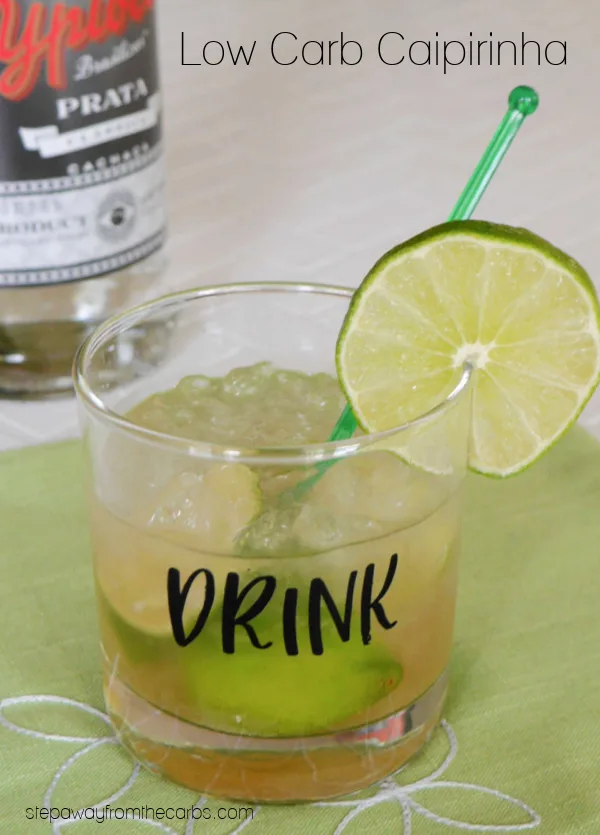 One of my favorite go-to books – Keto Happy Hour by Kyndra D Holley – features recipes for a low carb Black Russian and White Russian – both drinks are based on her homemade coffee liqueur, so if that appeals to you then I highly recommend that you order yourself a copy!
I'm not a whiskey fan, but a classic Whiskey and Soda is zero carb – so definitely needs to be part of this collection!
And I'm not sure whether you think of this as a mixed drink, but a White Wine Spritzer actually meets the criteria. My version is flavored with lemon and lime – and it is SO refreshing!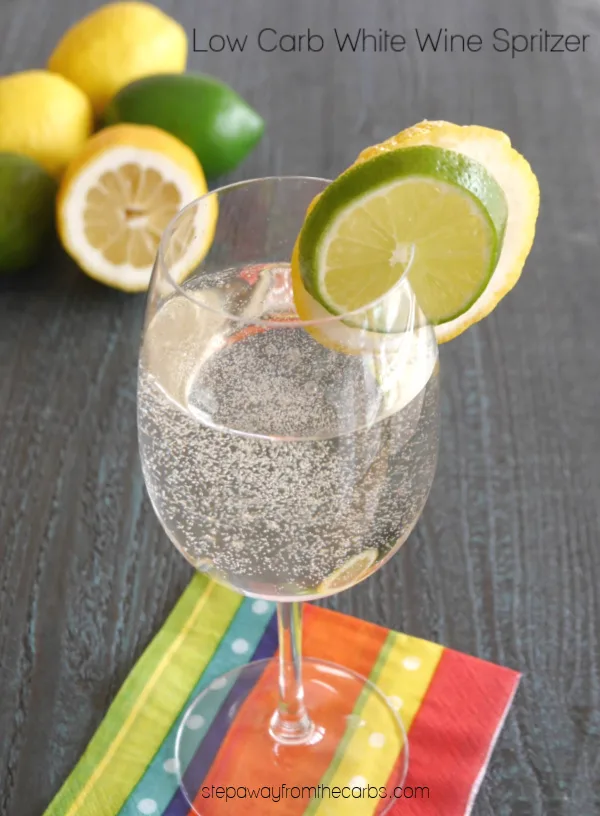 And lastly, to misquote the famous line from James Bond – a martini – stirred but not shaken – also counts as a mixed drink! To make a Dry Gin Martini, add 2½ oz gin and ½ oz dry vermouth to a glass with ice, and stir until very cold. Strain into a chilled martini glass and garnish with a lemon twist.
Did I feature your favorite low carb mixed drink? If not, let me know in the comments below!